Easy, DIY Decor Element - Chalkboard Wedding Signs
BY Garvita | 31 Aug, 2020 | 1113 views | 3 min read
Did you think there would be a phase where we all will witness 'Coronial Weddings'?
A phase where no matter how much we try to ignore, we're co-existing with a pandemic! And out of everything our favorite bit has to be the couples truly acing the whole intimate wedding planning process. These weddings have a breath of fresh air for so many of us. *applause*
But with the onset of weddings at home, we do understand that there is a constraint for space despite the concise guest list. This makes us come to the conclusion that DIY will play a major role in such celebrations. Keeping that in mind we donned our explore hats and found this easy decor element - Chalkboard Wedding Signs.
Rounded up some of the best wedding chalkboard ideas that'll serve immense inspiration for you to have one at your wedding affair! Get, set & read on.
One of our favourite wedding chalkboard ideas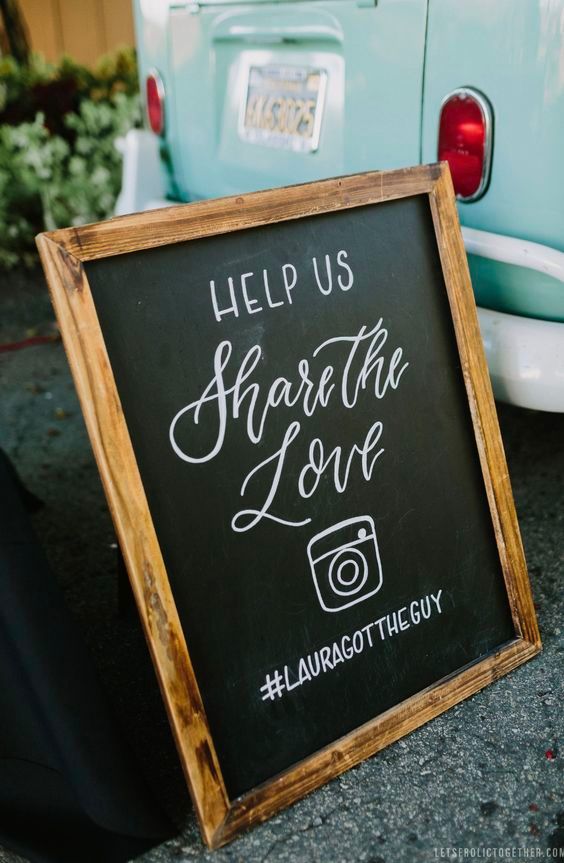 Image via Pinterest 
Intimate weddings are all about keeping it classy and to the point! Use the wedding chalkboard for displaying your wedding hashtag and nothing else is required. Easy to do and super affordable!
Display the favors with a quirky message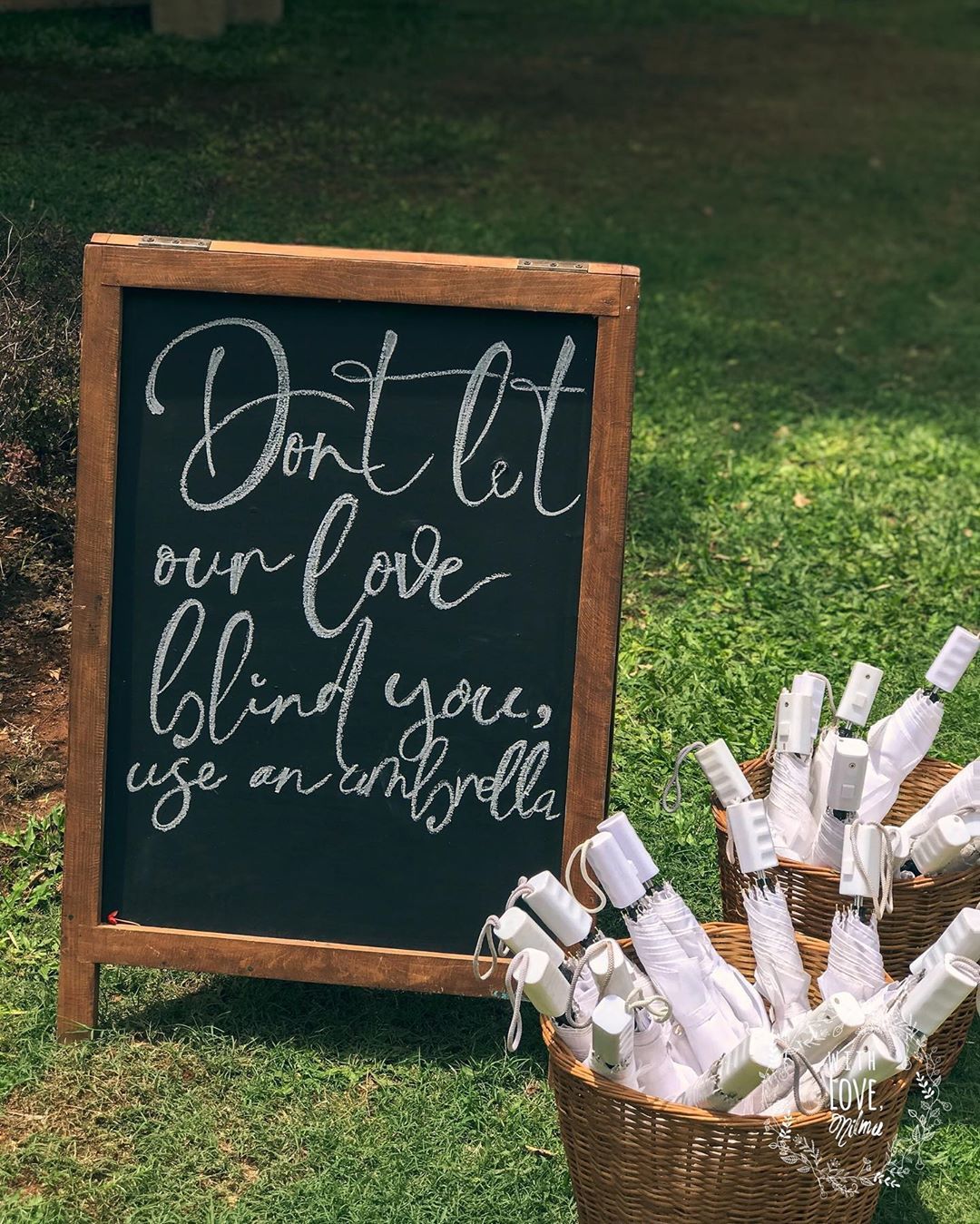 Image via withlovenilma
DIY the chalkboard wedding sign with a witty quote and place it around the favors, for the guests to pick it on their own.
Amp up the food counter with a wedding chalkboard art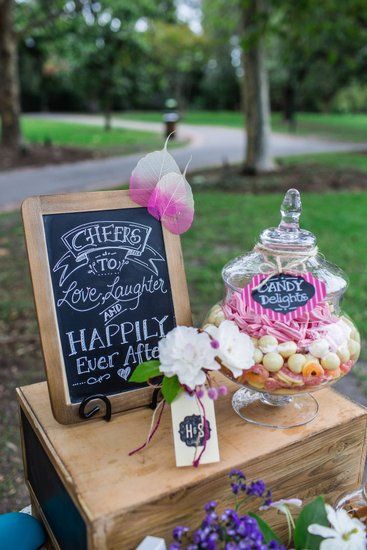 Image via Samantha & Heinz
A home wedding may not allow you to get a fancy food set up done, but with this element, you can easily take it a notch higher. You can also accentuate the sign with dry leaves or flowers.
Make a dramatic bridal entry with a wedding chalkboard saying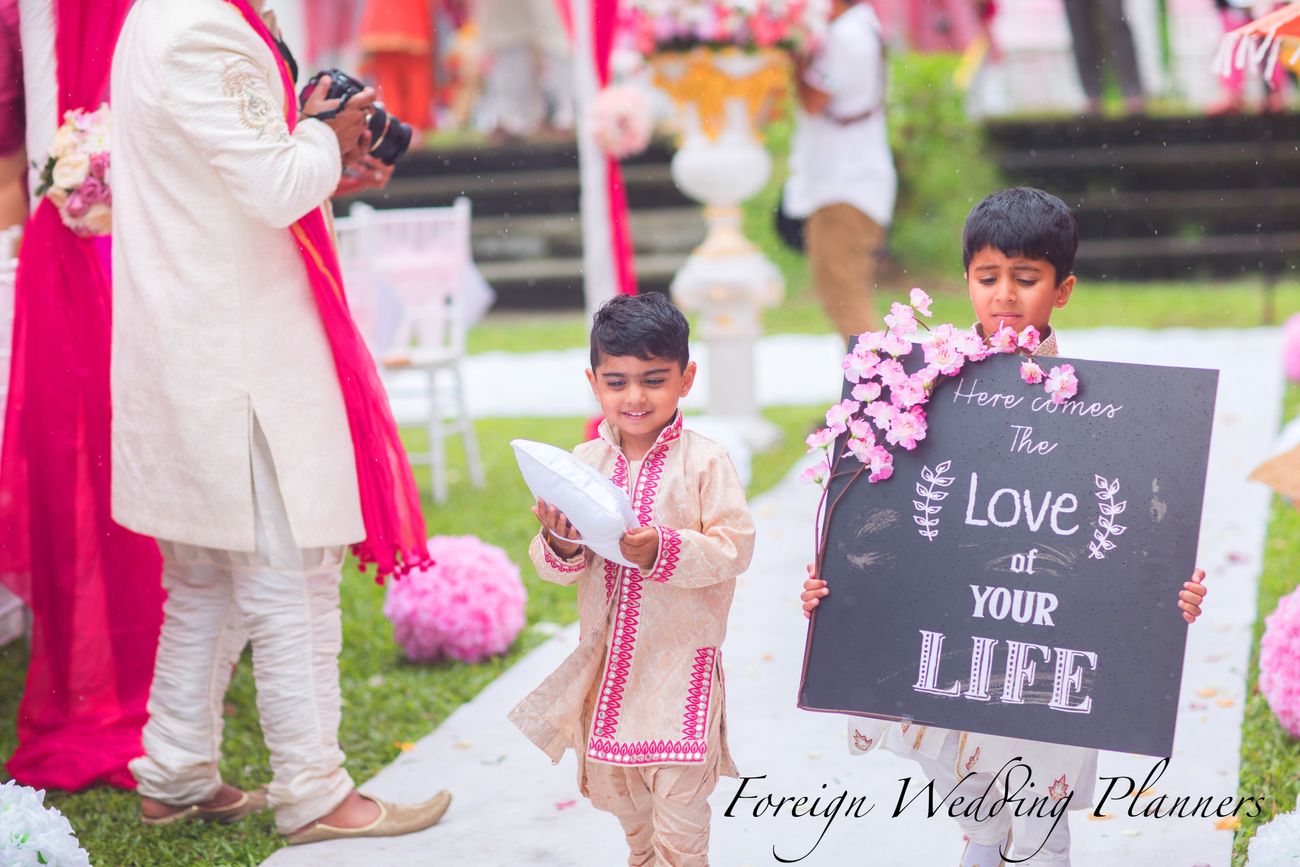 Image via Signatures by Neha
We understand that your plans for a magnificent bridal entry might have come to a halt, but forget it and make it dramatic instead. Enter with your niece/ nephew and let them hold a cutesy wedding sign for you! Adorbs, ain't it?
Wedding chalkboard sayings with instructions!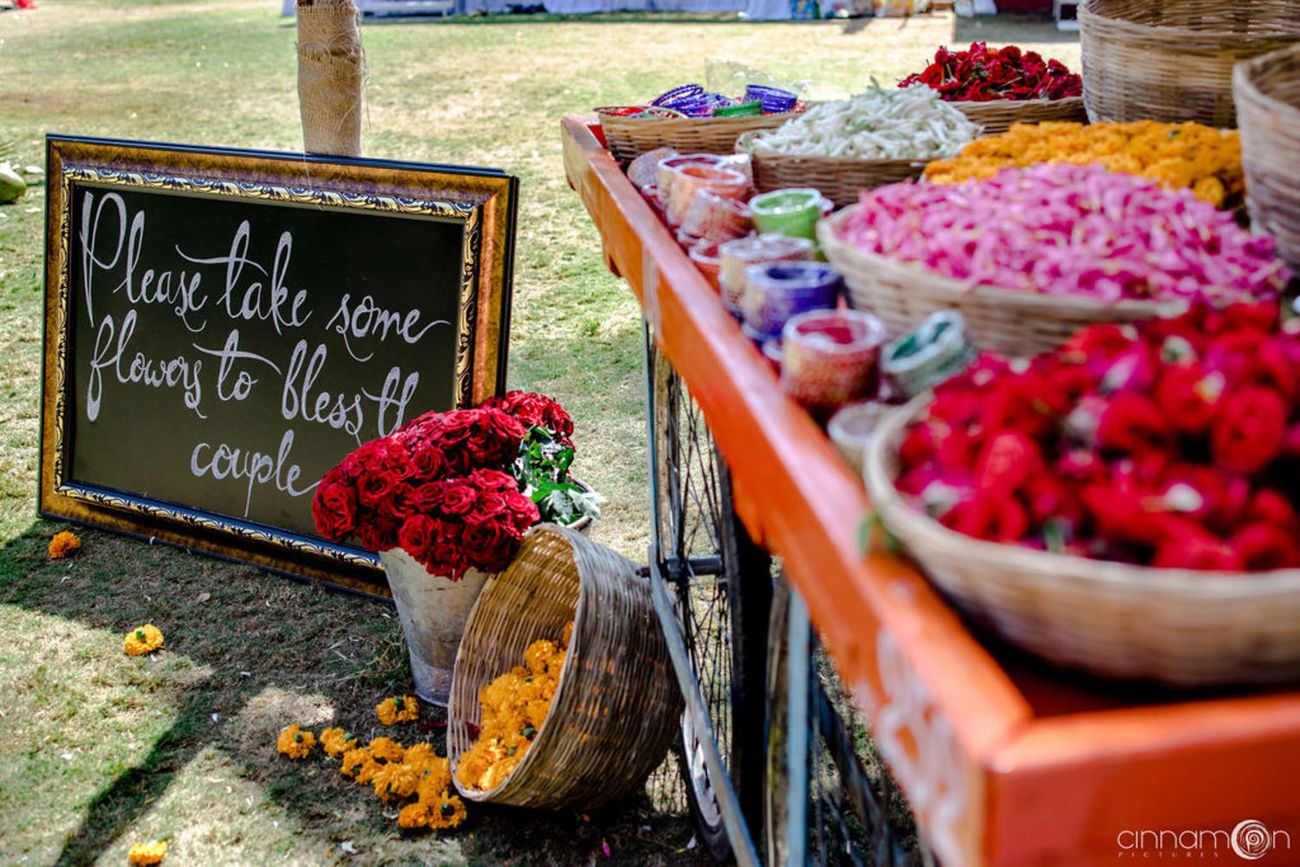 Image via Cinnamon Pictures
Keep it simple with the exact instruction that you'd want to give to your guests in order to make it smooth. Be it a flower shower counter or a mini photo booth.
A must-have wedding welcome sign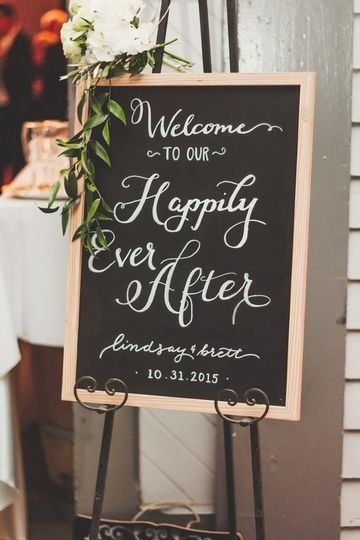 Image via Pinterest
If you're still confused about 'how to make a chalkboard sign?' or 'what to write on it?', let it be a no brainer welcome sign. Add a dash of creativity to it by making it all lovey-dovey.
Put a chalkboard sign on the Mehendi, instead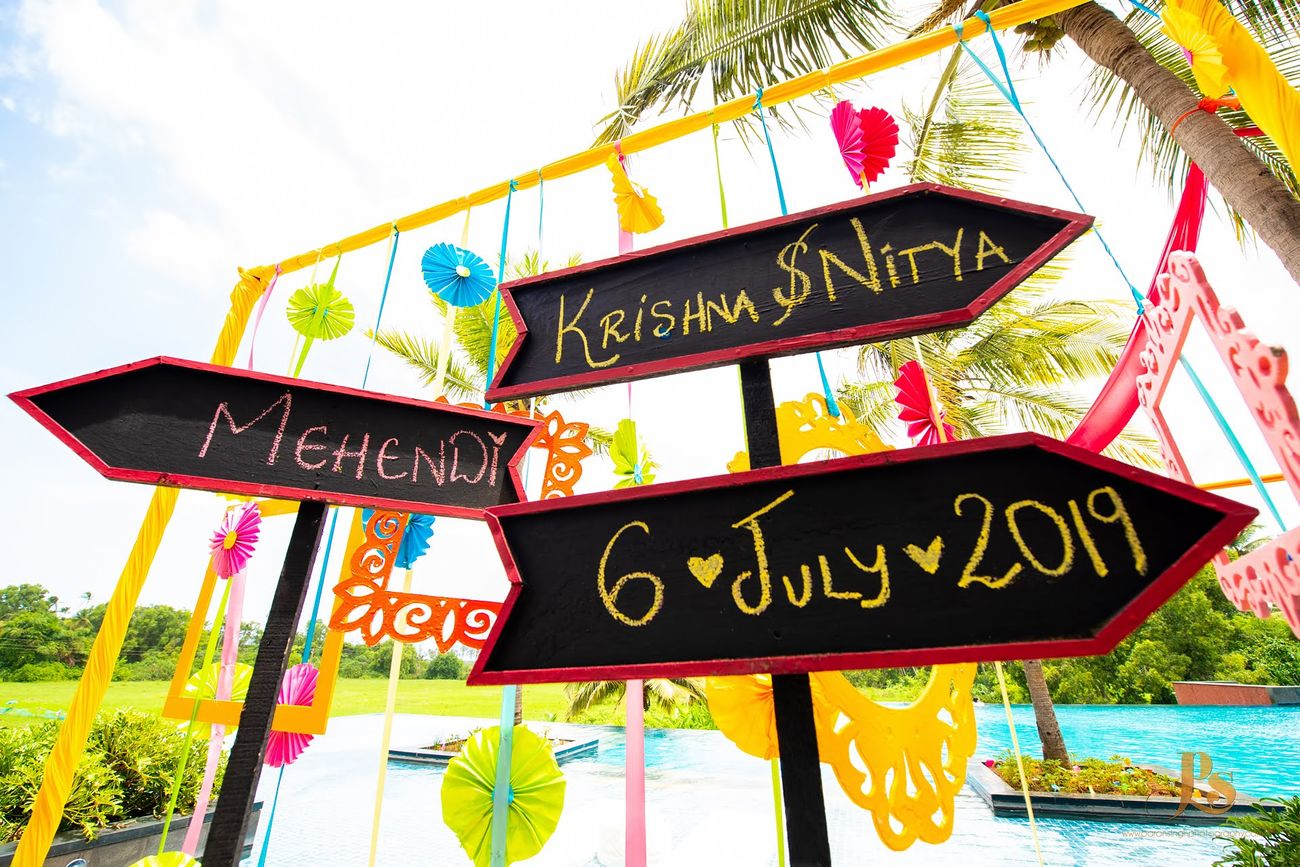 Image via Nitya & Krishna
Bored with signs at weddings already? Let's switch to the Mehendi decor then. Play with the shapes and give it an offbeat vibe with text written in colored chalk.
Custom chalkboard signs for a wedding with the couple's names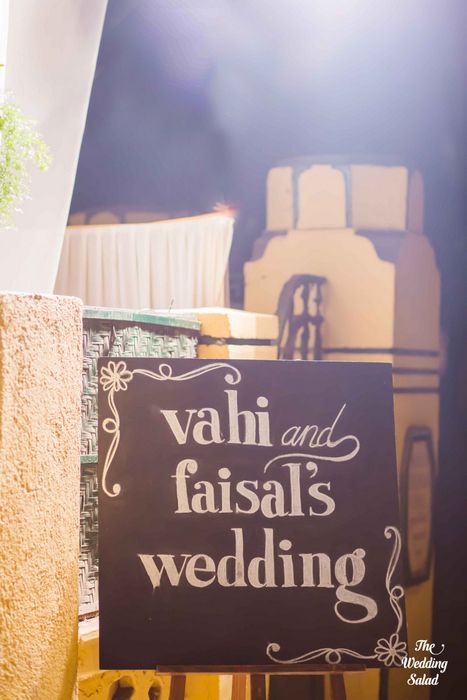 Image via Vahi and Faisal
You can easily place this wedding chalkboard art at your entrance like old school days!
Okay, how cool are these wedding chalkboard ideas! On a rate of 10, how much you rate this DIY wedding trend? 
ALSO READ - The Most Romantic Signboards To Have At Your Wedding!