#FirstPerson – How I Designed My Bridal Outfits Straight From Indian Designers and Karigars!
BY Apoorva | 02 Jul, 2020 | 9386 views | 7 min read
Nothing gets us excited like gorgeous bridal outfits that have been deisgned and crafted by Indian karigars. Real bride Aishwarya Tandon designed all her bridal outfits and got them designed from Indian karigars across India, Singapore and Indonesia. Keep reading to know more about how and where she designed and crafted her stunning bridal outfits!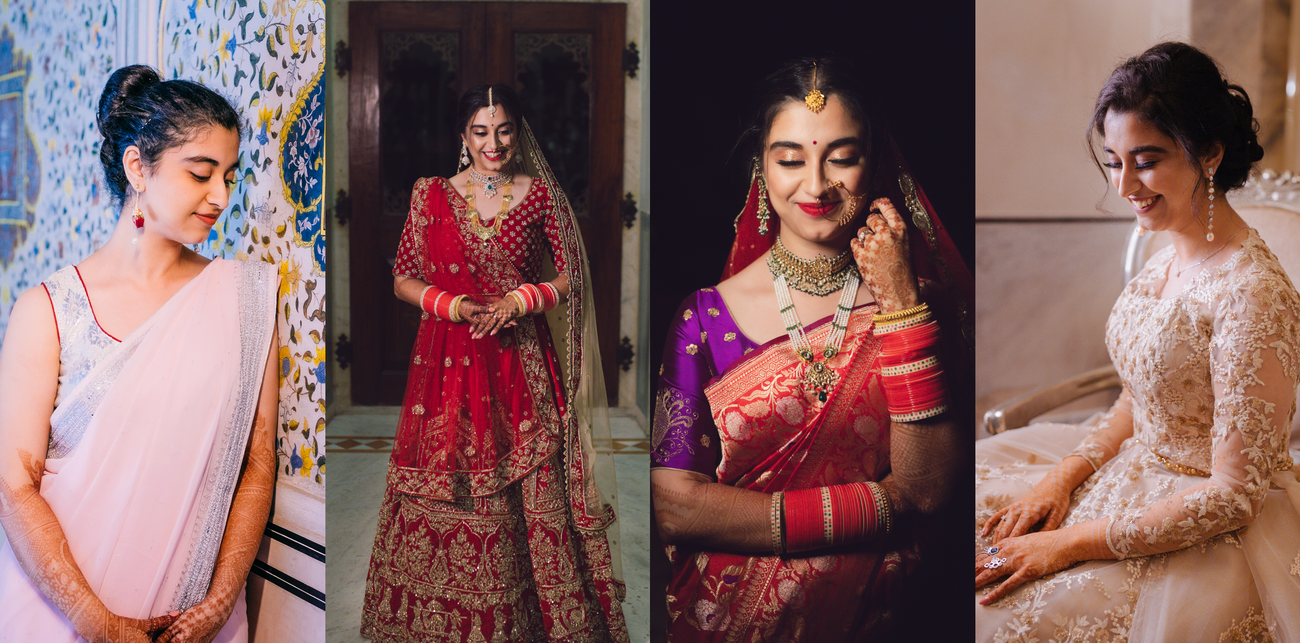 Meet Aishwarya Tandon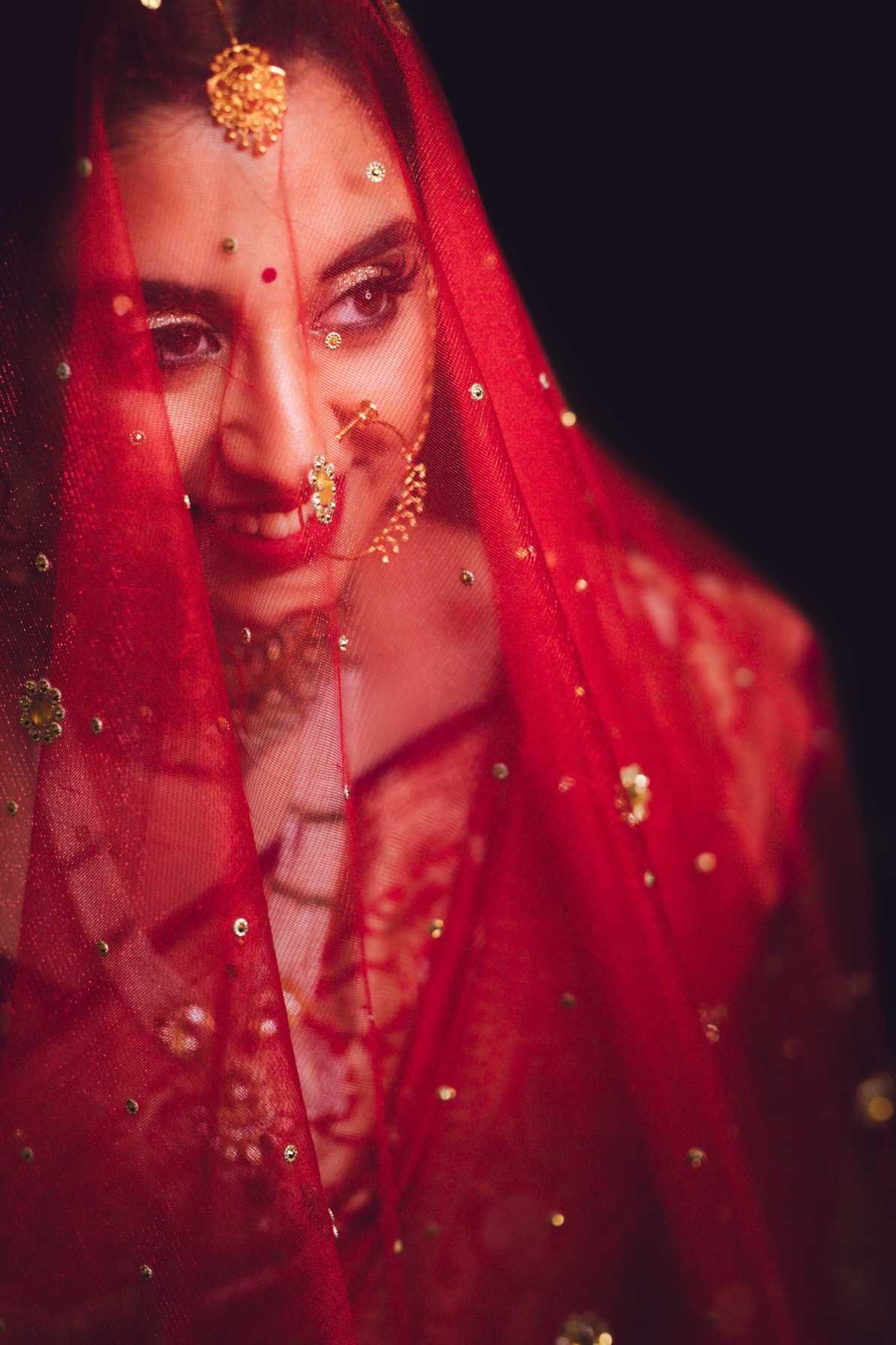 If there was one word to describe our wedding, it would be personal. Being a designer myself, I wanted to design as many aspects about the wedding that I possibly could, and make sure that the wedding was truly personal to us as a couple.
I also wanted to do my part in supporting kaarigars in India. Having been an ambassador for craftsmanship at a 3-week long exhibition in Venice dedicated solely to European craftsmanship, I wanted to support the weavers and craftsmen back home (India/Indonesia/Singapore) as well. I knew that Indian designers do their part in supporting craftsmen, but I wanted to show my support for them in my own way. Thus, most of my wedding outfits were directly from the craftsmen. My family and I had planned a short trip to India to get my wedding outfits, and we went to all these cities and personally met with the craftsmen to get these outfits.
Haldi Outfit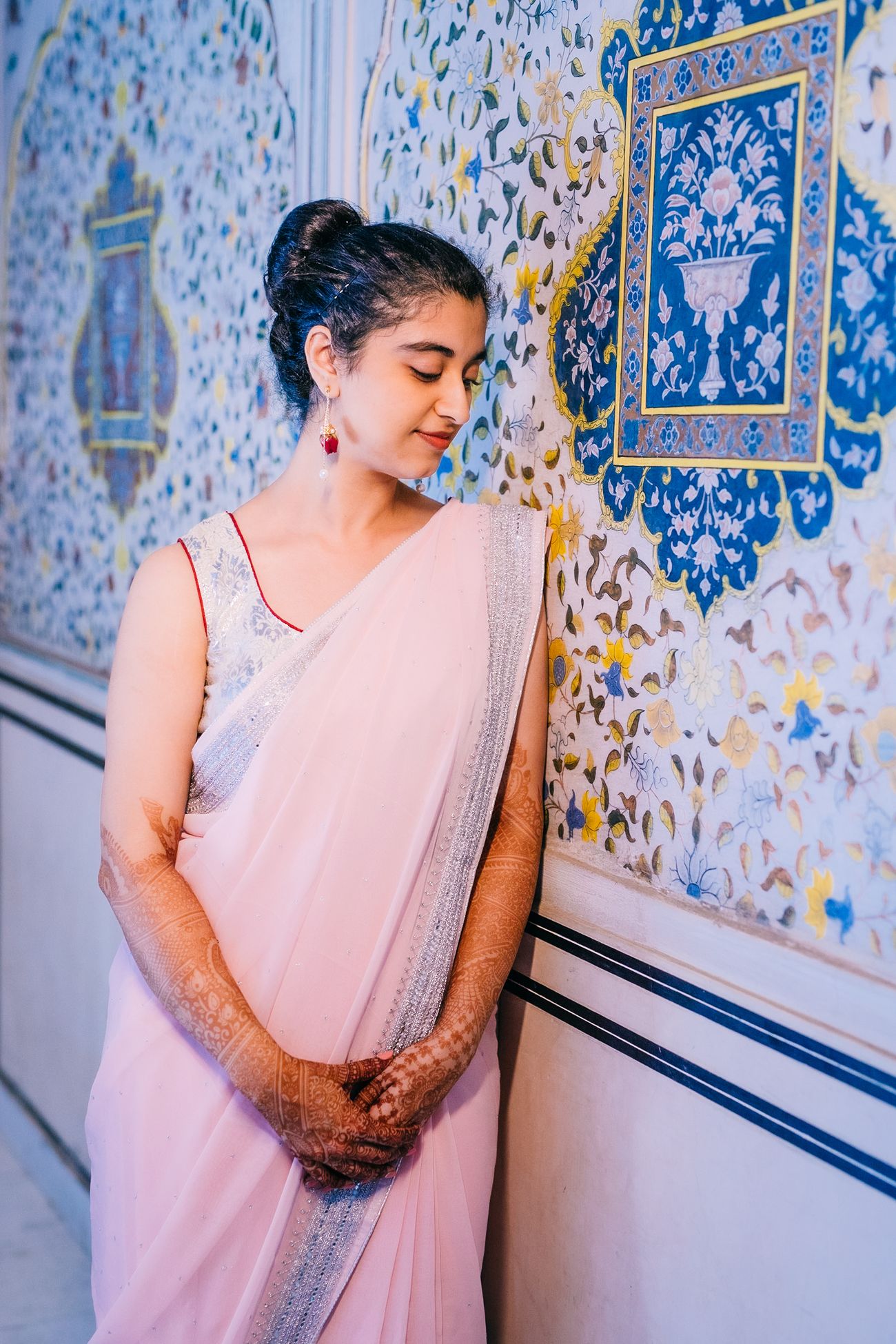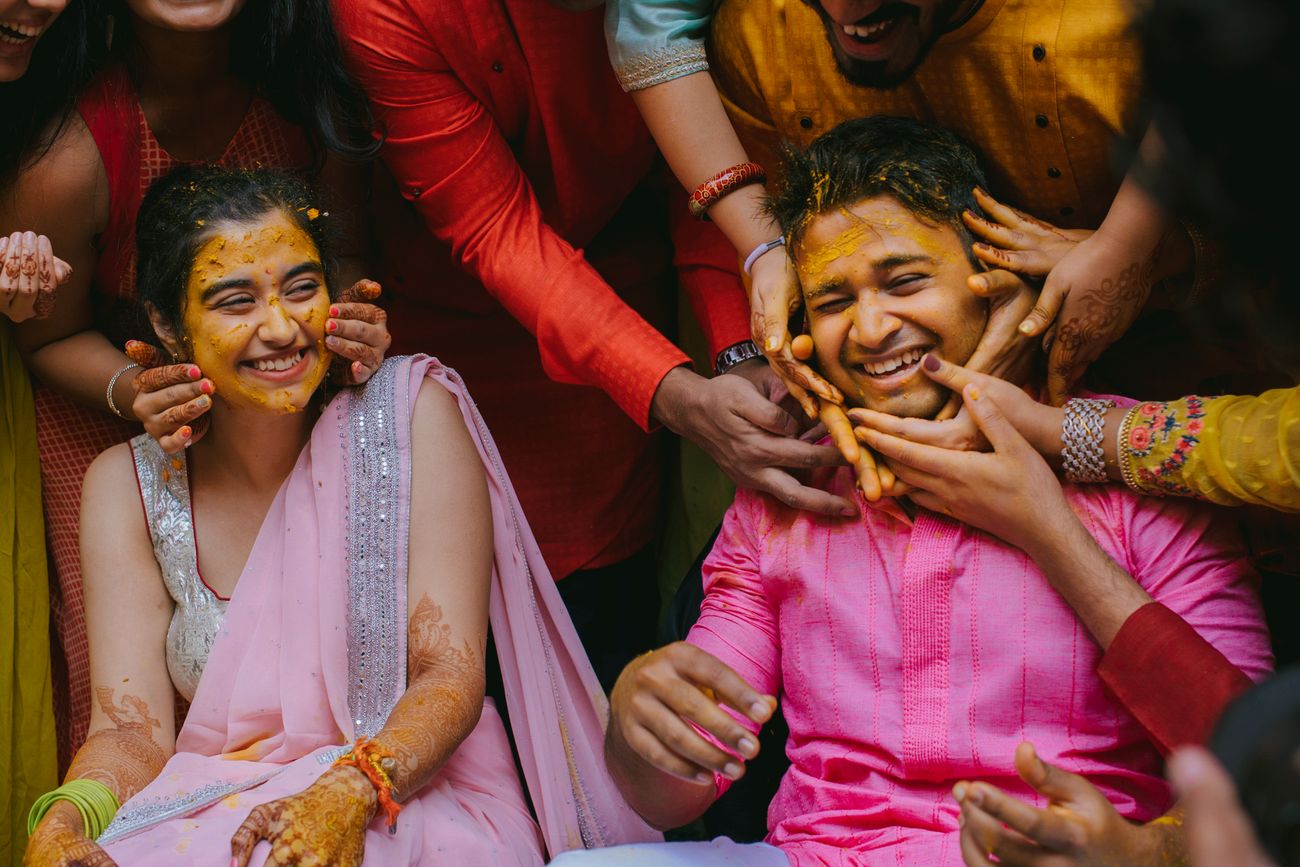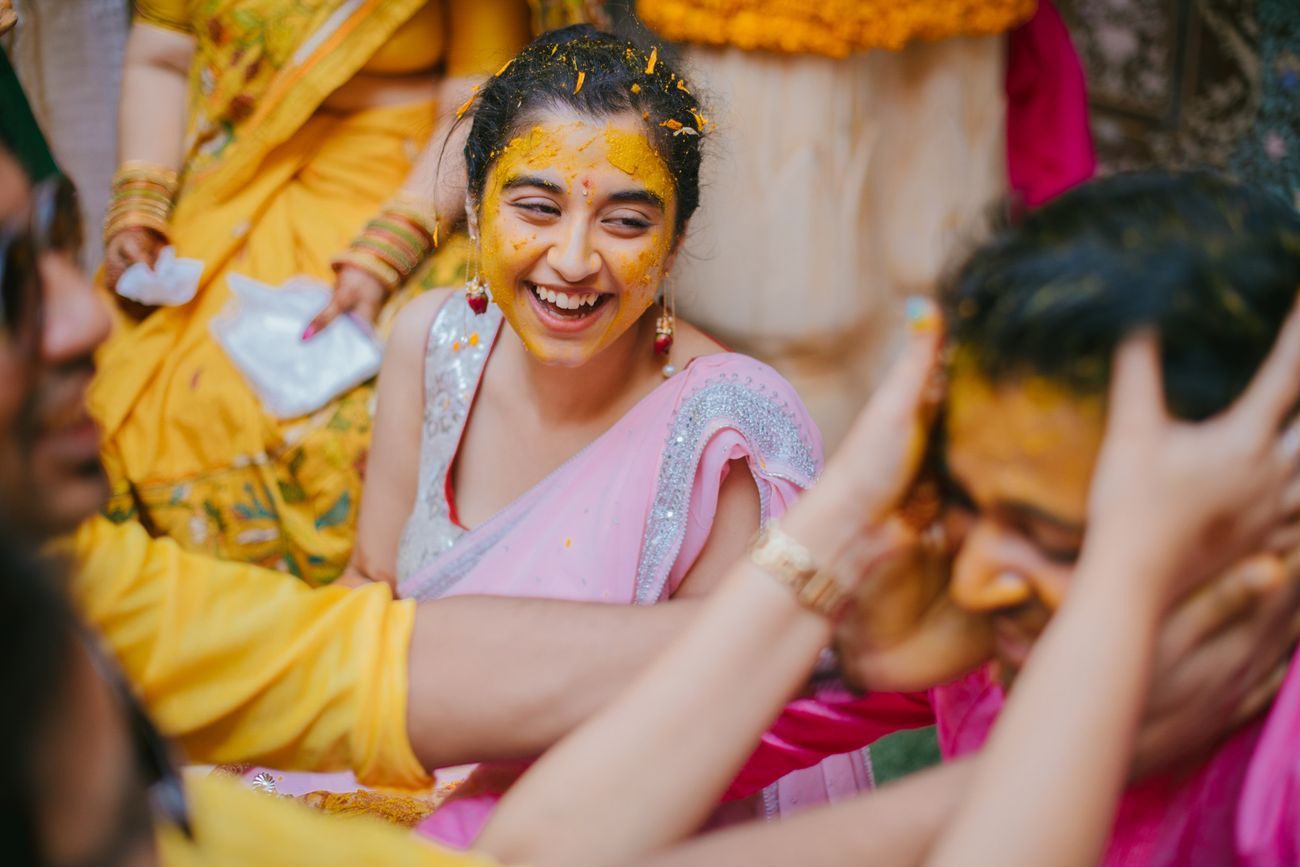 For my haldi/chooda look, I wanted to stay away from the yellows and oranges that are generally worn during the haldi ceremony. I wanted my look for this event to be breezy, and yet be traditional and hence decided to wear a saree. In order to get the saree, we went to an embroidery karkhana in Bareilly. When we reached, we could literally see all the artisans working - it was such a delight! They also had multiple samples of all the different types of embroidery they could do - this made it extremely easy to visualize the final outcome. I liked the idea of wearing a pink saree for my haldi - I imagined that the contrast between pink and turmeric would have been very fresh and also, very me. After looking at their samples, I decided to wear a simple baby pink chiffon saree, with only the border being embroidered (with silver gota thread work). Once I specified to them the width of the border, the fabric and the colour, all I did was place the order for this saree, and it was ready to be picked up in a couple months! It was exactly as I wanted it to be. It was really very easy to work with them - since they had a TON of samples it was very easy to visualize the piece and was literally just a matter of frankensteining different elements from different samples.
Sangeet Outfit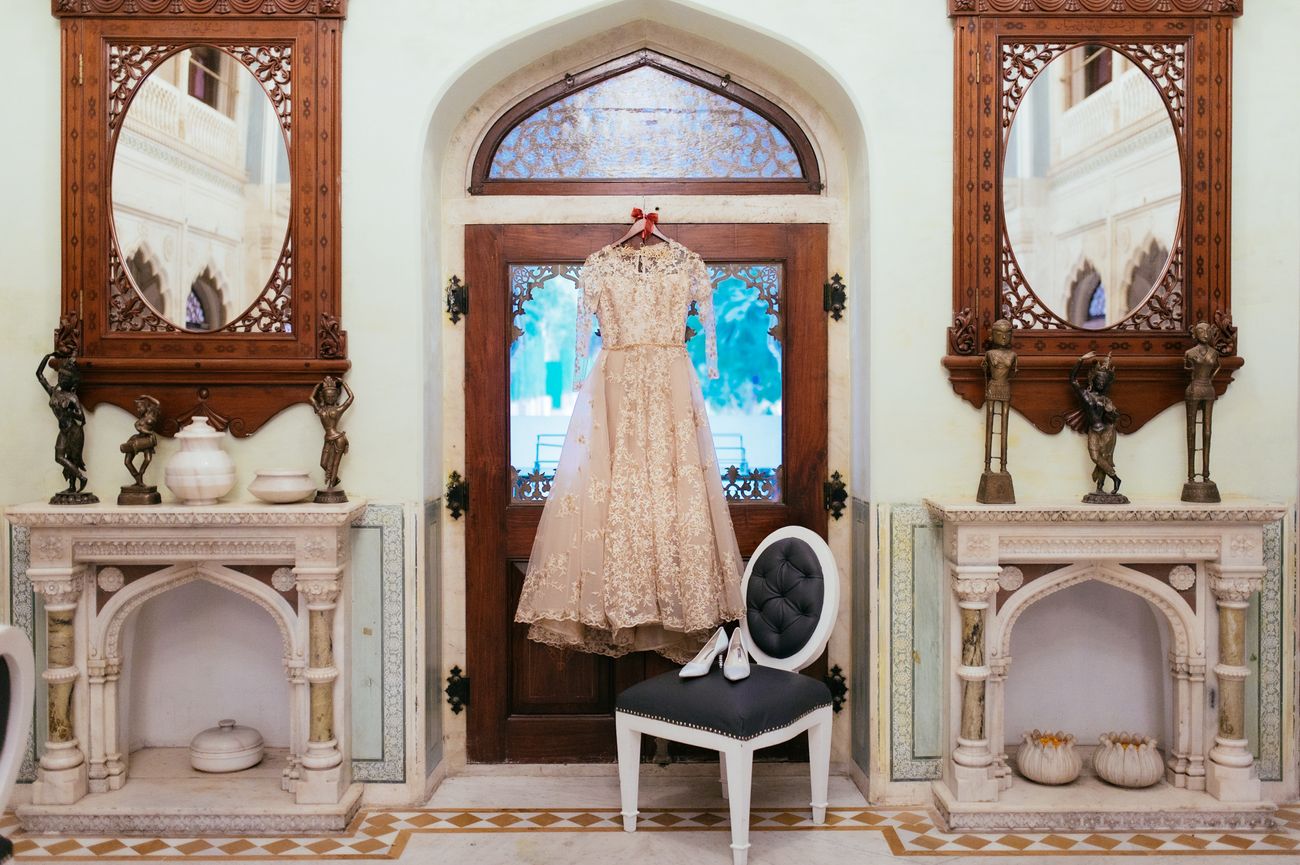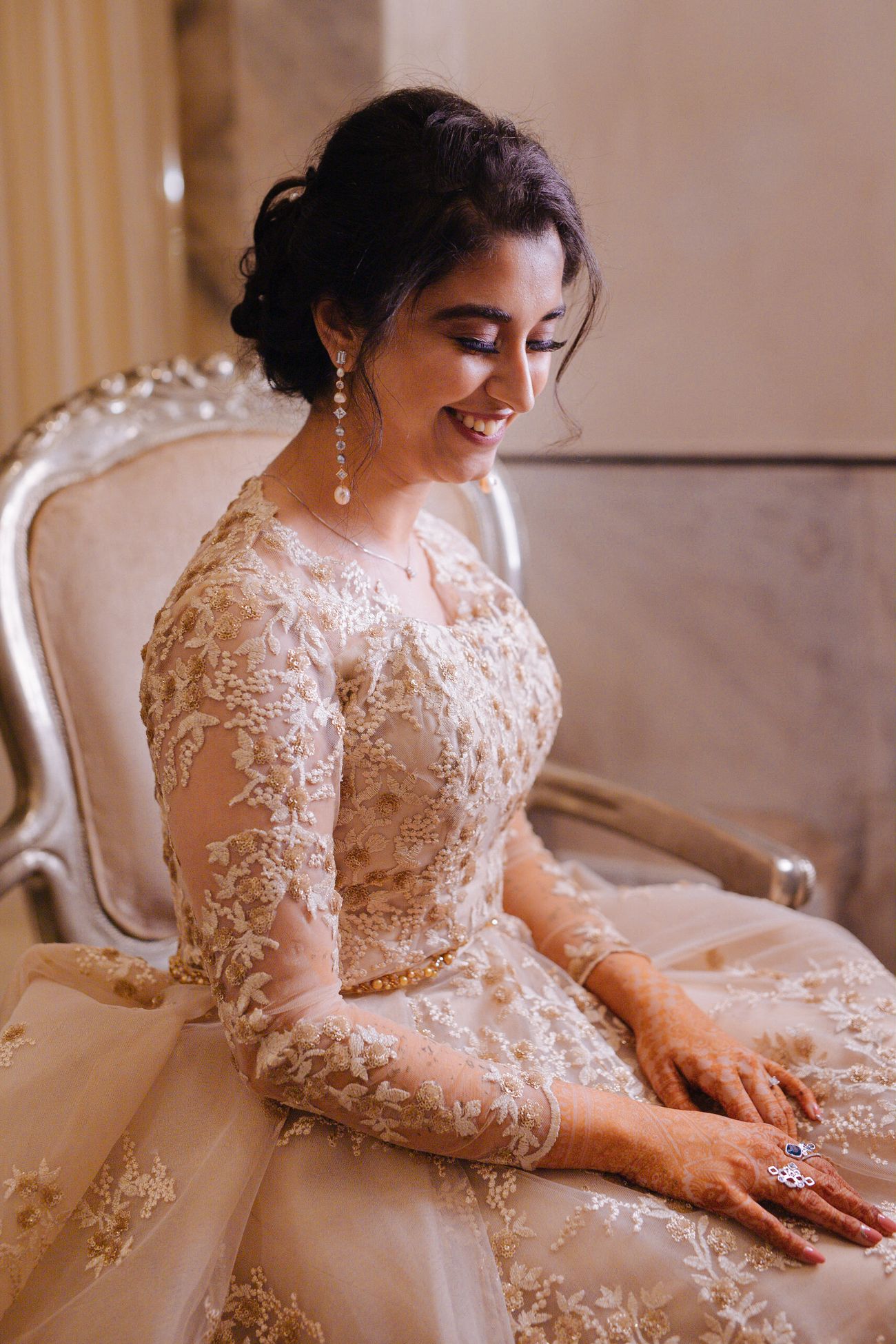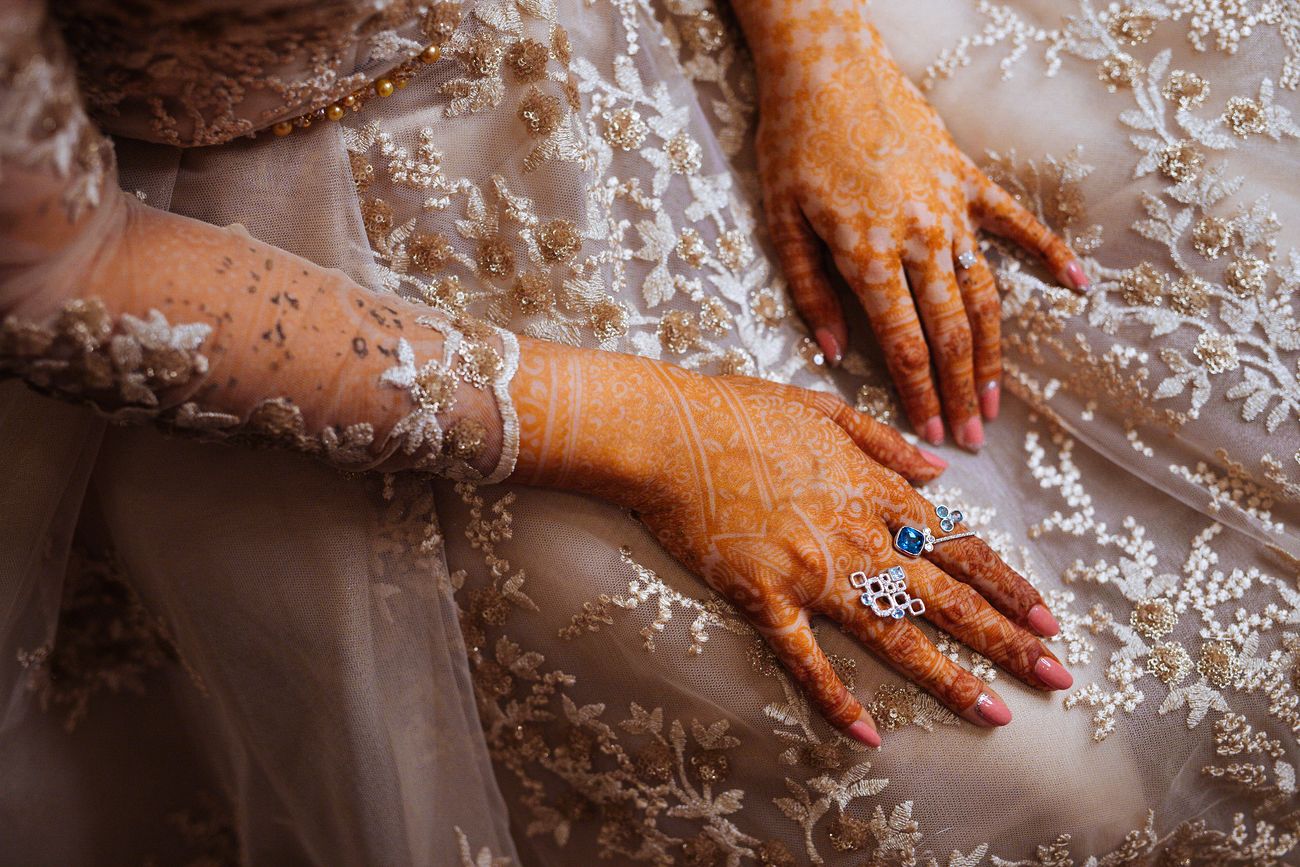 For our sangeet, I always wanted to wear a gown/western outfit. I love the show SYTTD and I wanted my Sangeet outfit to have a bit of the same charm as a wedding dress. Since we had very limited time in India shopping for Indian outfits, we didn't even bother to look at sangeet dresses in India - I wanted to get it personalized and thus we had planned to get it made in Indonesia/Singapore since that was geographically closer. This would make it easier to follow the process closely, and also easily go for trials. After a day of fabric scouting in the biggest fabric market in Jakarta, we spotted this gorgeously beautiful golden net fabric with thread embroidery and sequin work. Since the fabric was from Indonesia, it made most sense to work with an Indonesian artisan as they would know how to best work with the fabric. After a bit of research, we found Riny Suwardi. She is a very famous gown/kebaya seamstress in Jakarta. My idea for my sangeet gown was to get a bridal jumpsuit with an overskirt - the plan was to wear the overskirt throughout the event to make it look like a complete bridal gown, and take it off during the after party to reveal the jumpsuit! Something comfortable and more wearable later too. Riny immediately understood my idea and did her magic!
Wedding Outfit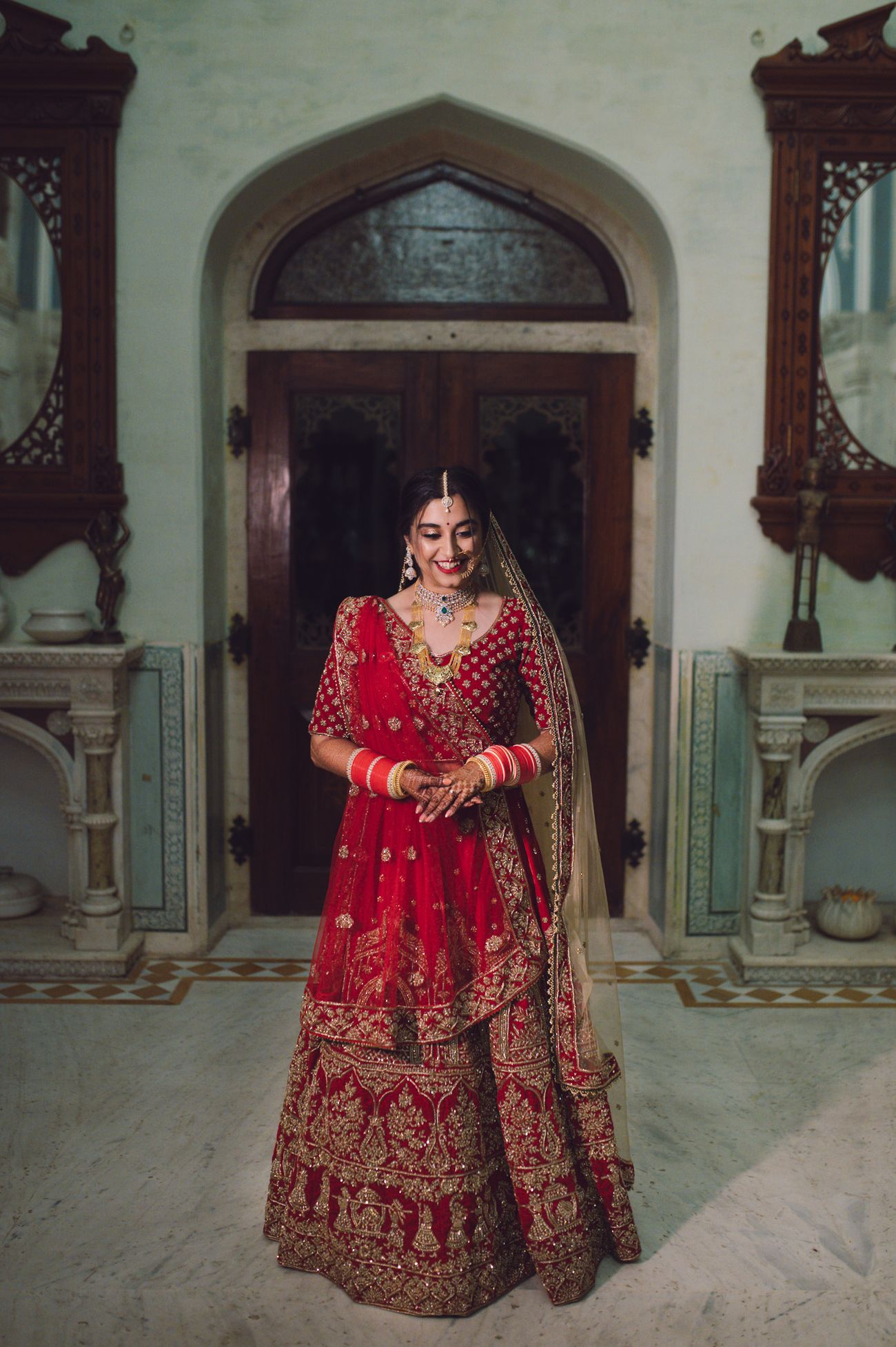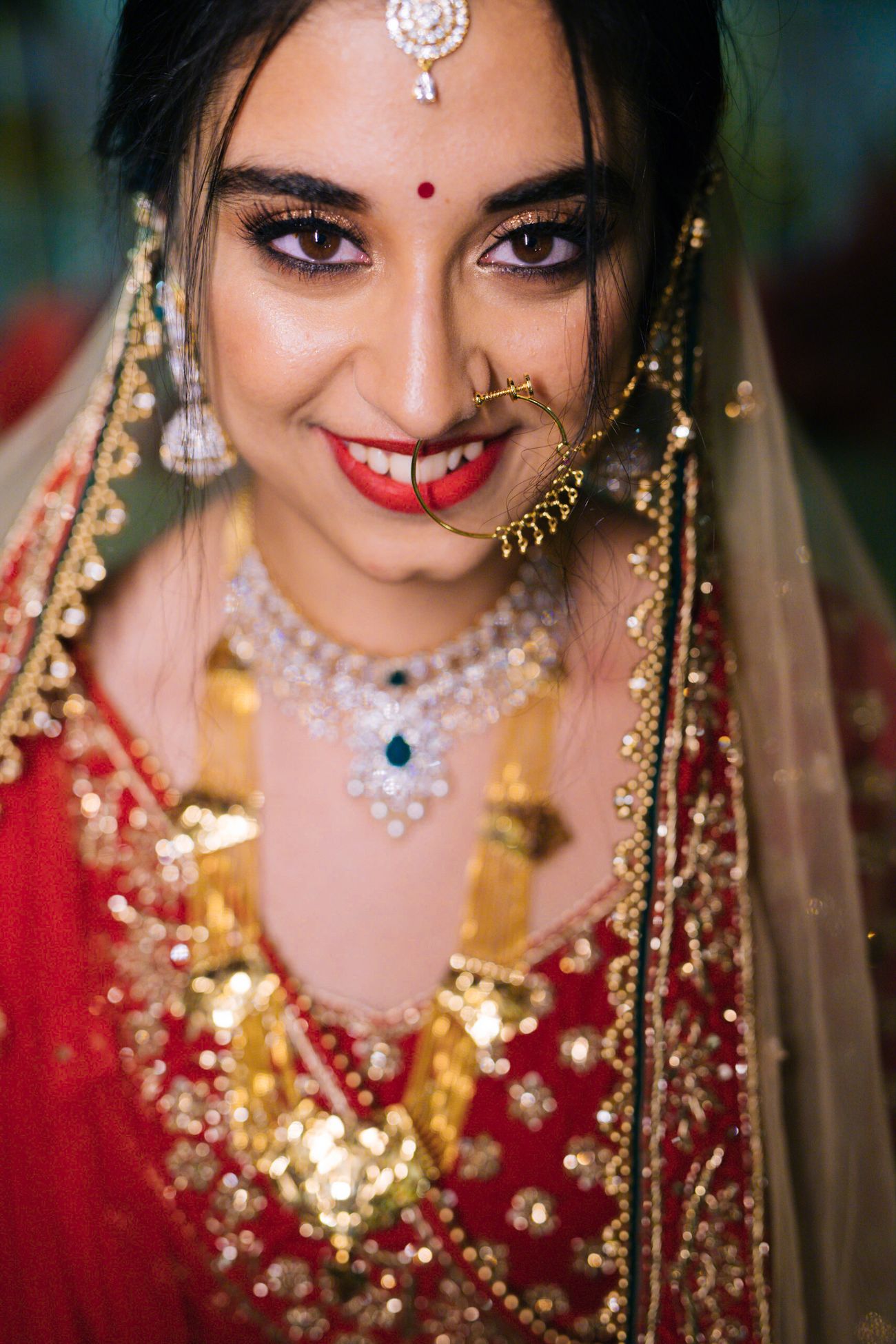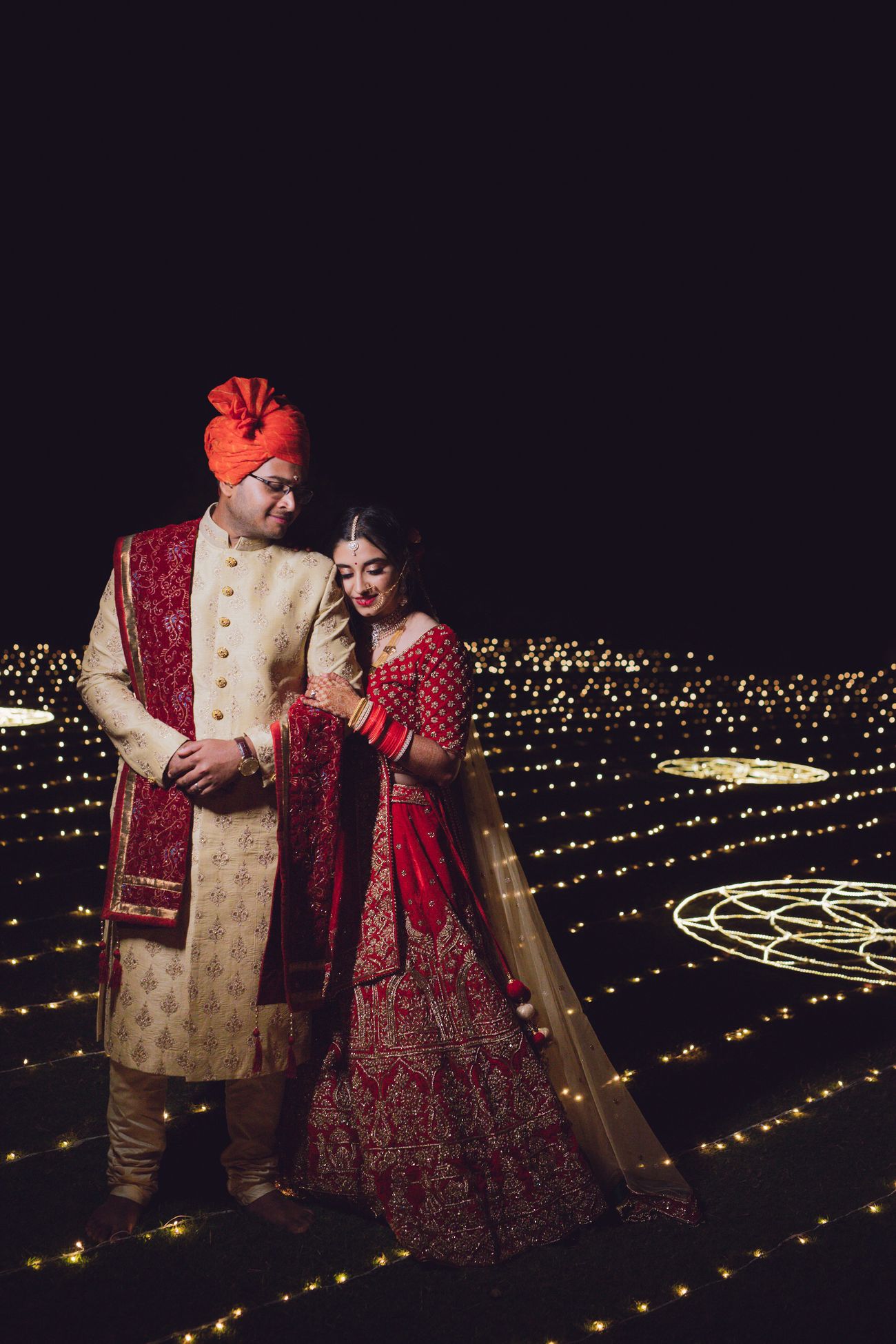 I wanted my lehenga to be timeless - something that would maintain its charm and traditional feel even when I show it to my grandkids. I had never tried on any bridal lehengas, but after a bit of research I was leaning towards those with a bit of jharokha pattern on them because I felt they matched the venue beautifully, and would also be timeless. I decided to get my lehenga from Lucknow - I was born in Lucknow and also my grandparents live there, so the decision of getting my wedding lehenga from Lucknow was more emotionally driven than anything else.
When we visited the zardozi artisan's workshop, we asked him to show us some samples, but unfortunately they only did customized work and I wasn't comfortable managing the customization from overseas, they shared a contact of a store where they supplied lehengas where we could directly try complete lehengas. When we went to the shop, we saw that they had a lot of zardozi bridal lehengas that I could try on - just what I wanted! After trying on a few lehengas, I figured that the colour red looked best on me. While trying on lehengas, I spotted a lehenga with a beautiful jharokha pattern on it - it was a clean lehenga skirt, no additional colours, just beautiful jharokhas and baarat drawn out with stunning zardozi embroidery. I added some more buttis on the top of the lehenga skirt and made it in red, and they readily agreed to these customizations. To finish the ensemble, I ordered an additional dupatta in golden colour with a green underside border to add a small accent of another colour. This was it - this was going to be my lehenga. I truly loved how the lehenga looked and felt - and it completely matched the jharokhas of the venue!
Pheras Outfit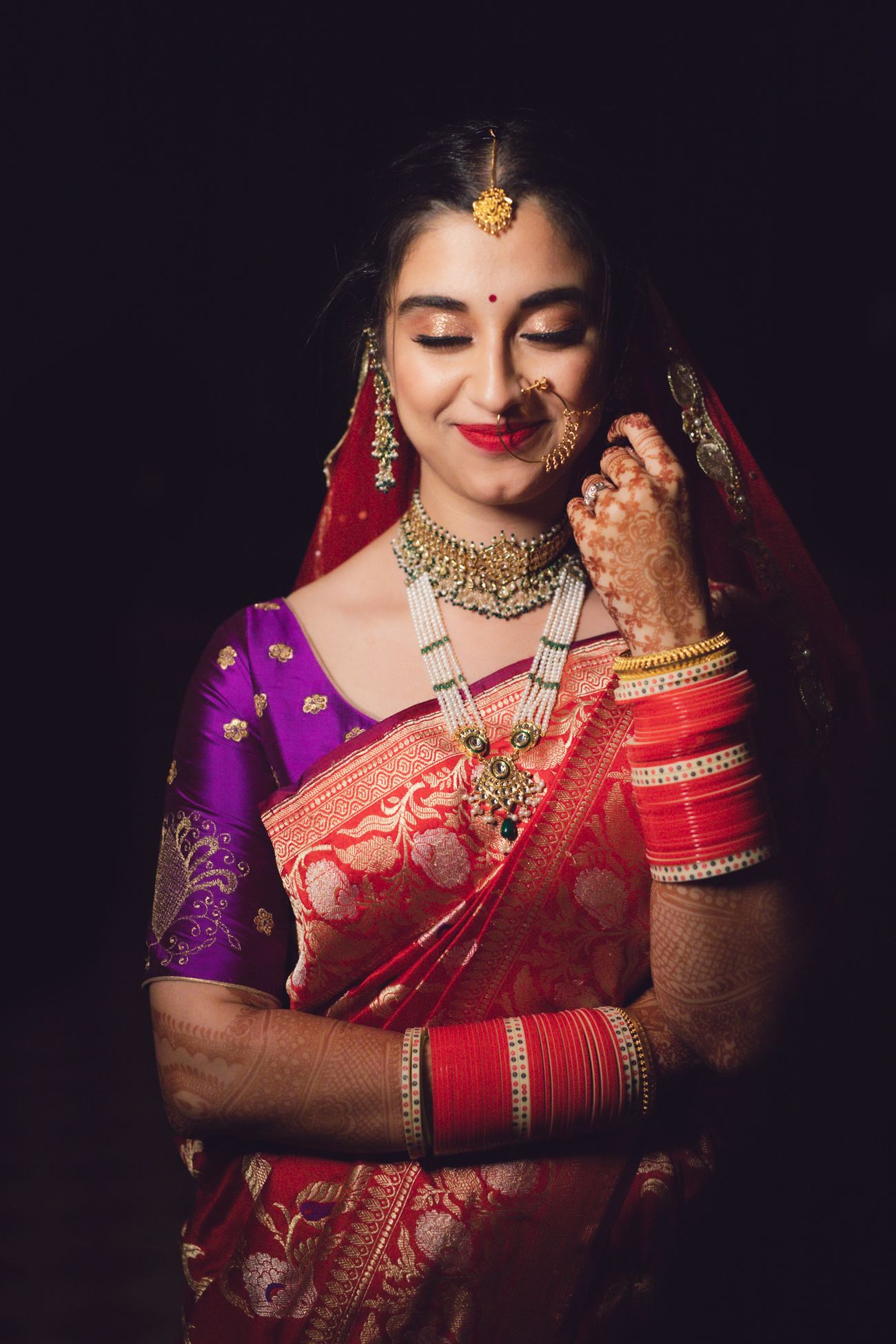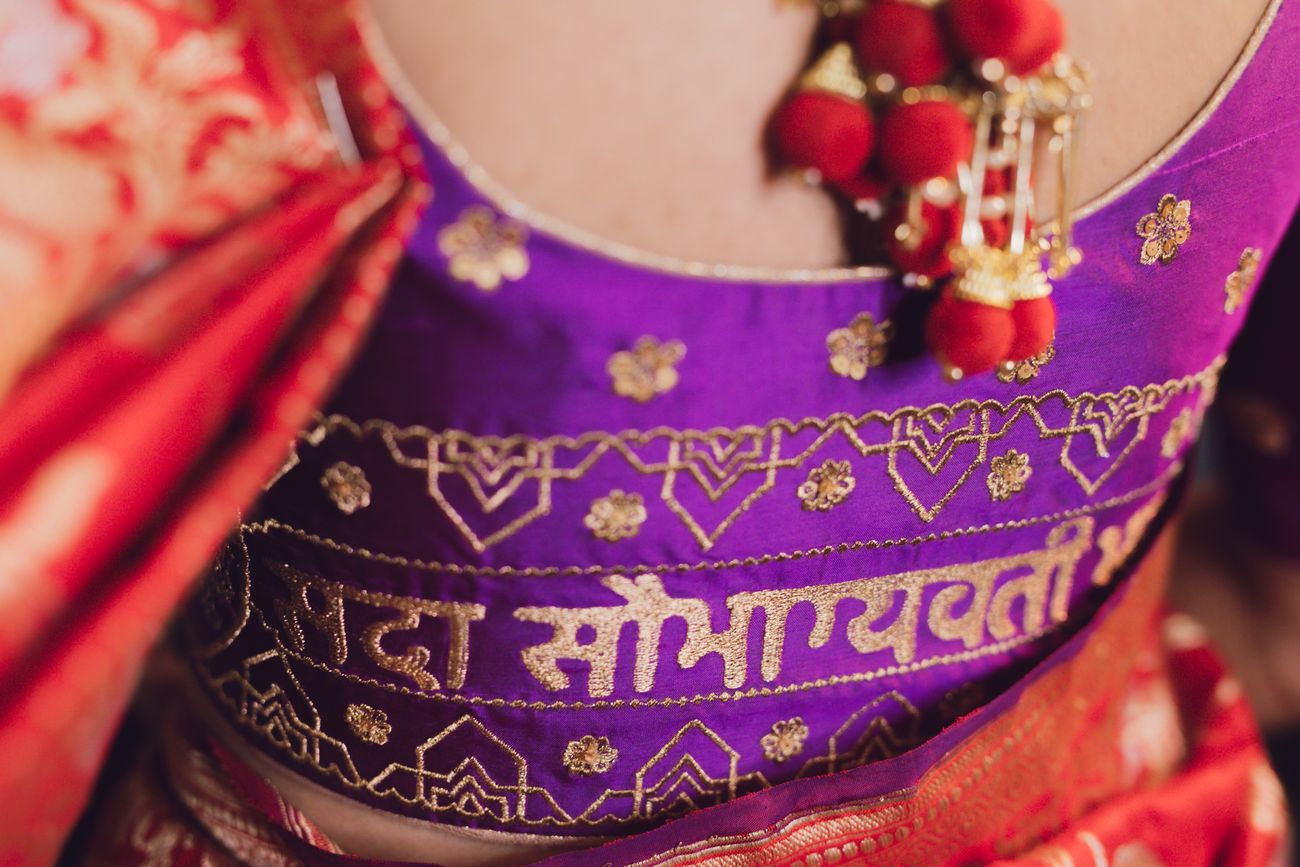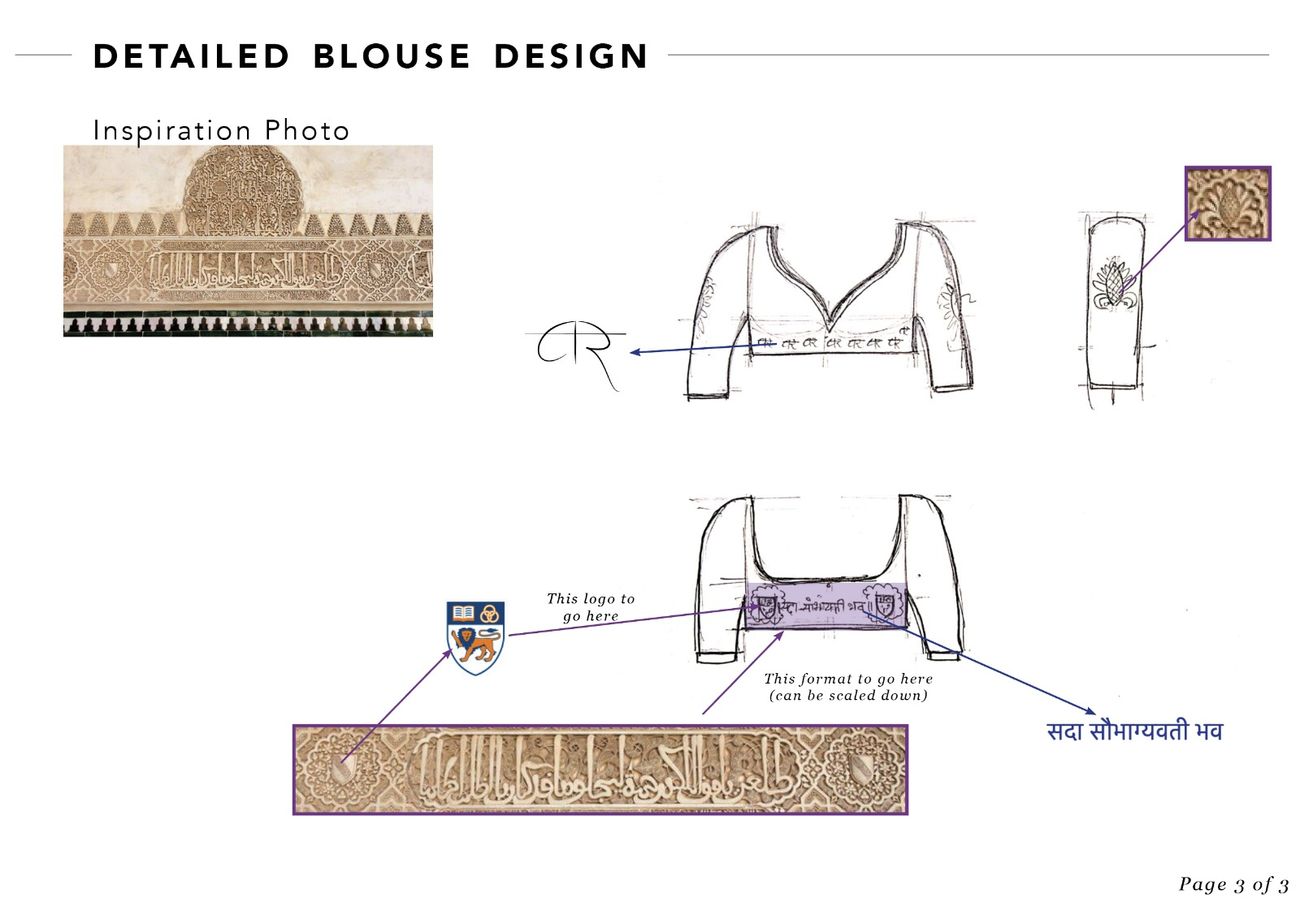 Since Raunak is Bengali, I wanted to wear a red Banarasi saree for the pheras, as per their customs. In order to get the Banarasi saree, my family and I went to Varanasi and got this saree directly from the weavers. We went to a shop where the weavers displaying their own sarees one-by-one, and that's how we selected my red banarasi saree for the pheras.
For the blouse, I wanted it to be more personalized, since I didn't really have any personalized element in the saree. It was designed by my sis-in-law and it covered multiple elements of Raunak and my story (the proposal, our wedding logo, and even the logo of the university where we met!). Since this was such a personalised blouse, I wanted to work with a designer geographically closer to me, so that I could follow the process closely and easily go for trials. Natasha Ashoka is an Indian-wear designer based in Jakarta, and she executed the blouse just perfectly. She was very friendly to work with, and understood right from the beginning what I was looking for. She is also very knowledgeable and guided me well on the technicalities and design elements that would work best. I just presented to her the design, but she is the one who really made it work. Would recommend her in a heartbeat!
Loving what Aishwarya did for her wedding outfit but you don't have time to experiment or DIY? Find the list of best designer bridal wear on WedMeGood.
Vendors: Wedding Photographer: Beginnings For You★ 5 , Wedding Venue: Chomu Palace Hotel, Jaipur, Wedding Invites: Designed by myself, Wedding Decor: My own ideas, executed by Noon Moon Events★ 4.9 , Wedding Jewellery: Designed by myself / Heirloom Jewels / PMJ Jewels★ 4.9 / State Property Fine Jewellery / Etsy, Wedding Outfits: Kaarigars / Own ideas executed by Natasha Ashoka, Riny Suwardi, Wedding Makeup: Makeovers by Saloni Patni★ 5 , Jaipur, Reception Photographer: Studio W- Photography & Live Stream Experts★ 4 Delhi, Reception Makeup: Makeup by Zainab Ashraf, Kolkata