Fixed Decor Venues In & Around Delhi ! *Easy, Pretty, Practical!
BY Sakshi | 29 Oct, 2017 | 772 views | 3 min read
If you are one of those brides or couples who honestly finds fixing up wedding decor more like a pain, then there's a super easy option for you, which will not only save you time and hassle, but probably some big bucks too! There are a lot of wedding venues in and around Delhi which come with fixed decor elements- right from the ceiling to the mandap, a lot of it is already done, and in some cases, in a very classy way too! So here are some venues in and around Delhi which look super pretty already, and for your benefit, with prices too!
With gorgeous chandeliers, lamps, installations hanging above and pretty chairs and tables laid out, it's very hard not to get impressed with a venue like this one- and the best part is, the decor comes with the venue, so you don't have to work hard to pretty it up! The decor has a very premium feel with a royal vintage sort of look and what's even better is that they have specially designed theme decor venues, so you can choose what you like! The best part is, not only does it look royal, but it's pretty accommodating too! With indoor and outdoor venue options, Country Inn and Suites even has halls that can host upto 3000 people at a go so it is pretty much perfect for a Big Fat Indian Wedding!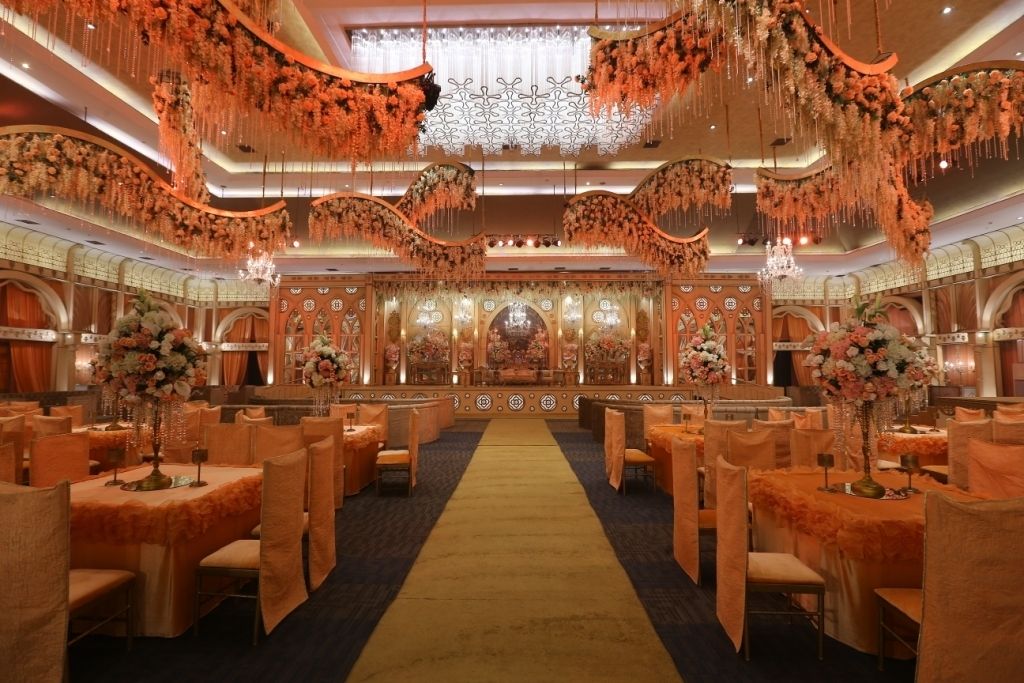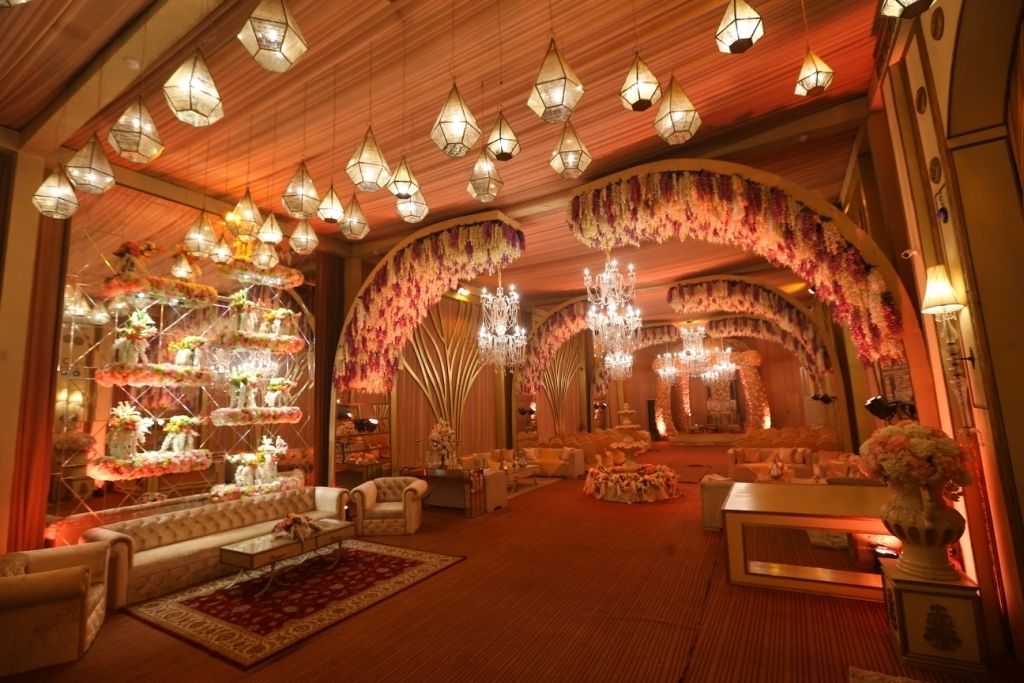 Location: Near Vaishali Metro Station, Ghaziabad
Price: Rs 2,500 pax onwards
Find out more here.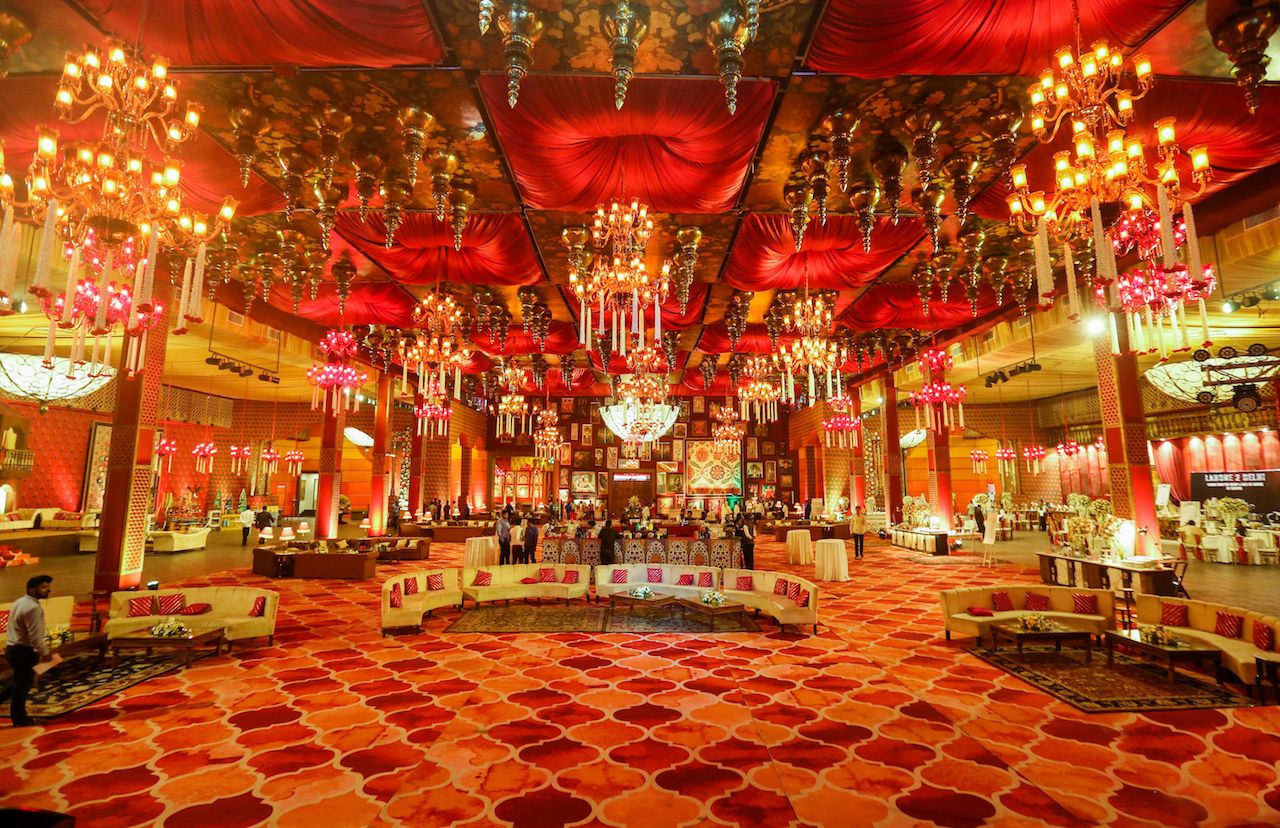 Luxurious, opulent and glamourous- these are some of the words you can use to describe these venues by Ferns N Petals. Landscaping on the outside and fusion decor inside make it a desirable wedding venue. In fact, the ceiling is enough to add that X-factor to the wedding decor, and the printed flooring and the gorgeous chandeliers make it one of a kind!
Location: Ritz in Ambience Golf Drive Gurgaon and Udman at National Highway 8
Price: On Request
Find out more about The Ritz here and Udman here.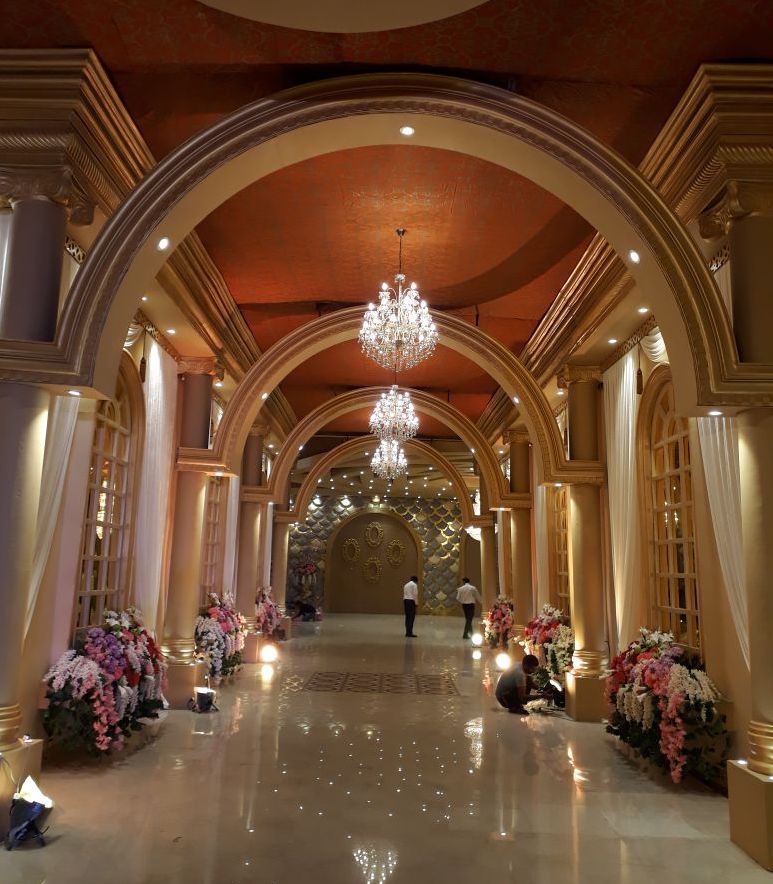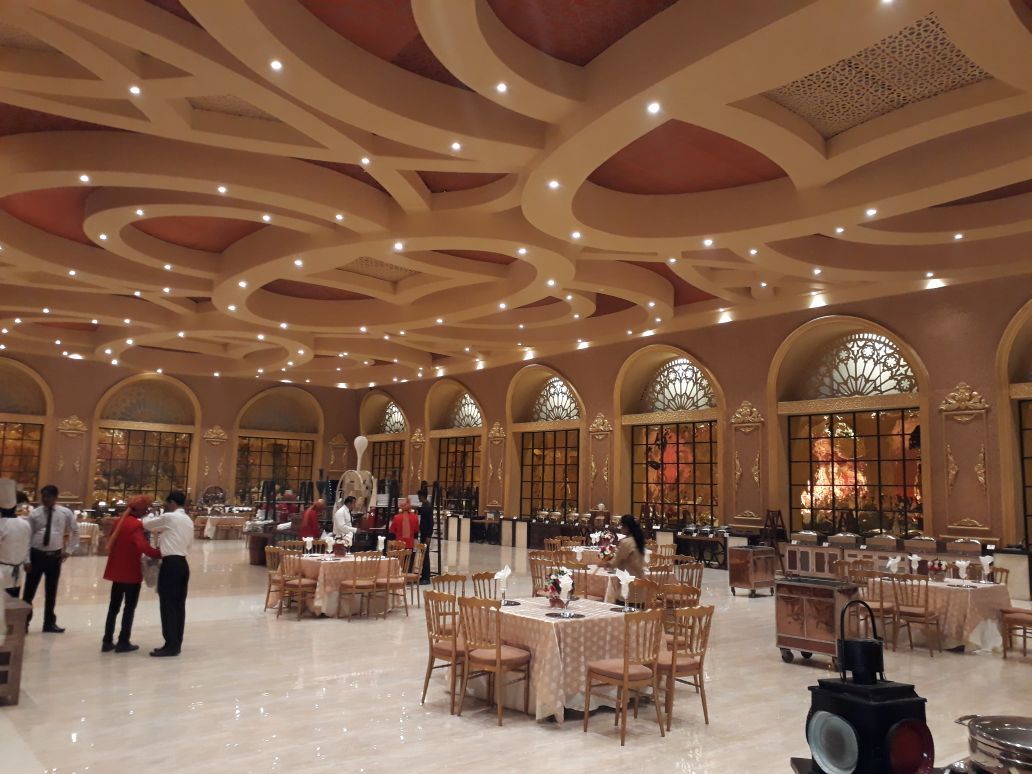 With decor that has a very modern feel and vibe, Tivoli Grand Resort Hotel is yet another wedding venue which makes it easy to deck up. One of the biggest banquet hotels in North and West Delhi, this one has the perfect ambience for a big lavish wedding that seems far away from the city despite being right in it!
Location: GT Karnal Road
Price: Rs. 2,750 pax onwards
Find out more here.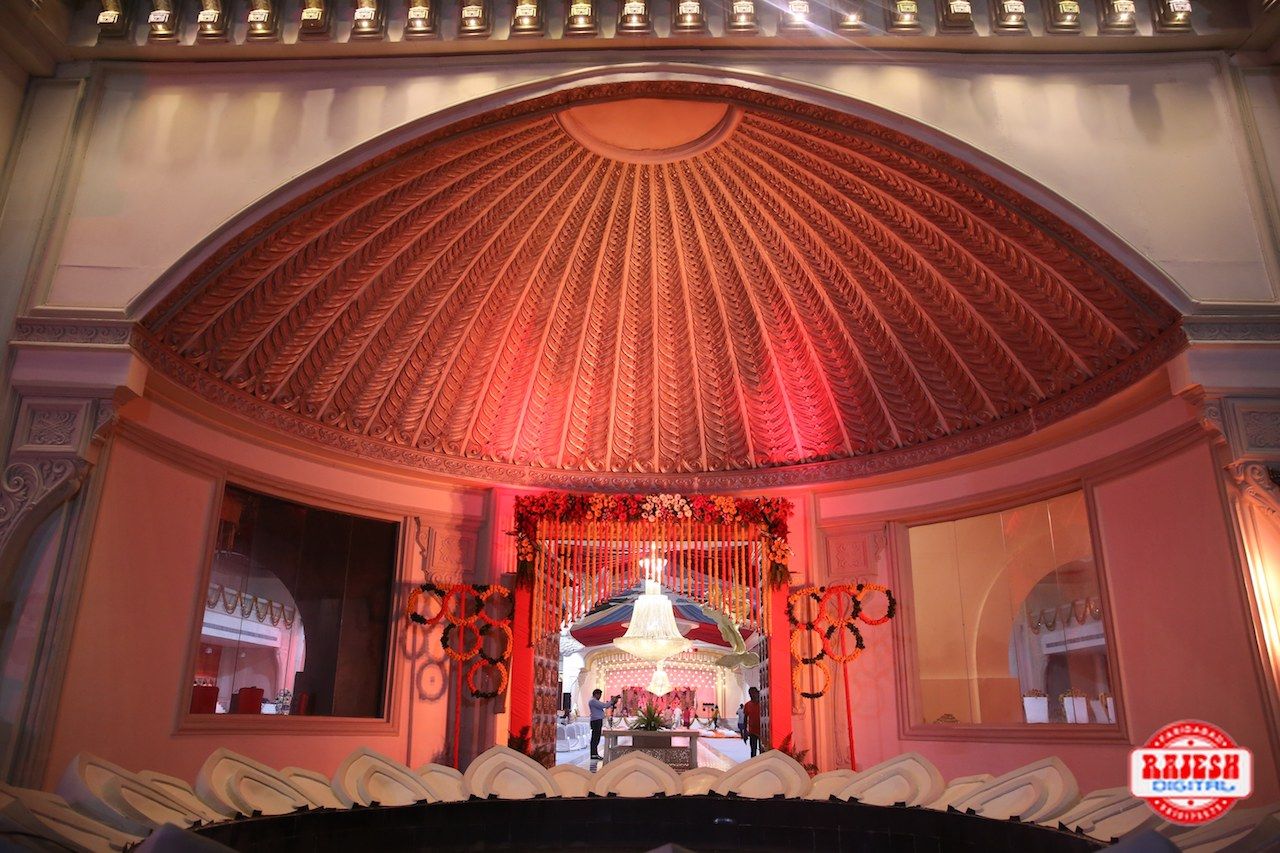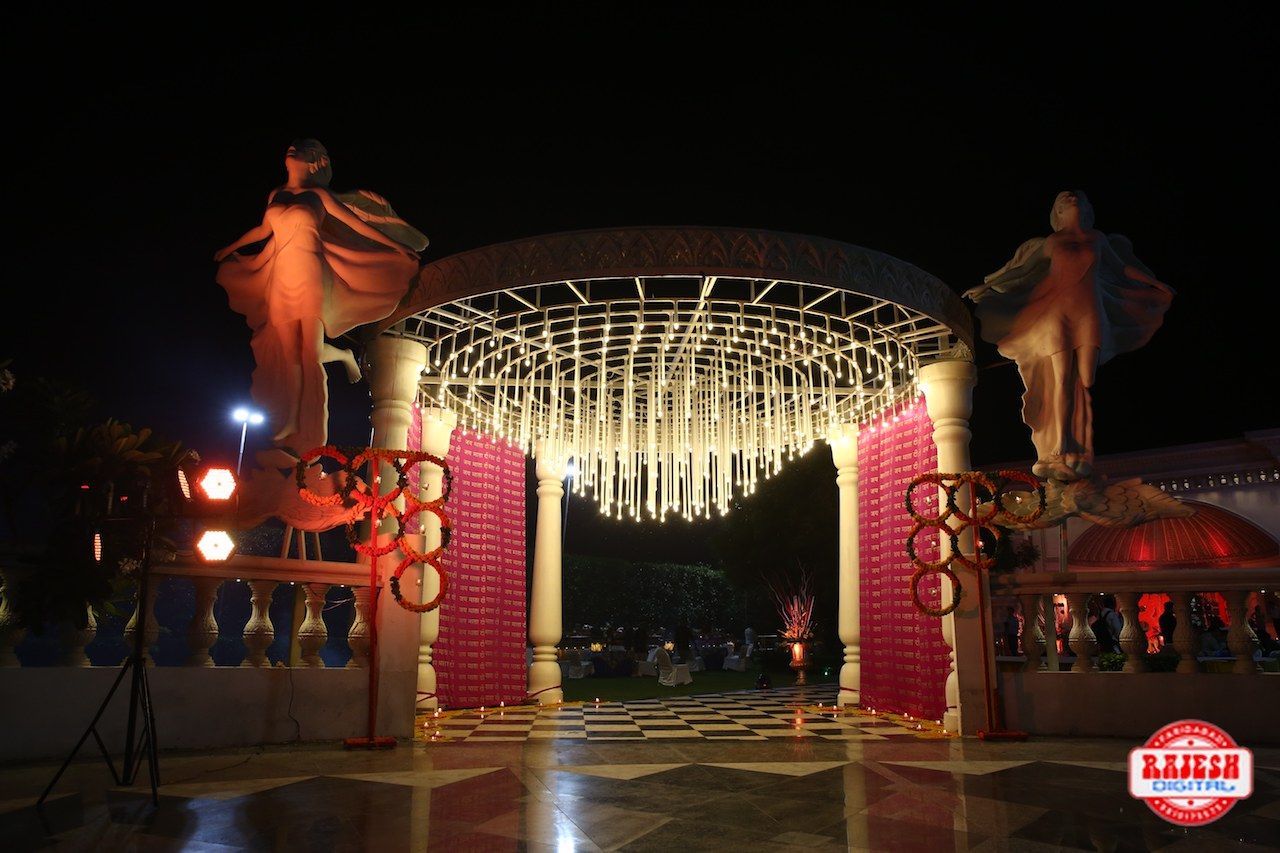 Very aptly named, this wedding venue is no less than a modern-day palace, with sprawling spaces and open areas. There are a lot of decor elements that come with the venue, right from the entrance way to the food display table! The installations and statues at the venue are mesmerising as is the entire ambience!
Location: Badkhal Road, Faridabad
Price: Rs Rs. 2,500 pax onwards
Find out more here.
Apart from these recommendations, there's also venues like Radisson Blu Paschim Vihar which has a lot of fixed decor elements if that's what you're looking for!
ALSO READ: #BridesOnABudget:12 Simple Ways To Slice Your Wedding Budget By Half!