Gorgeous Wedding In The Middle Of A Desert With Only 8 Guests!
BY Aakanksha | 02 Nov, 2020 | 27030 views | 7 min read
Beach wedding? Seen! Palace wedding? Seen! Mountain wedding? Seen seen seen! Desert wedding? Ummm...what? Yup, if you're thinking along those lines, we are with you!
When we first heard of Unita and her wedding in the middle of a desert, we were also shocked. However, as soon as we saw the beautiful images, the shock turned into awe. Unita's wedding celebrations were full on inspo worthy ideas and so many details that we wanted to pin and save! From the gorgeous mandap in the middle of sand dunes of Abu Dhabi, to a couple shoot in a palace, from the fact that there were only 8 guests at the wedding to their coordinated gold and ivory outfits, this was one celebration that kept on wowing us. Unita wore a beautiful deep red floral lehenga and paired it up with minimal jewellery, while Nikhil wore a burgundy sherwani and complimented her perfectly. So, without further delay, scroll down and be amazed by this unique and offbeat wedding. 
Meet Unita & Nikhil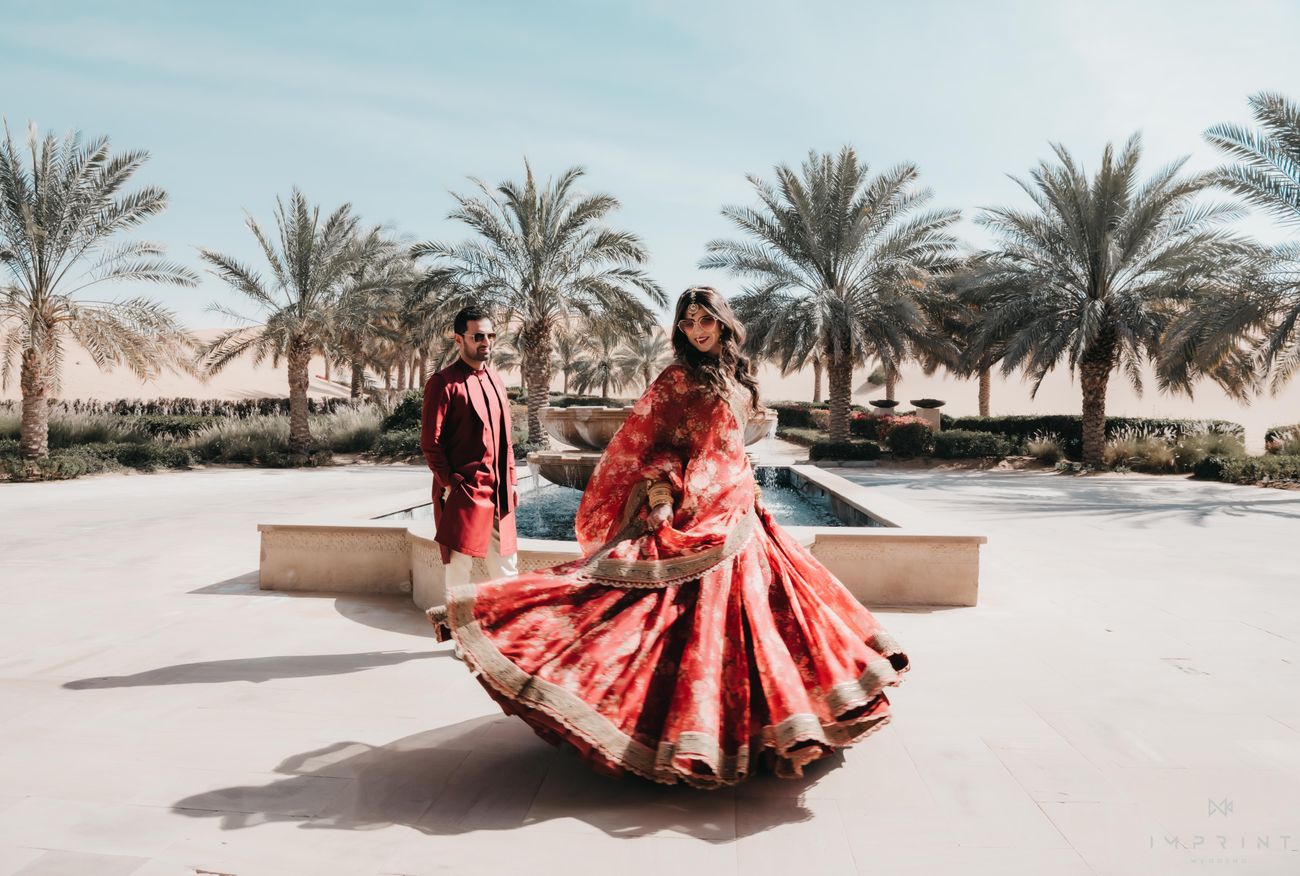 I met my husband Nikhil through the typical arranged marriage set-up. It was love-at-first-meeting. Conversation flowed easily, so much so that a 2-hour meeting turned into a 6-hour session of laughter, sharing stories and life experiences. It was like I had known him forever. We both realized that we had the same outlook to life; we had unconventional but similar ideas on how to we wanted to lead our lives, something neither of us had found in anyone until then. It all worked out beautifully, and we were officially engaged within a few months.    
The Wedding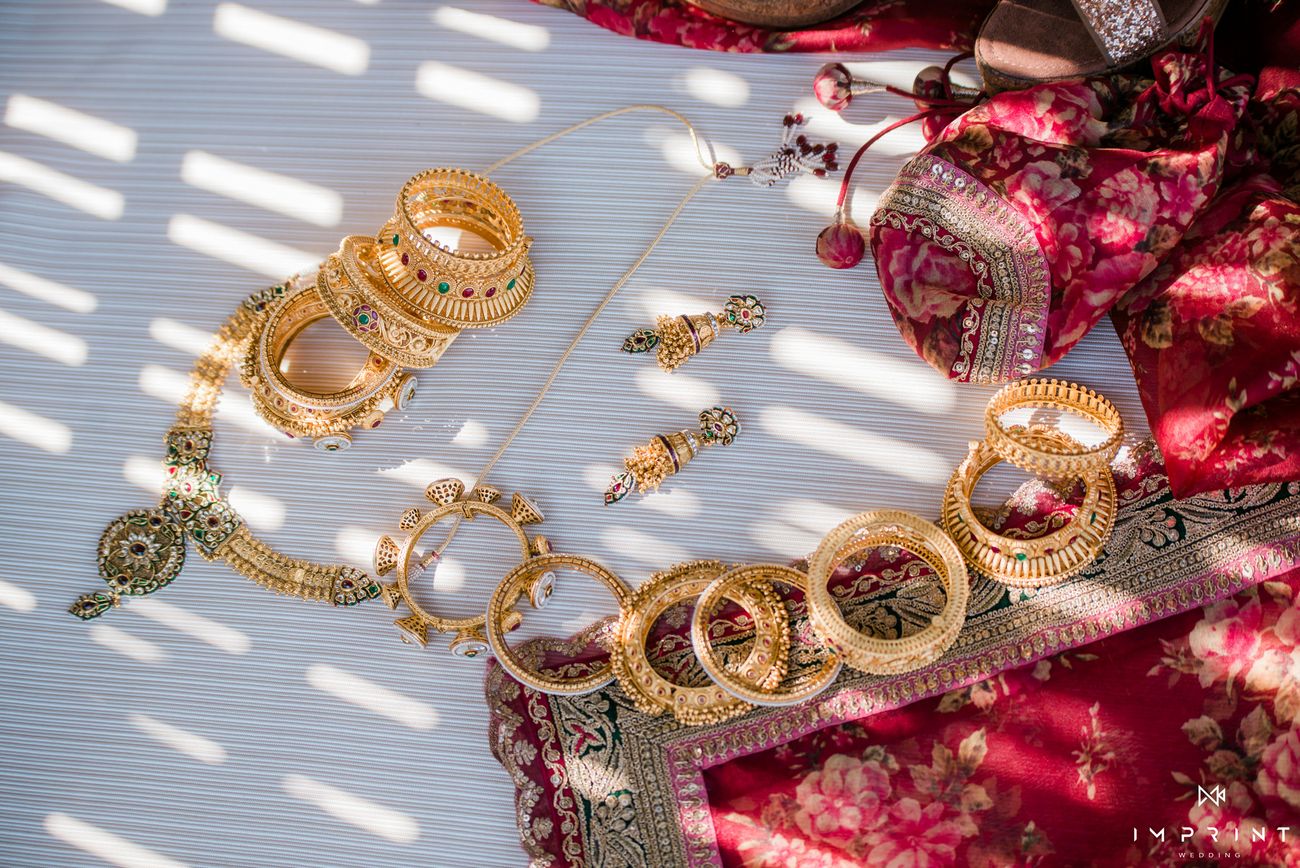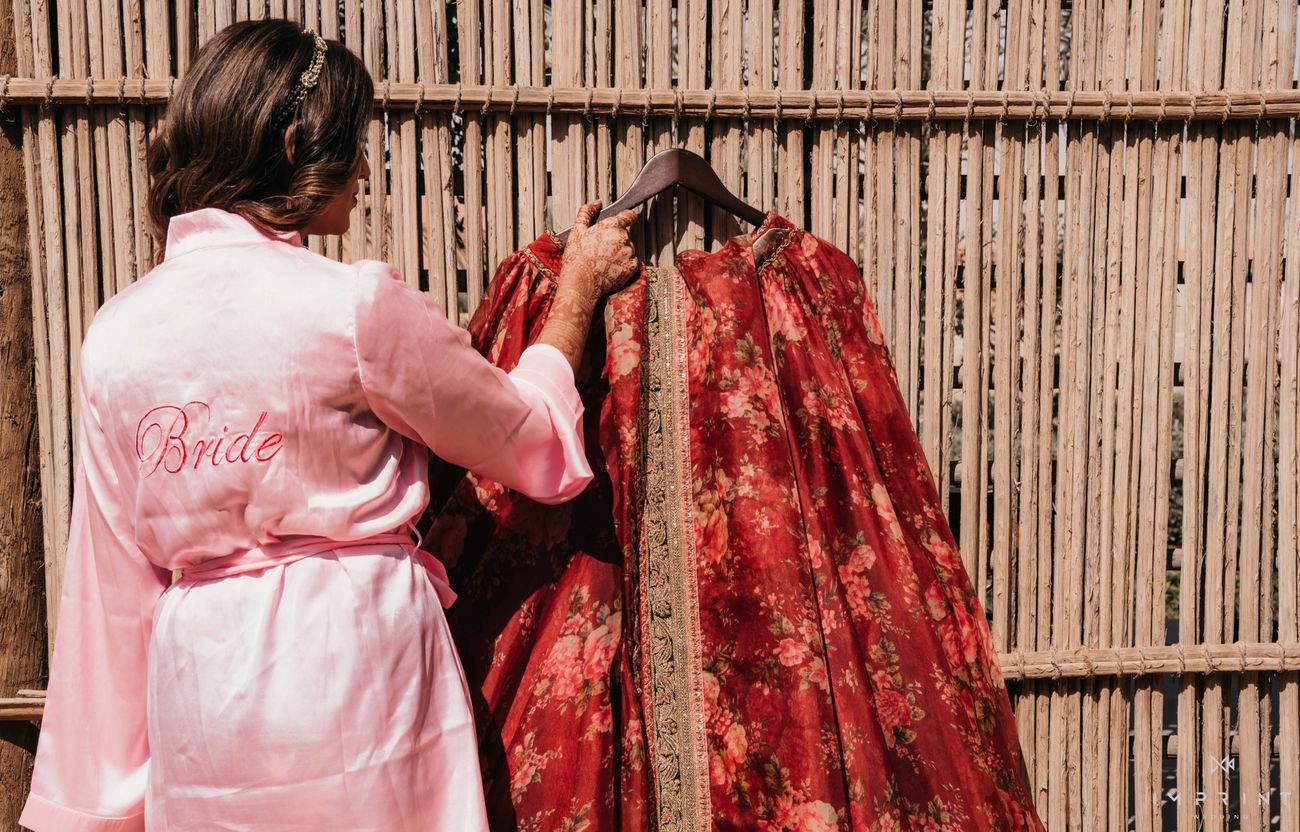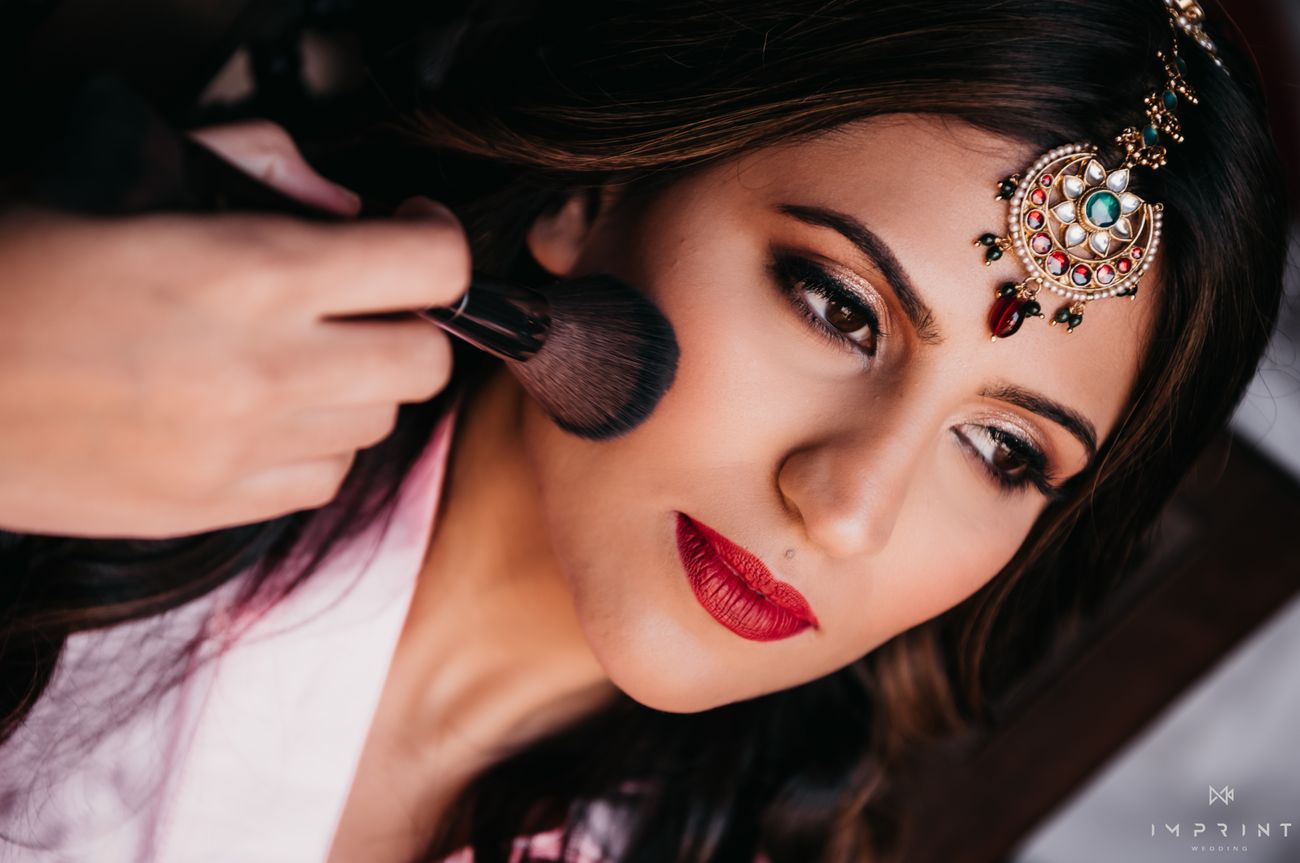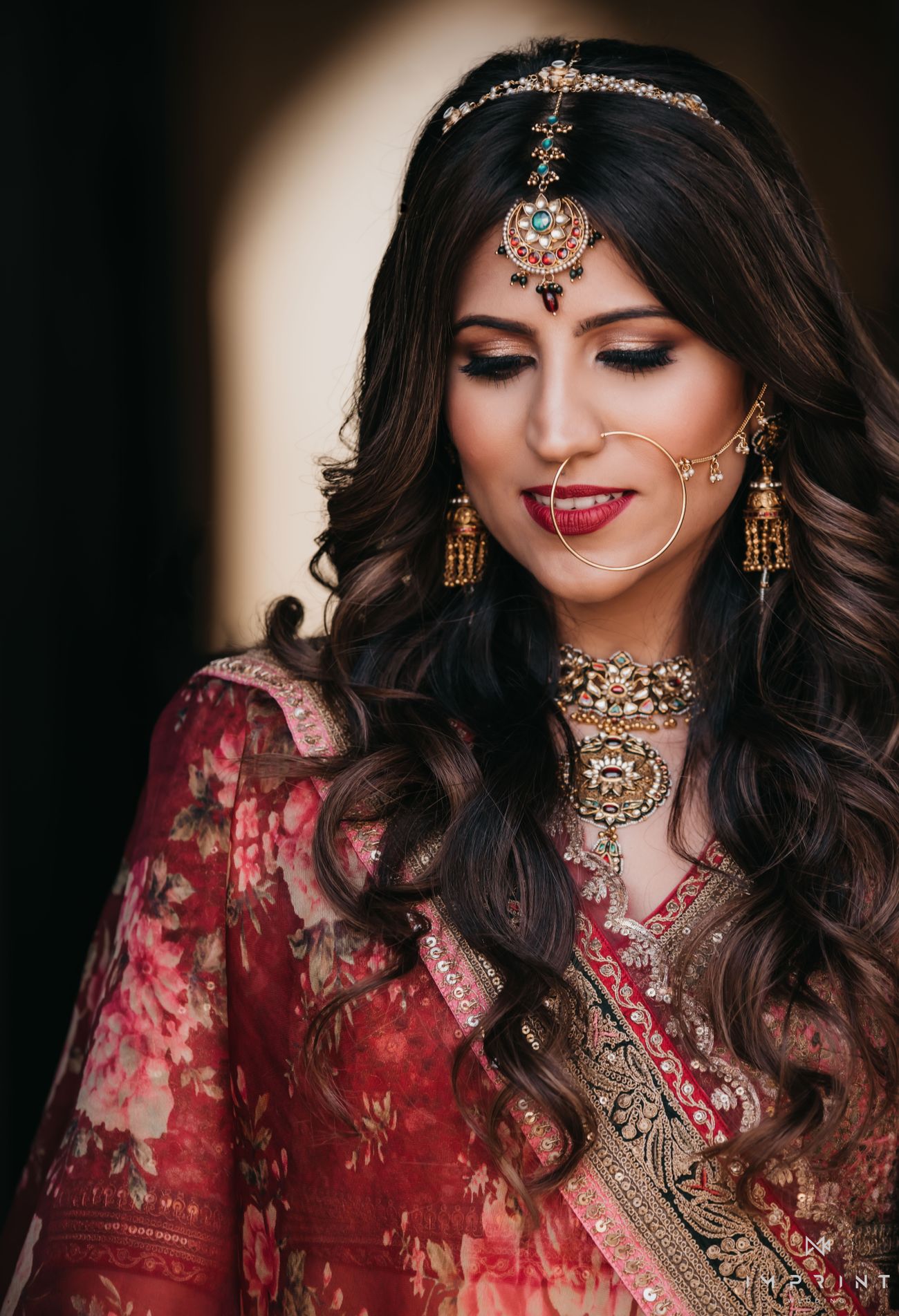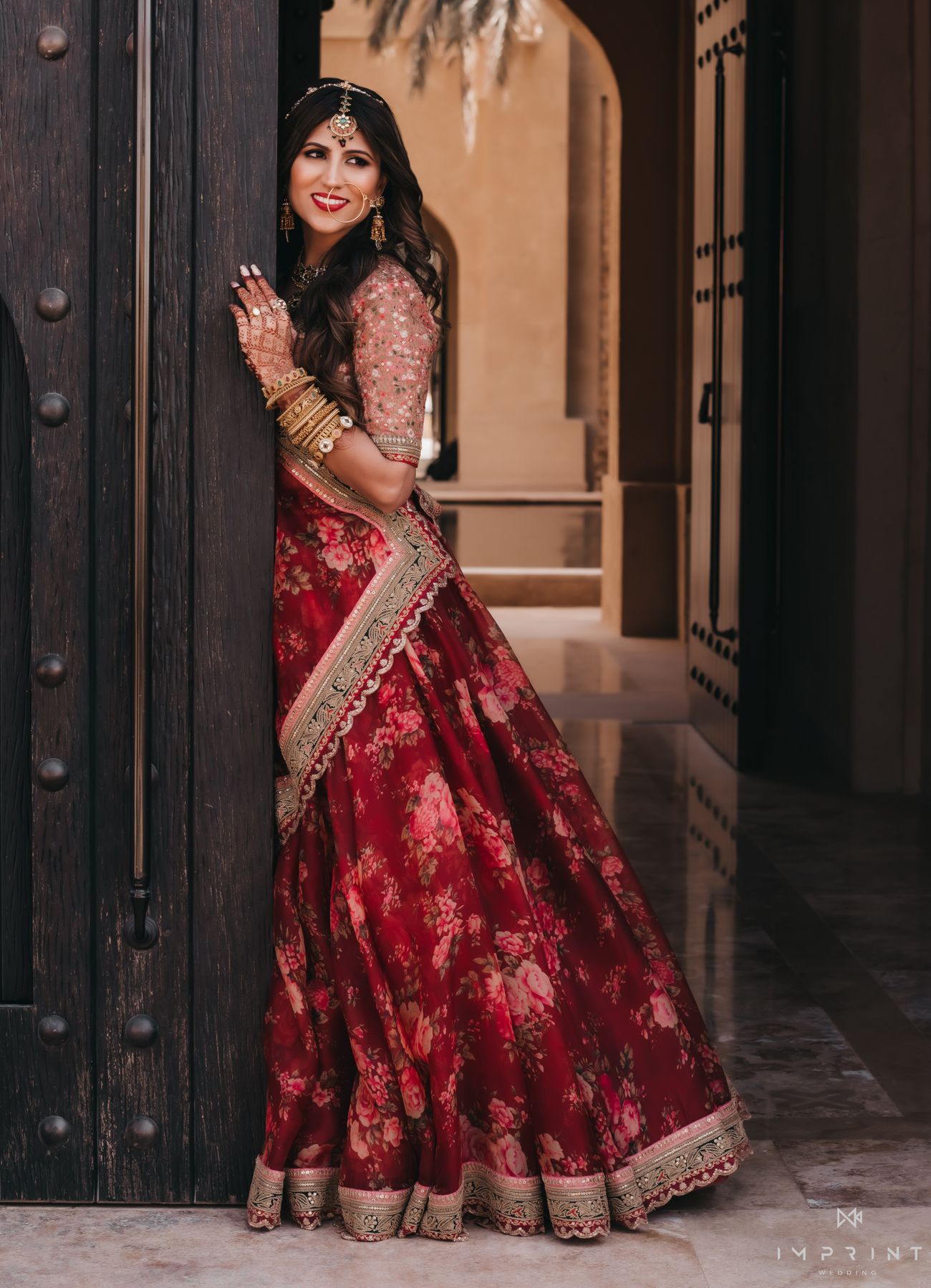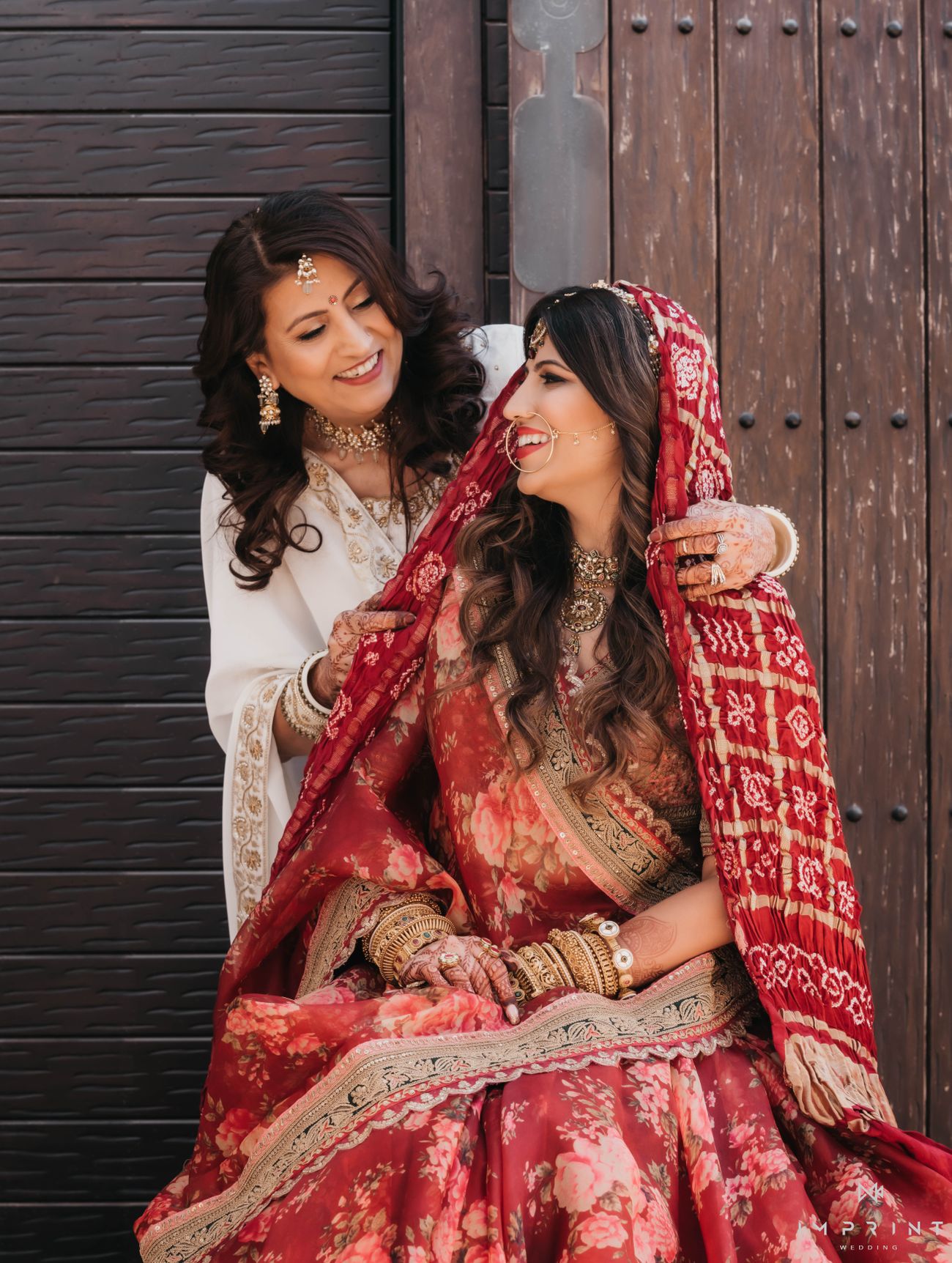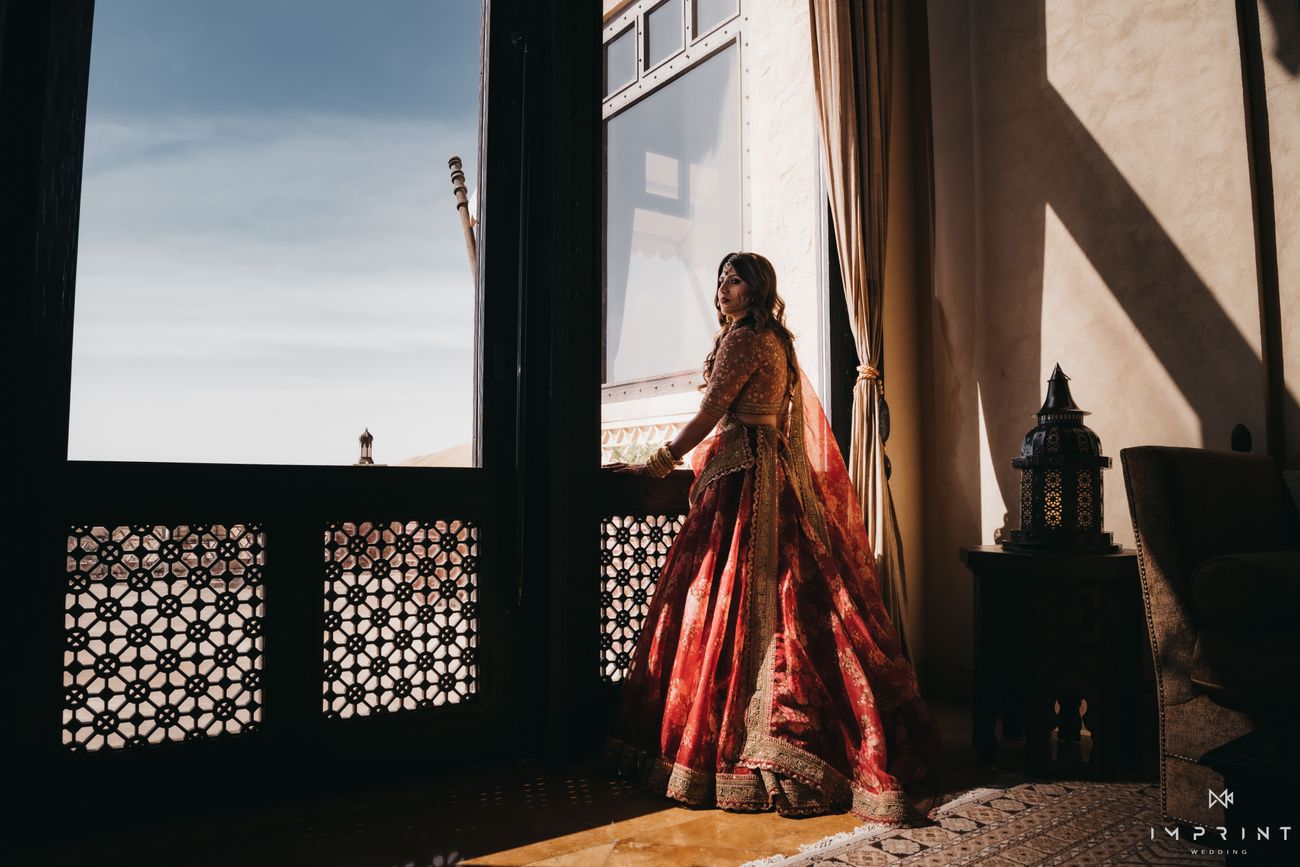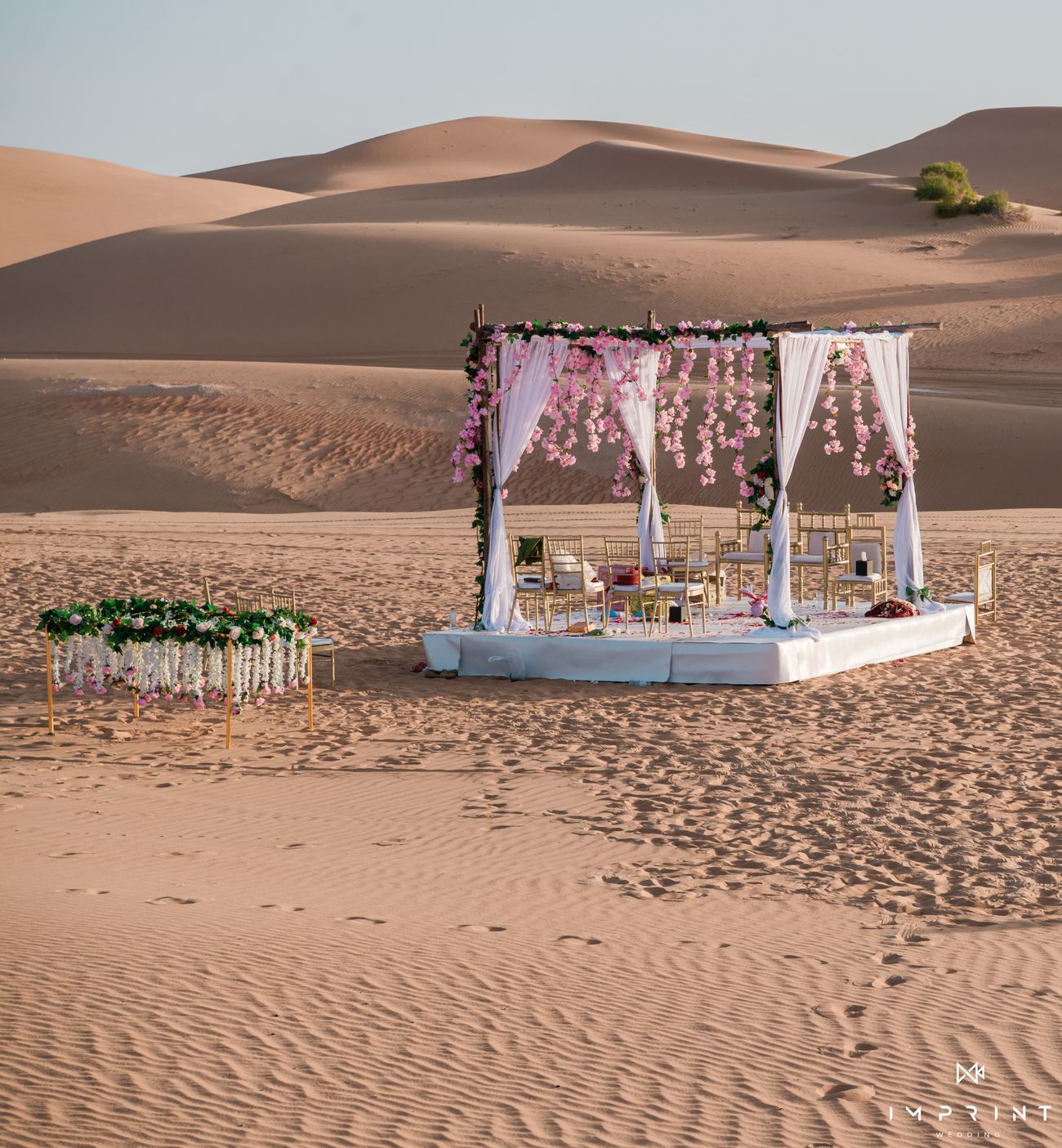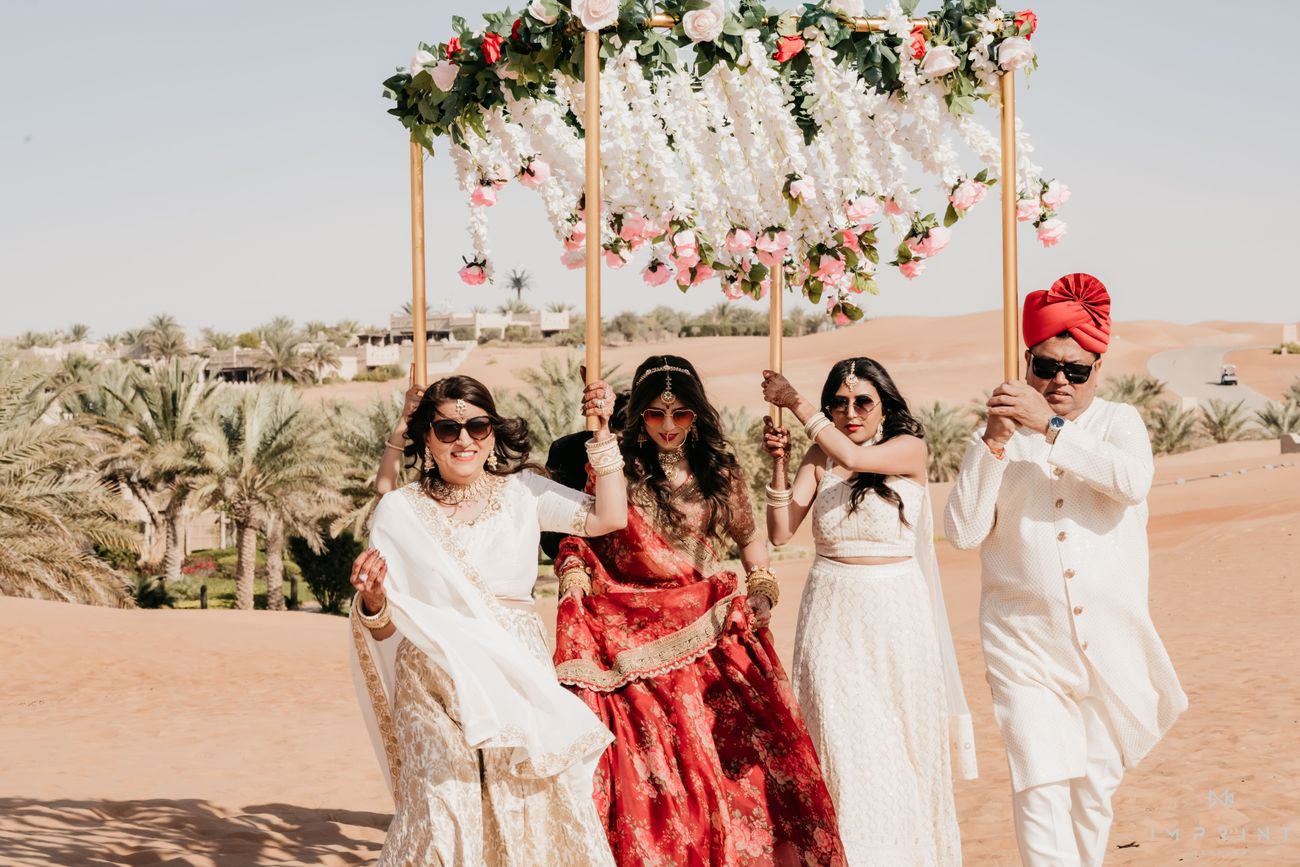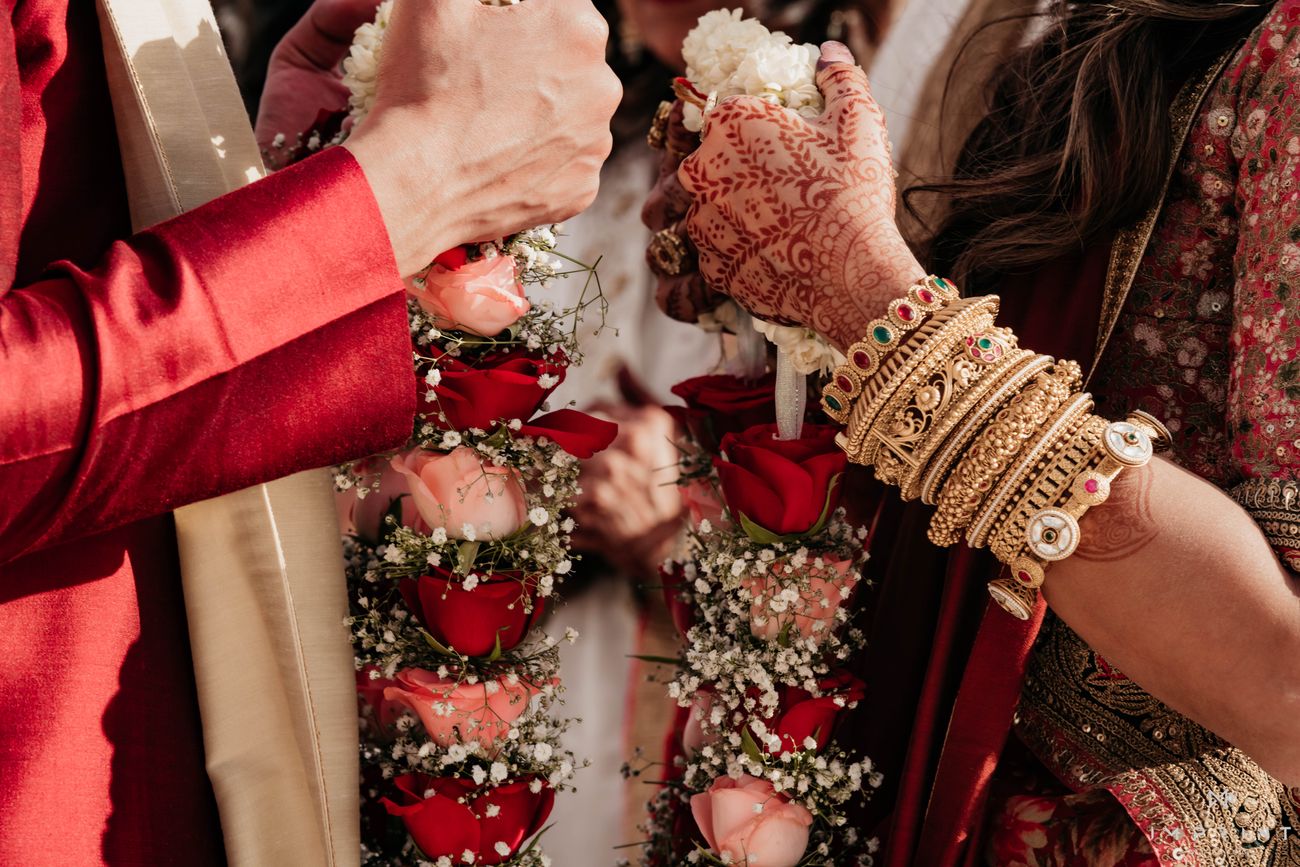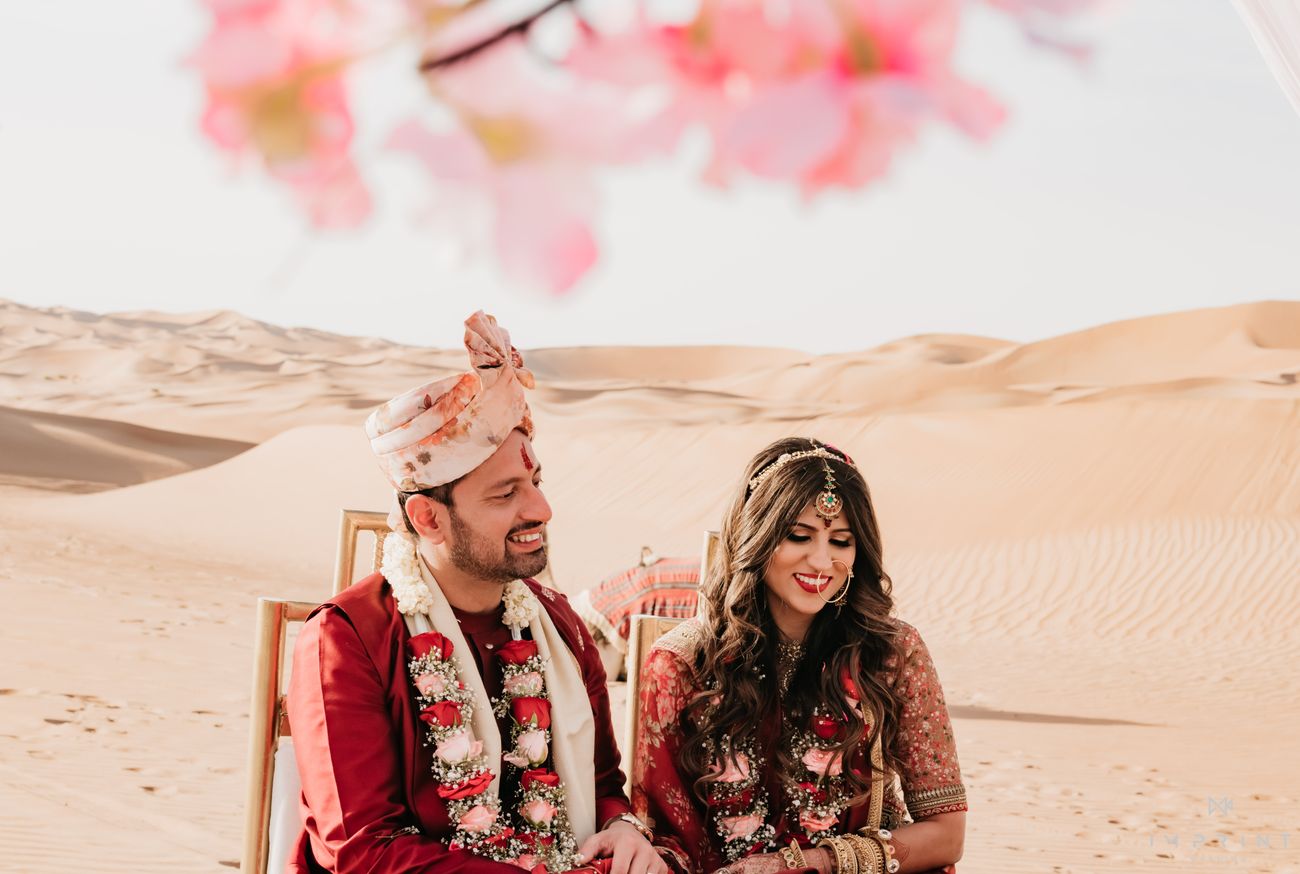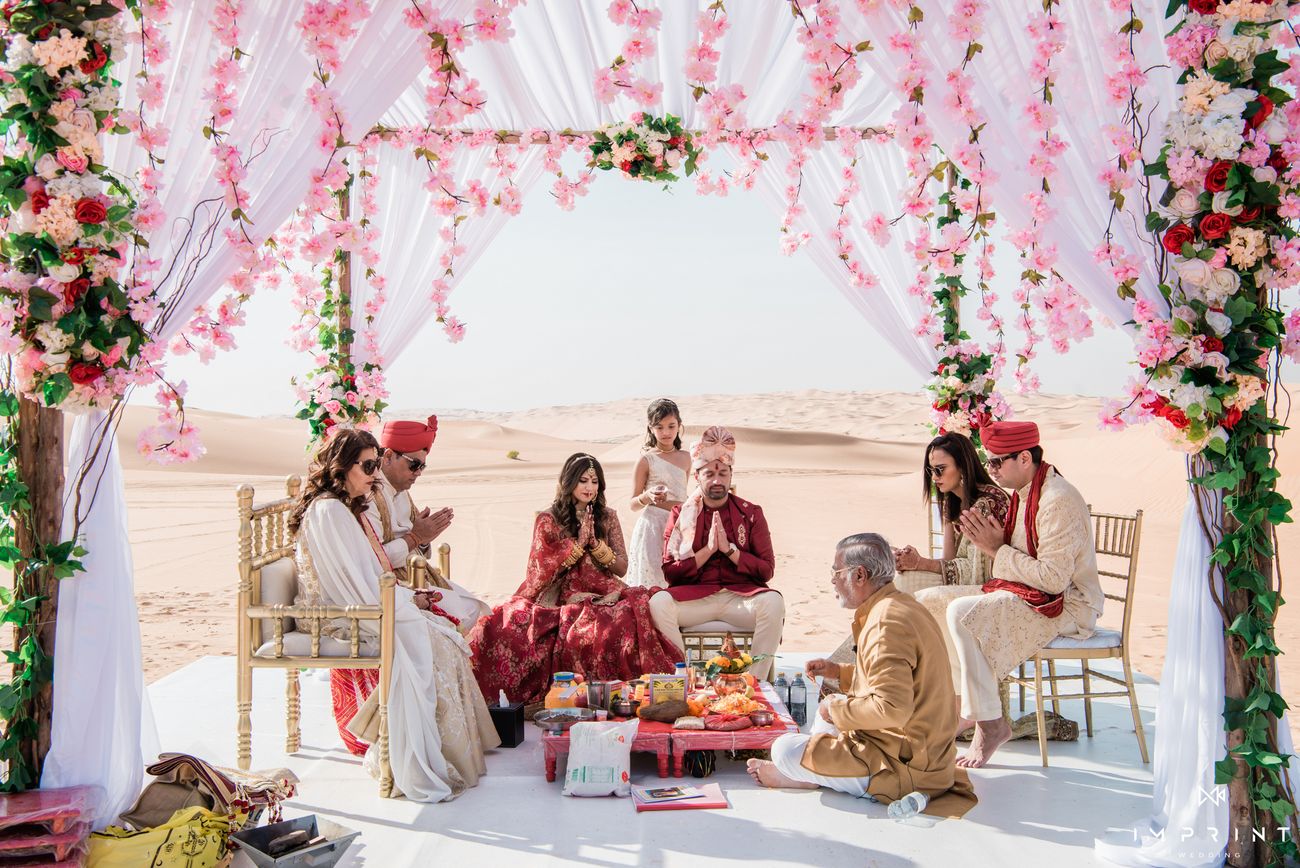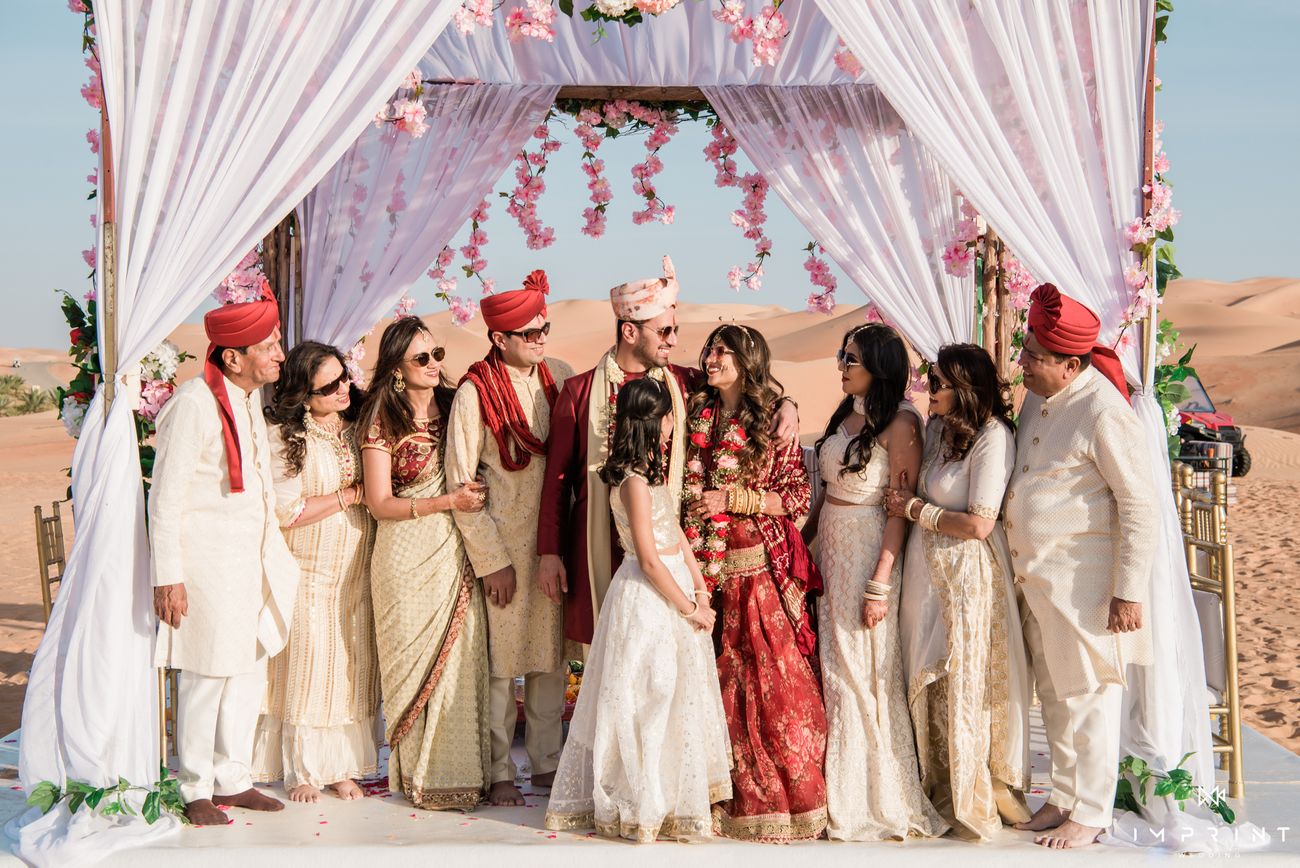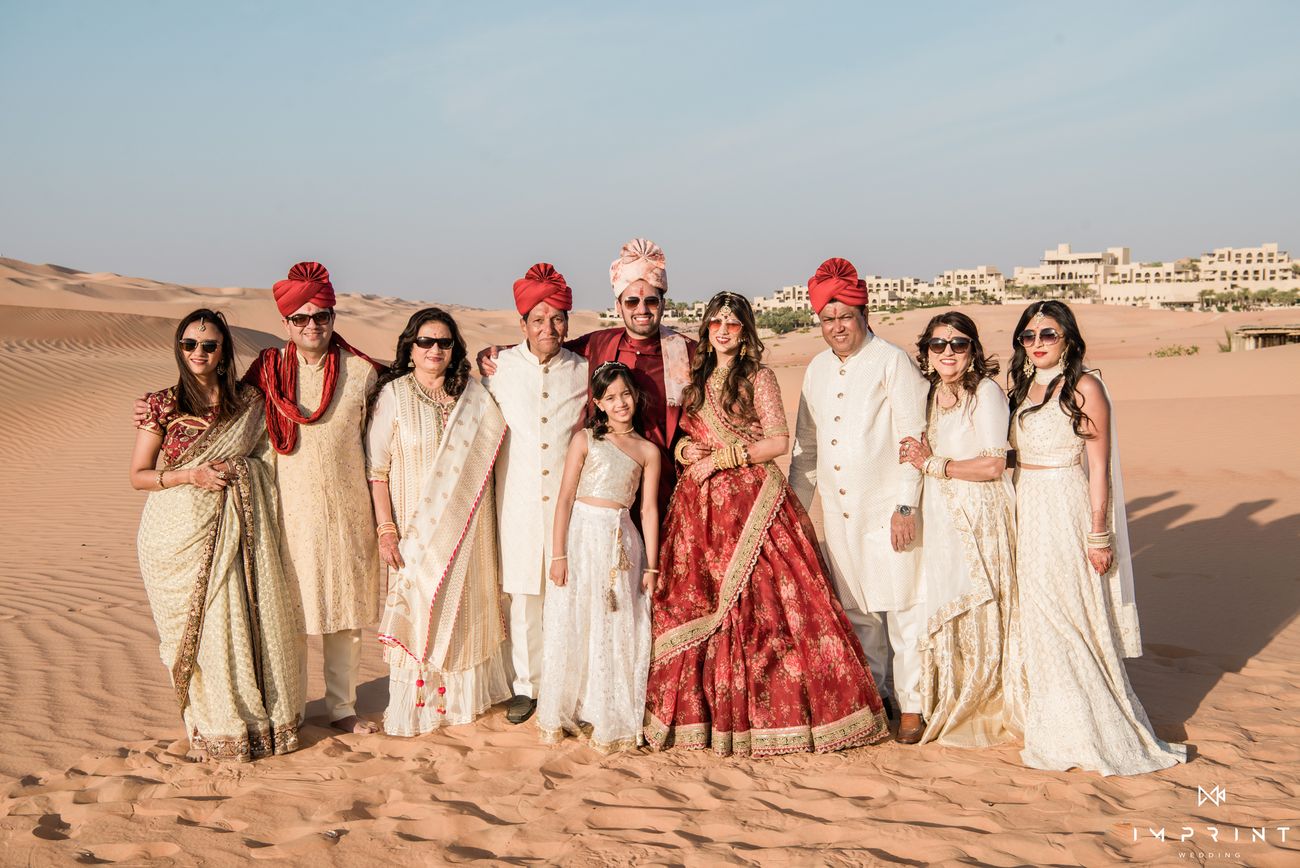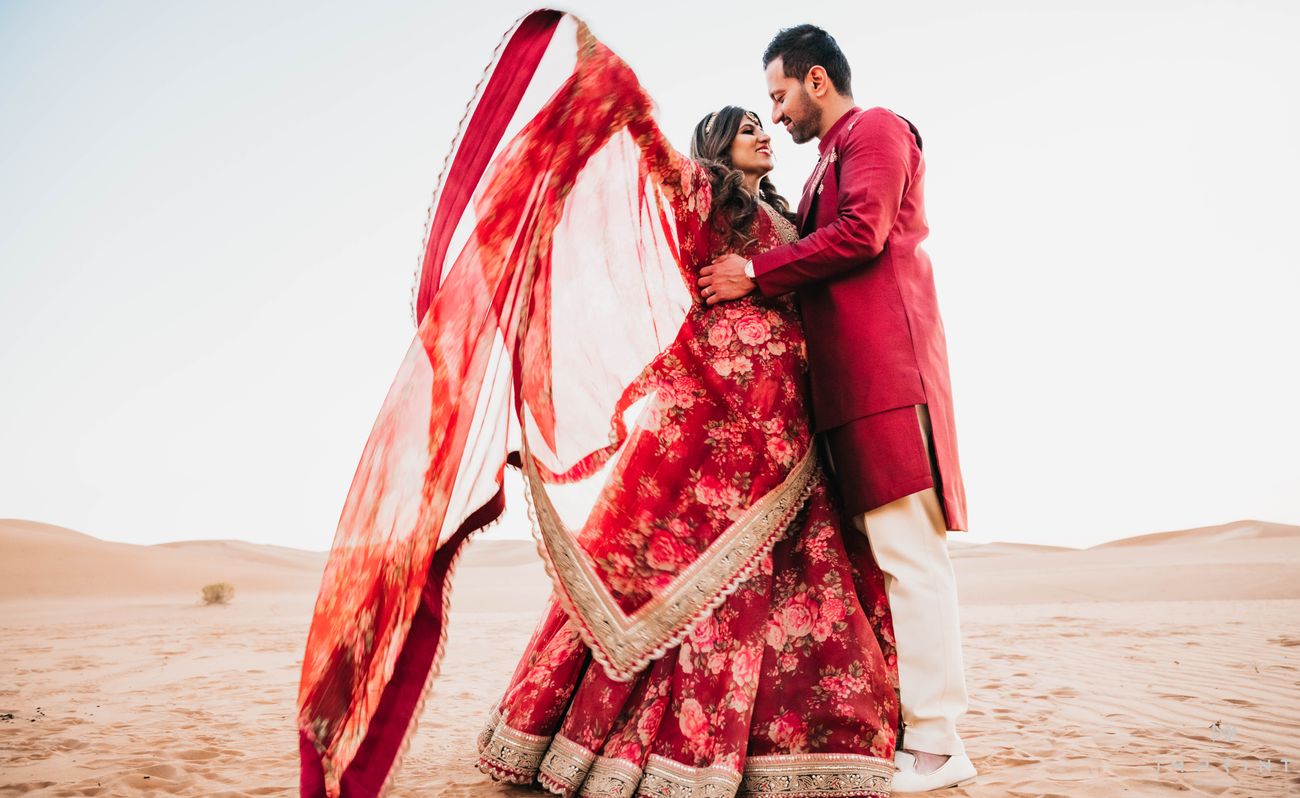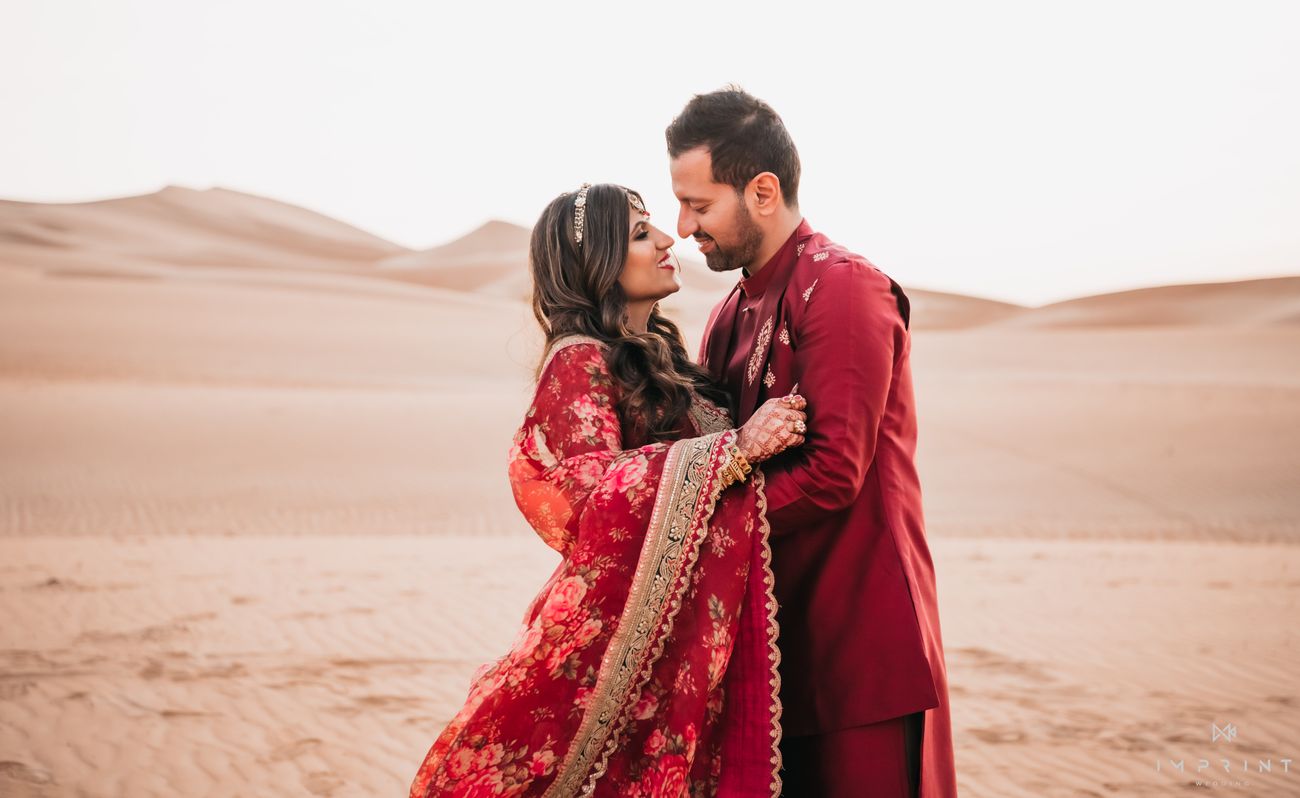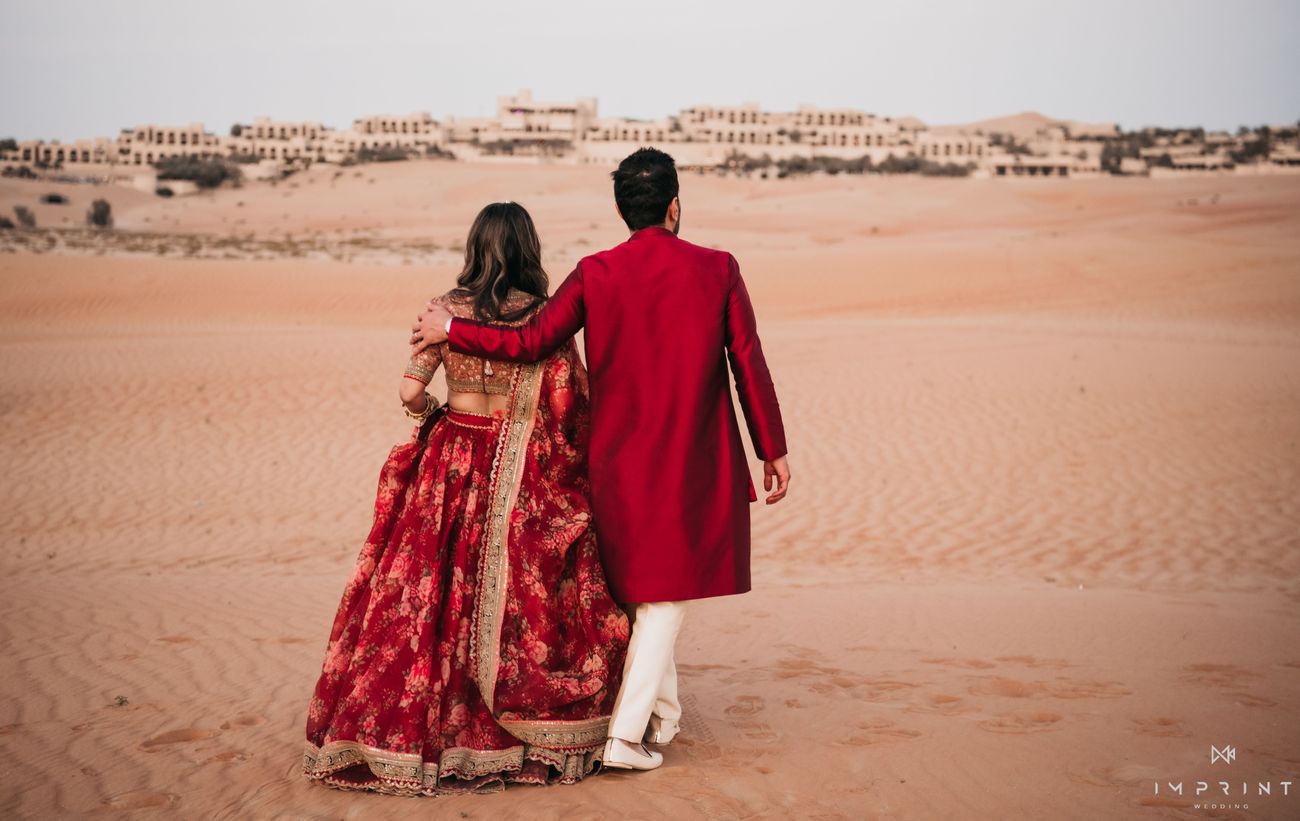 From The Bride: 
Our initial plan was to have a traditional Indian wedding, lots of guests and functions, dhoom and dhaam. But once we started the planning process – scoping out venues and shortlisting vendors, it just didn't feel right. It was turning into an affair that just wasn't what we truly believed a wedding should be – small, intimate, and elegant. One day, after a long and exhausting day of wedding planning, we went out for a couple drinks. We joked about scrapping the whole wedding and doing a holiday with our immediate families instead – just parents and siblings. The more we talked about it, the more confident we felt. I suggested doing our pheras on this family holiday. I couldn't think of a better way to be married, surrounded by those who matter the most to us. The next day, our idea still sounded good (even without the liquid courage of alcohol), so we made the decision to have a small destination wedding. Convincing the families was a challenge, but we prevailed. Nikhil and I consider ourselves blessed to have families that support us and put our happiness above all else.
I knew I wanted a wedding that would be different, hence Nikhil and I picked a desert location as opposed to a more common beach theme. The Qasr Al Sarab Desert Resort by Anantara, Abu Dhabi was the perfect choice. This grand palatial resort located literally in the middle of nowhere was an absolute dream. I had always wished to be married in a palace, and as luck would have it, I did (Qasr Al Sarab meaning Palace of Mirage). We organized everything from India itself via phone and Whatsapp. Our wedding was so peaceful and relaxed. No chaos, no stress, no drama. We were at ease, our families were at ease, and we could actually enjoy the function. I remember how serene it was - the elegant mandap, the beautiful quiet desert surrounding us, and the laughter of our families and the wedding mantras chanted by the pandit being the only sounds. And the icing on the 'wedding' cake - gorgeous pictures to serve as memory of that monumental day. 
Being a bridal stylist myself, I was quite particular about the look I wanted. In fact, another reason that pushed me towards an intimate and small wedding was the outfits. With a traditional wedding, I'd have to wear multiple heavy outfits, none that could be easily repeated. It's not my style to be over the top and spend extravagant amounts on clothes that can't be worn again. I genuinely believe in sustainability and wanted to stand out without being loud. Thankfully I found a partner who believes the same. The Sabyasachi floral lehenga that I selected for my pheras was literally out of dream – being luxurious, yet understated. I designed my husband's outfit, so that we were both in burgundy, while the families were styled in gold and ivory. I specifically chose these colours to go with the desert background. Everyone was styled in comfortable yet elegantly stylish outfits, which only added to the stress-free vibe.
Advice To Couples: 
For anyone on the fence about a traditional big wedding versus a really small and intimate one, I say, go with the latter. I had one even before it was the norm, and I have no regrets. You want your wedding day to be one that is joyful, you want to look into the faces of those who are genuinely happy to be there and share this big day with them. Nikhil and I did, and it was amazing.      
Vendor Reviews: 
Bridal  Outfit: Sabyasachi
I believe there is a bride and there is a Sabyasachi bride. Nothing makes you feel more regal than a Sabyasachi lehenga. Even though I was wearing a lighter lehenga, it felt so grand! I bought my lehenga from the Mumbai store and it was the most smooth wedding shopping I have done. My lehenga was decided in a day and it was delivered before time without having to follow up even once. The stylist who was assisting me was super nice and made the whole process even more pleasant.
Make Up Artist - Aishaa Khan 
I made a booking with Aishaa over whatsapp. I met her for the first time when I landed in Dubai for my wedding. From day one, she has been super sweet, friendly and made me feel very comfortable. I did not take a trial with her but in our first meeting she understood my skin type and my requirements so well that on my big day she made me look better than my imagination! I absolutely loved having her as my make up artist.
Photographers - Imprint Wedding Photographer
We met the team for the first time on the day of the wedding and in 10 mins we were laughing together and taking candid shots. I showed them some reference pictures that morning and they took better pictures than those! The videography was all them. I had no references but they did such an amazing job that we had goosebumps and tears in our eyes when we saw it for the first time.  They captured every moment perfectly, were really friendly and made us feel very comfortable. They delivered the pictures and the video before time and the edits were so perfect the first time. We are so happy to have chosen them to document our big day!
Venue - Qasr al Sarab
I had a vague idea of  married in the middle of nowhere. Qasr al Sarab was that and more. It is a palace in the middle of nowhere, true to its name. We had booked the property looking at the pictures online. When I reached the venue, I welled up because I couldn't believe how beautiful it was and that I would be married here! Every corner of the property is so photogenic, it was surreal.  The event manager who took care of our entire booking and the wedding was really accommodating, friendly and helpful. She organized everything really well and the food that was customized for our wedding day was splendid!
Vendors: Venue: Qasr al Sarab, Abu Dhabi; Photography: Imprint Wedding Photographer; Makeup Artist: Aishaa Khan; Bridal Outfit: Sabyasachi;  Groom's Outfit: DMode; Decor: VNJ Events