Here Are The Perfect Wedding Blouse Designs For Every Body Type!
BY The WMG Bride | 17 Nov, 2022 | 45 views | 6 min read
Got the perfect lehenga but can't figure out what blouse to get stitched with it? The blouse or the choli is very important to get the right look. While we believe that any type of body can wear any type of clothes, we also understand that brides can be apprehensive about certain necklines and how a blouse will look on their body. We all have differently shaped shoulders, necks, arms and busts (isn't that the beauty of it?!) so what you think might look good on a particular model may not be the same for you. That's where it gets disastrous for most brides - copying a look without understanding its nomenclature.
That is why we've created this guide to help you understand how you can tackle your body apprehensions and pick a blouse that you will be the happiest in. After all, isn't that every bride's dream?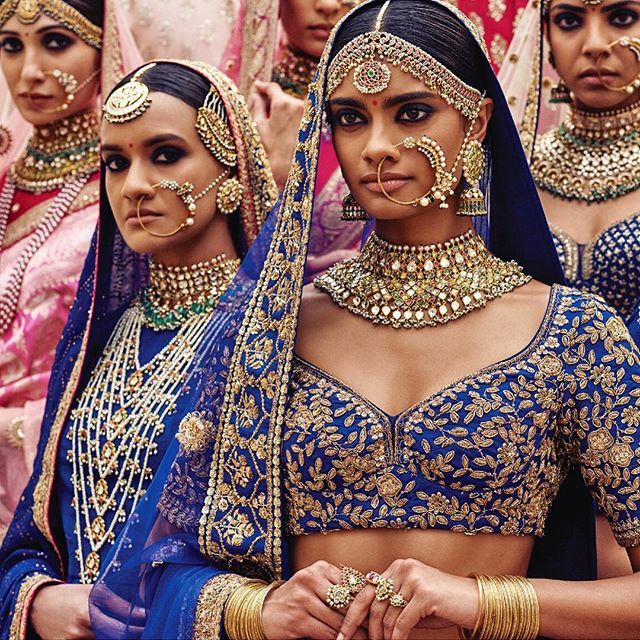 Picture Courtesy: Sabyasachi 
Body Type: Tall and Athletic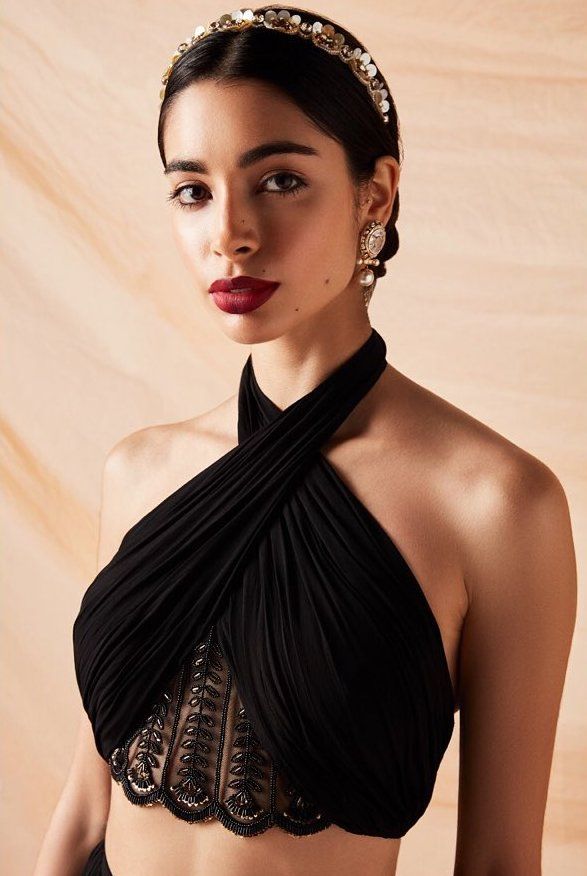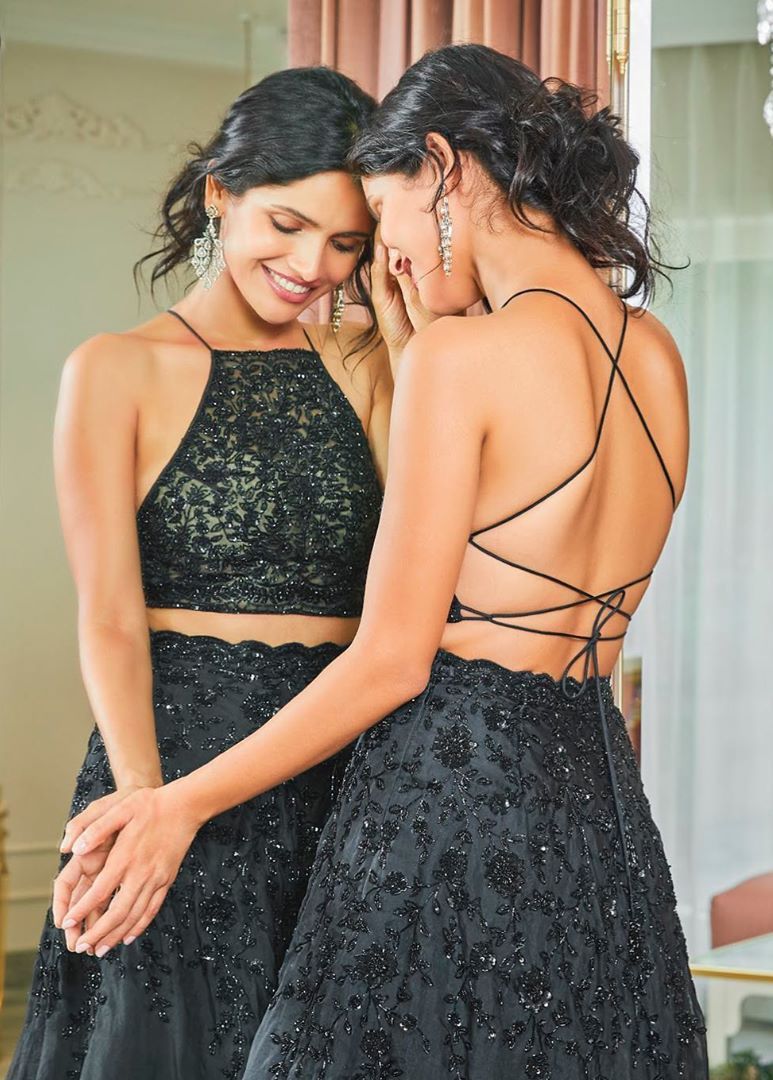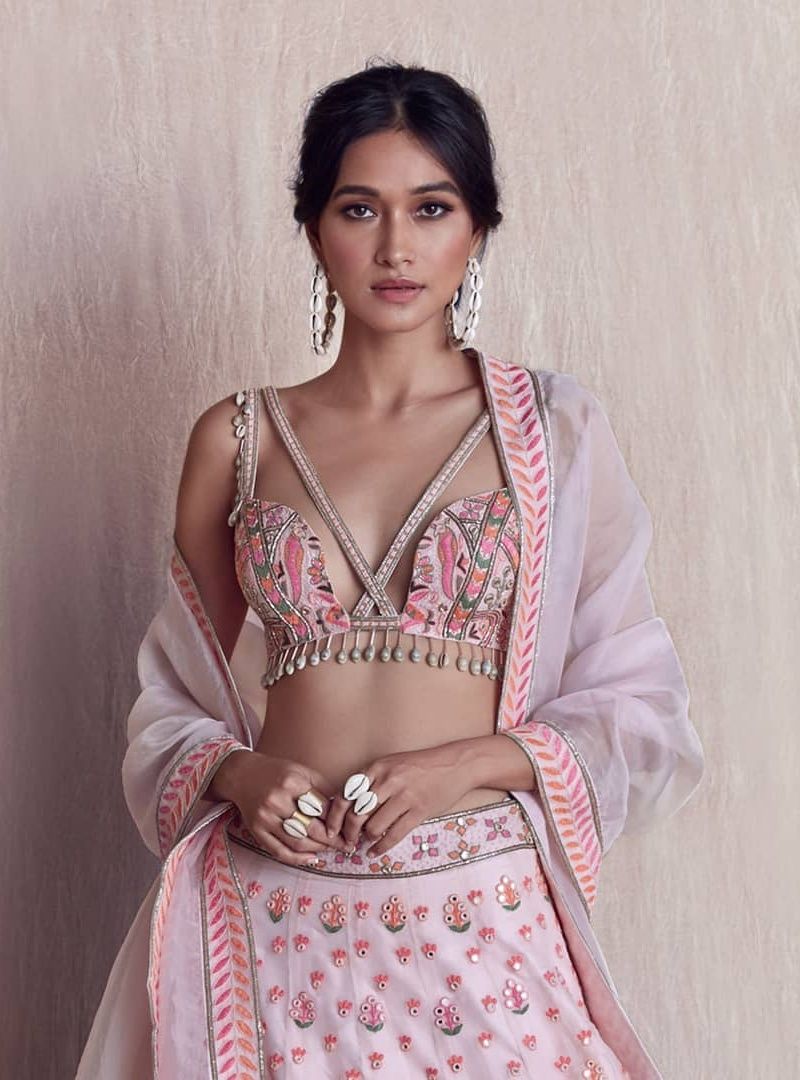 Images via Rheapillairastogi, Kreshabajajofficial and Arpitamehtaofficial
For someone who is tall and athletic, you can opt for a strappy or halter neck blouse as the latest blouse designs. And if you're also tall with a long neck, you can even opt for a high-neck blouse that'll really flatter your height and slender neck. The fabrics you should look for while picking a blouse are net, georgette and crepe. If you want to add volume to your look, you can also opt for benarasi fabrics with puff sleeve patterns for the blouse!
Body Type: Petite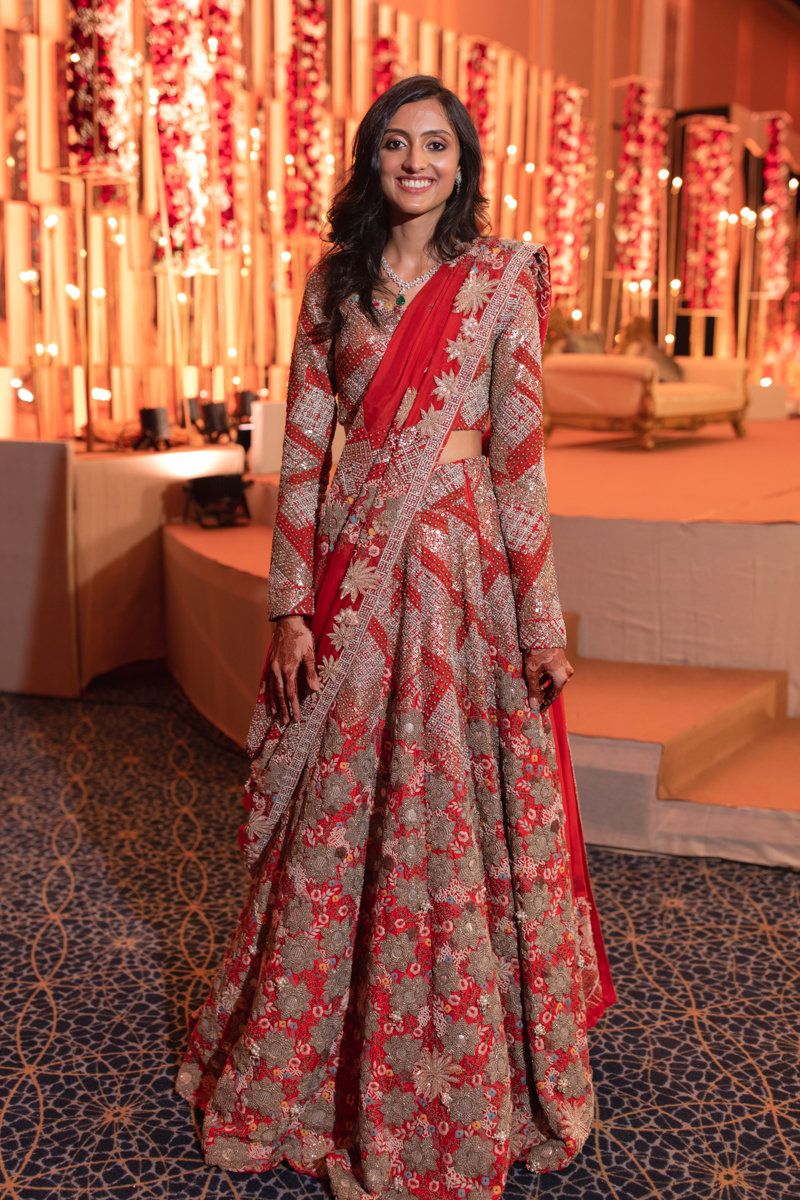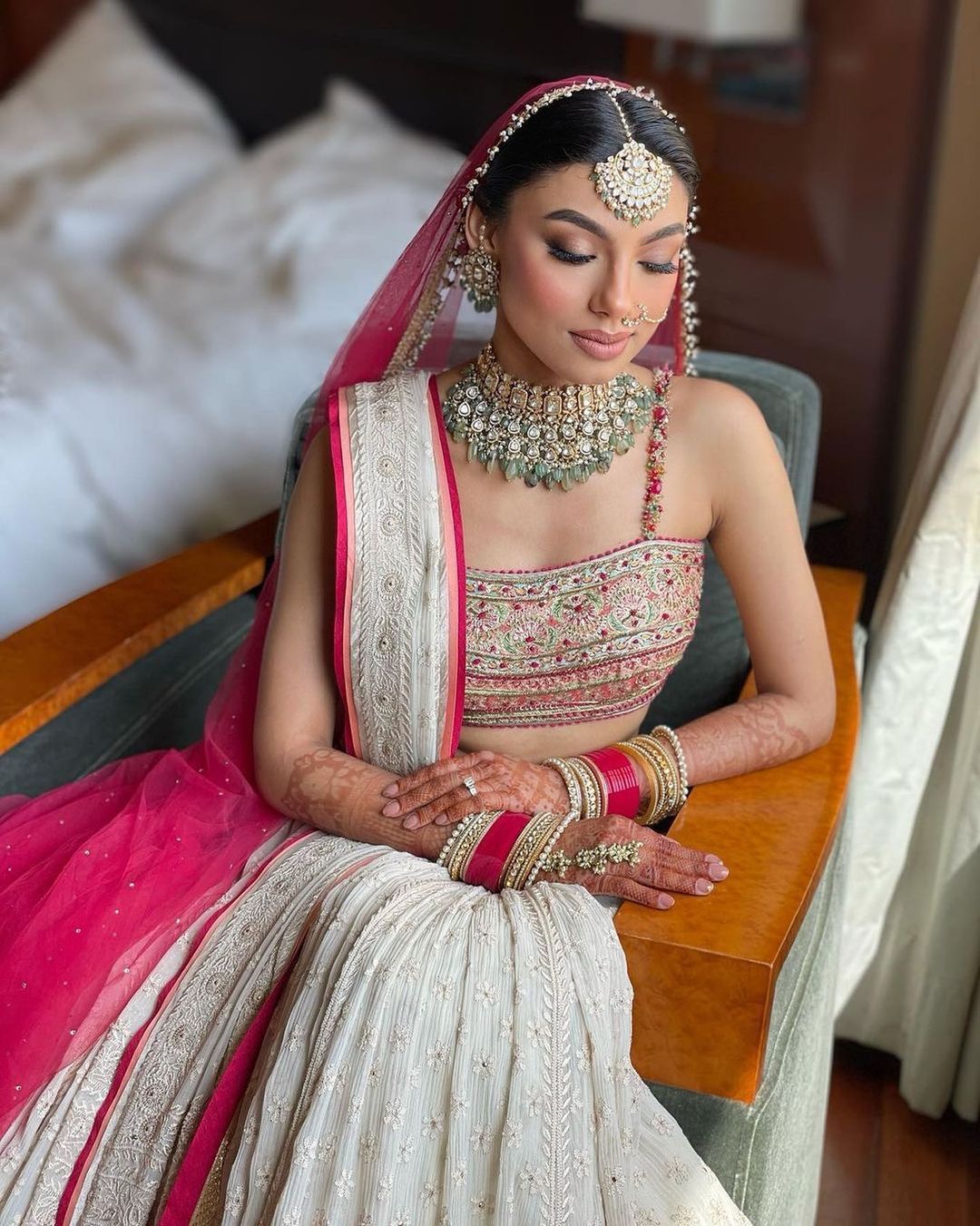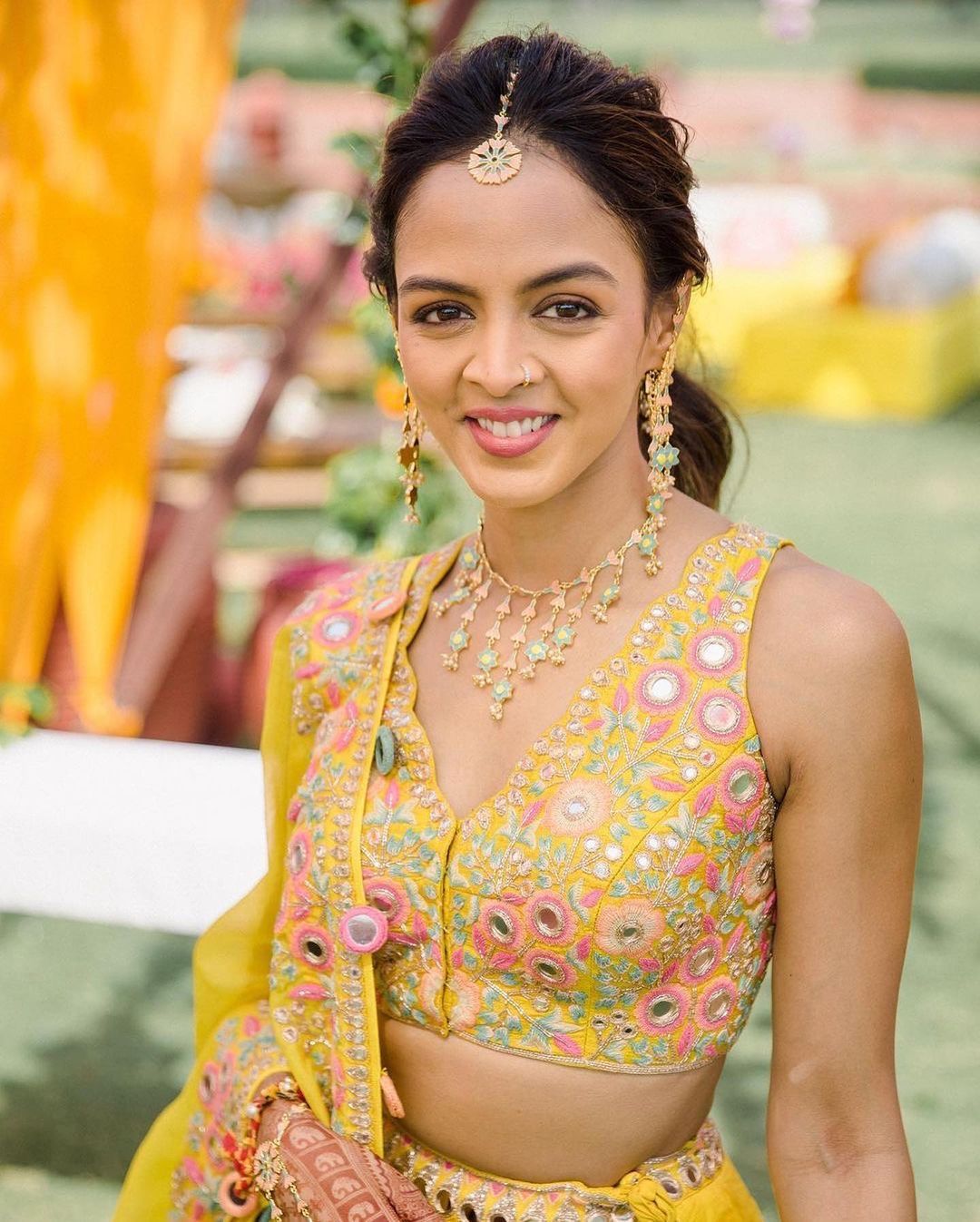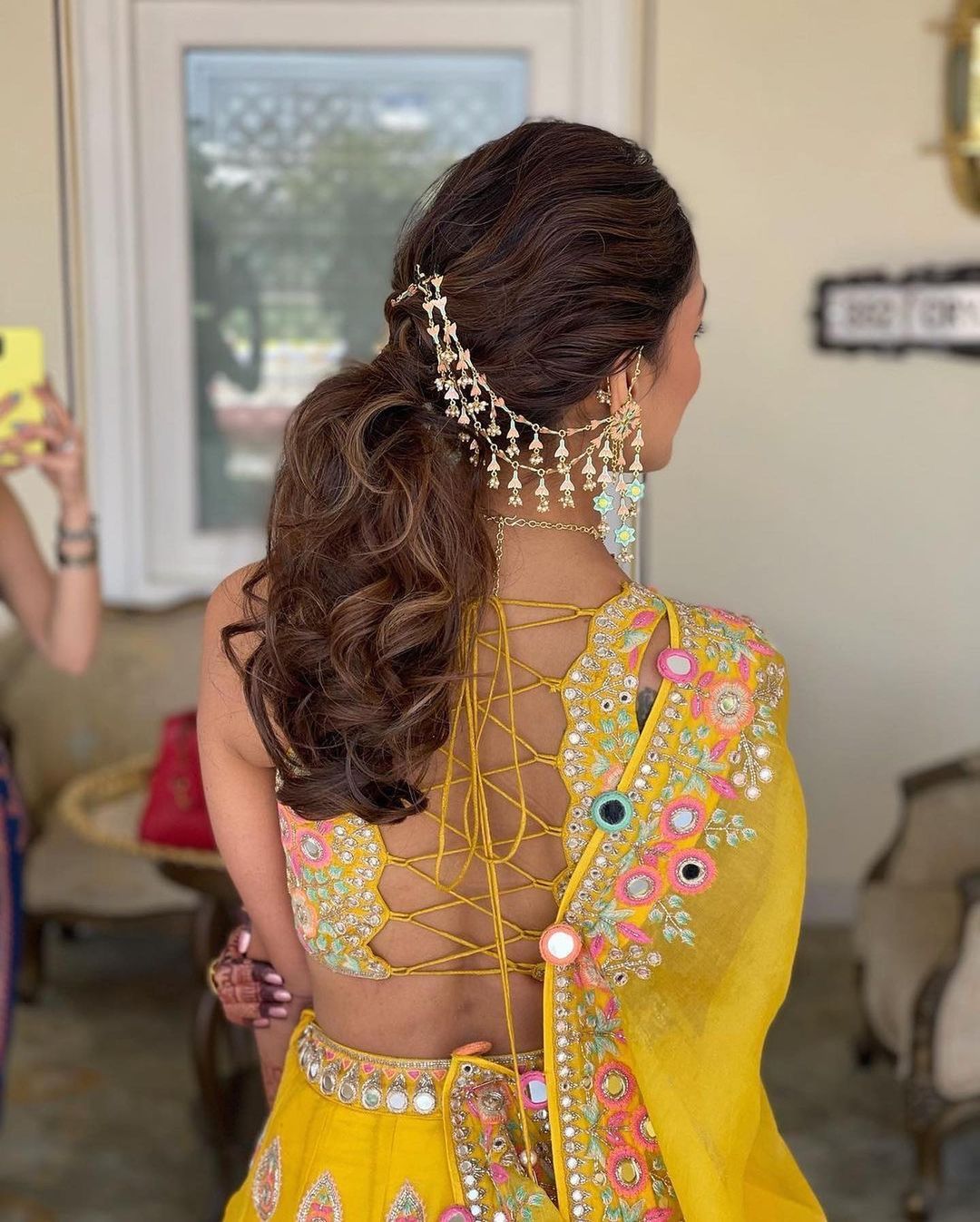 Images via Karnika and Vaibhav, Faces By Chaitali Sengupta★ 4.9, Sam & Ekta - Sonder Frames★ 4.7
You can take your pick from designs and necklines. Amongst that, oval and slightly rectangular necklines will accentuate your body. More than the top, you can make sure to focus the attention on your tiny waistline which will do the trick! You can flaunt a choli that ends right below your bust, which is an inch or two above the regular blouse length. If you want to add more volume to your body type, we recommend you pick fabrics that add bulk – raw silks, embroidered fabrics or even velvet. Look at your sleeves to give you volume: half or full sleeves will work well for you. Keep your necklines higher.
Body Type: Heavy bust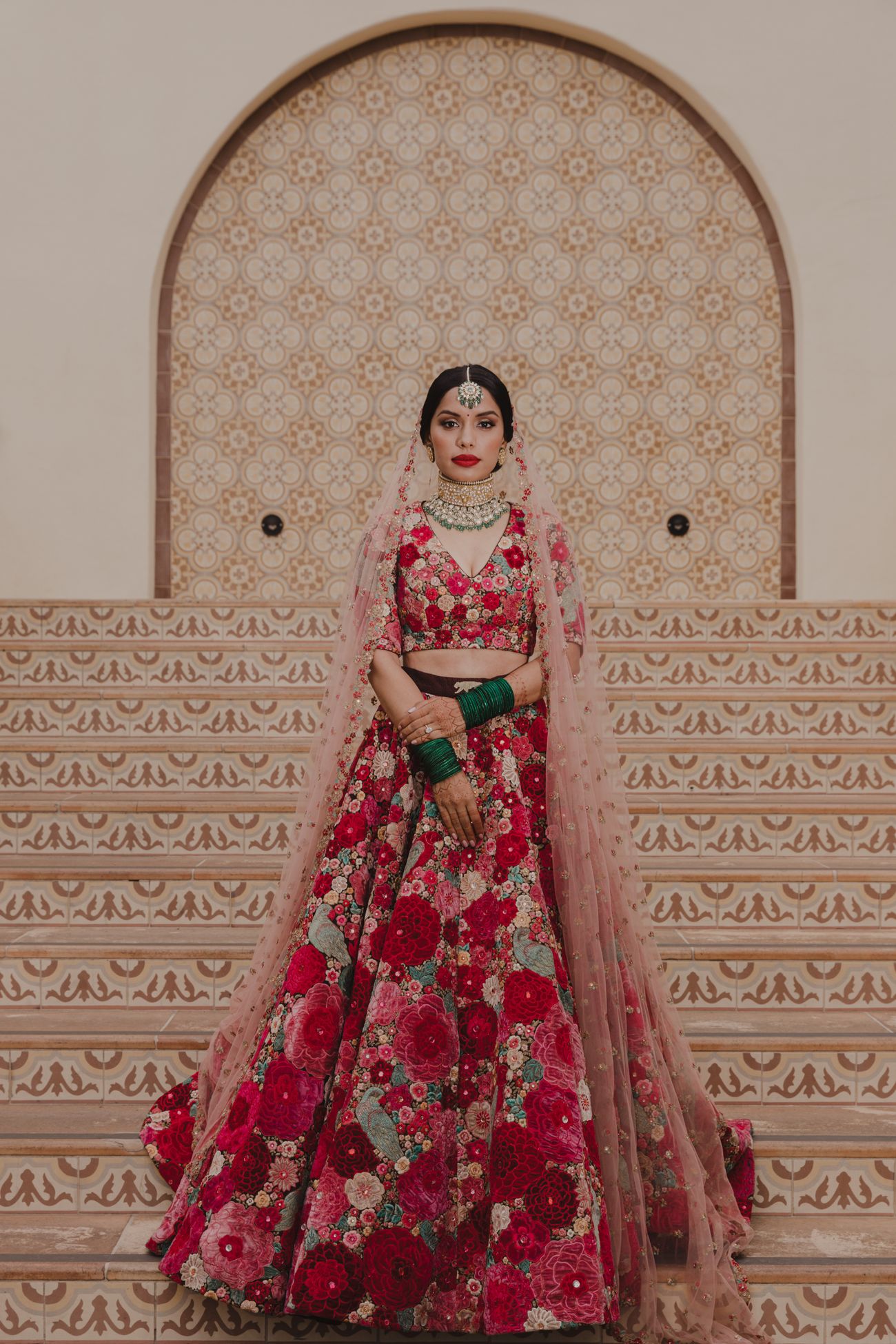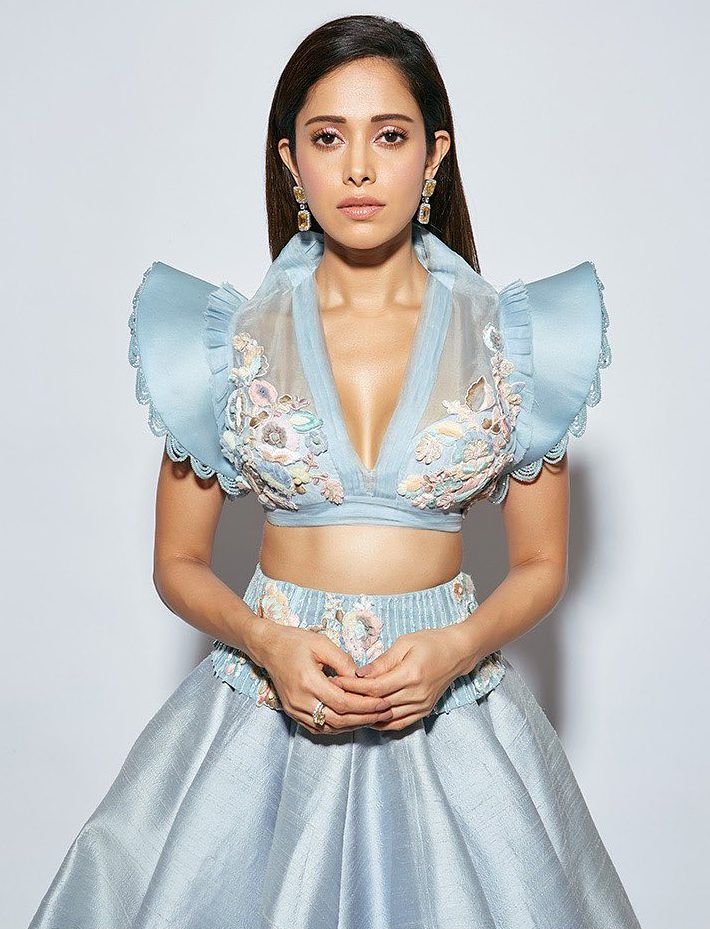 Images via Riya and Ankur & mmalhotraworld
A lot of Indian brides are worried about how to tackle this without facing the wrath of moms and aunties! The solution is not to hide your assets or flaunt them. Rather pick a blouse that makes you feel comfortable as well as gorgeous without attracting unwanted attention at the wedding. Avoid any blouses made of thick material or have heavy work or embroidery on the chest area, as this will attract more attention and make your bust look heavier. High-necks can make you look bulkier. A V-neck or boat neck modern blouse designs will help to create the illusion of a smaller frame. Keep your sleeves simple too - small sleeves can make you look slender or if you want to experiment, off-shoulder blouses look gorgeous too!
Body Type: Small bust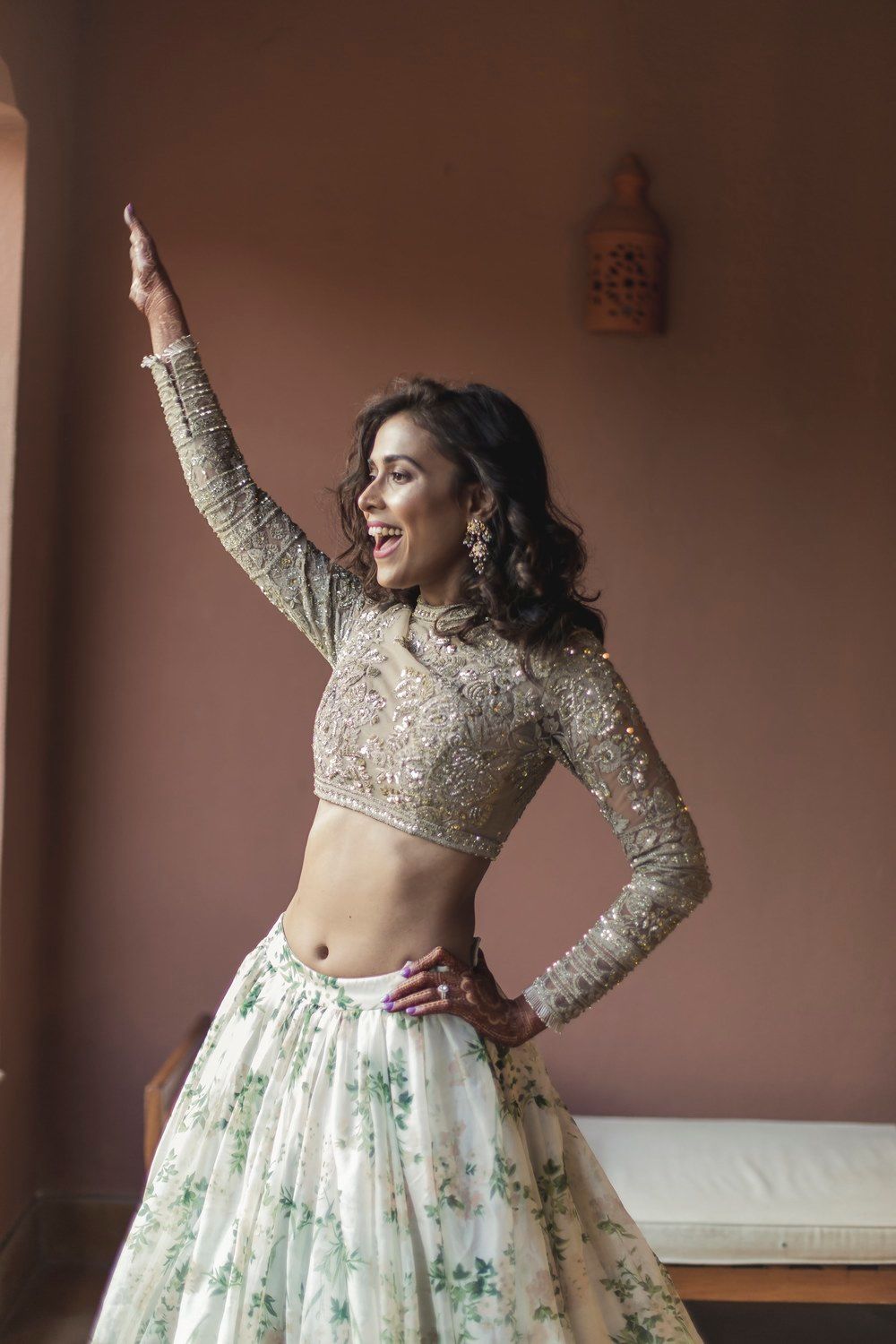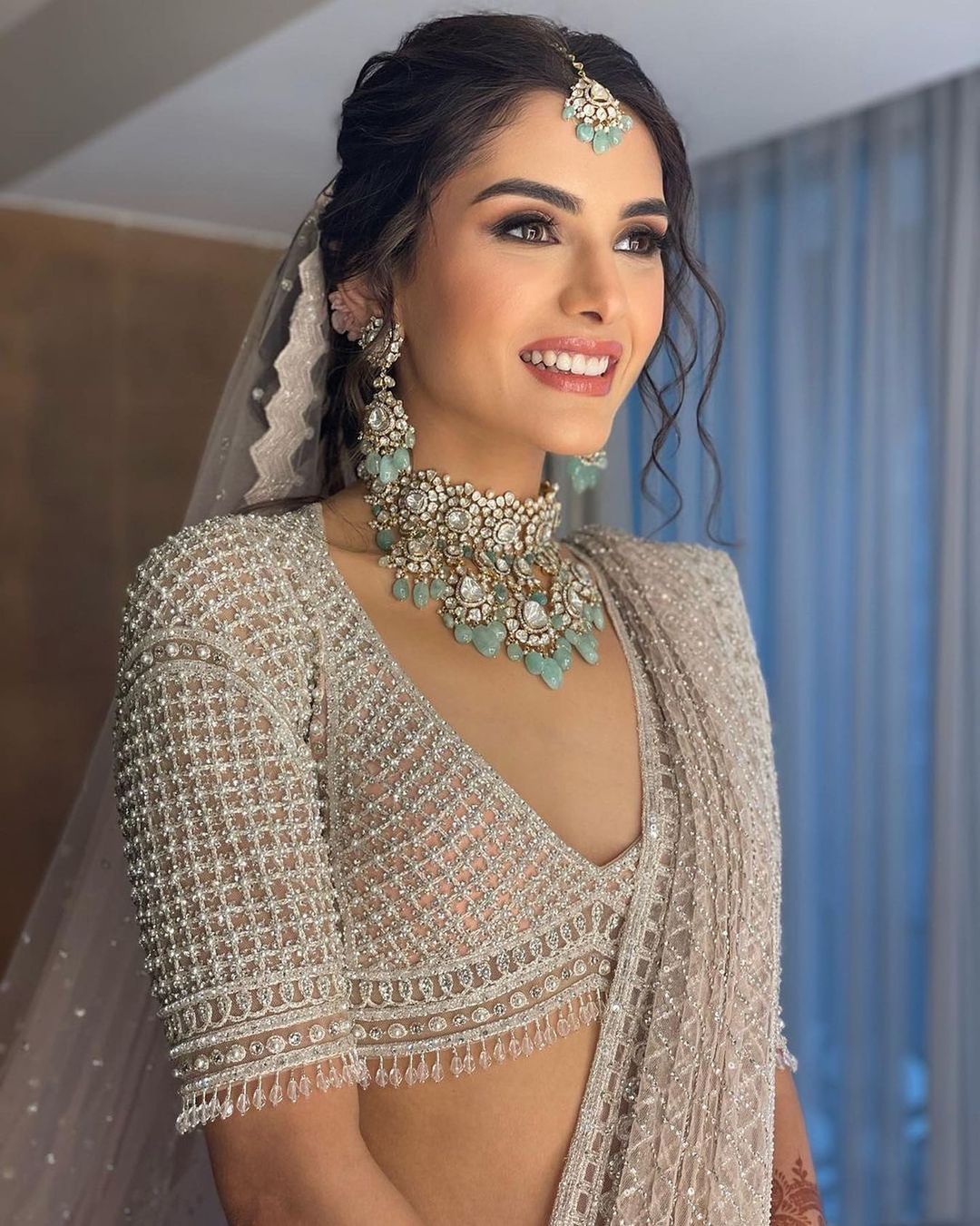 Image via Sanaa and Parth & Faces By Chaitali Sengupta★ 4.9
If you are looking to add a little curve to your figure, padding and push up styles are your best friends. Go with surface embellishment, pick heavier fabrics and embroidery or metal work on the blouse to give a sense of being fuller. But if you are not ok with that, you can also opt for stunning plunge neck modern blouse designs that will look amazing on you. You can also try one of those draped blouses that come with an attached chunni - they will fit the bill perfectly!
Body Type: Heavy Bottom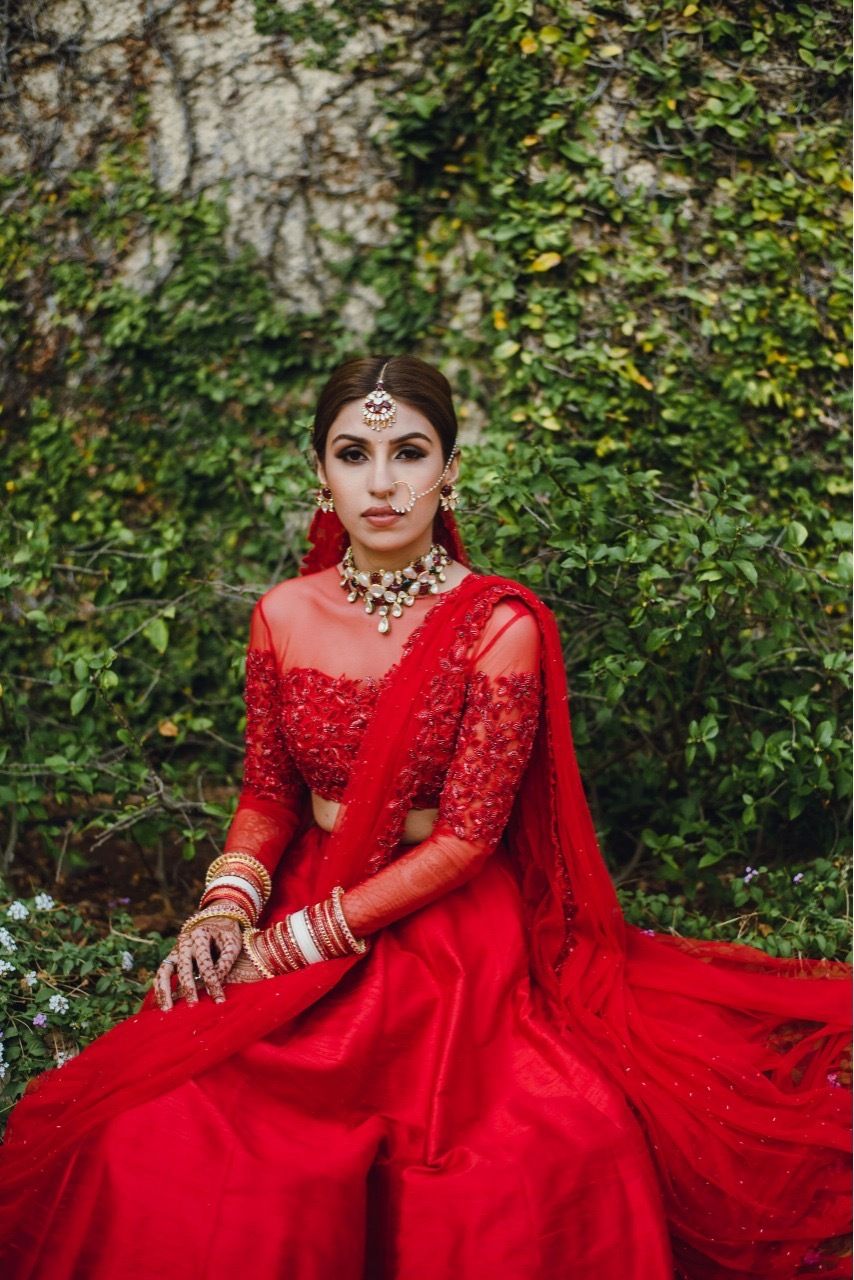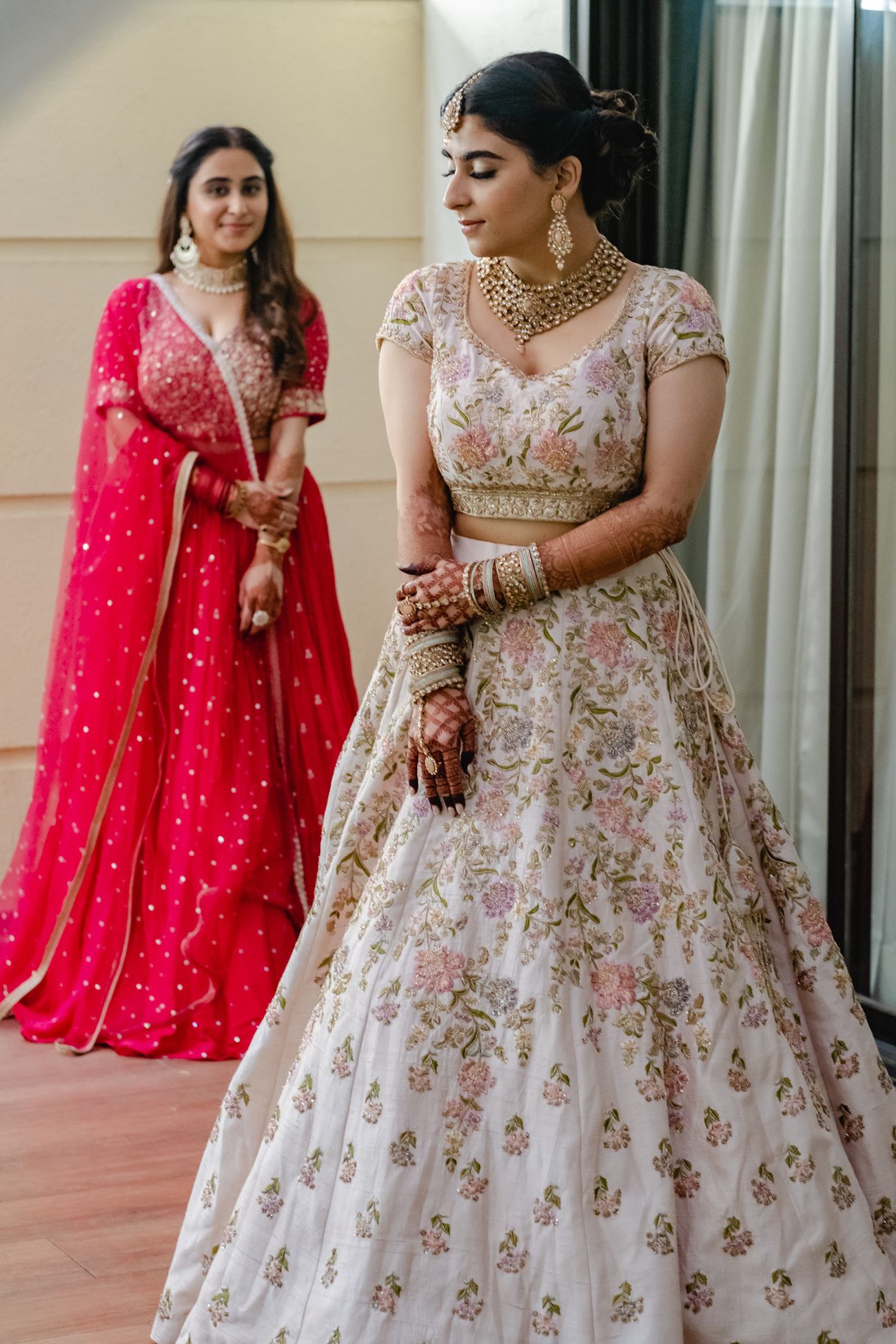 Images via Makeup by Bianca Bee★ 5 and SeventhHeaven Wedding Company★ 5
This means that you're more endowed below rather than on top, so the key is to balance it out, so that you are comfortable with the way you look. You can opt for lehenga blouse design with new-age embroidery as well as work or maybe choose cap or padded sleeves so that the looks stay even. Try fabrics that show more skin - maybe net sleeves or some delicate sheer inlay in your lehenga blouse design so you can accentuate your upper body. Even a backless back blouse design will look great on you.
Body Type: Heavy arms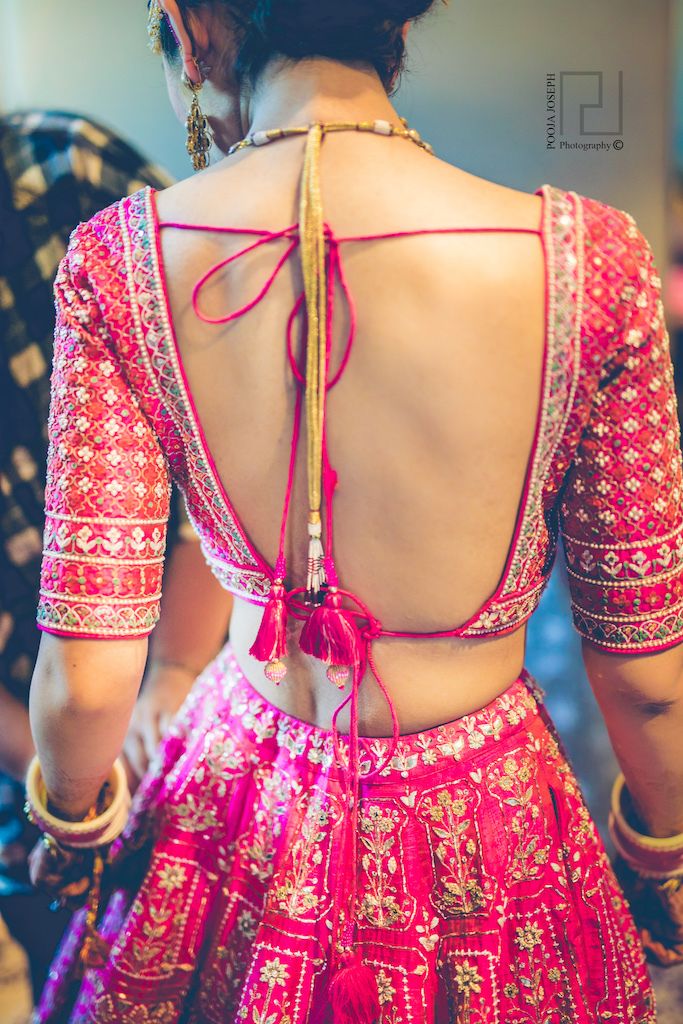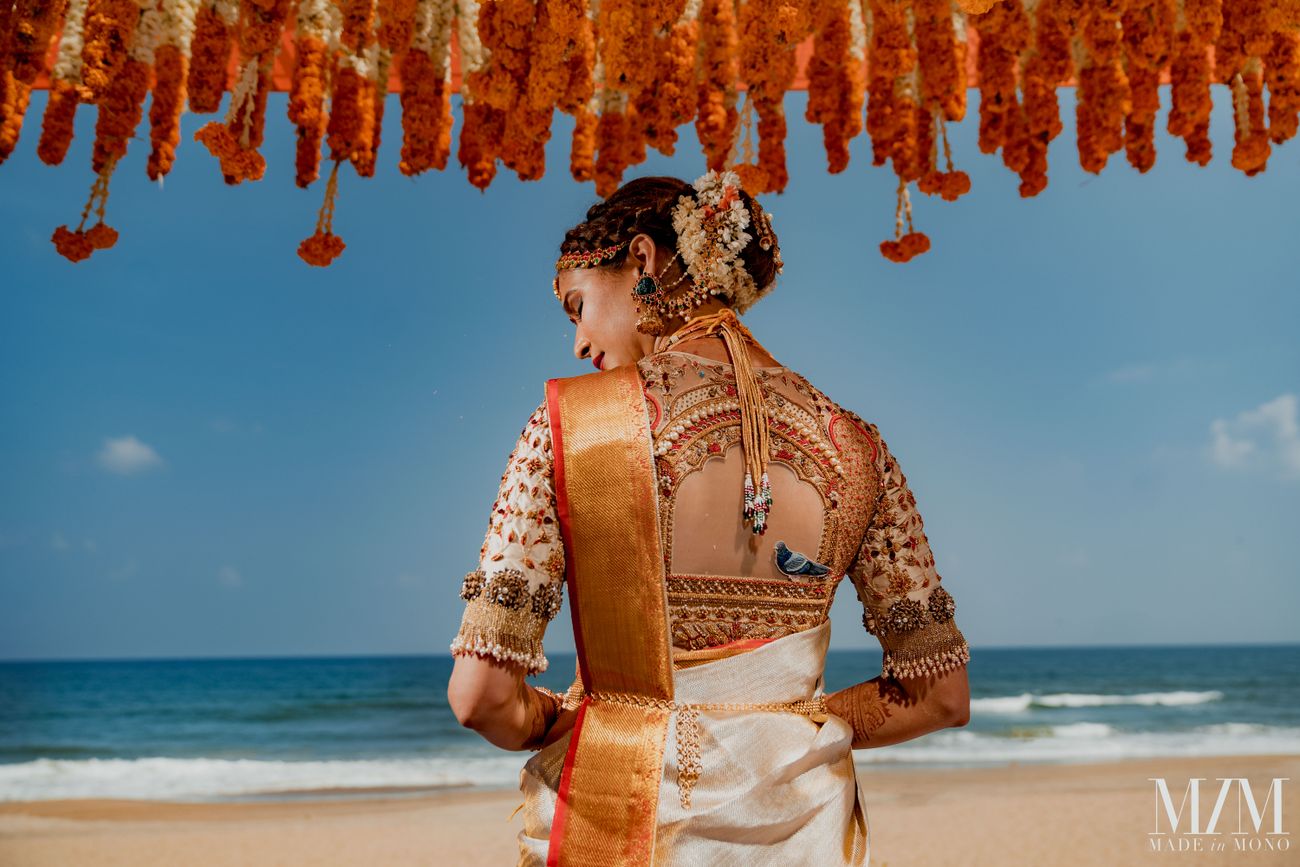 Image via Gauri and Anshuman & Prachi and Mahat
If you are conscious about heavier upper arms, then avoid opting for a sleeveless blouse or one that has cap sleeves. You could go for net sleeves or short sleeves, but trust us, 3/4th or sleeves till the elbow will also look the best. Choose fabrics for new blouse design that fall well and are extremely delicate and effortless - anything too bright or heavy might not fit the bill. You can try blouses with delicate fabrics and lots of backless options for back blouse design
Body Type: Broad shoulders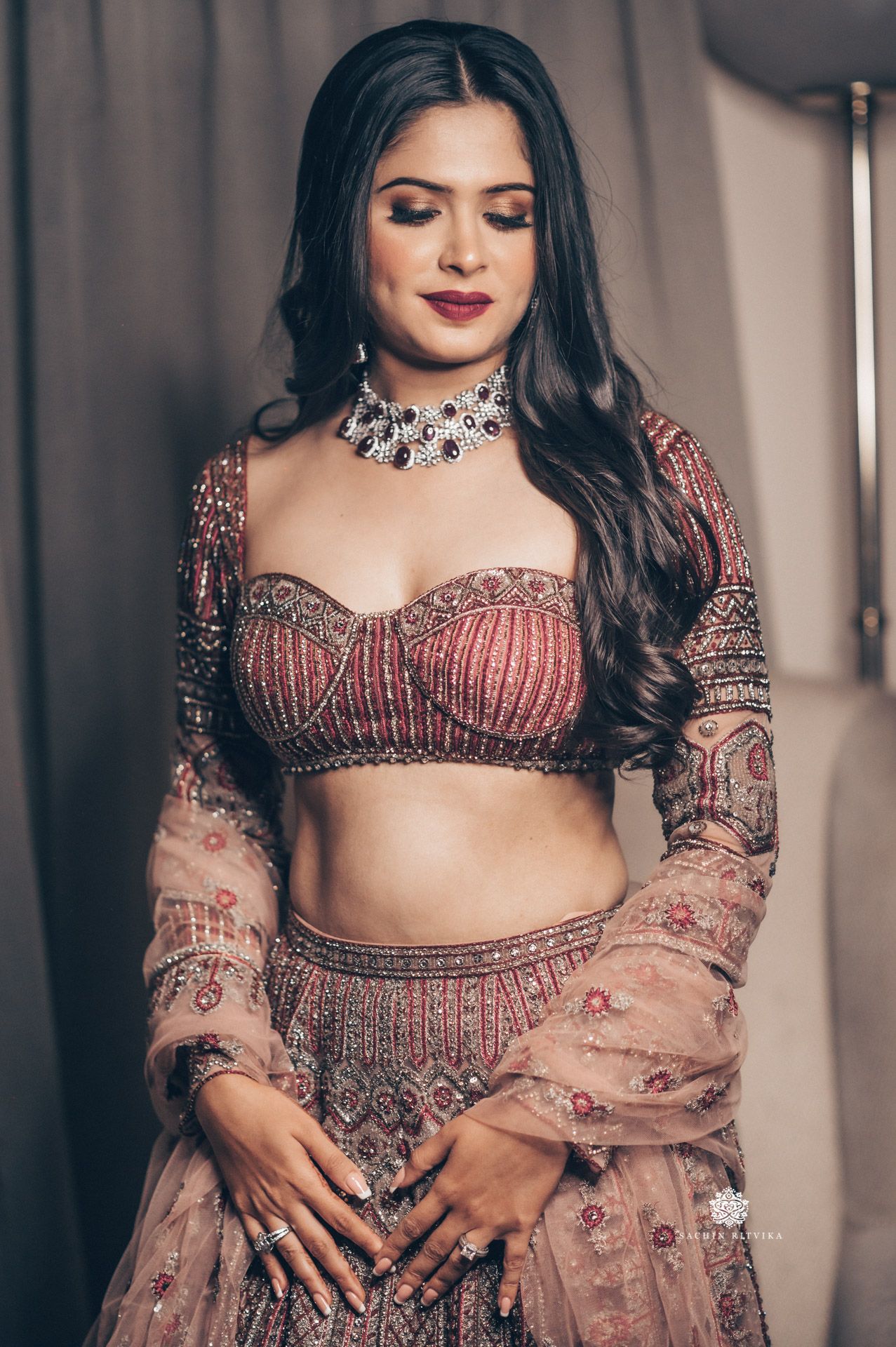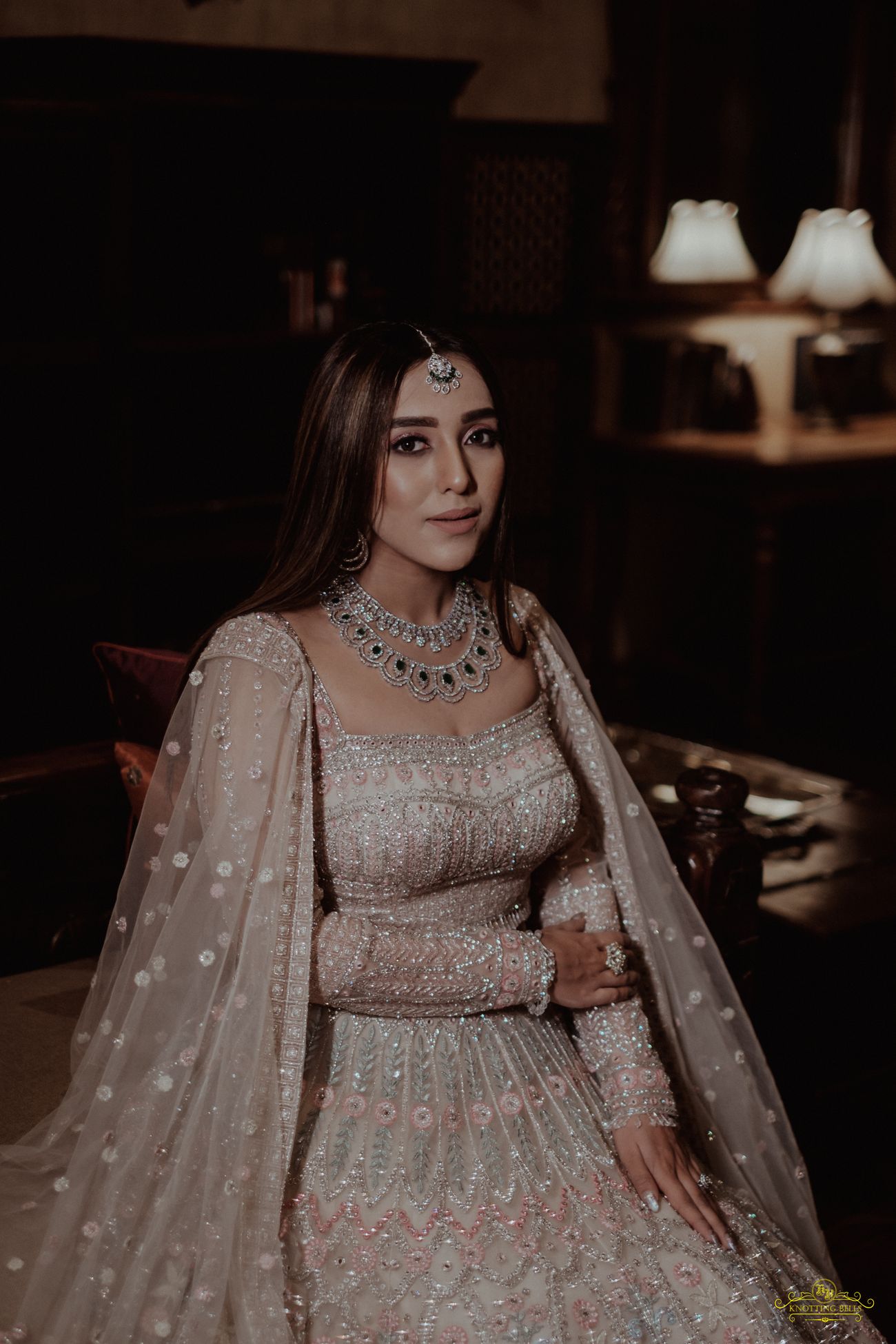 Images via Muskan and Ishan & Paroma and Nishank
If you don't want to highlight your shoulders, then shoulder pads or puffed sleeves or barely-there straps are a big NO NO! They might look amazing in the catalogue, but this will just work towards making your shoulders look broader. If you want to make your frame look narrower, displaying your collarbones rather than the shoulders will do the trick. Modern blouse designs like halter neck blouses or a thin strapped blouse will play off your shoulders well. Look for one with a wider neck - it will add sass to your look, especially for blouse designs for saree.
Tips and Tricks To Remember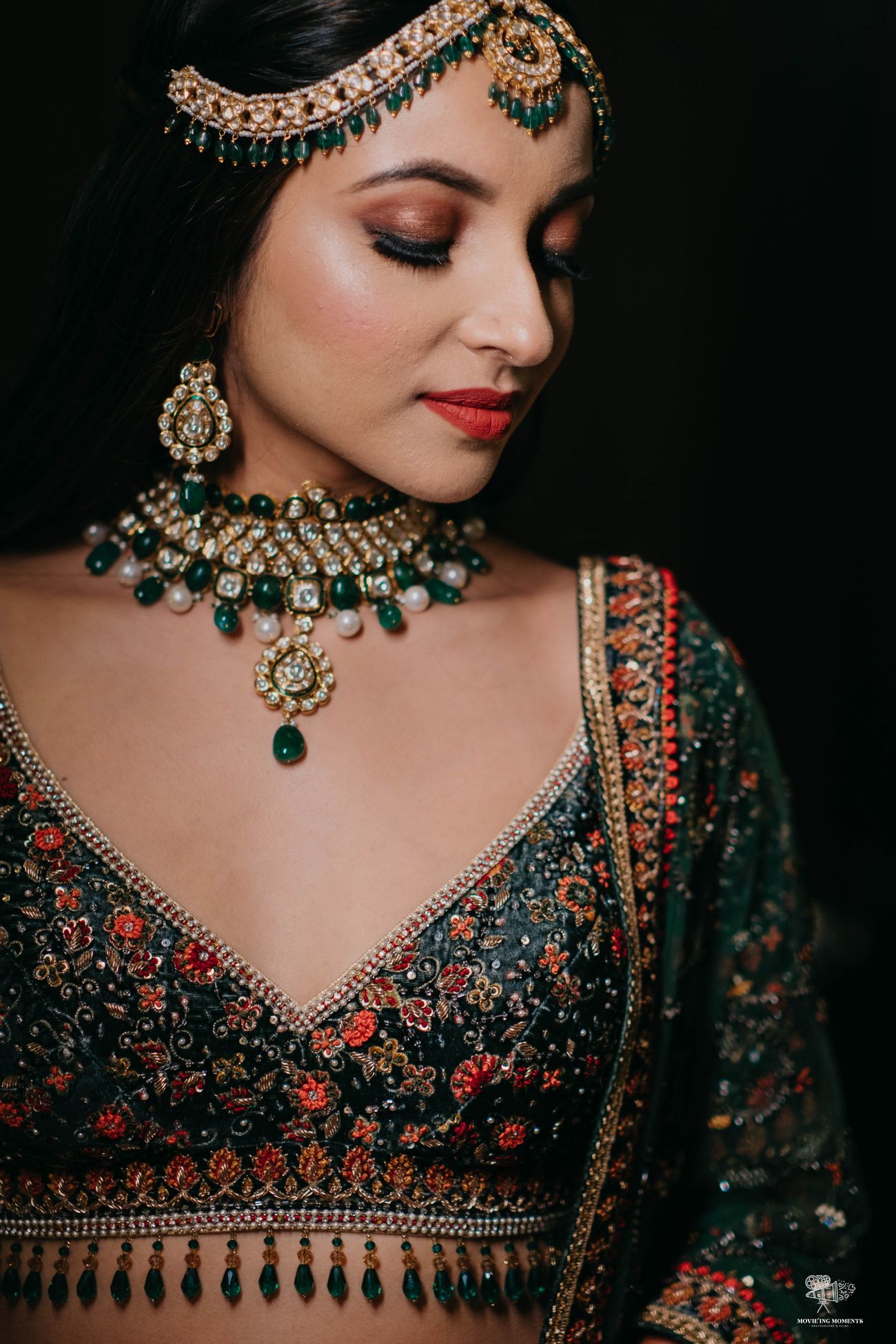 Image via Asra and Salman
Any kind of the latest blouse design will look good as long as you are comfortable. If a bride is uncomfortable and fidgety even with the perfect blouse, it shows.
Pick your lingerie according to your new blouse design.
Check out body tapes, stick-on cups before you finalize your lingerie. There are newer and smarter options in the market to hold up the fanciest and latest blouse designs for back!
Fitting is the most crucial part of any new blouse design. So get your blouse finalized two weeks prior to the d-day. Check out all You Need To Know On How To stitch The Perfect Wedding Blouse!
Have a backup. While your original lehenga blouse design may be completely different but have a plain silk blouse that matches your lehenga or saree ready as a backup
Don't be afraid to experiment with the latest blouse design. After all, you get to be a bride only once!
Please note that all images are for representative purposes only.
Don't forget to check out these Brides That Wore The Most Fantastic Lehenga Blouses Ever!
Also: 6 Bridal Blouse Neckline Styles We Haven't Seen Before
*Updated by Apoorva Pagar.