How To Pick The Right Lehenga Border For Your Height!
BY Sakshi | 02 Nov, 2017 | 74863 views | 5 min read
Now this is again something that a lot of brides don't think about- how much the border of your lehenga can impact your overall look. If you're average or taller than average, then you're safe- you can pretty much rock any border or lehenga style you want. But if you are so short that you want to look taller, or so tall that you want to appear more delicate, then picking the right border as per your height can make a big difference!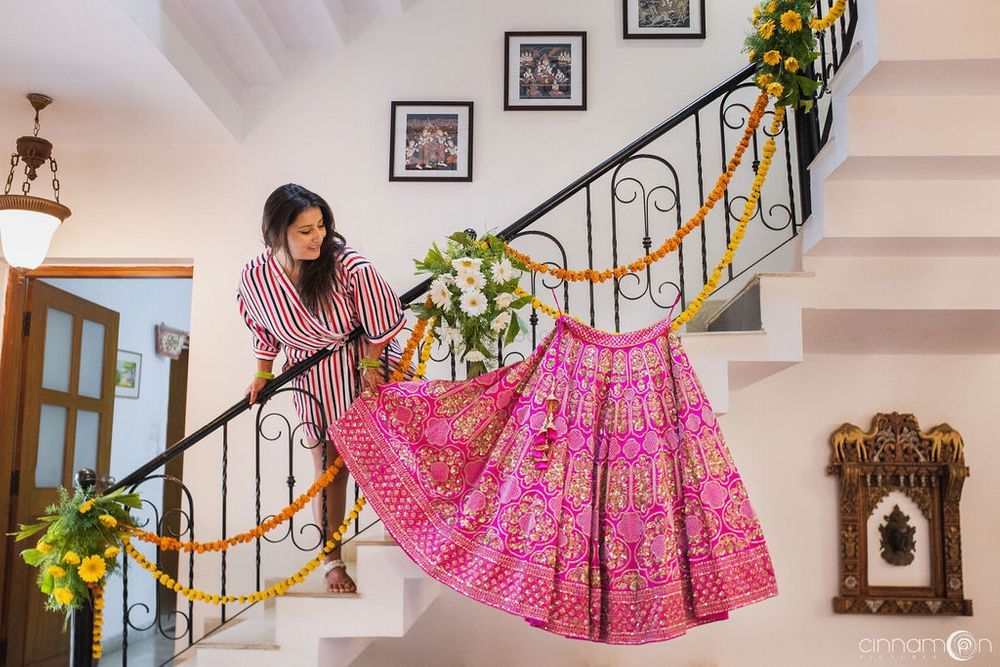 Image via Cinnamon Pictures
Here are some tips with references that can really help!
Lehenga style for short height
Whether you're a bride, a bridesmaid or just love wearing lehengas to weddings, you'll have to keep a few things in mind when picking a wedding lehenga if you're on the shorter side. Here are the Indian wedding dress for short height girls, basically those who are vertically challenged.
A-line lehengas look good on petite frames.
Pick lehengas with medium flare. Not too much or too less.
Broader the border = Shorter you'll look
Prefer vertical instead of horizontal work on the lehenga.
Avoid fish-cut styles which can make you look shorter.
Monotone colours are a winner as they maintain the same colour throughout.
Now let's divide the categories into short, medium and tall girls with visual references, so you know what would work for you.
Short girls
So the basic thing to keep in mind is, broader the border on the lehenga, the shorter you will look. Extremely thin borders with a pop of colours looks very dainty on shorter brides.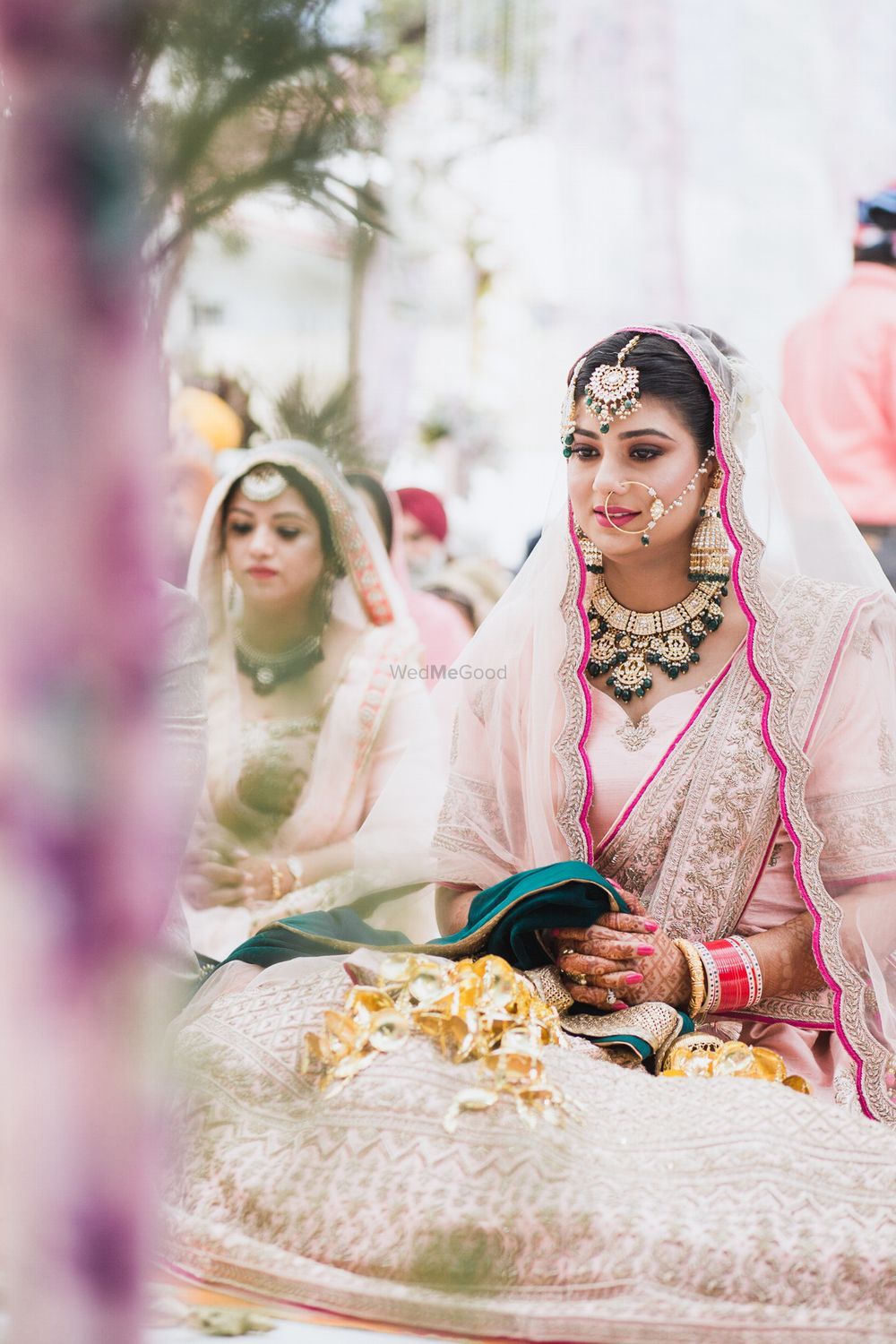 Image via Inayat & Amaneet
Short brides should steer clear of broad borders as they will definitely make them look shorter. Opt for narrow borders and give the broad, embroidered ones a miss.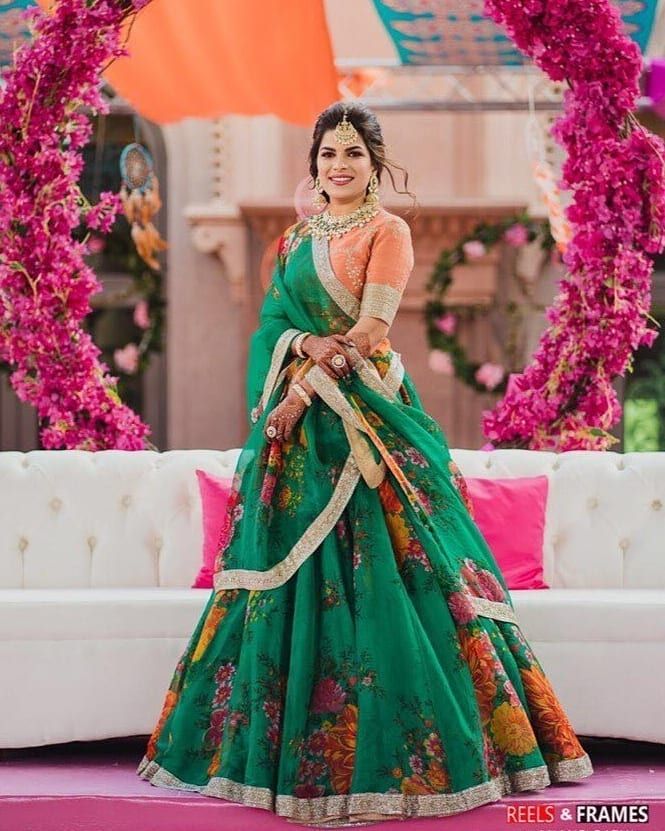 Image via Reelsandframes★ 5
Wearing your lehenga higher like high waisted can also give the illusion of being taller, especially if your lehenga has a broader border.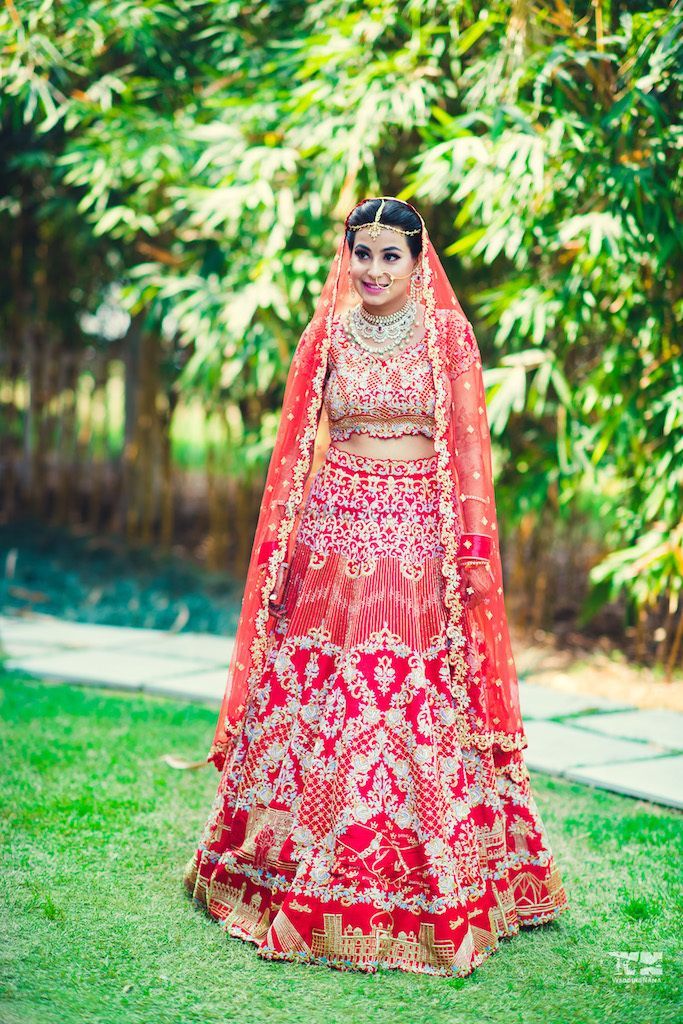 Image via Aashna & Bhisham
Do not pick lehengas with a lot of horizontal work, but prefer something with vertical work, which will give the illusion of more height! A lehenga with 'tall' work, which is more vertical, is great for you.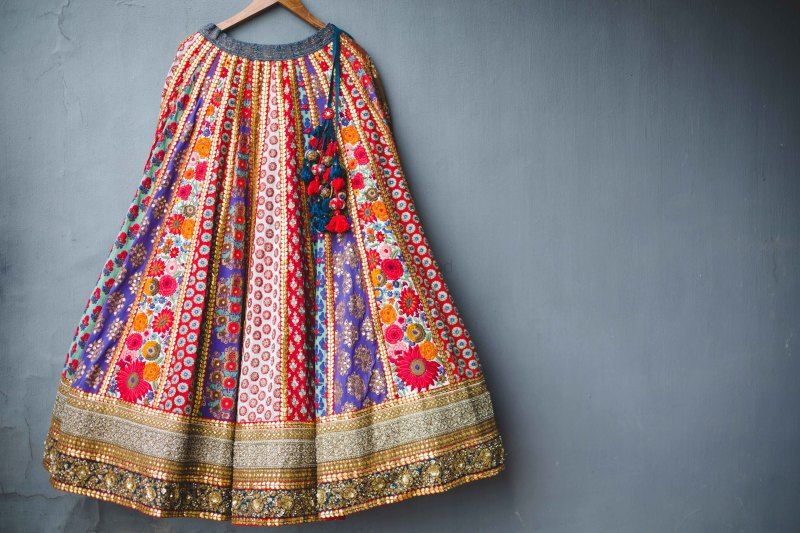 Image via The Wedding Crasher
Do not pick a lehenga with a very thick band at the waistline- that will also make you look more stout, and can look very stark on petite brides. Pick something with a thin border on top or one with none at all.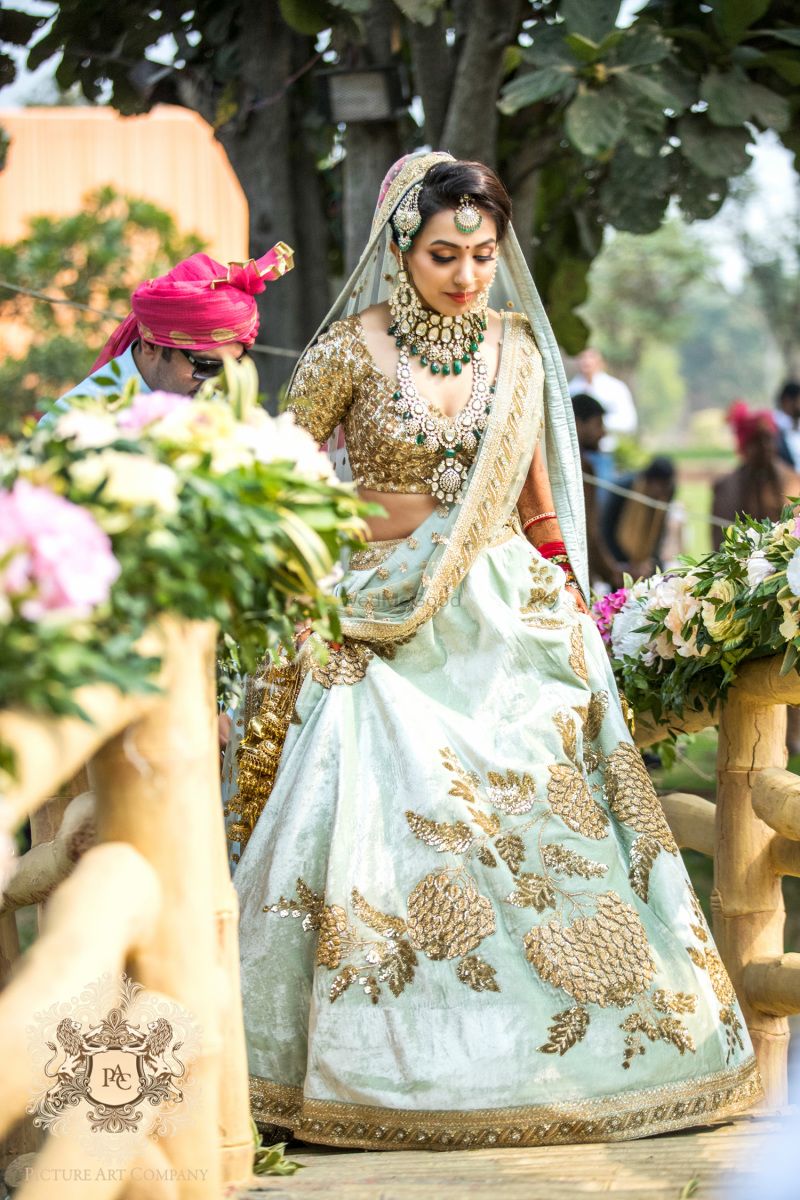 Image via Picture Art Company
Also, if you can get lehenga borders which are modern without a lot of fuss created around them, but distract to take your eye down, like this one.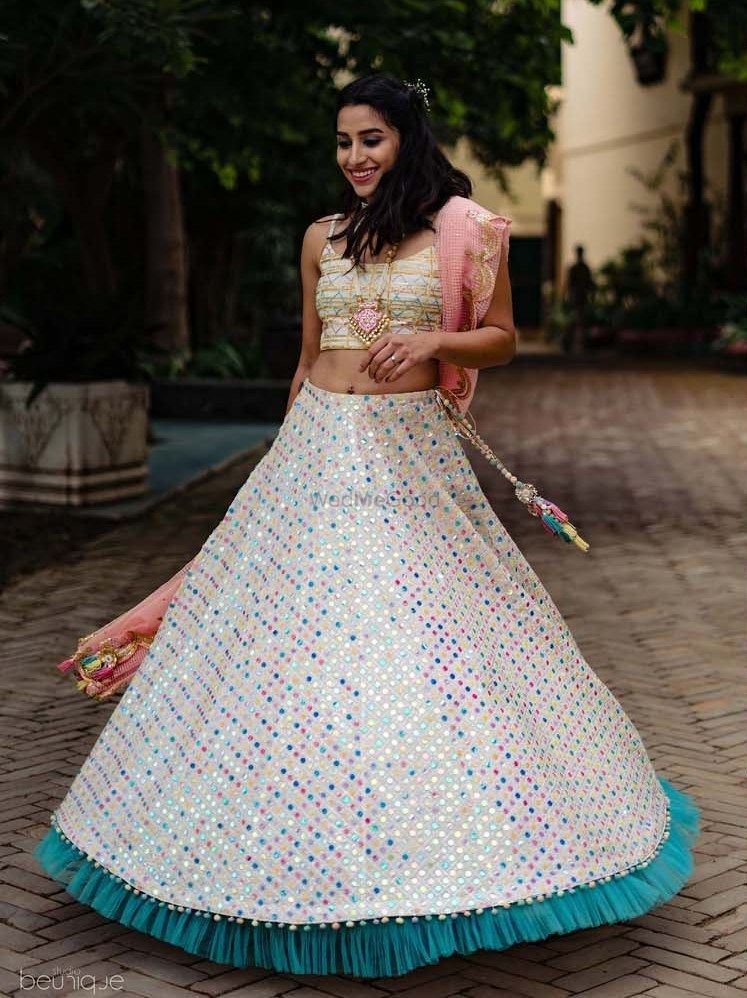 Image via Kavya & Sanchit
Borderless lehengas are also a great option for short brides!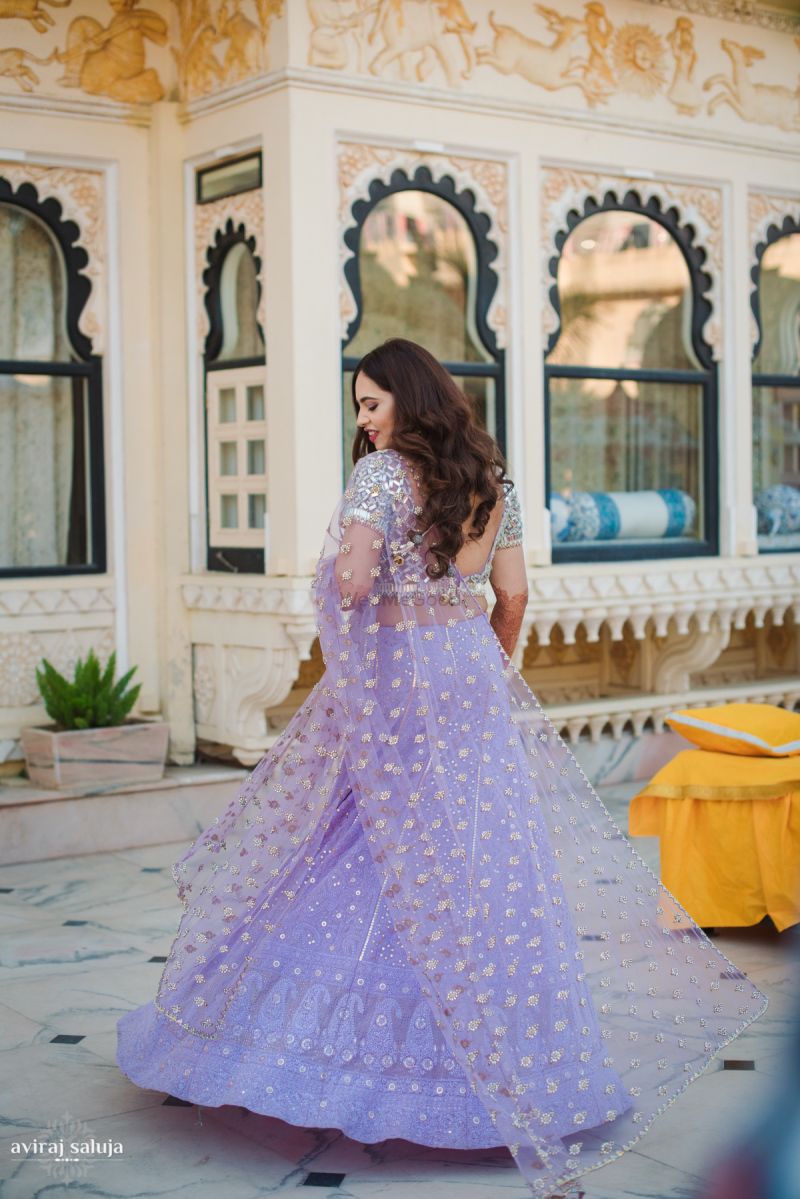 Image via Aviraj Saluja Wedding Photography
Ombre lehengas or those with a gradation of work can work really well for short brides too!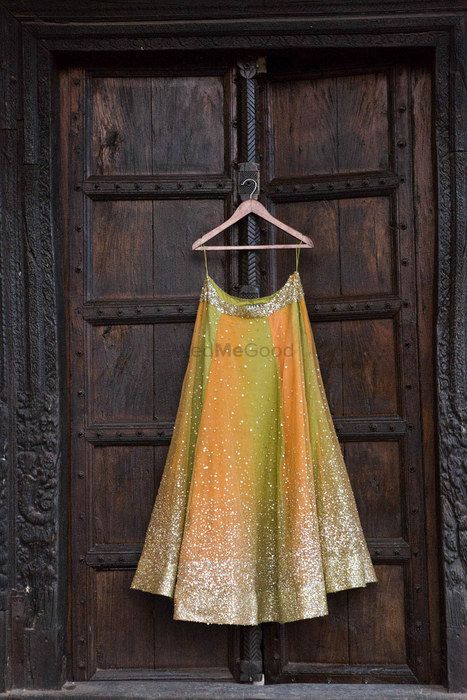 Image via Malini Ramani
Wearing a lehenga without a contrasting border- head to toe in one colour gives the illusion of height.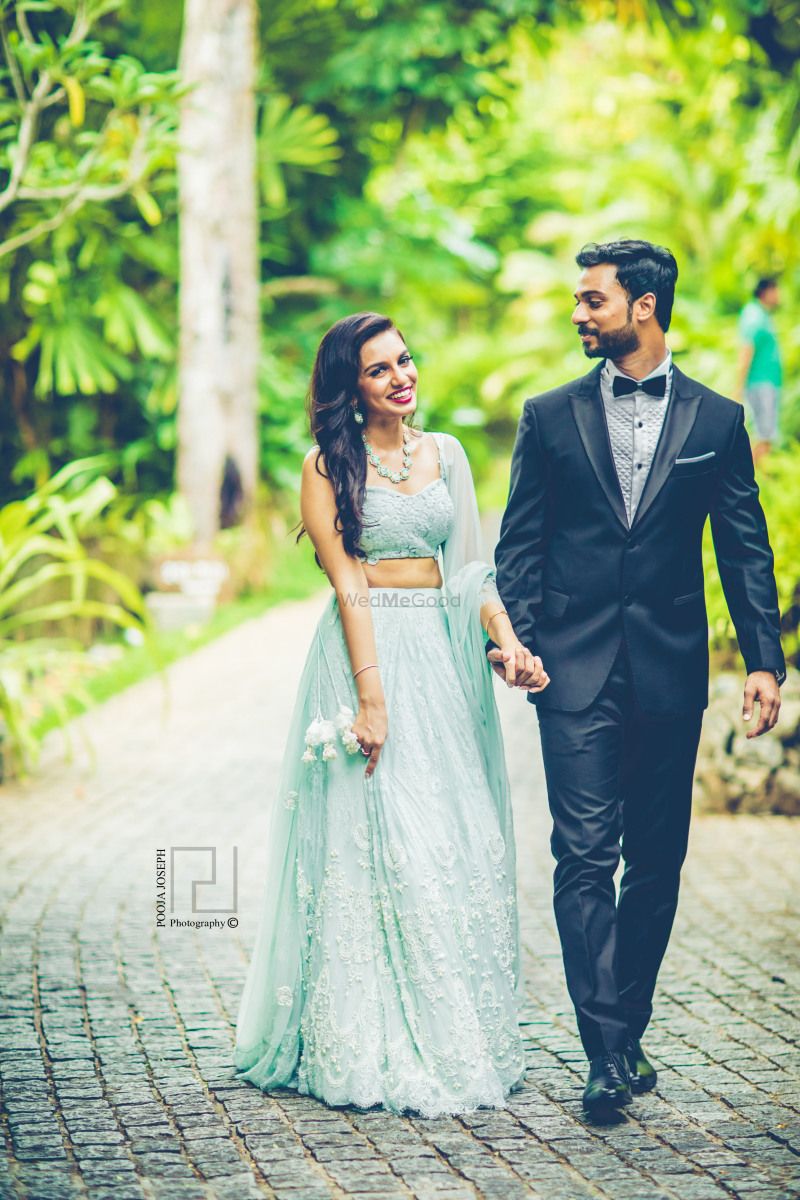 Image via Pooja Joseph Photography★ 5
If you want a pop of colour, then something with an extremely thin border like this one is great for you!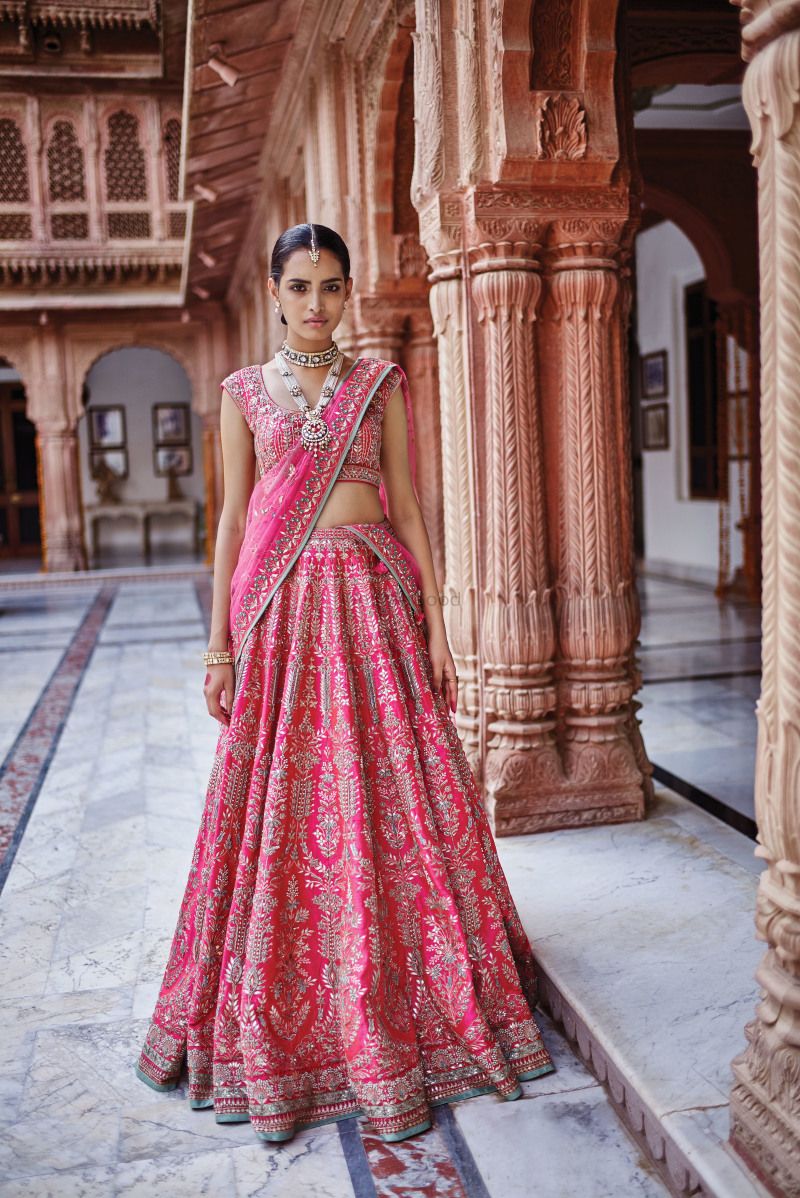 Image via Anita Dongre
Medium-height girls
Pick something with a border that's medium too- not too less or not too thick.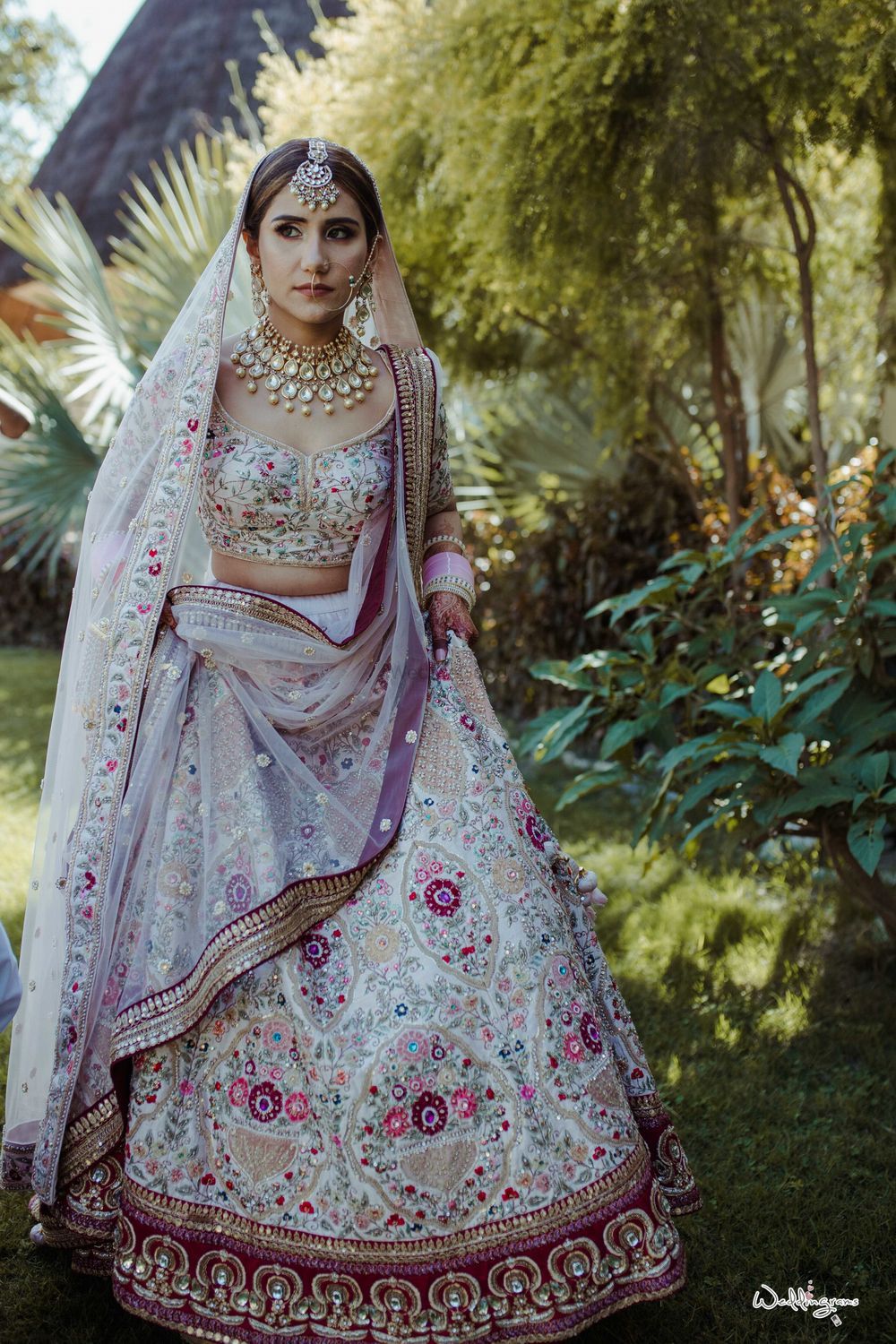 Image via Weddingrams★ 4.8
If you do want something with a broad border, then make sure it is combined with some vertical work as well, which will balance it out.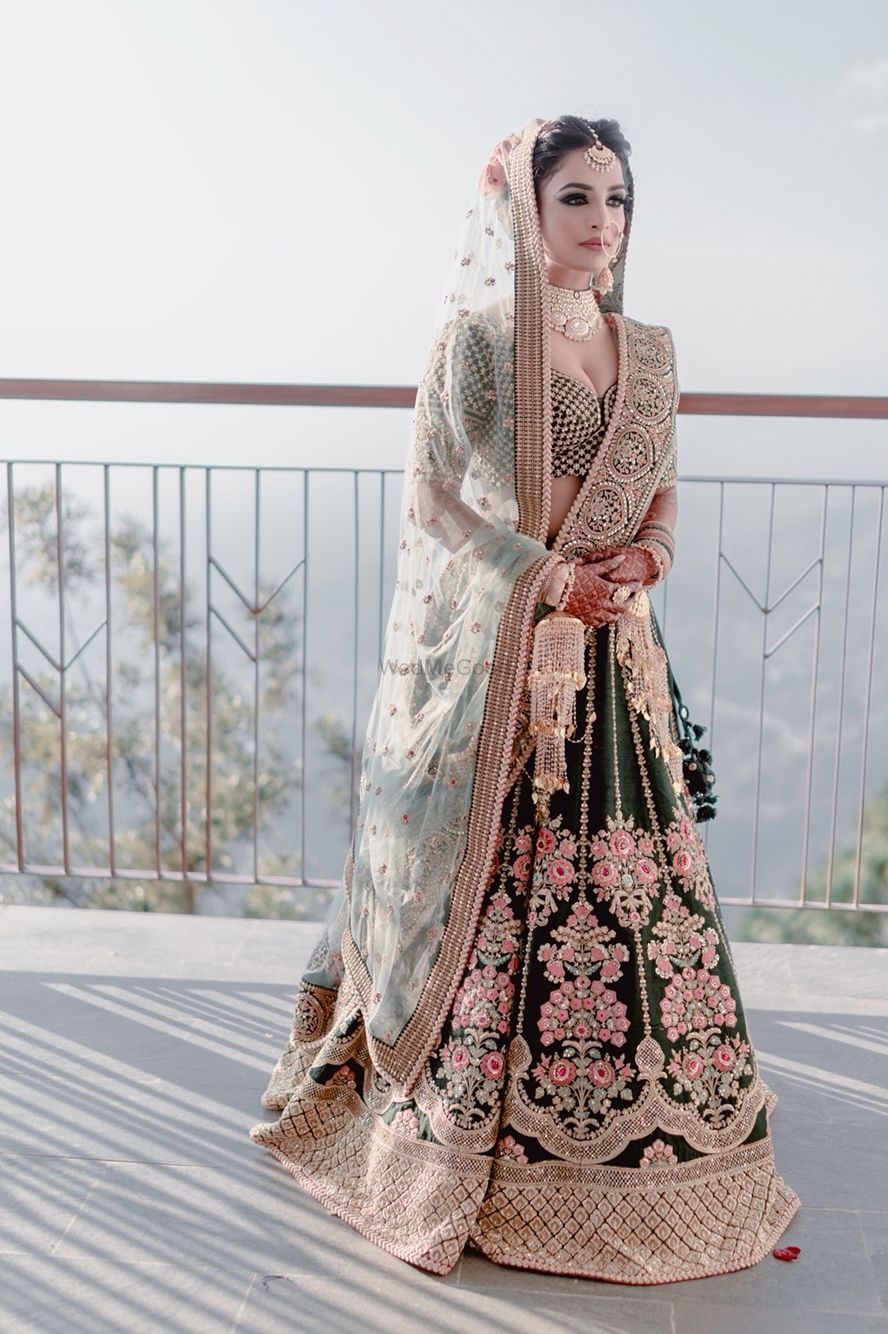 Image via Shahid's Makeover
Medium height girls are lucky in the sense that they would look fine in just about any lehenga style- in this case it will matter more what your frame is, whether you are petite or broad, and you can pick a lehenga accordingly too. If you're on the broader side, avoid broad borders.
Tall girls
Lehengas with the illusion of a thicker border at the end will also look great on you!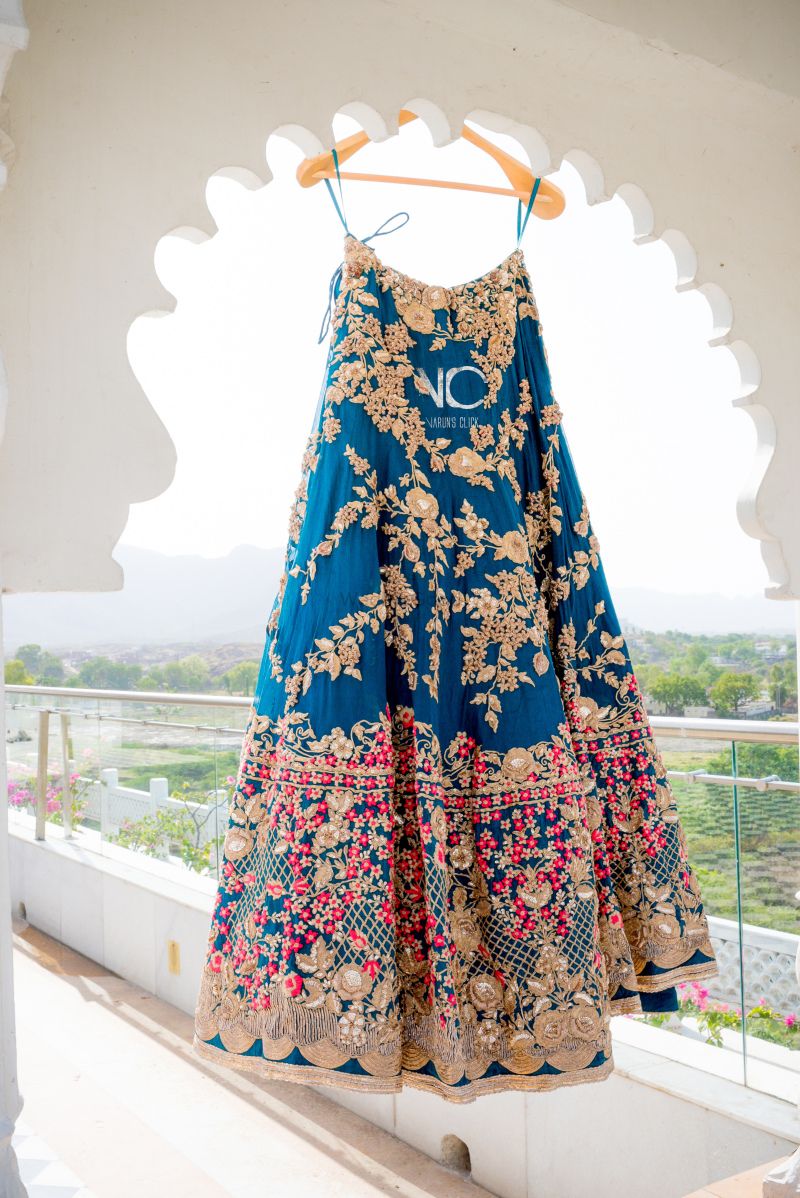 Image via Varun's Click
Cut down on your height if you want with a lehenga that has a lot of horizontal work on the bottom.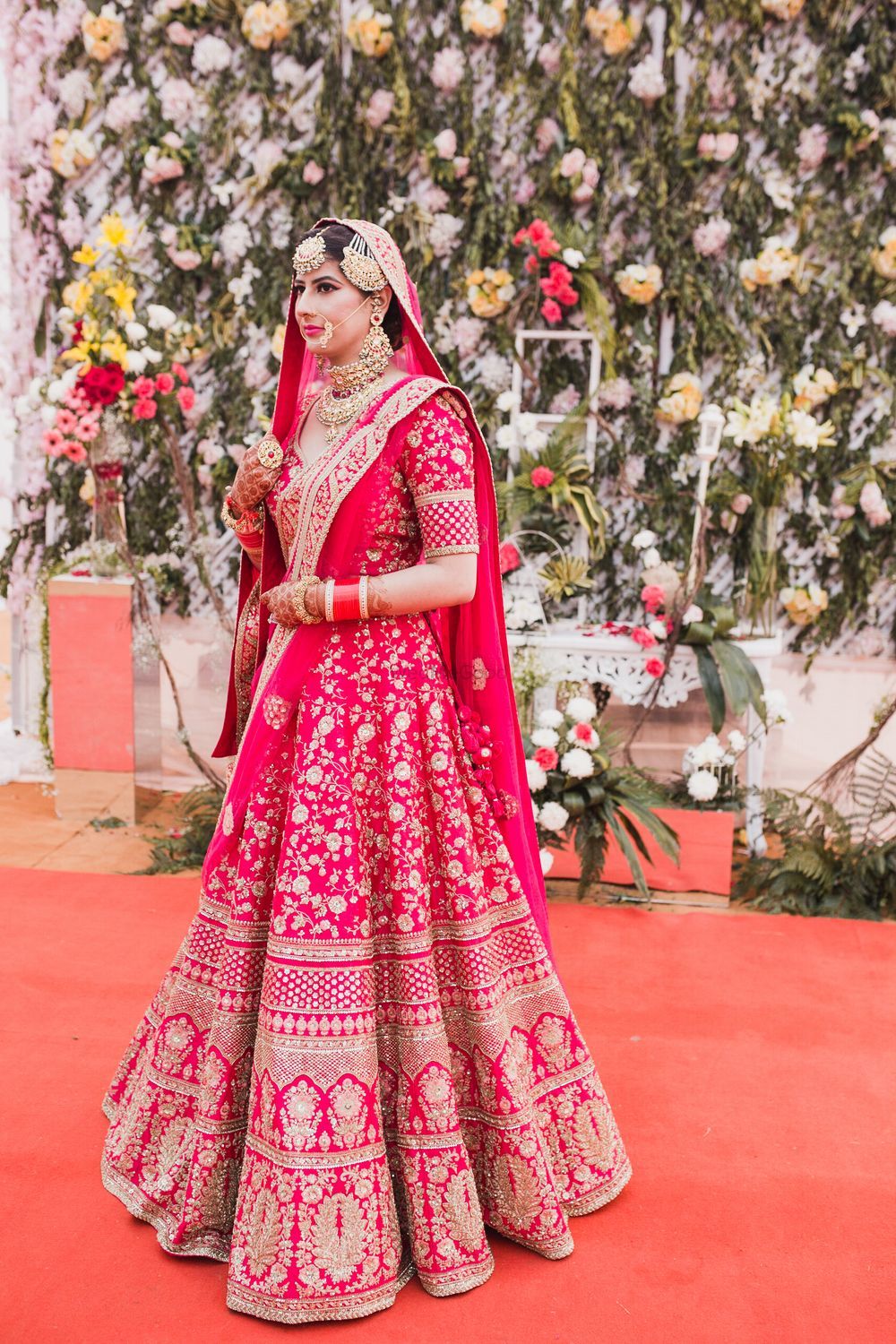 Image via Kavneet & Harpeet
If you are slender, then horizontal work on lehengas looks amazing- cuts down a little on the height as well to make you look slightly petite.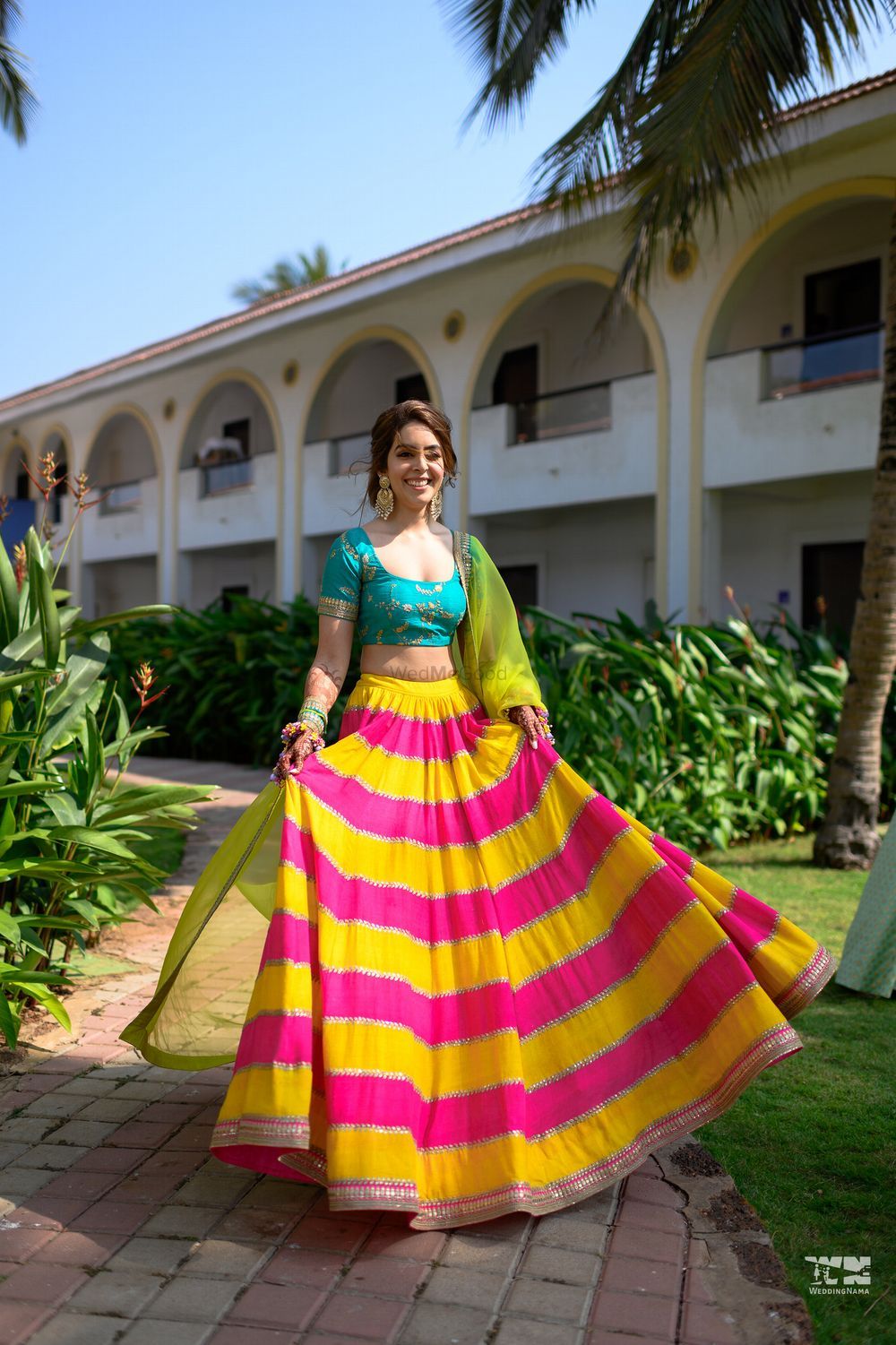 Image via Sanaa & Sidhant
A lehenga with a broad scalloped edge can work really well for you to add some softness!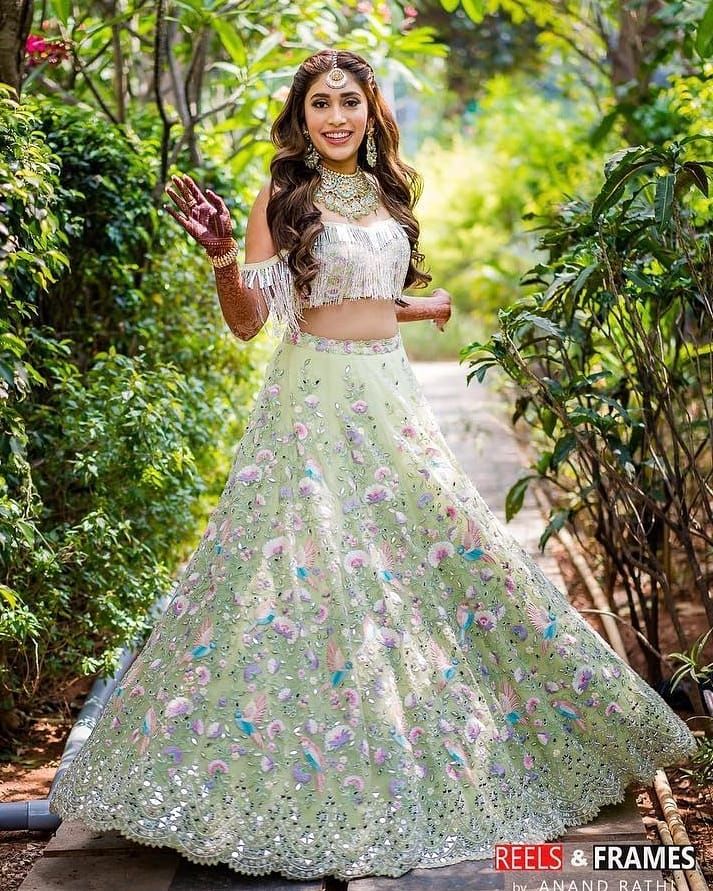 Image via Reelsandframes★ 5
Monotone lehengas will make you look even taller, so make sure to break it with a broad border with a pop of colour in it somewhere!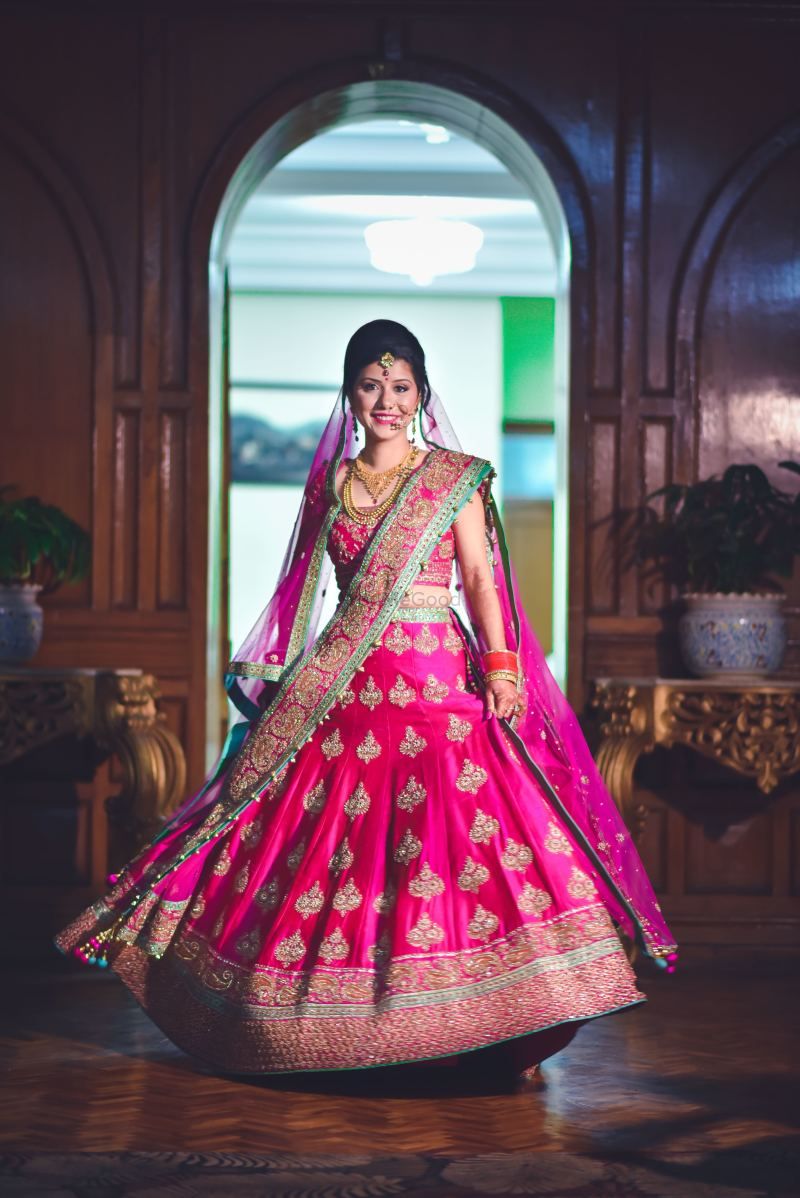 Image via White Frog Productions
For tall girls, it will also depend what the frame of the body is like- whether you are tall and slender or have a bigger frame. Avoid very big and broad borders if you are broad, as that can make you look bulky.
*All images used are for the representative purpose of the outfit and are not indicative of the bride's actual height. 
ALSO READ: Hey Shorty: Bridal advice for petite brides