How to : Throw an Intimate Pre-Wedding Brunch /Dinner !
BY Sakshi | 21 Apr, 2017 | 991 views | 5 min read
OMG! We're in love with the whole idea of an intimate dinner with a pretty table setting! It's like our new favourite thing at weddings, and it just looks so cosy and feels super special. It's a great idea to celebrate with your near and dear ones before the madness of the wedding descends, and also for the immediate relatives on both the sides to get to know each other. Just have a meal together to just kick back, relax and have a really really good time with the people who matter the most! Rehearsal dinner inspired intimate dinners are becoming pretty popular in India too, a day or two before the wedding or the Sangeet, and we're sure by the end of this post you'll be super inspired to host one too!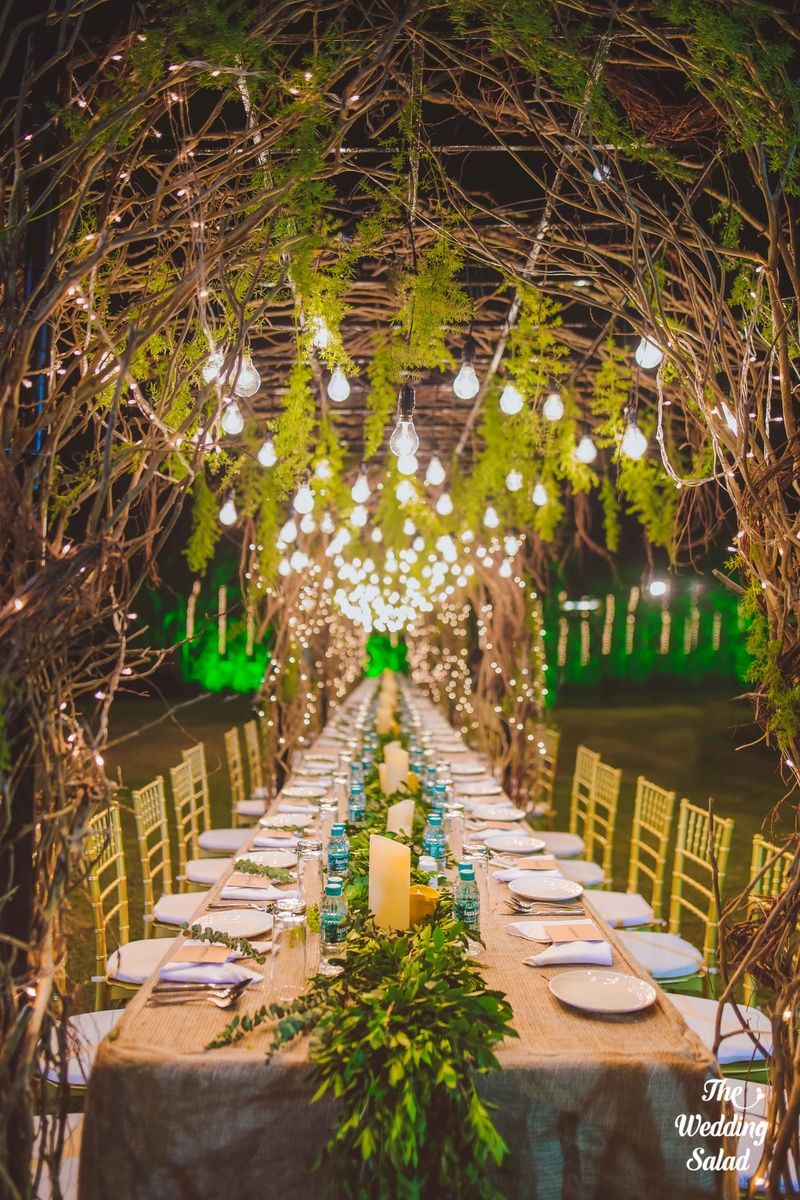 Image via The Wedding Salad★ 4.9
Here are a few tips and tricks to pull off the perfect rehearsal dinner inspired event for a small crowd!
Do it outdoors instead of indoors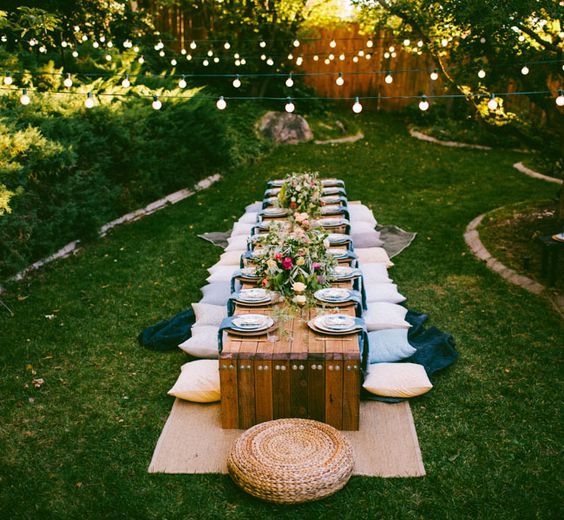 Image via Pinterest
Even in summers, nights are pretty pleasant, and the ideal decor for a rehearsal dinner really looks better outdoors as compared to indoors. A backyard is an ideal place to have an intimate dinner- you could have it in your garden or at the wedding hotel or venue. Doing it indoors is going to feel more like at a restaurant and give it a more personal feel. A nice shed, a garden or a neat hotel garden - all work beautifully!
Choose between Casual & Formal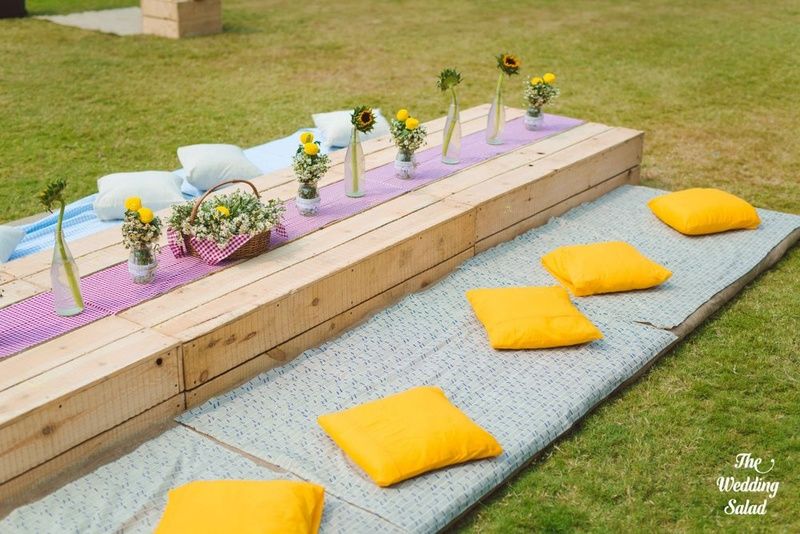 Nail the florals right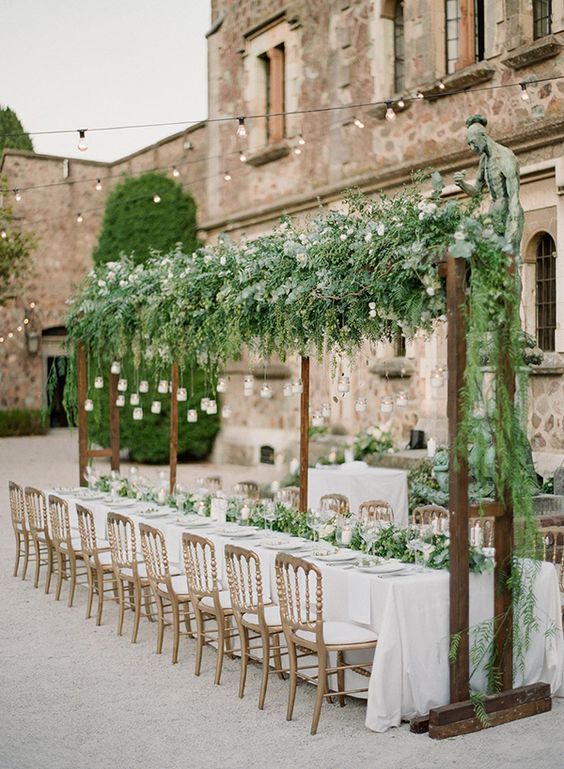 Image via Pinterest
The decor in an event like this one is really going to set the mood and the ambience, so you've got to nail it!
Canopy or Trellis -
A canopy or trellis on top of the table looks magical, and is majorly trending these days!
Florals or Botanicals-
 Go for loads of flowers, or you can keep florals to a minimum and even go for an all-botanical look!
Centrepieces
 – While big, tall centrepieces may feel appropriate for a large wedding, consider a low and lush option instead. With low centrepieces, guests are able to see one another and carry on conversation. You could even have one single floral table runner stretching across the length of the table.
Prefer a long table as opposed to multiple small ones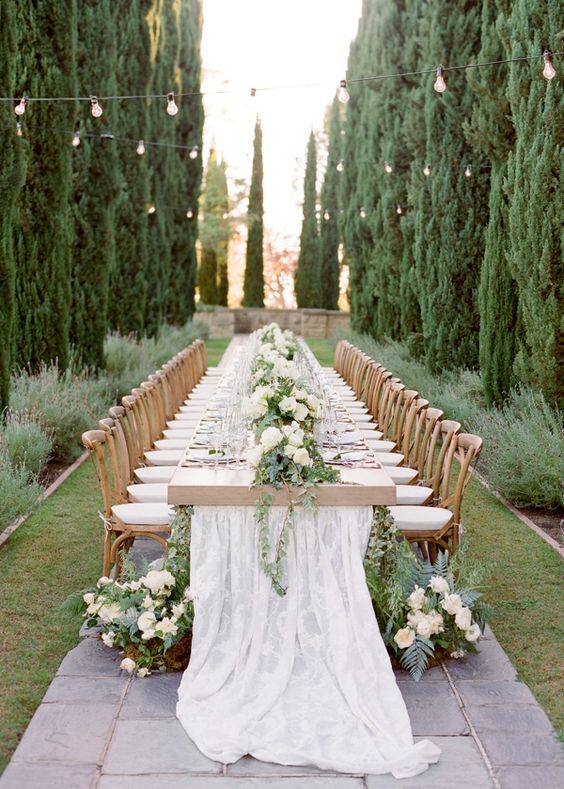 Image via Pinterest
Since it is an event where you're hoping the close family and friends on both the sides get to know each other, prefer getting everyone seated on one long table as opposed to a few small ones so that everyone can talk and laugh together! A feast-style seating works well!
Lighting makes a big difference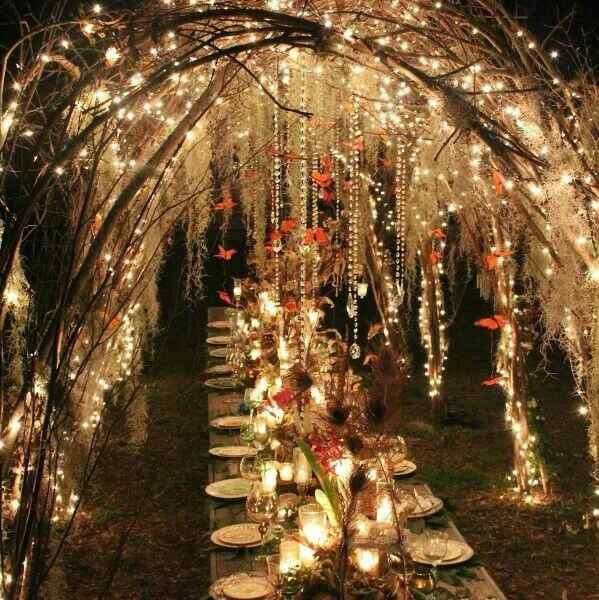 Image via Geet Events★ 4.7
The lighting will help a lot in setting the feel and mood of the event. Use a lot of fairy lights and hanging bulbs to create the perfect lighting- trust us, it's going to look magical!
Earmark the seating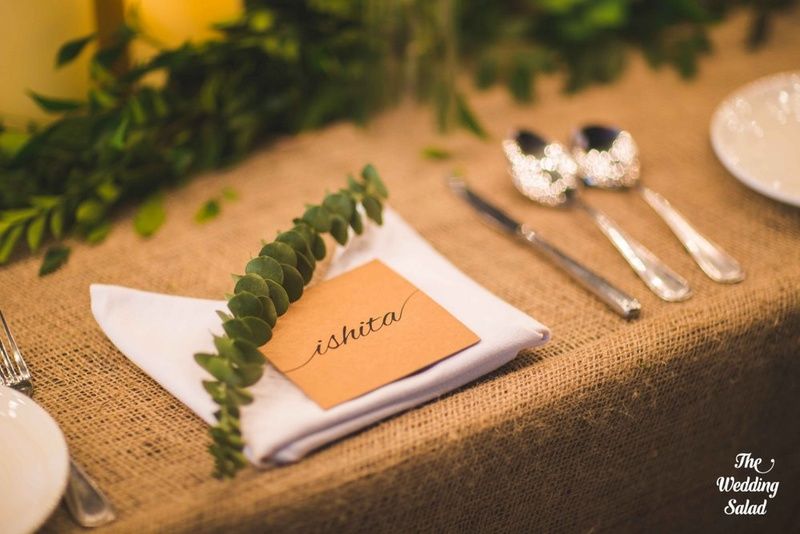 Image via The Wedding Salad★ 4.9
This way you can pre decide who sits next to whom- avoiding awkward conversations and ensuring people of similar interests get to know each other! So put some thought into it! Writing the names on the chairs or even with napkins is a good way to ensure everyone sits in their spot!
Consider keeping it casual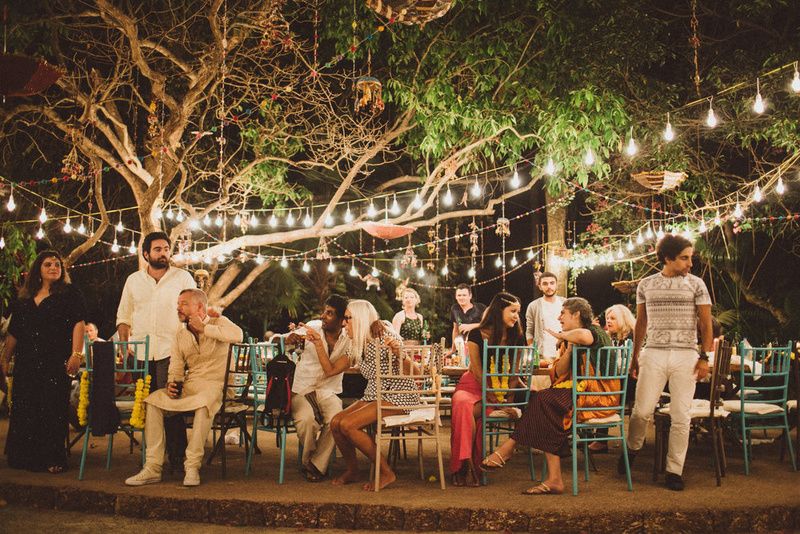 Image via Narina and Tarek's Wedding
All the other events at the wedding are going to be sort of formal
ish, 
so consider keeping this relaxed casual, everyone can turn up in dresses and semi-formals, so it helps in breaking the ice even more! A buffet style menu and serving is ideal for a setup like this one.
Thank those who matter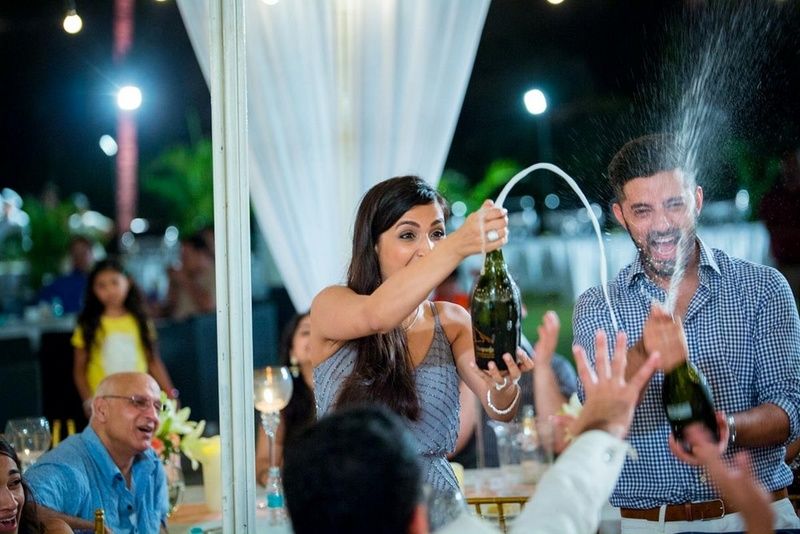 Image via Richa and Arjun's Wedding
You might not be able to do it at the wedding, so consider saying your 'Thank yous' and raising the toast to each other or your parents or siblings at this event, sharing it with the people who eventually matter the most!
Give attention to cutlery
 
Have one interesting event or activity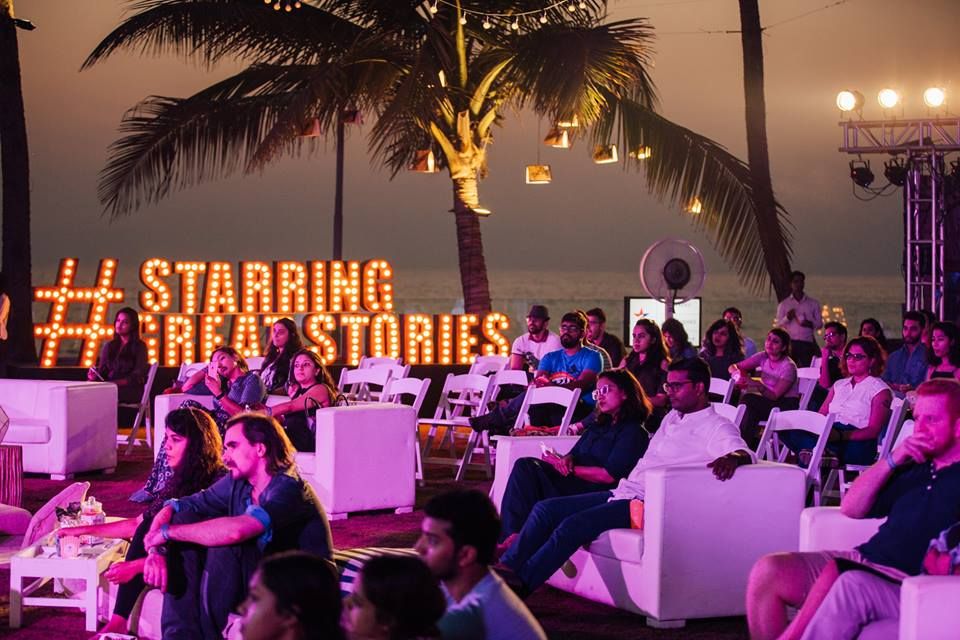 Food, food, food and yummy drinks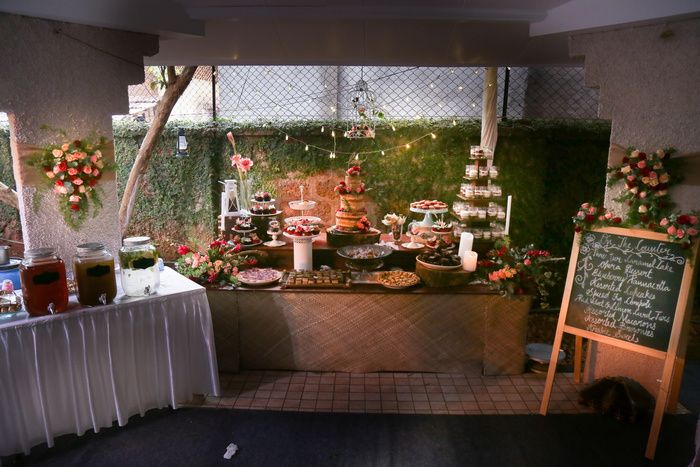 Picture Courtesy: Shahzia and Nasif's Engagement 
A small sweet set-up offers you a chance to experiment with cool wedding ideas like - food trucks, dessert tables, sushi bars etc. So tune that radar, you can go crazy with ideas!
Getting that warm fuzzy feeling inside already, right?