MUAs Reveal: Should You Or Shouldn't You Match Your Lip Colour To Your Lehenga Shade
BY Sakshi | 21 Feb, 2019 | 3360 views | 5 min read
Of course really not valid when you pick offbeat colours like white, blue, green or yellow, but what to do when you do pick these shades, or even a red or pink lehenga? Do you wear pink with pink and red with red or go brown or nude? And what are most brides these days doing? Well, we decided to ask a few renowned makeup artists to give us their views on it, and show us a few examples too!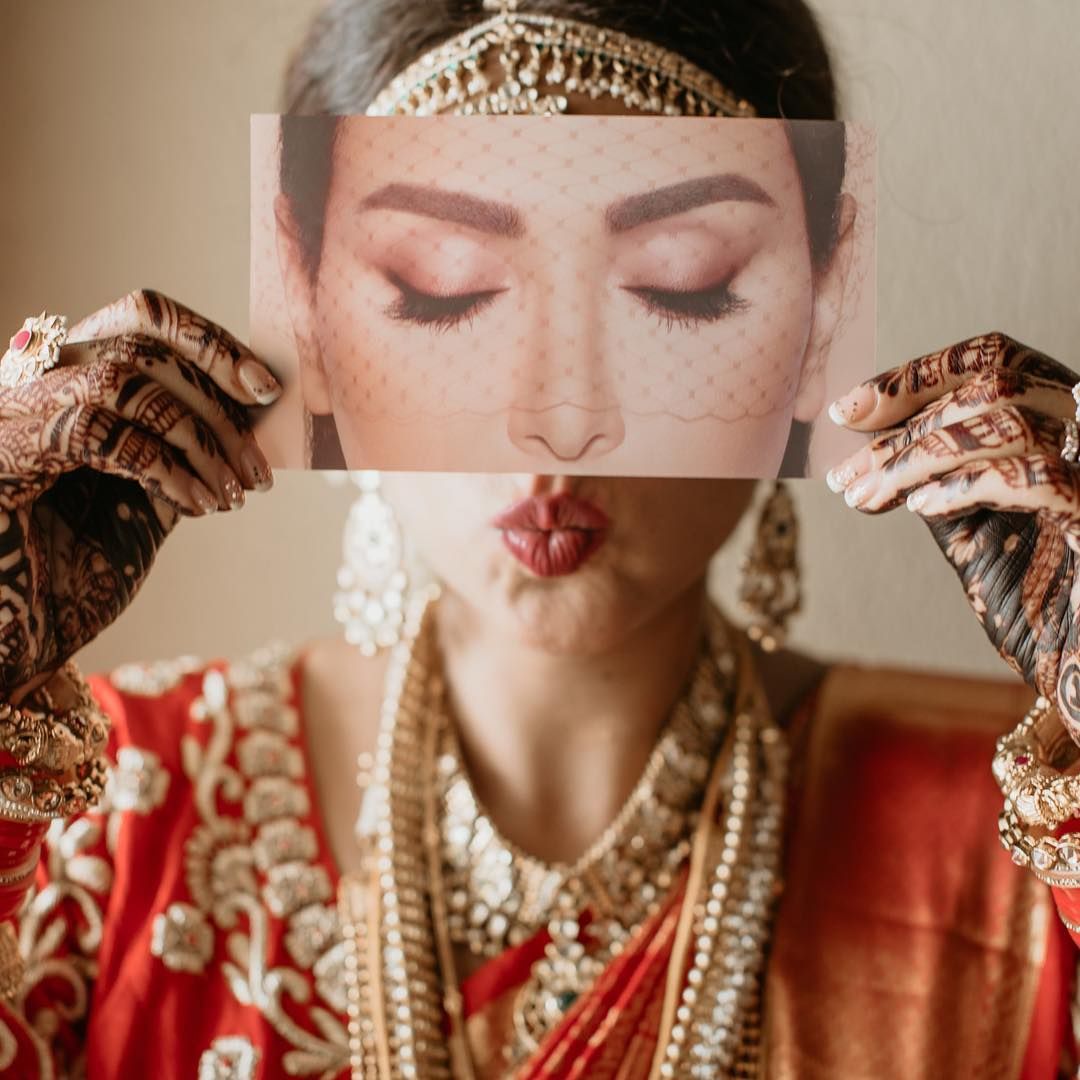 Image via House On The Clouds★ 5
So here's some advice and examples from leading MUAs to make your decision easier!
I believe the objective as an artist is to let the bride look the most beautiful version of herself. I'd match the lipstick colour to the bride's complexion, undertone and to her personal preference rather than the outfit colour.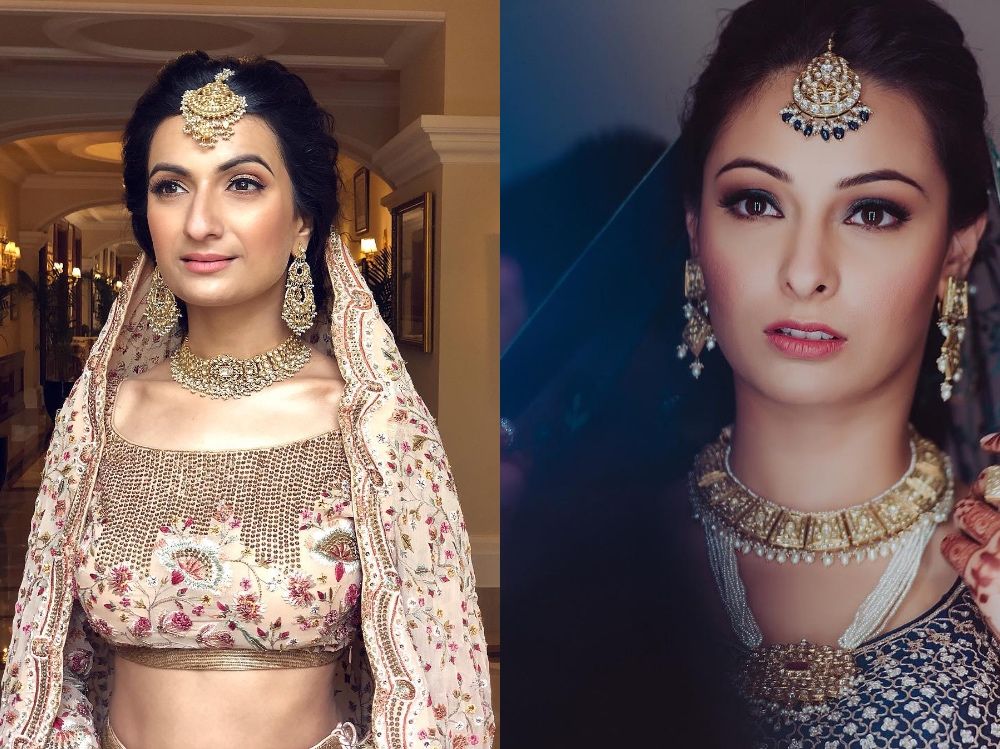 What happens when a bride chooses an offbeat colour like green or blue for her big day? Hence, choose a shade that would adequately help balance the rest of the face.
I would say don't go with exact colour as your lehenga. Go with a shade darker or lighter in the same tone.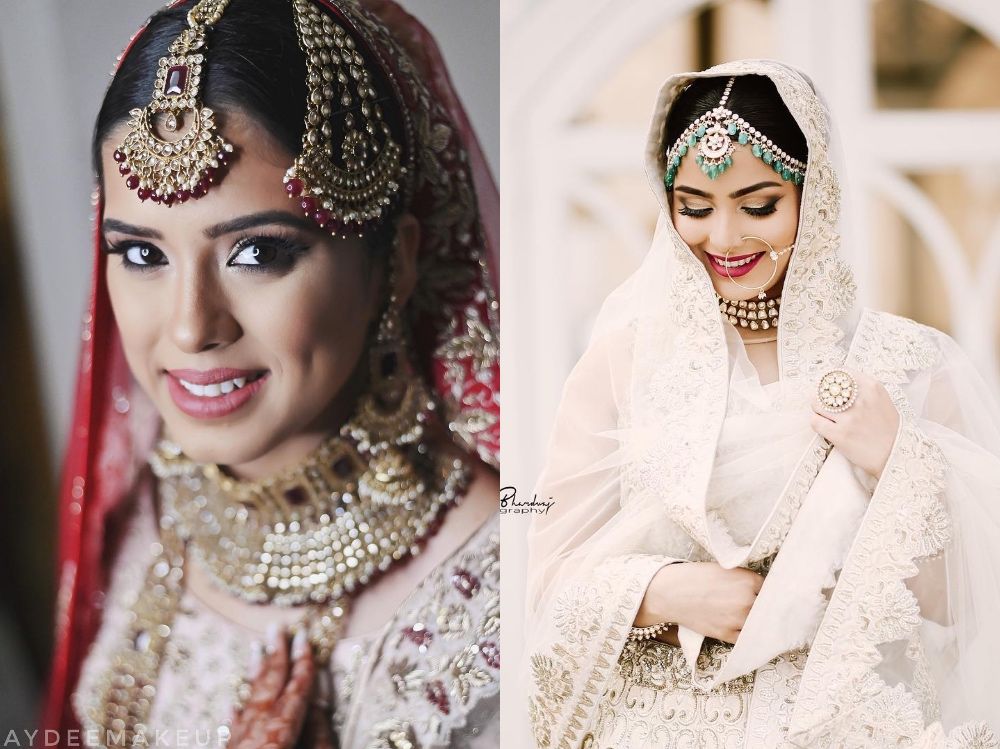 If it's a blue, green or any different colour lehenga, go with nude shades. If it's ivory shade go with red or nude! Depending on your personality! 
According to me, this totally depends on person to person, and equally keeping in mind the look / hairdo / jewellery that the person is wearing. I love how one thing tones down the other thing and give it a complete look, to me, not everything bold looks elegant, and not everything light looks beautiful. And here, lipstick plays one of the major role in giving a complete bridal look.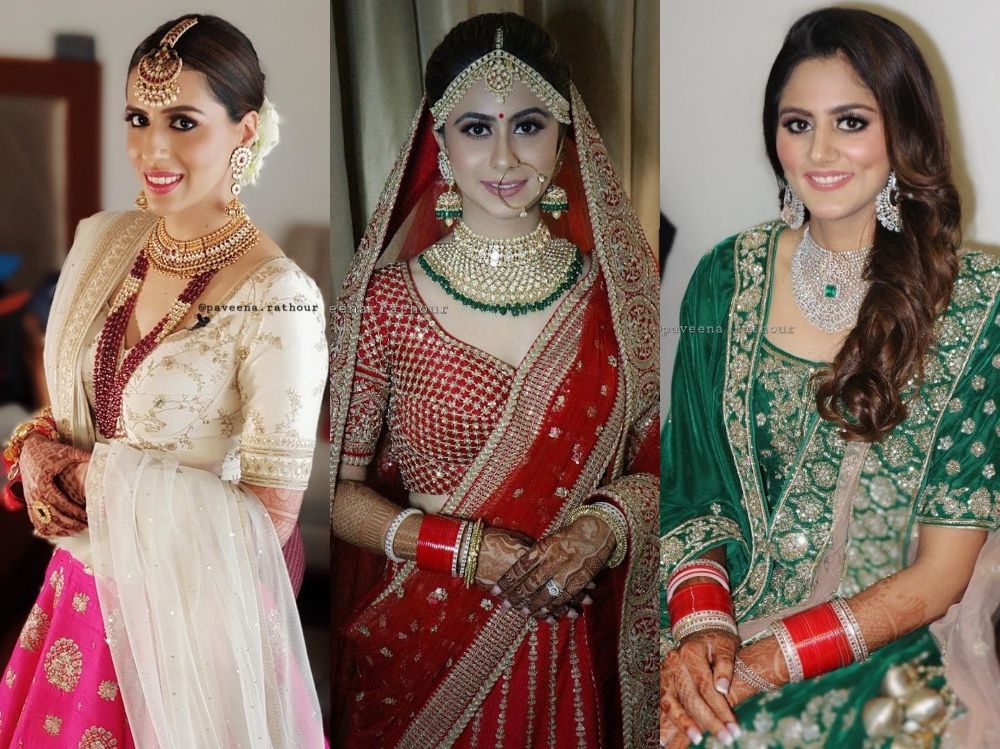 For the first bride, her blouse and dupatta is off white, with a hot pink lehenga. We had a choice between maroon lipstick as per her jewellery or pink lipstick as per her lehenga. Keeping in mind a day wedding, maroon lipstick would ruin the whole subtle look. And we opt for pink, which is very close to her lehenga but little softer touch to give her a dewy subtle look. For the second one in red, could have taken red lipstick as per her lehenga, since the jewellery is also in contrast. But, she's a beautiful canvas with a sharp features - big bold eyes, to which we have kept the colour minimal and enhanced it with the lashes to make her look young and soft. Bright red lips would have given her a very mature look. So I picked a nude pink lips (the colour of the work that she has on her lehenga) to tone down the overall red in her complete look. Now how would you choose the colour when someone is wearing green or blue? Of course, no green or blue lips! Blue or green are cool color undertones, so we need to keep her whole look warm and soft, specially with her big eyes. So with this we brighten up her face with soft peach lips, which comes in warm undertones. You can even choose pink over peach. That's completely a personal choice.
"Gone are the days when everything has to match perfectly- I love it when a bride has jewellery colors in contrast. Same goes for the lip colors. You simply don't need to go for red lips if your outfit is red! One of my USP's is heavier eye makeup and subtle lips. I've been doing that for a very long time, but thanks to Anushka and Deepika, there's been an amazing transition with the brides asking for matt nudes varying from ashes of rose or subtle peaches.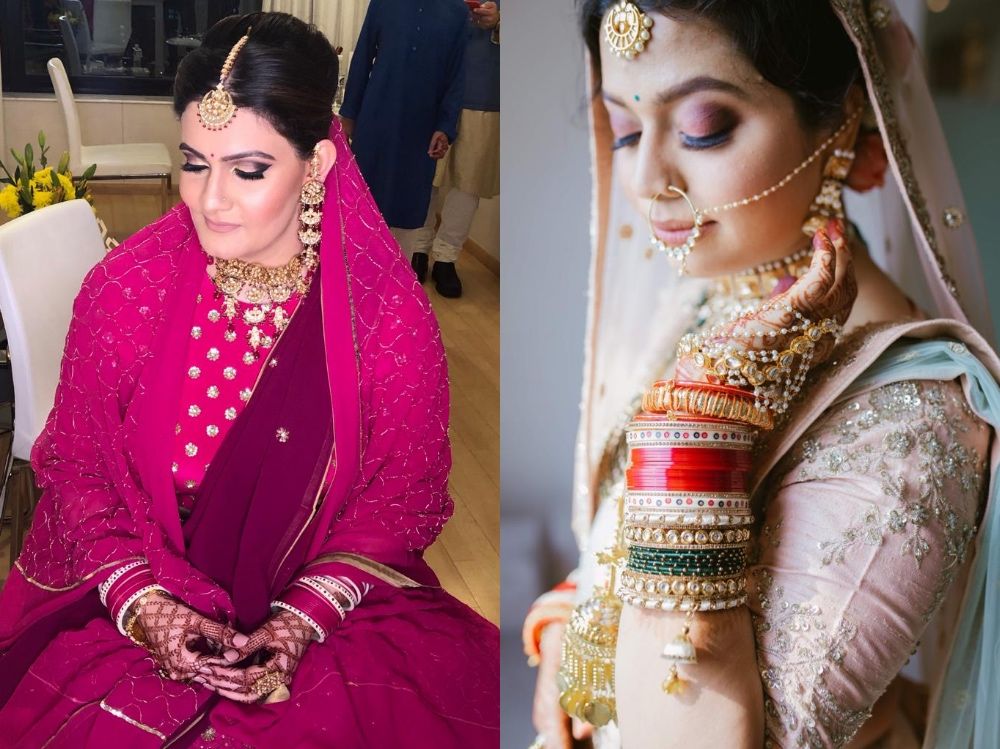 Another tip that I normally give the brides is that one can always match the flowers with the lip color. That way a new colour can still be incorporated without it looking completely out of place.
In the makeup world, lipstick will always be a showstopper. Regardless of the shade, lipstick makes a statement, and it's important to remember this when planning any outfit that you want your makeup to complement. If you're wearing bold colours, you can safely choose a pink or neutral shade for your lips and choose a berry, red, or even orange hue to draw attention to.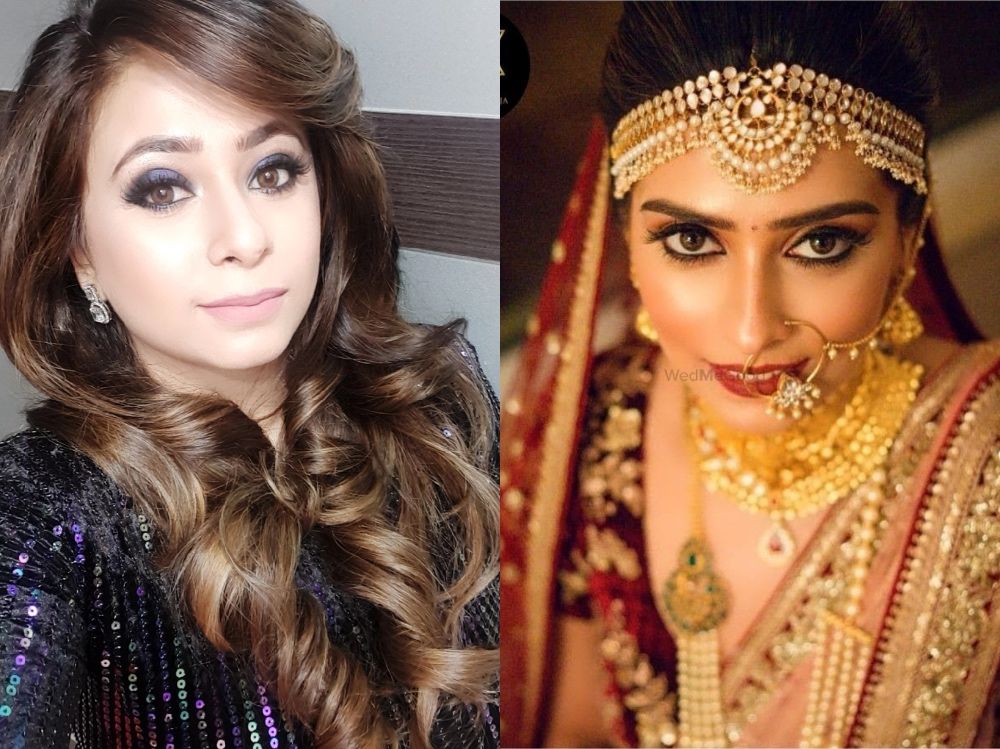 So I personally do like to match the makeup to the outfit but its important to keep one thing in mind- if you like bold dramatic eyes then play your lips down to subtle and nude shades and if you like bold lip colours, then go softer with your eyes.
If your color is bright red / bright pink you should match your lip color to the outfit so it doesn't make your outfit over shadow your face while your eyes should be soft shimmery and your skin radiant.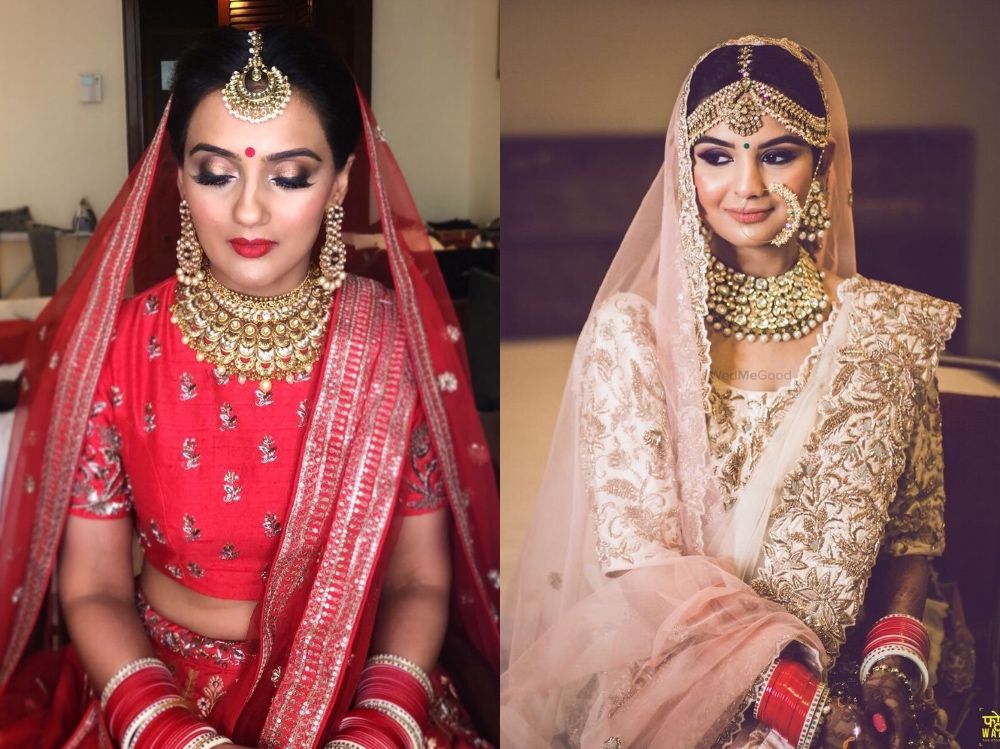 When wearing other colors, you might not want to match your lip color, instead glam your eyes with shimmer/ glitter of your outfit color and keep the lips neutral.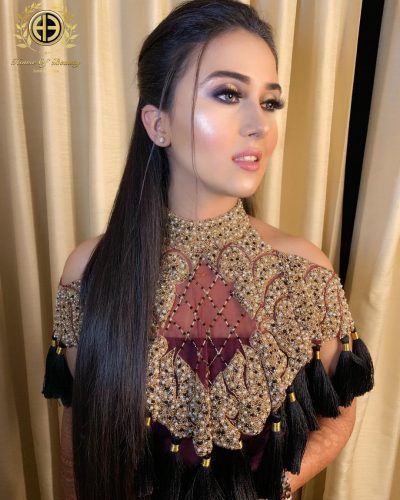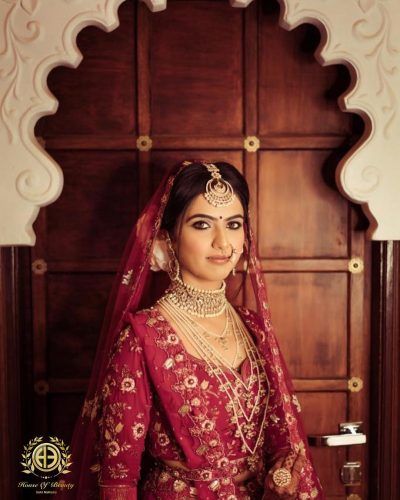 "Say NO to the lip colours matching to the lehenga- It should be more in contrast rather than to uniformed! Sometimes it depends on client to client taste as well! I prefer nudes to enhance eyes and outfit!"
ALSO READ: Makeup Artists Reveal - One Makeup Hack Every Bride Should Know!