Neat Ideas to make your 'Feras' more fun!
BY The WMG Bride | 24 Sep, 2014 | 3837 views | 4 min read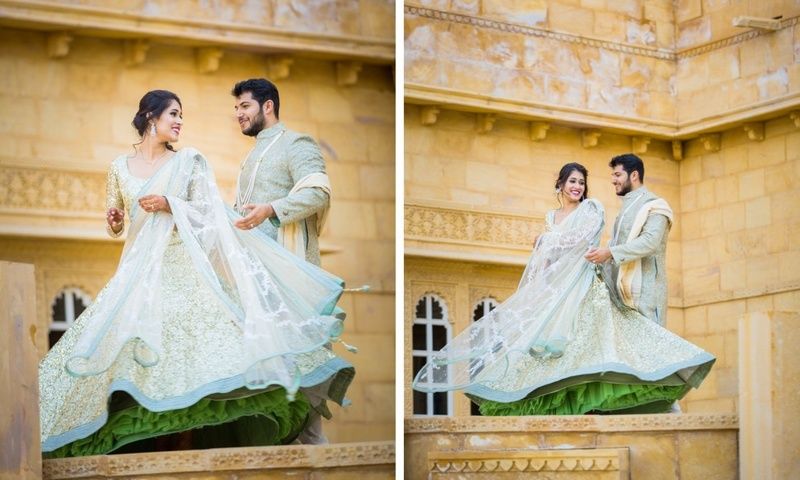 Picture via Colorblind Production★ 4.6
The feras- The common point of most Hindu weddings. Yup we know, they are serious and have a special significance. But hey, that doesn't mean your guests can't have a bit of fun during them, does it?? Below are some  ideas from real weddings which we featured on WMG, that serve as a small inspiration into making your feras significant yet fun (and no they don't involve crazy  ideas of 3 legged races around the fire :p)
1. Have the meaning of your feras written down on little cards and keep them on the chairs around the feras
How many of the guests even know why the hell you are revolving around the fire (Fire in the mountain? Run.Run.Run)  Or what it is that the Pandit ji is chanting . It's a cute addition to have your feras made more special by letting them know what each ritual means. They don't feel so left out and join in the celebrations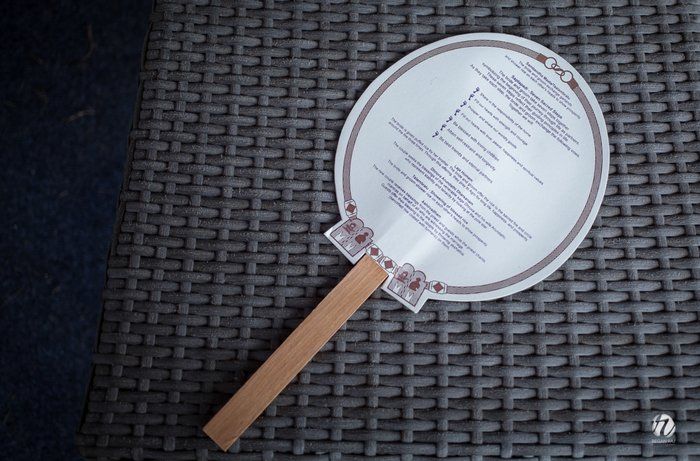 Fans explaining meaning of the feras  | From : Cross Cultural Wedding in Temple Tree Leisure   |  Photo: Regan Raj 
Cost: Less than 500 Rs for 40-50 prettied up papers. Or even cheaper if you just make a template and get them printed on glossy paper
2. Make your fera snack fun: Give popcorn, coffee with a kit kat shaker , M&M's  instead of the usual Fera Snack.
Don't know about you but WE would always remember a wedding which serves us hot popcorn in the middle of the night while the feras are on. And if the popcorn comes in an adorable popcorn cart, thats a sight we would remember even more !!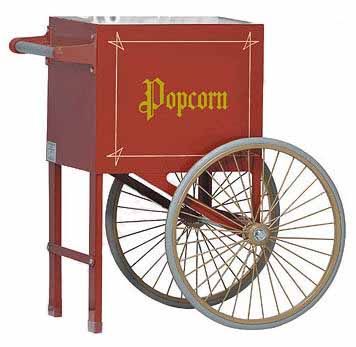 Cost: Same cost if you were to give any other snack. Included in caterer brief
3. Have Daflis (Tambourines) kept on the chairs of each guest. SO FUN.
Remember Daflis- they seemed to be part of many a Bollywood song (Oh Dafli waaalleeee) and antakshari sessions in the nineties. Nothing mroe fun than have your guests wreak up a havoc (After the rituals are done) with tambourines kept on chairs.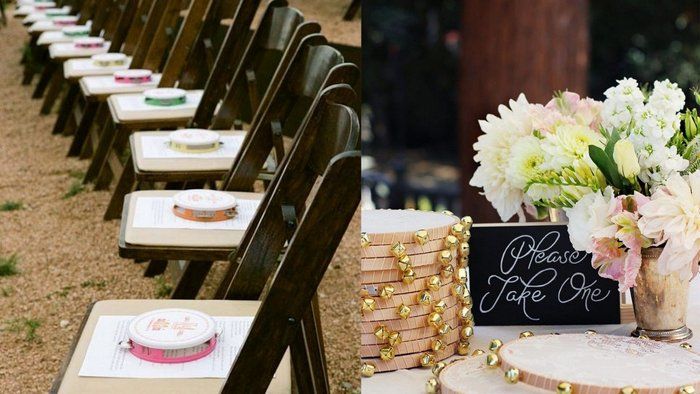 Daflis kept on the guest chairs so they can shake em while you tie the knot|  Photo From Qweddings.com
4. Give your guests confetti, glitter and other stuff to throw on you instead of just flowers. Nothing perks up the mood better
Flowers are pretty, but confetti is more fun !! Plus easy to do- any local stationary shop with have bottles of glitter!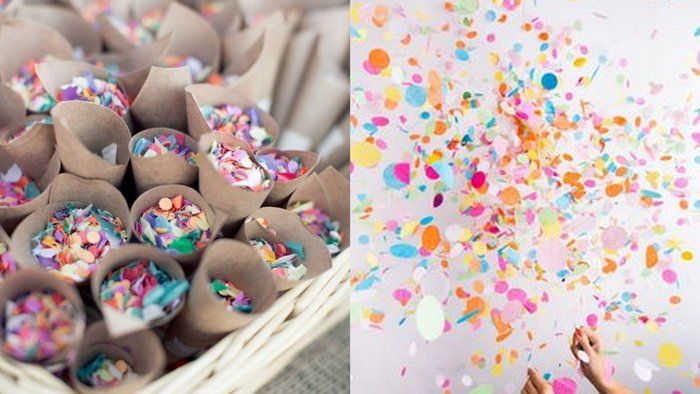 Confetti and Glitter for the guests to throw on you when you take the feras | Photo from Pinterest
Cost: Negligible or cheaper than flowers
5. The Boys side vs Girl side sing off: This actually happened at a Punjabi wedding
So we attended a wedding where there was an actual sing off while the feras were happening. The boy and girl were minding their own business of getting married but the boys mum and sister started singing Punjabi folk songs mocking the girl side. If we remember it was something along the lines of how the girl would have remained unwed had their son not agreed to marry her. The girls friends responded right back with songs of their own – belting Punjabi numbers of how the groom now belongs to the bride and the mommy should say goodbye to her son (Mat kar sasse puttar puttar) . From Punjabi numbers it turned to Bollywood tunes with the grooms side singing "Le Jaayenge Le Jaayenge" and the girls side responding "Nahi Nahi, Abhi Nahi".
6. Ride from your dinner table to the feras in a Golf cart/ Auto rickshaw/ motorbike or from your feras to your vidai
If you are getting married at a farm or outdoor area- they ALWAYS have a golf cart to scoot your around. Or if you want to up the ante a little bit, then ask your decorator to arrange for a crazy Auto Rickshaw you can go toot-toot in.
Photography: Payal Kumar
7. A vedi inside the Pool
This wedding in delhi had their feras inside the Pool !!!! We can't think of a more gorgeous or more fun setting than being surrounded by water.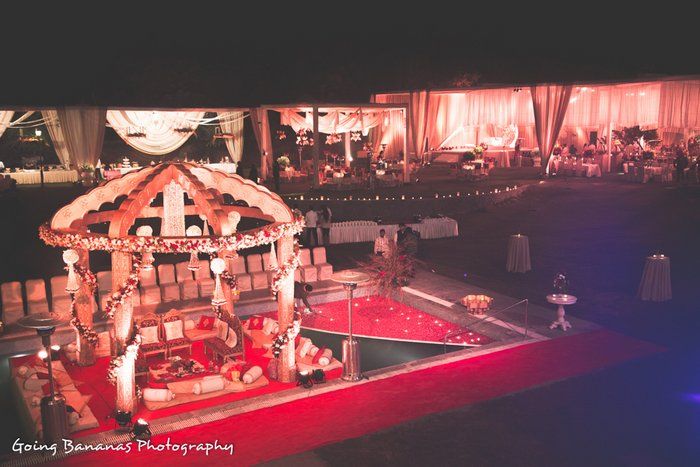 Vedi inside the Pool | From : Color Riot with creative decor  | Photography: Going Bananas
8. Have speeches and vows read in your feras or write your speech in a letter and put it in a locked box to open 3 years later.
We absolutely loved that this couple exchanged vows during their feras. It may be a christian tradition but its meaningful, its something you will cherish and more than that its something that will be uniquely YOU rather than the same rituals which you dont understand.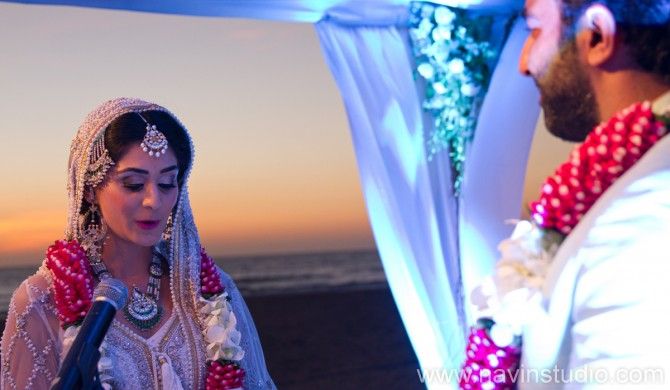 Having speeches at the ceremony | From : Cross cultural wedding in Goa | Photo by Navin Studio
What say folks???