Sisters Of The Bride In Outfits That Stole Our Hearts!
BY Bhakti Parekh | 08 Jun, 2023 | 6806 views | 5 min read
Your biggest cheerleader, and a selfless soul, we have a question for all you lovely brides- isn't your sister the best bridesmaid that you could ever hope for? Your forever companion, she will fight the world for you, laugh the loudest, and perhaps cry the most when you get married and leave the house as you embark on a new chapter in your life! Coming from someone whose sister recently got married, the void is real, lovelies!
Living up to the tag, doesn't a sister of the bride assume many responsibilities? From ensuring that the bride transitions smoothly and remains stress-free, to contributing immensely to the wedding preparations, especially helping her sister choose her wedding ensemble and trousseau, she truly is a blessing! Twinkling away with doubled excitement and vigor, isn't she often a sight to behold herself at the wedding festivities? Opening up a whole new horizon in the world of fashion, there's a burgeoning interest in this category, which we rightly call the 'Sister of the Bride Edit'.
Read on to know more!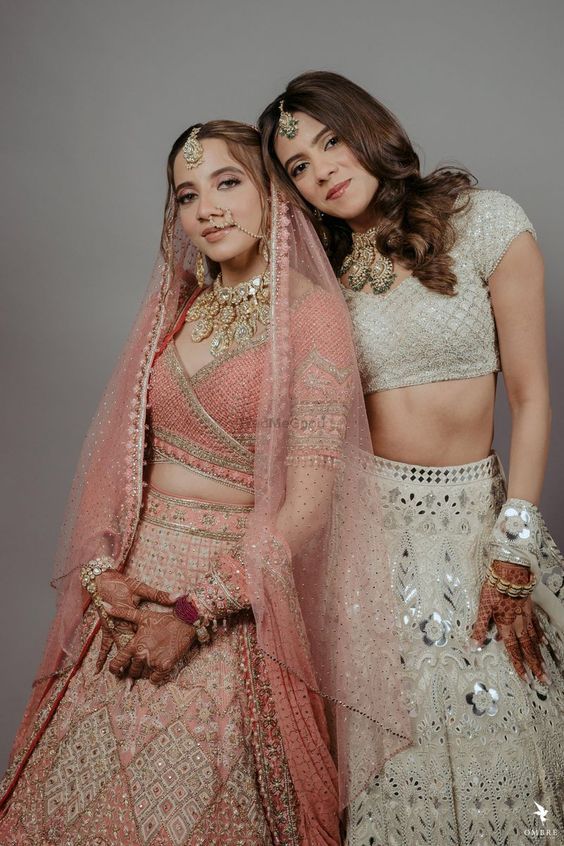 Image via: Chahel and Tanay
Our Real-Life Sisters of the Brides Who Exuded Some Serious Style Goals!
Now, now! There's a very fine line when it comes to looking the part of the gorgeous sister of the bride! While you may want to adorn the best of designer labels and be 'de rigueur' or on point with your wedding ensemble (well, don't we all daydream of our version of a red carpet aura?) that gets all the heads turning, you also have to be careful to not overshadow the bride. After all, it's her dazzling moment, isn't it? But on the bright side, being the sister also give you more leverage to be experimental and don some desi 'haute couture' vibes, doesn't it? Taking a cue from some recent sisters of the brides, here are some bonafide muses that we absolutely loved!
Regal Vibes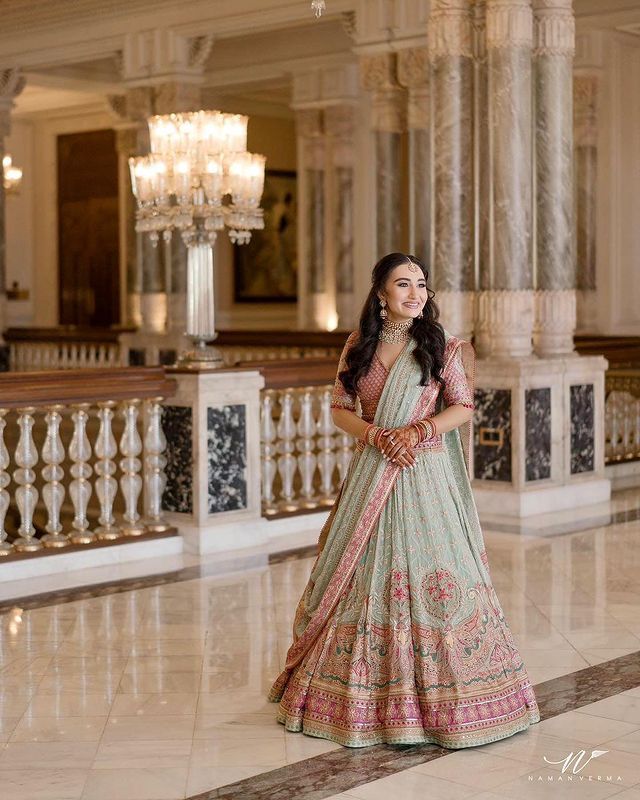 Image via: Lekha Shah 
Gracing us with her beautiful smile and pleasant demeanour, this ethereal Tarun Tahiliani sister of the bride looks resplendent and royal in these soft hues! From the intricately crafted Lehenga and jewels to her radiant makeup and hair, she certainly looks like a vision to behold, doesn't she?
Pastel Love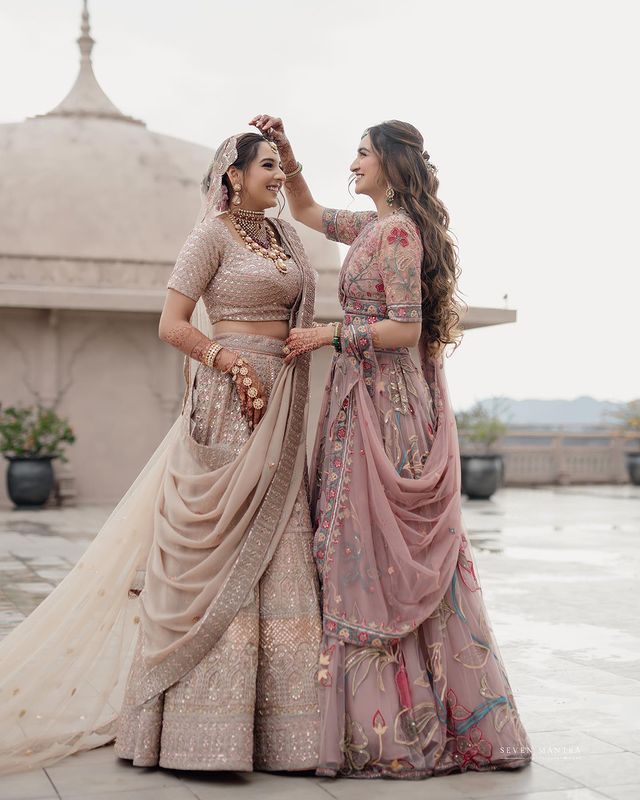 Image via: Doll You Up By S★ 4.8
Looking picture-perfect with her first best friend, this bride's sister, Samiksha befits the role of the Maid of Honour in this floral-inspired, onion-pink, Riddhima Bhasin new-age attire! Flaunting soft curls, we totally love how she holds her own as she seamlessly supplements the bride.
A Dreamy Affair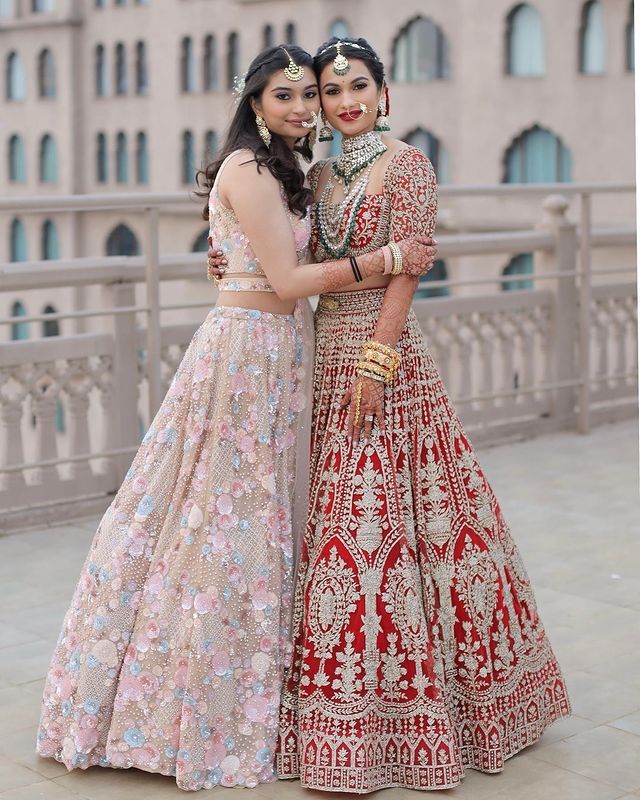 Image via: Doll You Up By S★ 4.8
A bond so pure and close, our mesmerizing sister of the bride, Mahika marvelously complimented the bride in this contrasting array of shades! While her eyes were truly the gateway to her emotions, she looked vibrant and playful in this sequined-embellished Seema Gujral Lehenga.
A-Team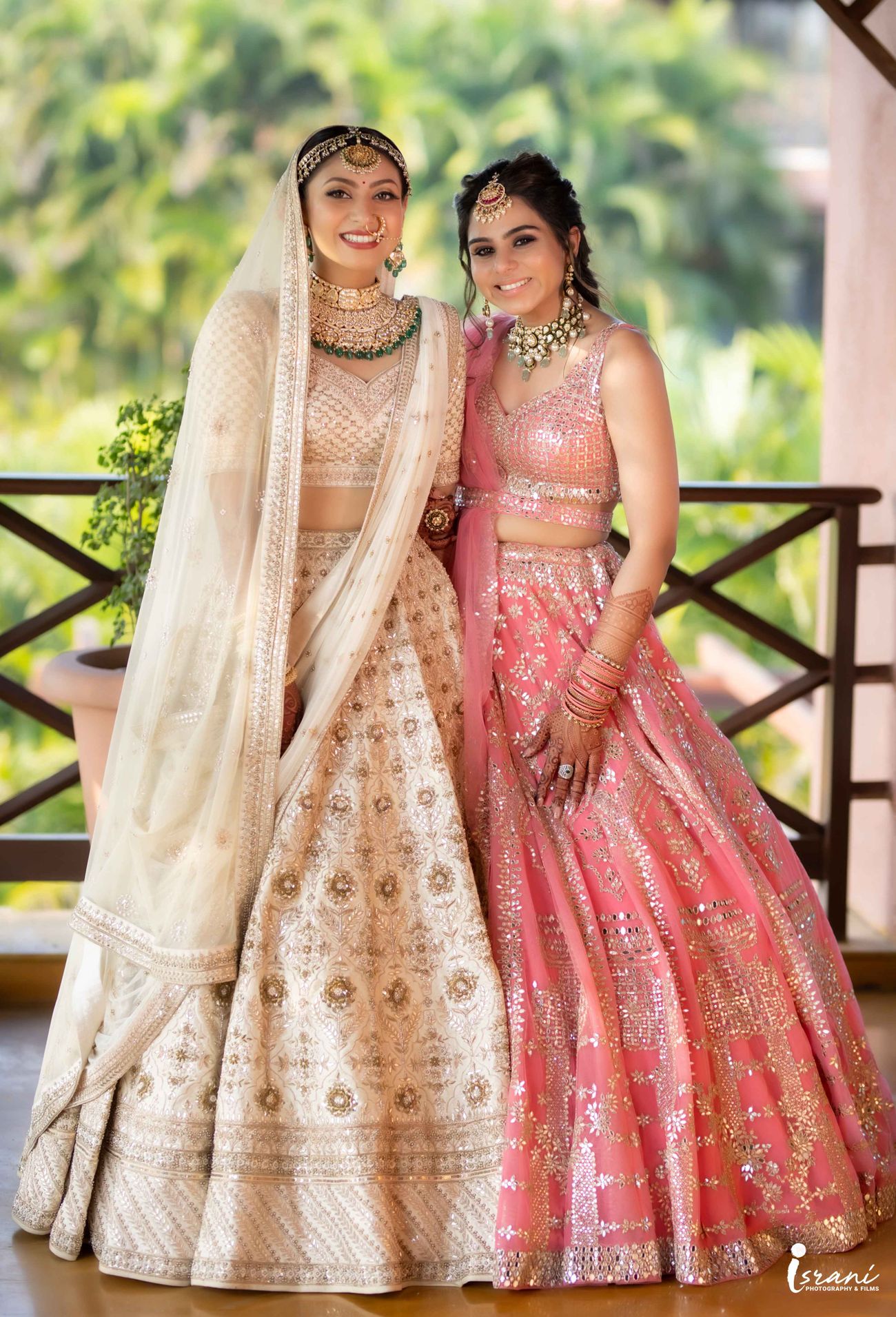 Image via: Israni Photography★ 4.8
Sharing an endearing bond, we love this vibrant juxtaposition showcased by this sister duo! Perfectly complementing the bride's exquisitely alluring cream and golden Anita Dongre Lehenga, her sister totally portrays her vivacity in this mirror embellished Pink Lehenga- a signature Seema Gujral style! Replete with a messy braid and statement 'jadaav' jewellery, her striking personality beautifully blends in with that of her sister's!
Lady In Red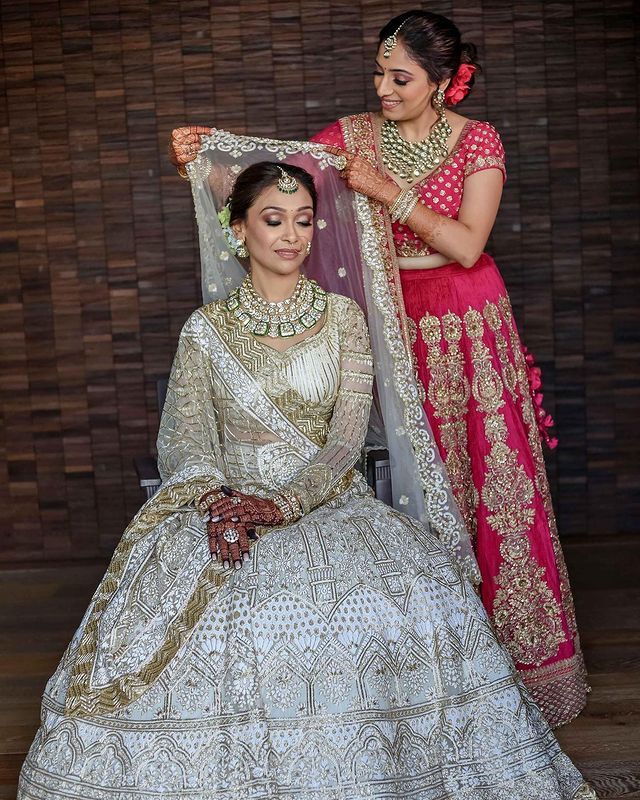 Image via: Shikha Dhandhia 
Our stunning muse, Niloni looks spectacular as she tends to her younger sister in this jaw-dropping Lehenga designed by the maven of Indian fashion, aka, Sabyasachi. This ensemble celebrates it all- elegance, tradition, and splendid artistry!
Sparkling Away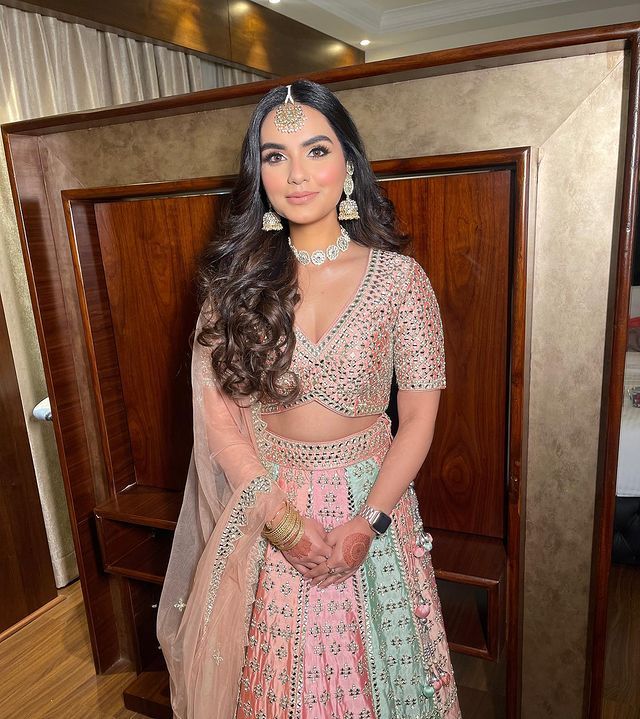 Image via: Aastha Jain Mua
Bedazzling our feeds, this stunner is emanating glorious bridesmaid goals with her pink, blush, and sea-green-infused Lehenga from the Indian wear brand, Frontier Raas! This plunging, mirror-encrusted attire is all hearts, isn't it?
Garden of Love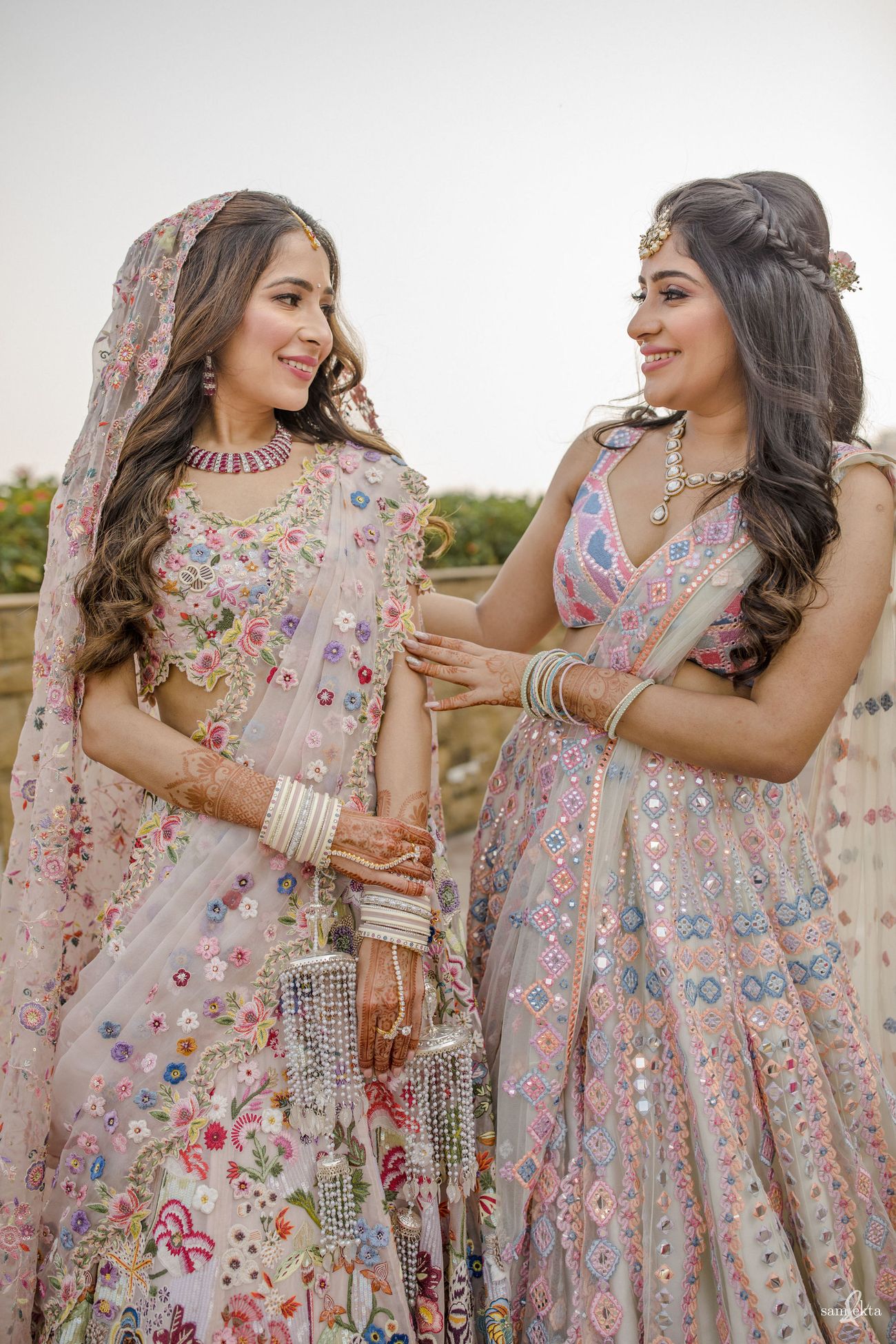 Image via: @karina71291 
While this wedding depicted all things pretty, we can't just help but fall in love with these stunning sisters, Karina and Karishma. Looking the part, the sister of the bride, Karishma beguiled all with her beauty and grace in this colourful, embroidered delight- the creative brainchild of ace fashion designer, Tamanna Punjabi Kapoor! It's floral love all the way!
And It Was All Yellow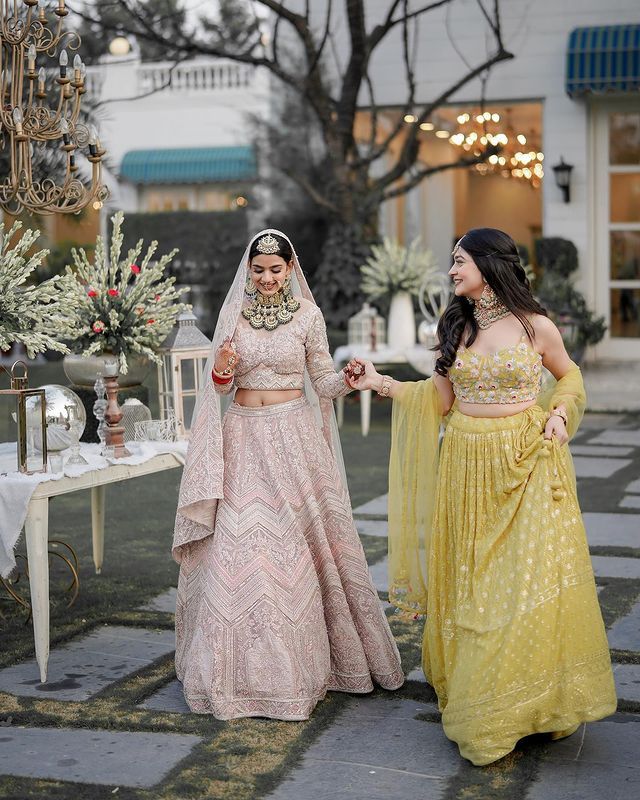 Image via: Gogi Studio 
Bringing on that sunny side brightness, this effervescent sister of the bride looks ah-mazing in this easy-going, intricately designed Lehenga by the bridal haven- Poshak by Chandigarh. The open hairdo and the royal polki jewellery further elevated her radiant look and how!
Sister Act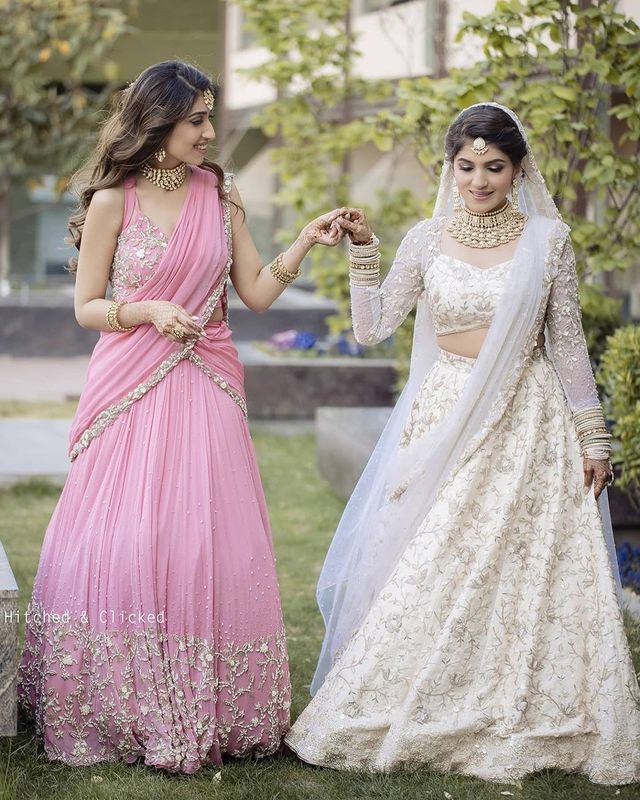 Image via: Shloka and Sidhant 
Redefining sister goals, this dynamic duo scream magnificence as they shine in their pretty ensembles, designed by the majestic bride and fashion designer, Shloka Khiliani herself. Truth be told, we are totally digging the shocking pink Lehenga- Saree on the bridesmaid. Hand-in-hand, always and forever!
Twinning and Winning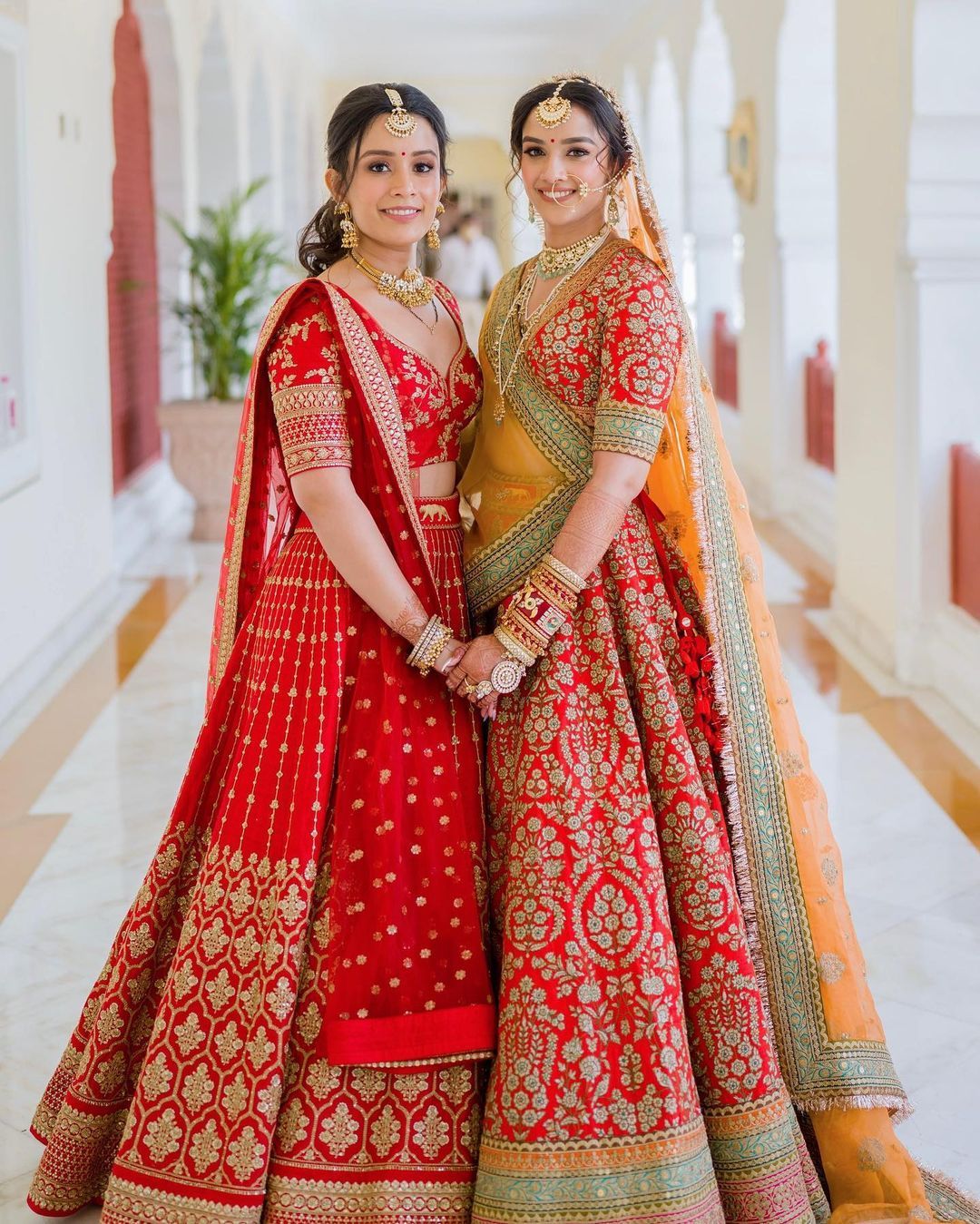 Image via: Shutterdown - Lakshya Chawla★ 5
Well, these two sisters are definitely winning our hearts for sure! Sporting the hue of passion, is there a better way of celebrating your sibling's glorious triumph of love? Radiating some serious bridesmaid goals, the very graceful Anvita doubles up as the bride's go-to-person by donning a quintessentially traditional masterpiece by the country's numero-uno couturier- Sabyasachi!
So, we hope we've given you that much needed inspiration to choose your perfect outfit as the ravishing sister of the bride!
Shop for some amazing outfits for sisters and bridesmaids from our exclusive WMG Gallery