The Haldi Party In This Boho Wedding Is What You NEED To See!
BY Latha Sunadh | 21 Sep, 2017 | 1939 views | 5 min read
Probably one of the most 'chill' weddings featured on WMG till date , this one's full of surprises. Right from the bride whose outfits are so unique, and a refreshing break from cookie cutter lehengas to the little details in decor - handprinted trunks, dreamcatchers,  a bar in a canoe (we spy some pinteresting!) ,a picnic in the lawn etc etc. While Photographers The Creative Lens★ 4.9 The Creative Lens★ 4.9  tried to capture the magic, the venue  Park Hyatt Resort & Spa★ 5  created the perfect canvas for this boho-whimsy wedding! 
Meet Anyushka & Sidhant
"It's a funny story really, Siddhant and I met many years ago through a common friend. It so happened that the common friend had enlisted Siddhant's help to text me. So all the time I had been messaging our friend, it was really Siddhant I had been talking to. Finally we met at a dinner our friend organized and I knew almost immediately that he was the man for me. Of course, it took me the next six years to convince him" says Anyushka.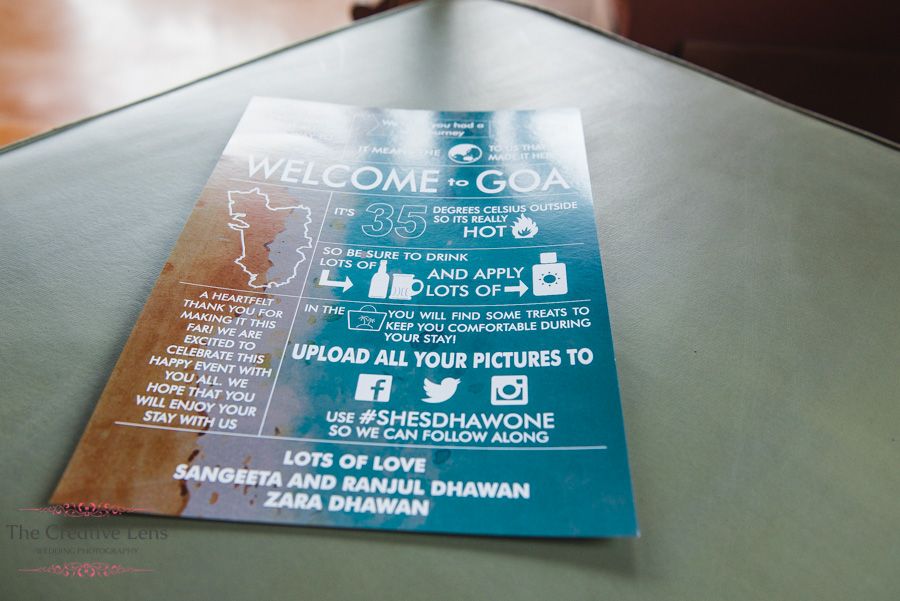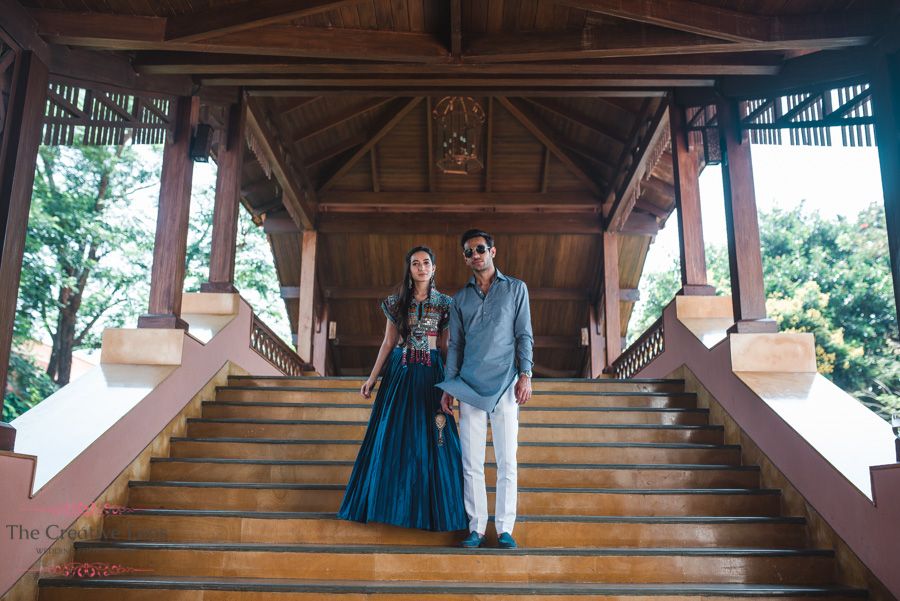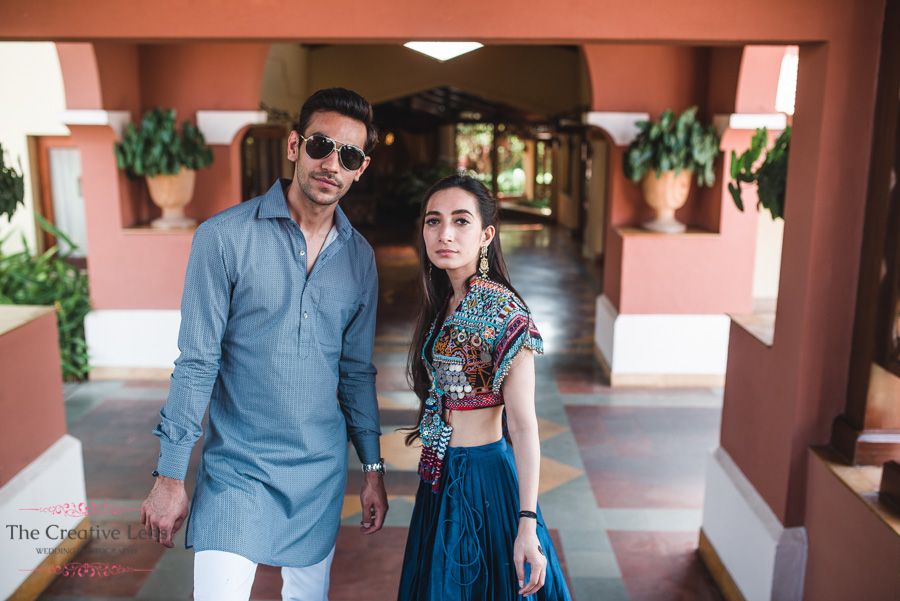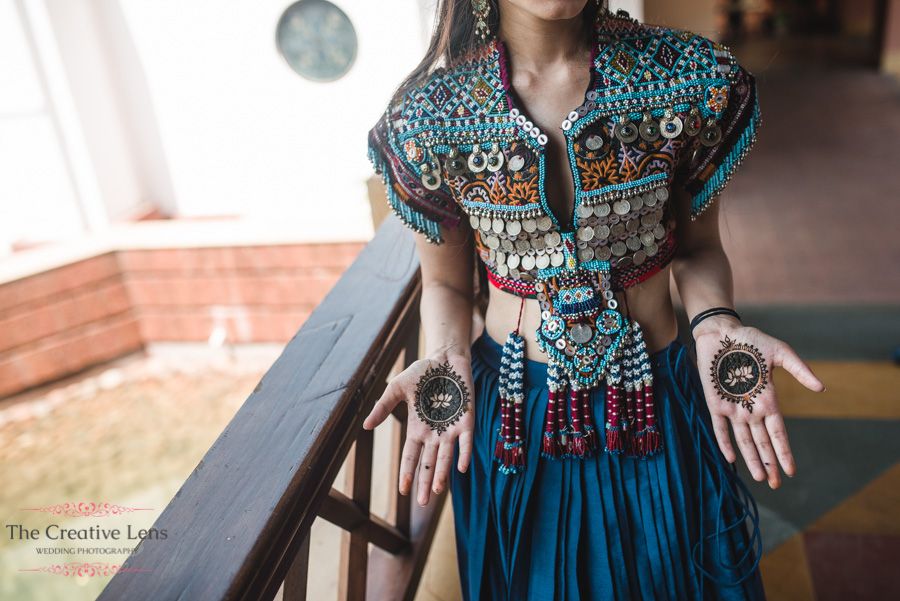 The Sundowner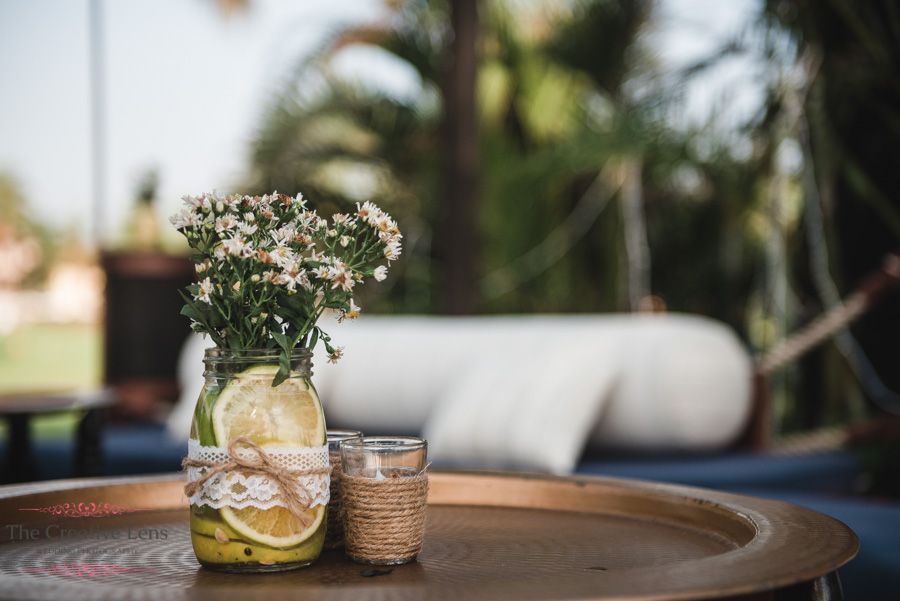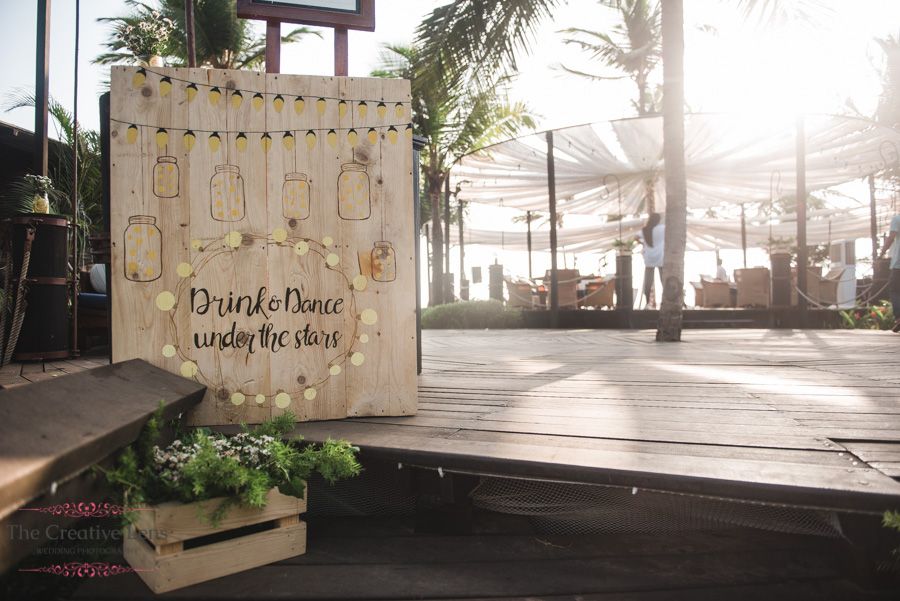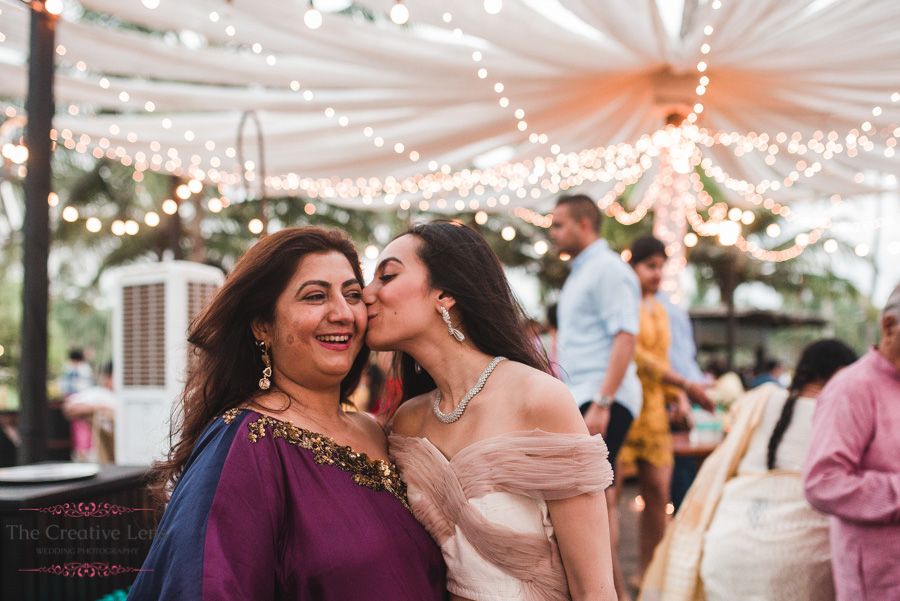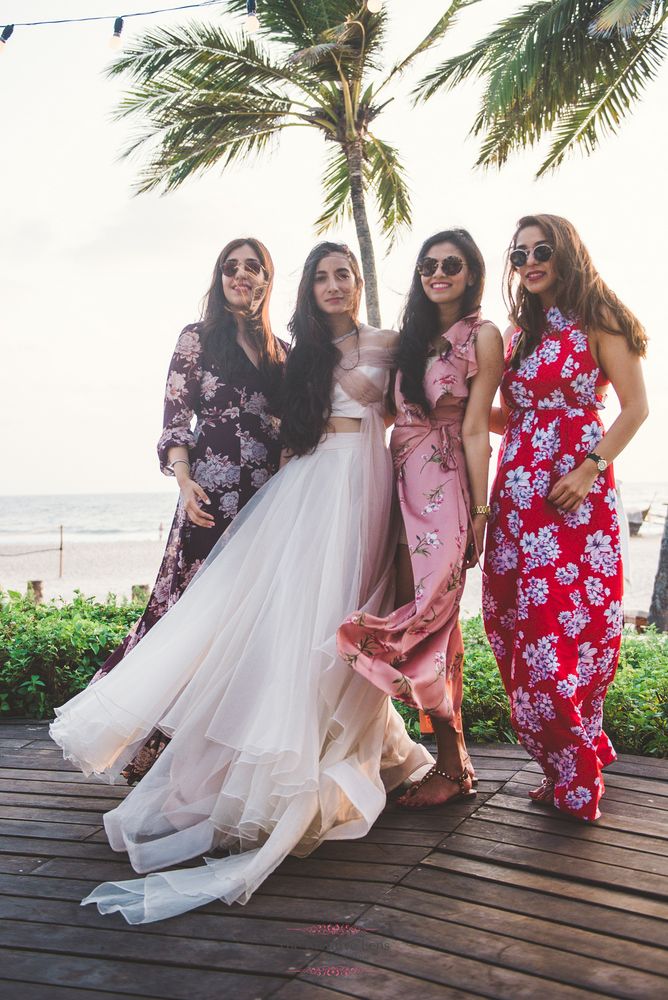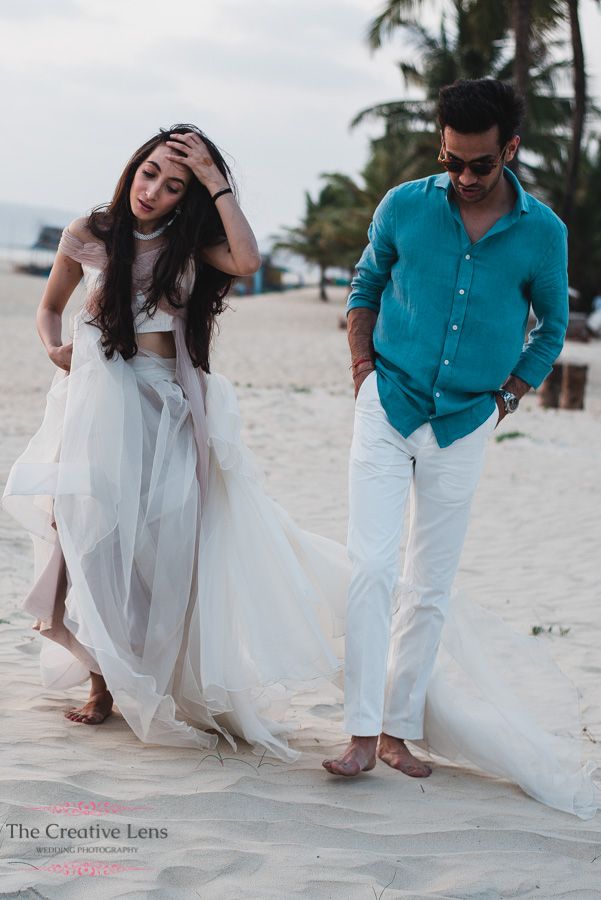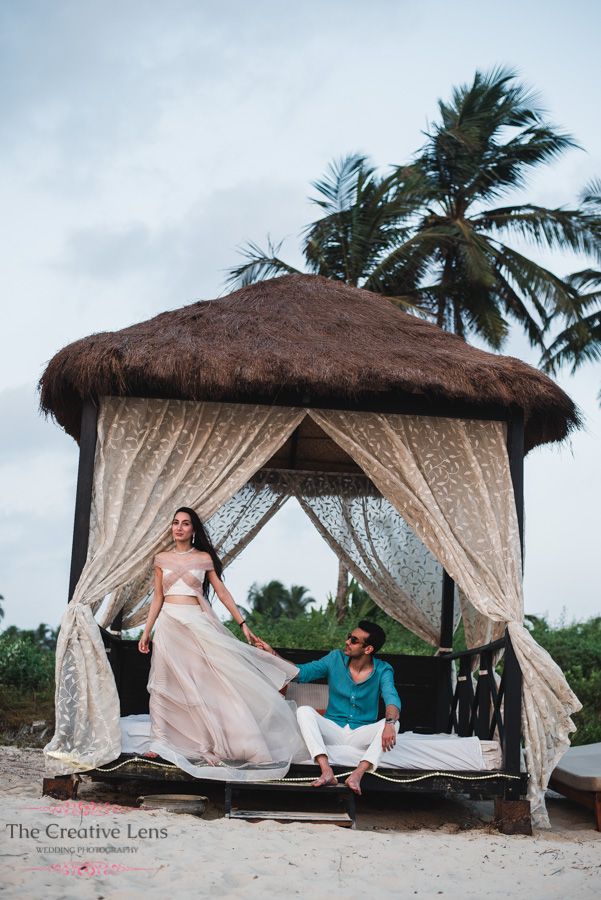 The Haldi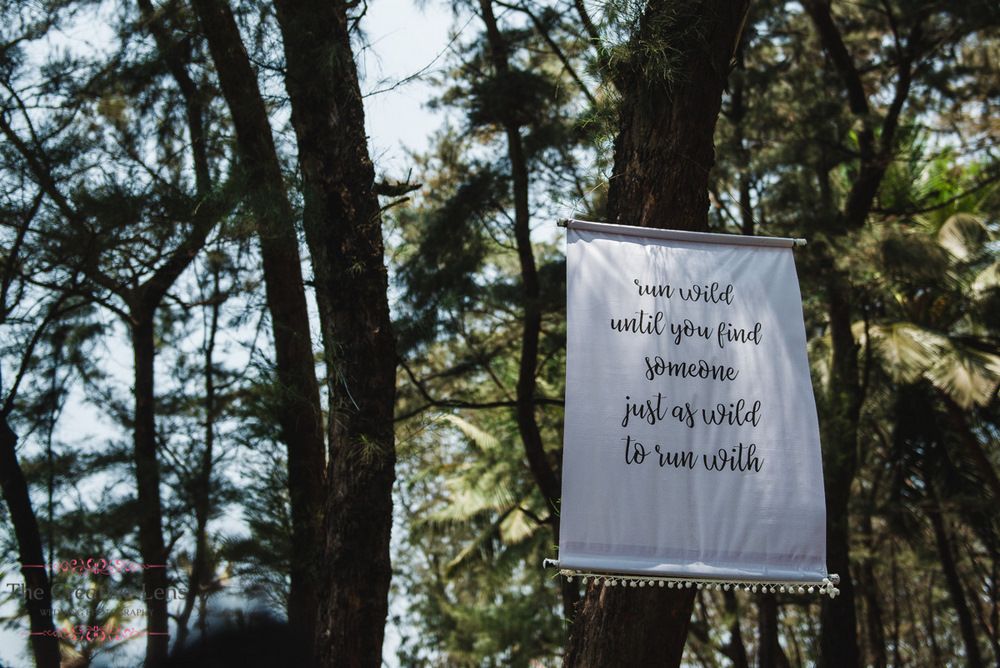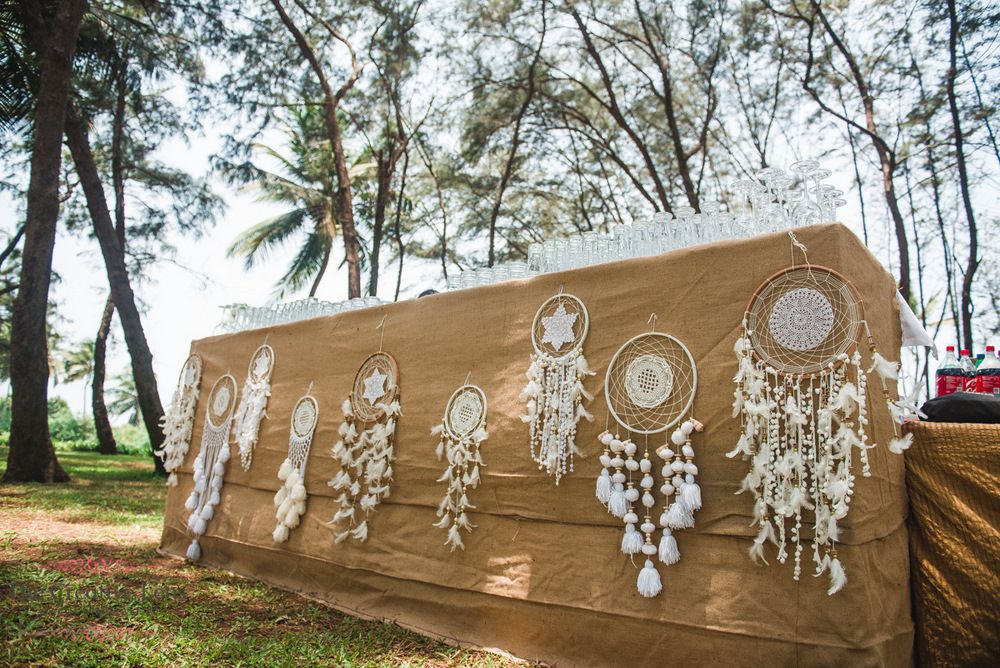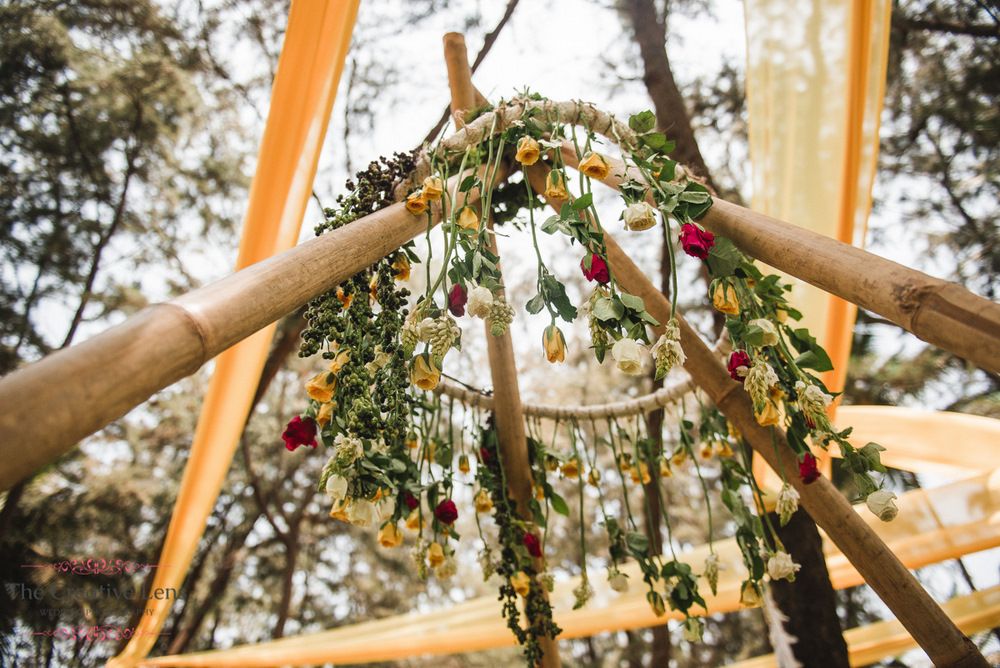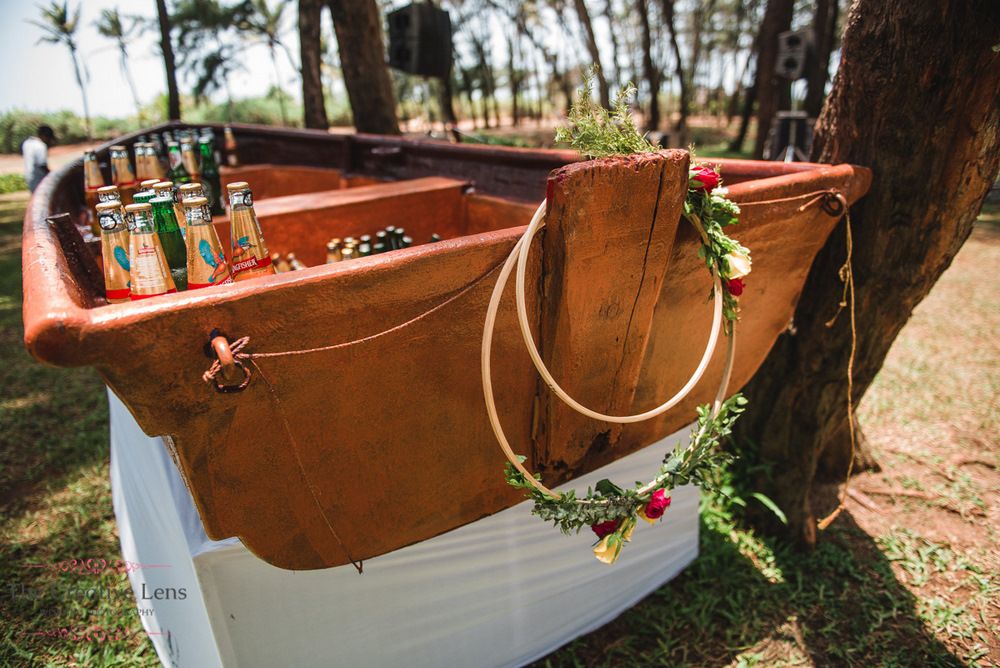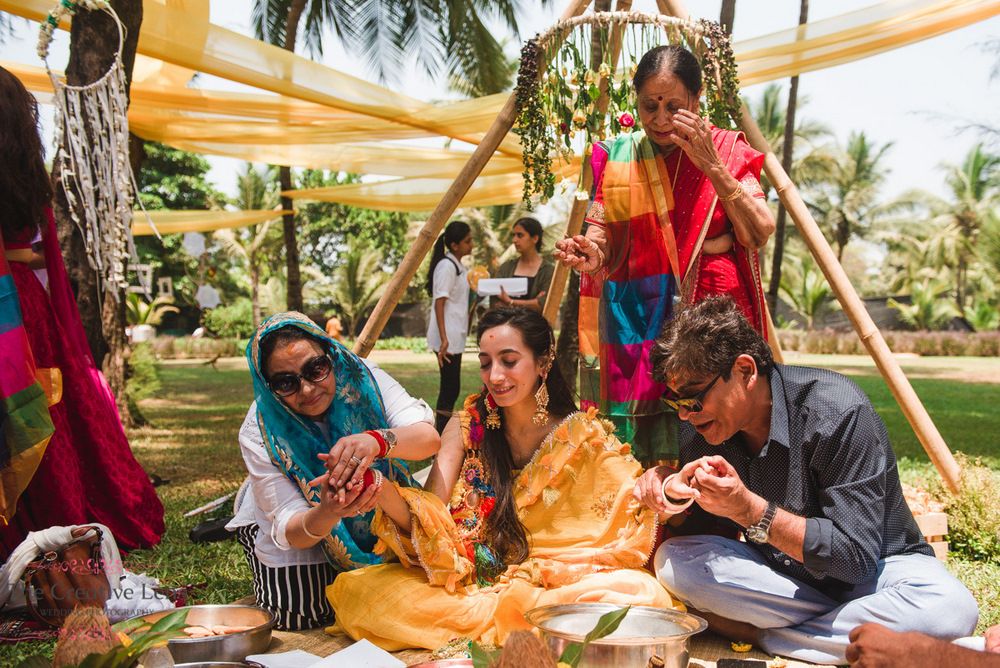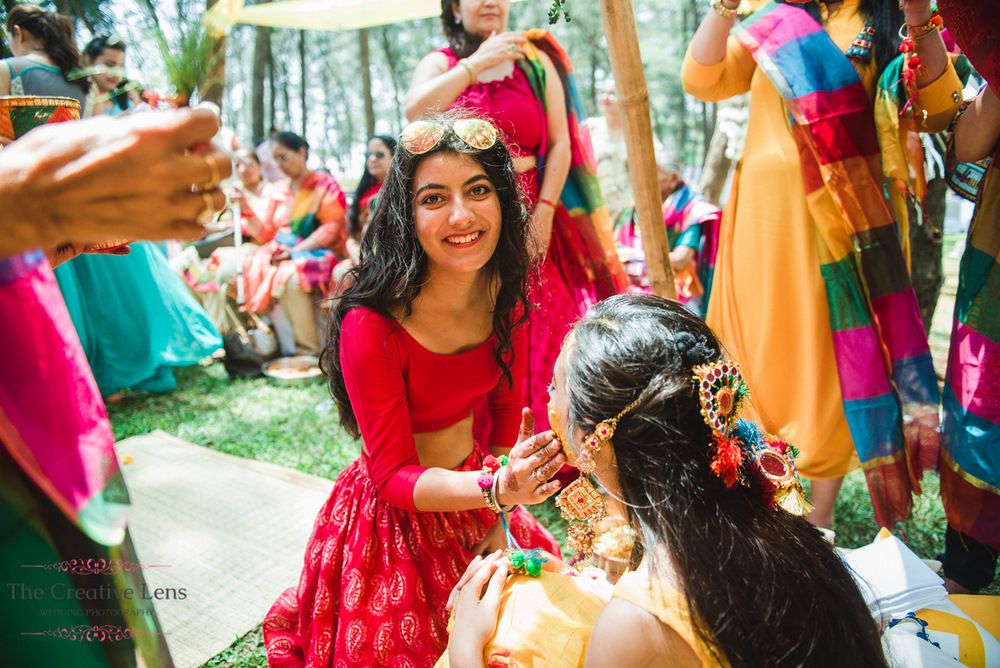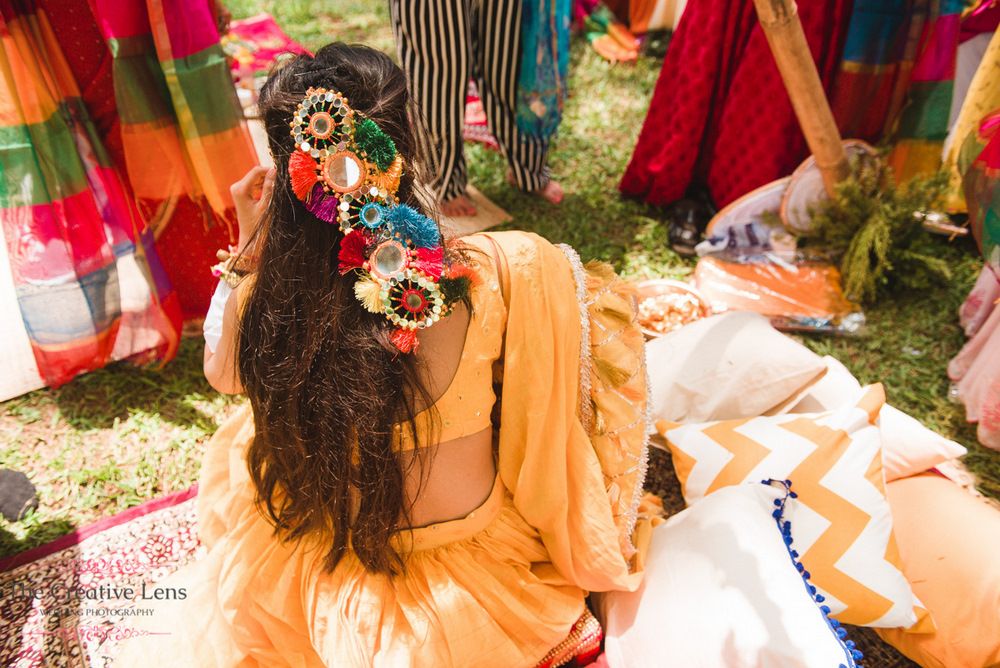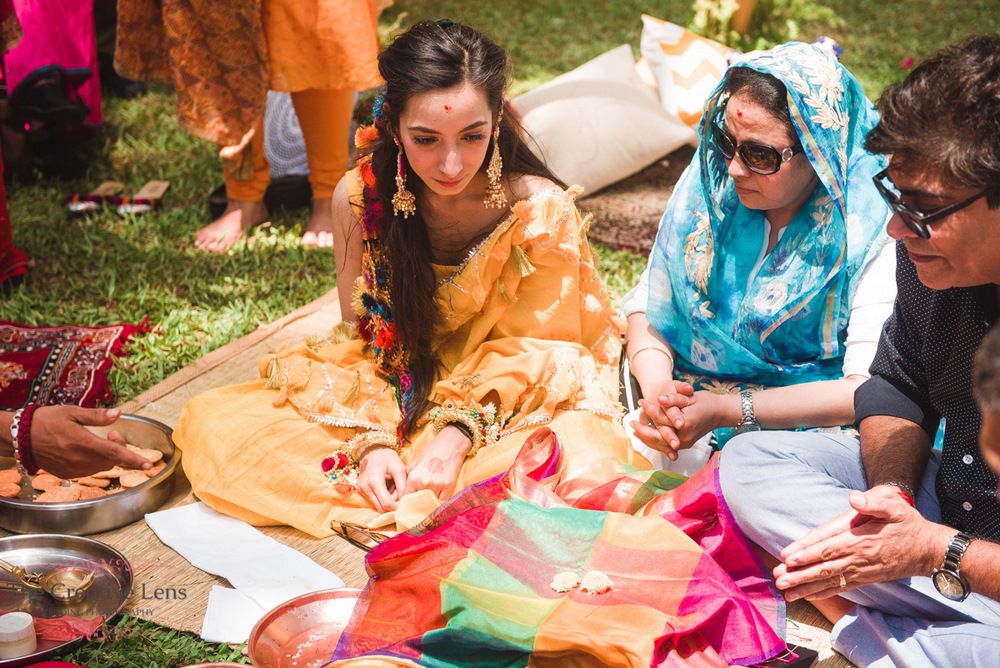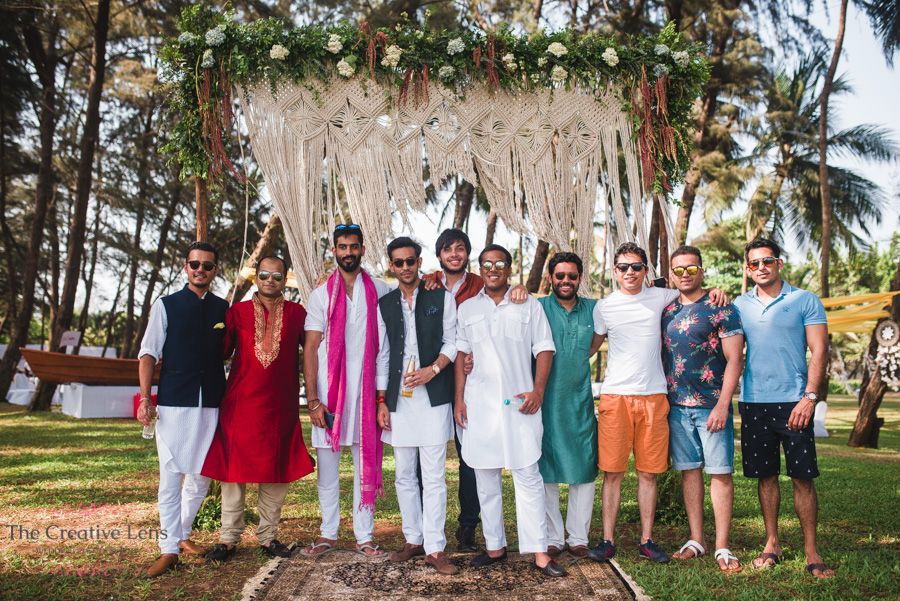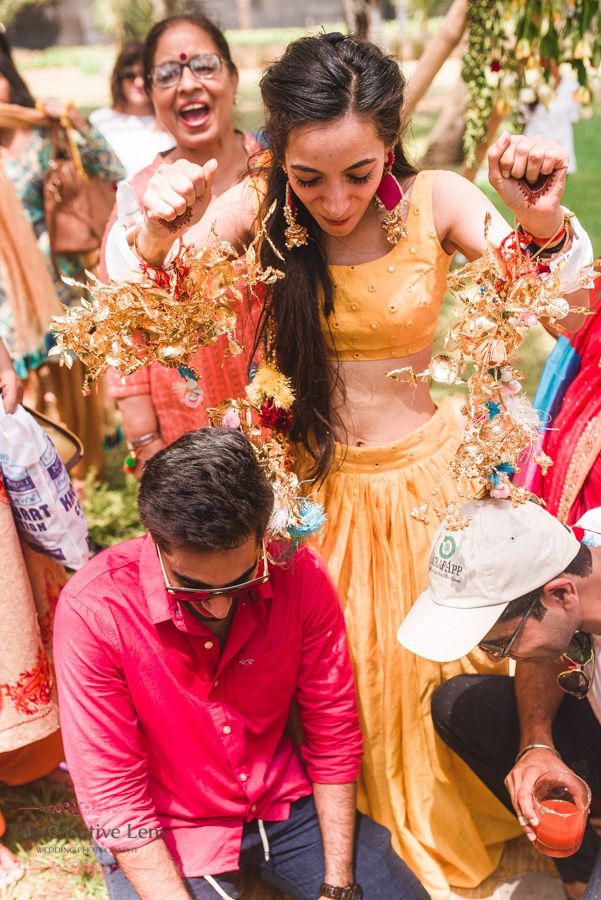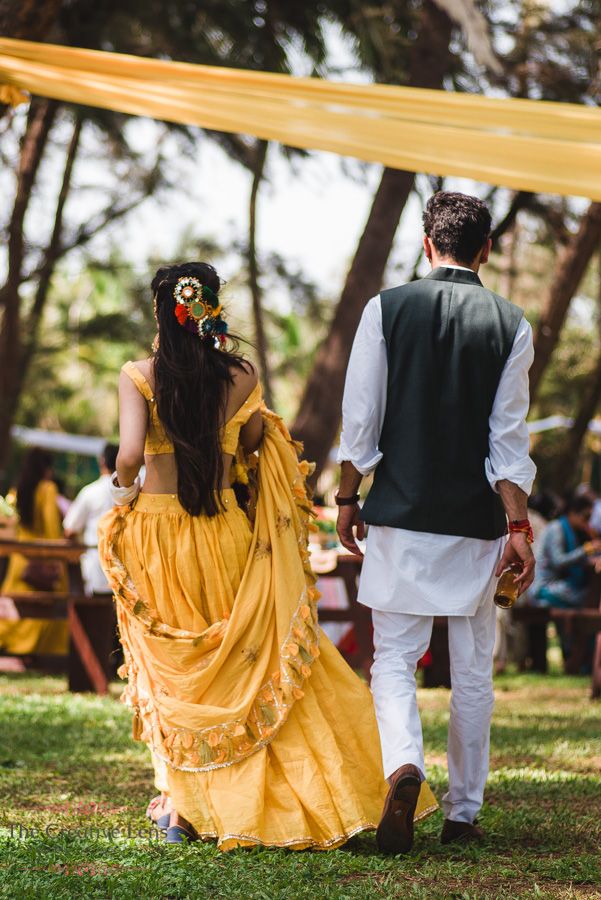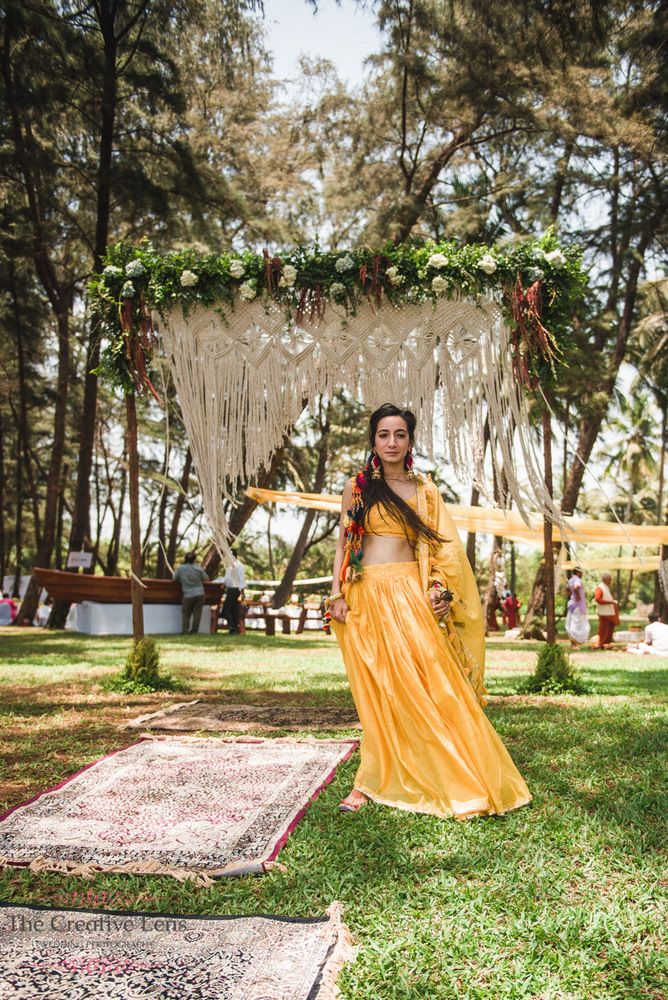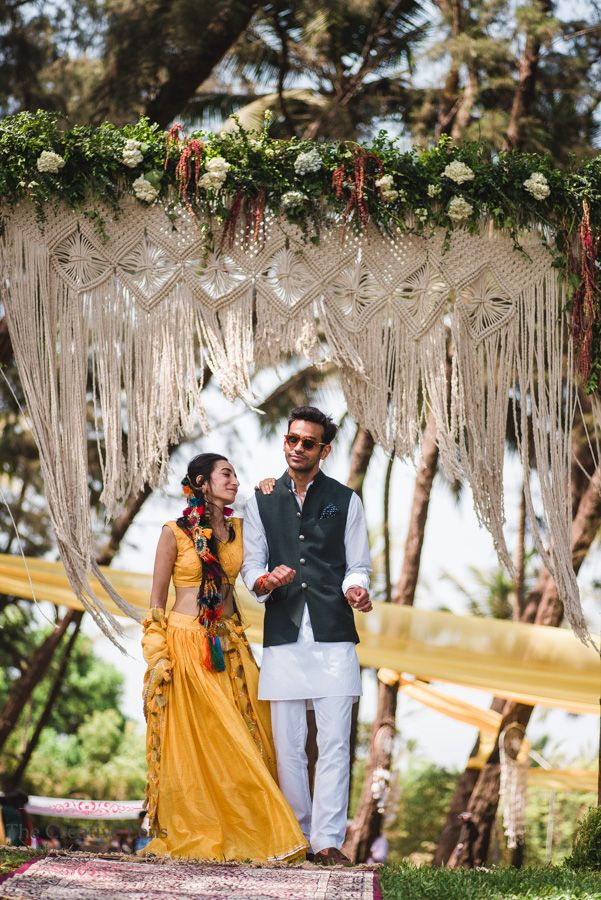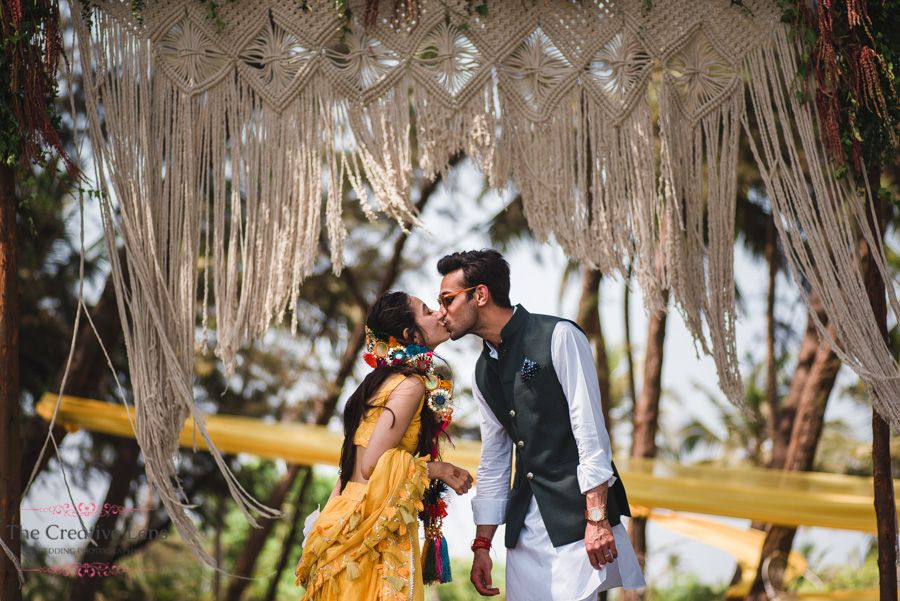 The Wedding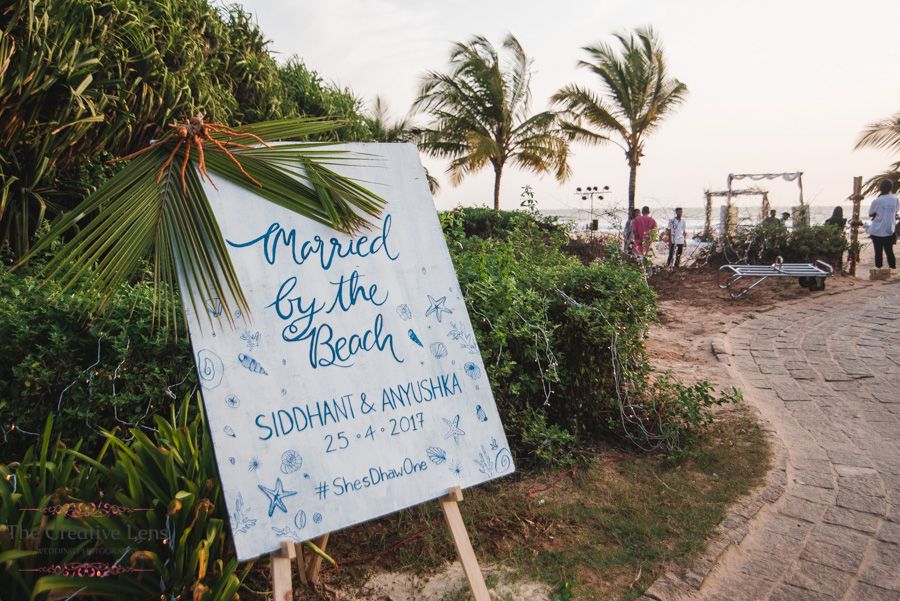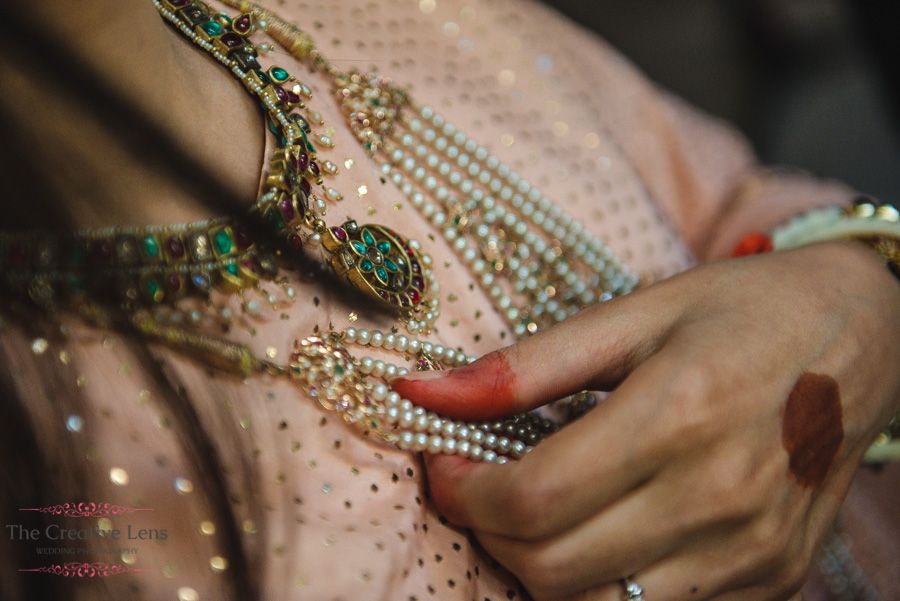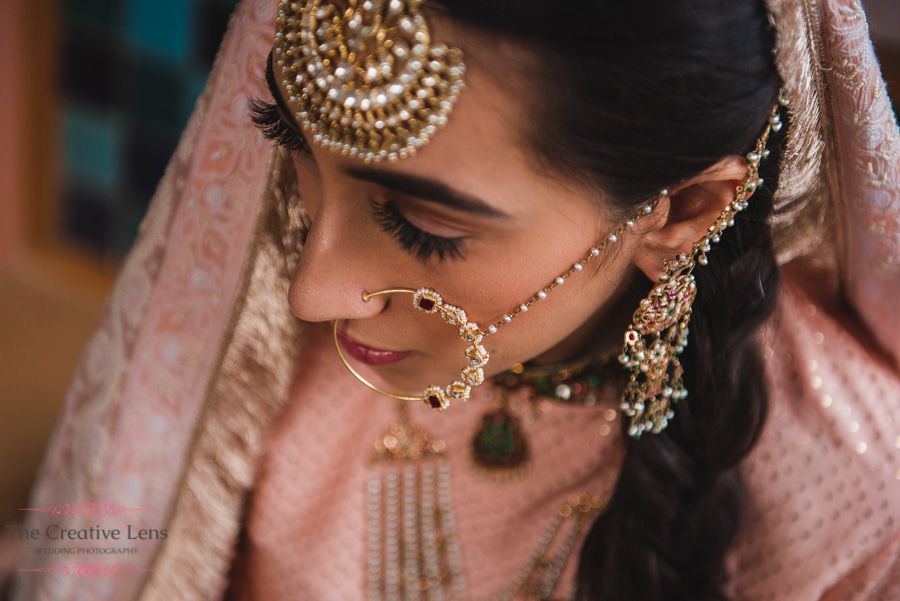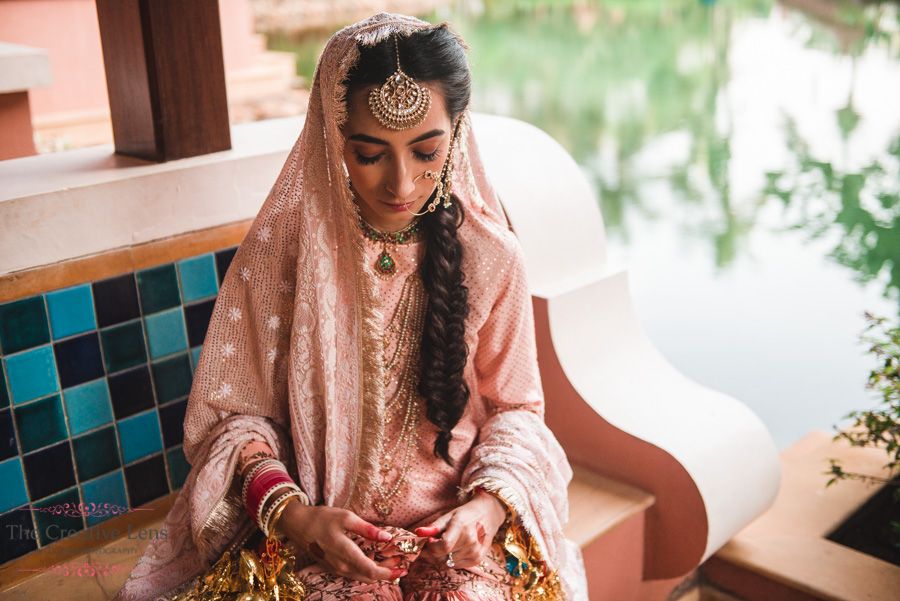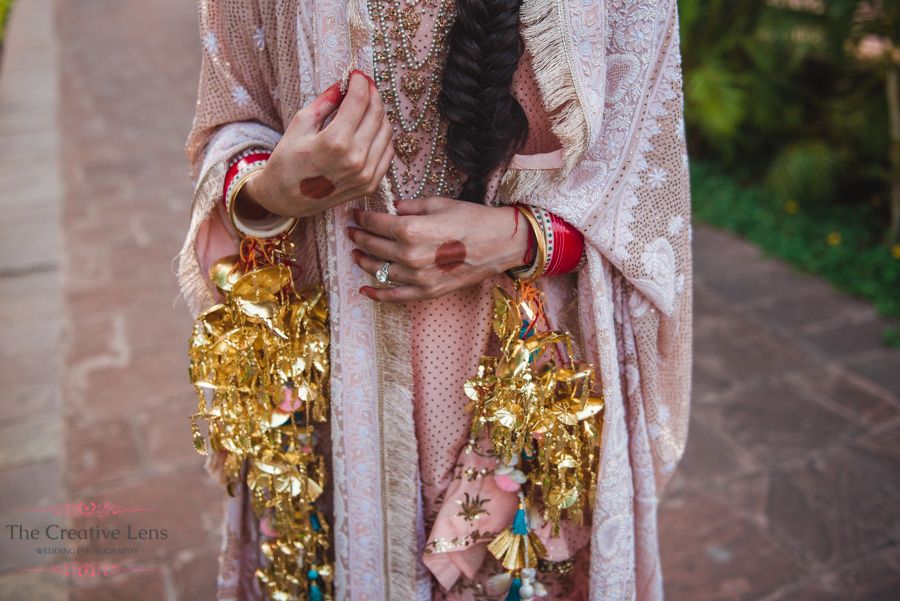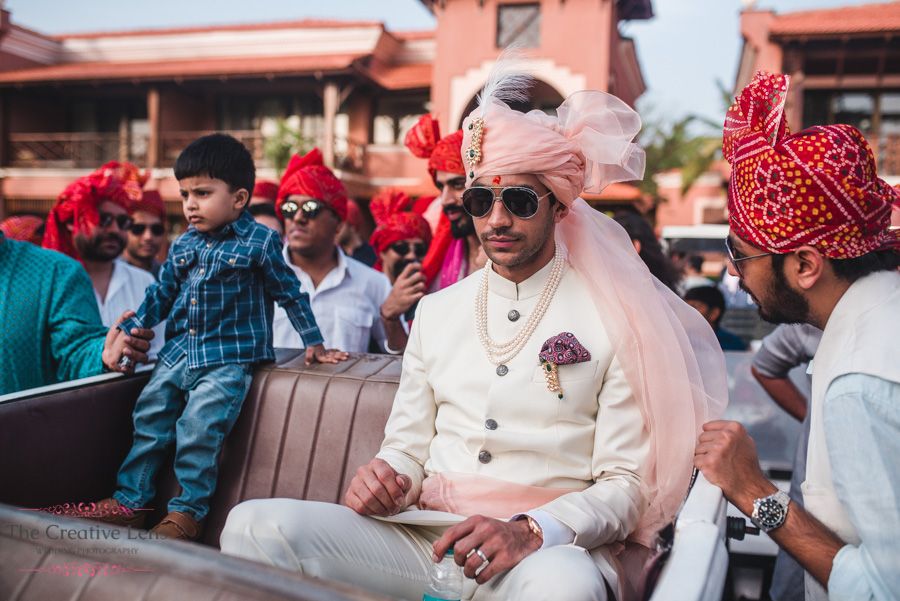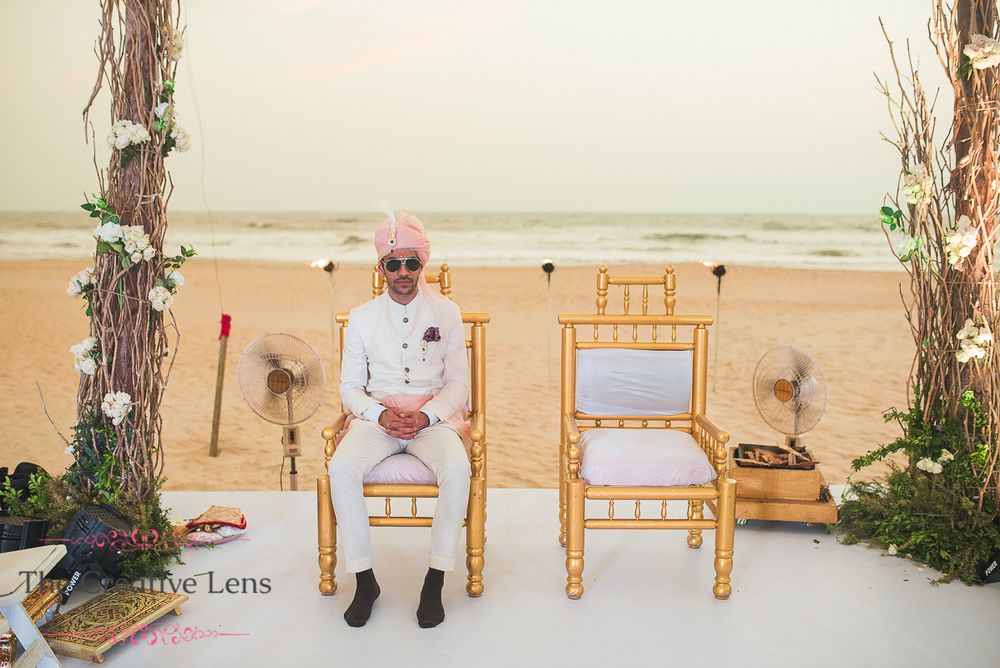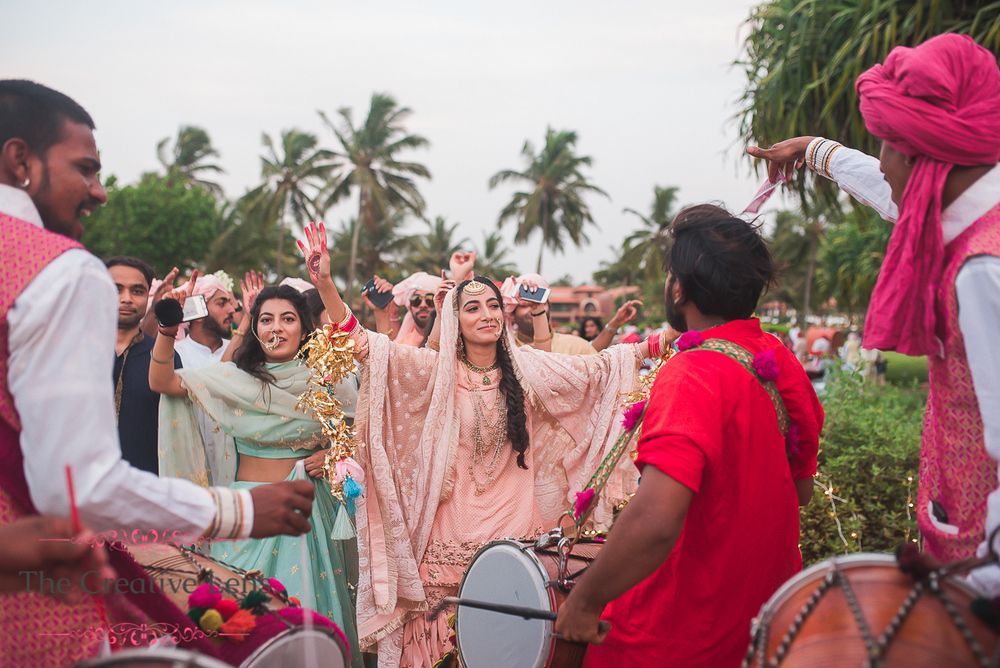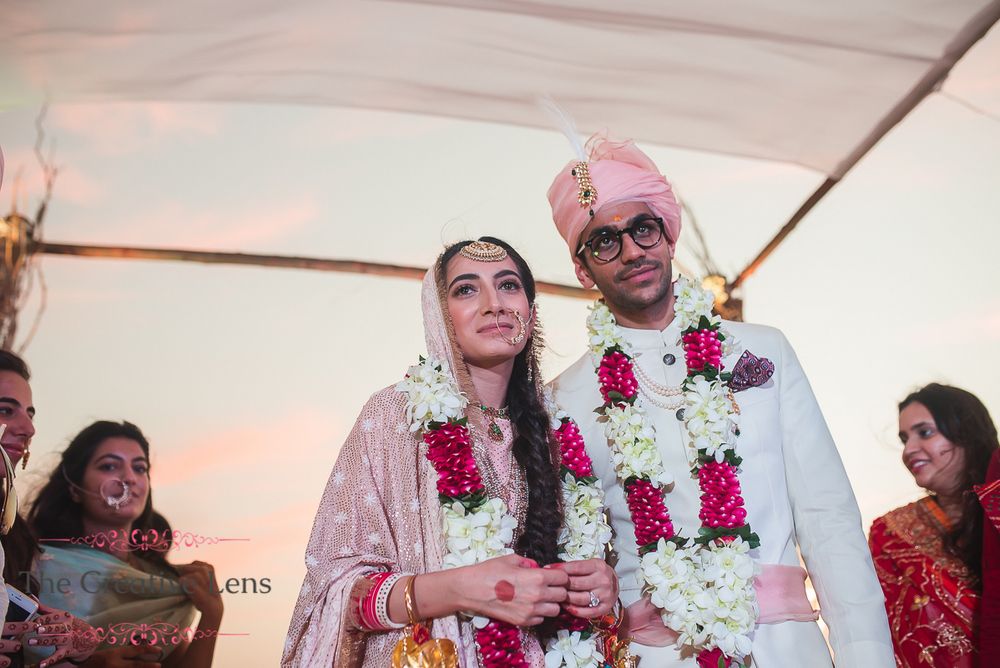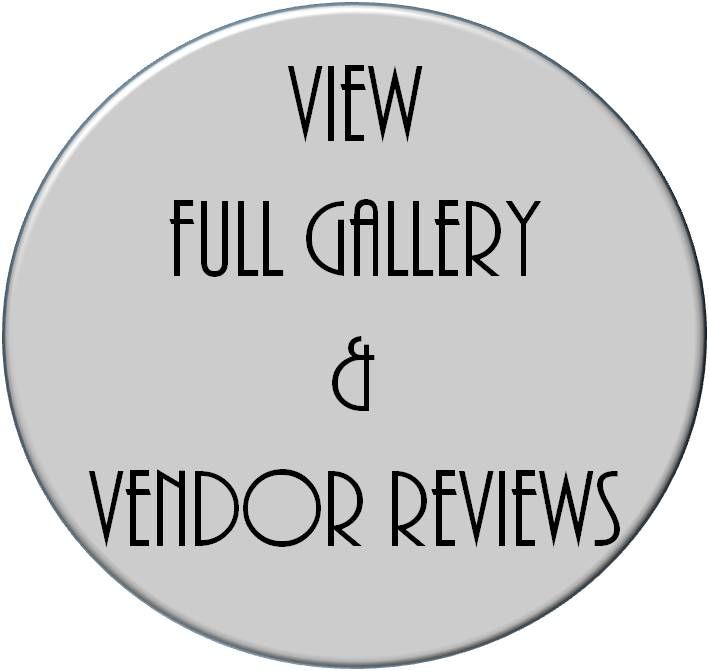 From The Bride: 
"I'm a type A control freak, so obviously my wedding was my pet project and I wanted to handle every little detail myself and I thoroughly enjoyed the planning process.
When I was talking to my friends and family , everyone mentioned that their own wedding was all about meeting and greeting hundreds of guests, smiling for photographs on a stage and worst of all, a lot of brides were bogged down with jewels and embroidery so they could't move about and enjoy their own party as much as they would have liked.At this point, Siddhant and I knew that we didn't want a traditional wedding. Lucky for us, neither of our parents wanted one either.So when we floated the idea of a intimate destination wedding, everyone agreed! We finally zeroed down to The Park Hyatt in Goa.
Early in the process, I asked Siddhant what he wanted our wedding to be like, he replied saying " Super Chill ". So that's what I set out to achieve. Most of our events were really informal, in beautiful outdoor settings like our Beach Side Sundowner and our Morrocan themed Haldi Brunch with a live band. None of our events had stages or any sort up formal sitting for a bride and groom. We mingled and partied with our closest friends and family all day and night!" says Anyushka. 
"My personal style as a bride is harder to put into words. Finalizing my bridal outfits was definitely the most time consuming part of the wedding planning process. One thing I wanted to avoid doing as a bride was only wearing Lehngas to every event.For my Mehendi, I reworked an antique traditional Afghan wedding outfit into a blouse. If you see the before and after pictures, you'll find it hard to believe that it's the same piece. I got a lot of scepticism over that outfit but in the end I would say it turned out the best. Since the blouse was so full of heavy beadwork and coins, I teamed it with a simple long pleated skirt from Gaurang.
At the Sundowner, I wore a skirt with long organza trail from Ogaan. I got a beautiful top developed from a cute little shop in Shahpur Jat called Christina WT. For our Haldi Sundowner, I wore a bright yellow Lehnga in soft mal and chanderi from Ankurita Baweja.
We had Beach side Sunset Pheras during which I kept my look very traditional.I wore a beautiful soft pink kamdani Sharara by Anjul Bhandari. I wanted a truly traditional outfit, recreating the old world charm and I got exactly that with Anjul. She picked up on what we wanted very quickly and she more than delivered with my beautiful Sharara and my heavy dupatta with handmade kiran. Along with all her beautiful work, she serves the best coffee at her boutique. I had my hair in a plait and I kept my jewellery minimal, perfect for a beach side ceremony. I wanted to recreate a little bit of the old world charm and I think I managed. At my Reception, I wore my favourite outfit, a pale peach Anamika Khanna lehnga, with birds in the embroidery. I teamed it with a big Polki Chokkar and white Polki Passa.  I wore my hair loose and danced the night away with my new husband" explains Anyushka. 
"The decor sets the stage and the vibe of the event. I want very lucky to come across Atisuto Events on instagram one day and we spoke the very next day and set up a skype call. I wanted an event planner who would remain true to ideas and help recreate them at the venues. I feel they were able to do this very well, I gave them images of a specific kind of dance floor and specific kind of set up for our outdoor events and they worked really hard to remain true to the concept and re-produce it as closely as possible.
I can not recommend Soumak and Shweta enough. Siddhant and I are both really camera shy, I have always disliked myself in pictures. I have the tendency to make a really strange camera face, so I basically can not pose for any pictures at all. Shweta really helped me through the wedding, taking pictures of me when I was busy or looking away. We would give them short periods of time, sometimes only a few minutes before our events ( our pre wedding shoot lasted less than 15 minutes) and they managed to get great pictures of us while we did our thing." adds Anyushka. 
Vendors: Photographer & Videographer: The Creative Lens★ 4.9 The Creative Lens★ 4.9  Makeup Artist: Minette Pereira Makeup Artist★ 5 Venue: Park Hyatt Resort & Spa★ 5 Decor: Atisuto Events Bridal outfits: Anamika Khanna, Christina WT, Ankurita Baweja, Anjul Bhandari Groom outfits: Zegna, Kaiser Josh