The Modern Girl's Guide to Fancy Wedding Bangles!
BY Sakshi | 17 Sep, 2016 | 5568 views | 5 min read
As a bride, you'll definitely be buying or getting diamond or gold bangles at the wedding, but wanna know what's in trend in the imitation jewellery department? Whether you're looking at bangles for your Engagement, Mehendi or Sangeet, there are a lot of options available if you don't want to go down the tried and tested glass/ diamond/ gold/ bangle route! Here's what's popular and in fashion these days!
Edgy Gold Plated Kadas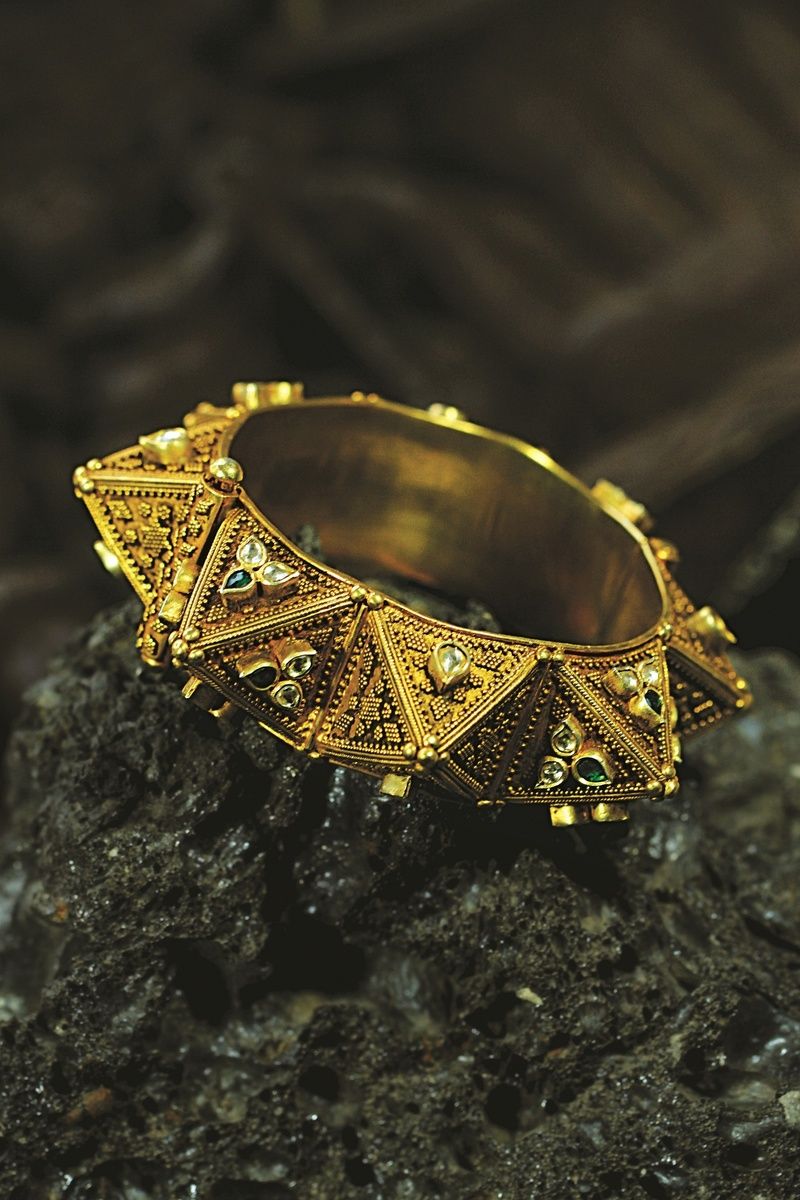 Photo Courtesy: Apala by Sumit★ 4.5
If you wanna stand out with some hatke bridal jewellery, how amazing are these gold-plated bridal bangle designs for your Engagement, Sangeet or Reception!
They are new age and perfect for an offbeat bride!
Quirky Bangle Designs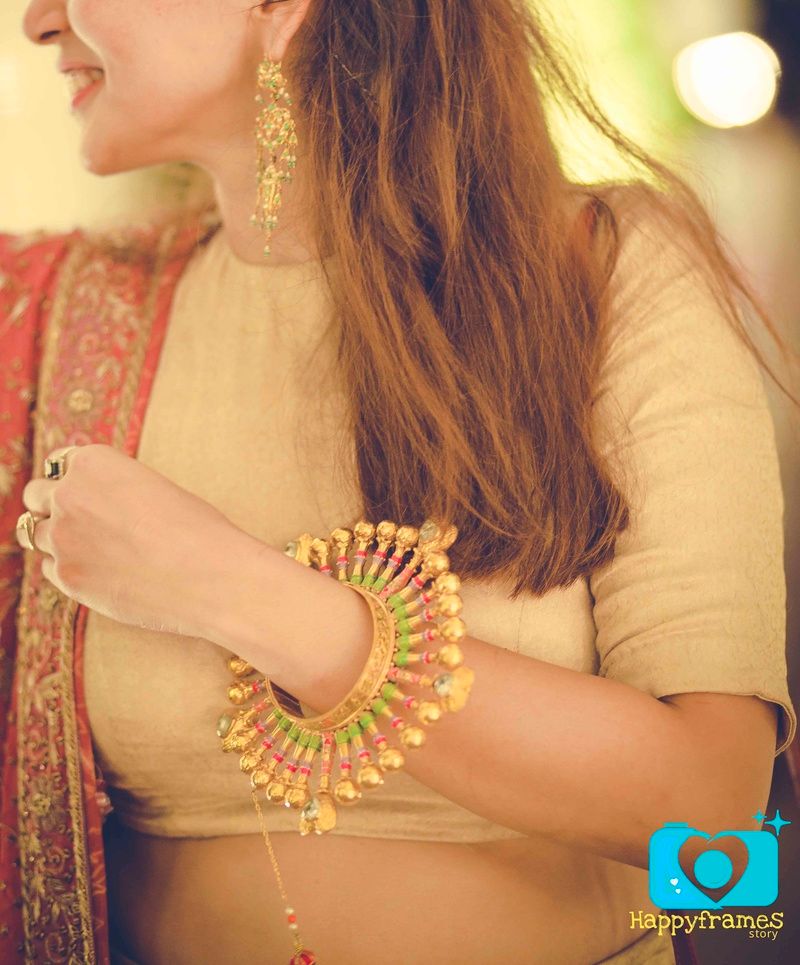 Photo Courtesy: Happyframes★ 4.9
These Manish Arora Amrapali Bangle's designs make quite a statement! If you're looking for a fusion look for the Mehendi, then just one of this on the hand is pretty eye-catching! They're also a good option for the sister of the bride/groom. Go bigger, bolder and quirky with these unique bridal kadas!
Ghungroo Bangles and Kadas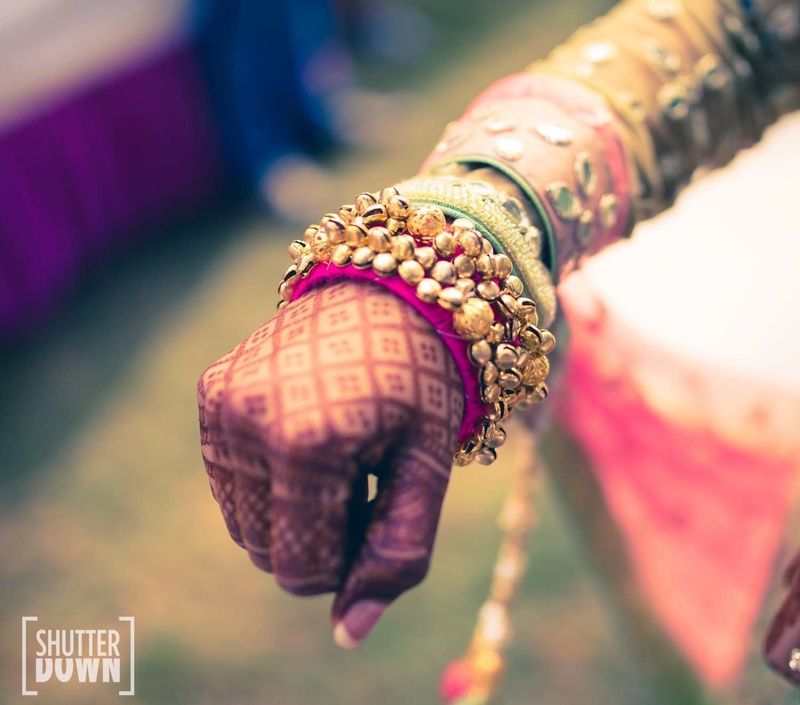 Photo Courtesy: Shutterdown - Lakshya Chawla★ 4.9
Perfect for the Mehendi to wear or give out as favors, these come in a range of colours and look pretty festive! Ghonghroos never are really out of fashion and them on bangles is definitely something unique and beautiful!
Beaded with Pendants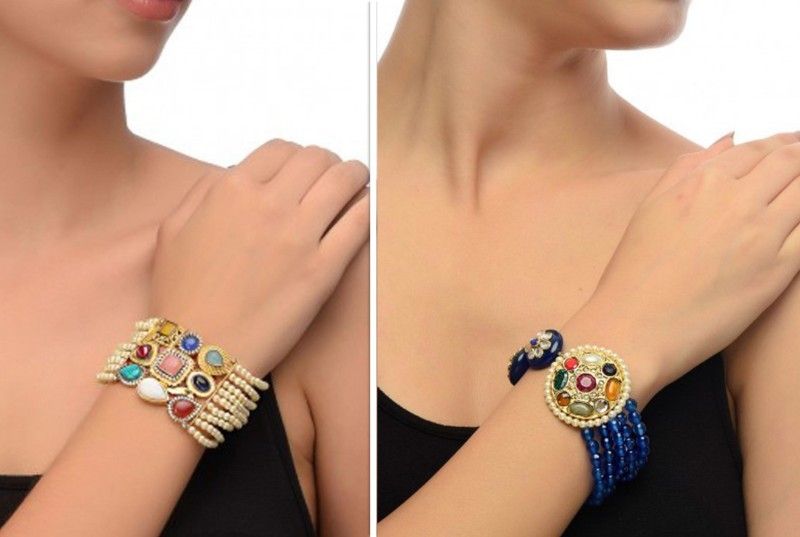 Photo Courtesy: India Trend by Parul Arora★ 2
Beaded bridal bangles and bracelets with stone work pendants are a great option for Indo-western bridal outfits and gowns, like say for your Sangeet or Reception when you don't need too much jewellery yet look traditional.
Gota Bridal Bangle designs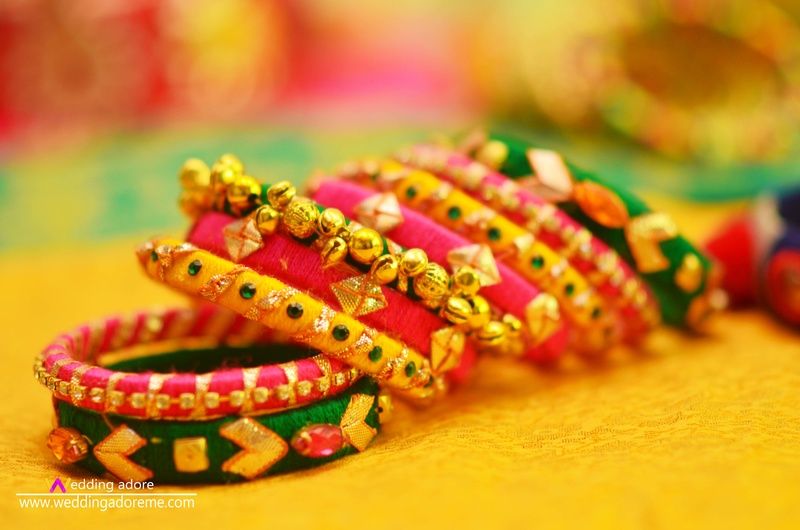 Photo Courtesy: Wedding Adore★ 5
Gota jewellery is so in fashion these days for the Mehendi or the sangeet ceremony, and it comes in so many colours and designs that you'll be spoiled for the choice of bangle designs!
Kundan Bangles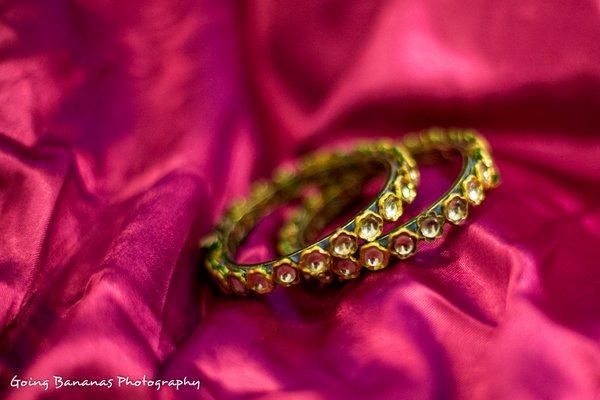 Photo Courtesy: Anandana and Samarth's Real Wedding
Just like Kundan earrings and neckpieces, artificial kundan bangles are also in vogue, and look stunning on their own or paired with other bridal bangle designs for a more festive and bride-worthy look.
Meenakari Work Bangles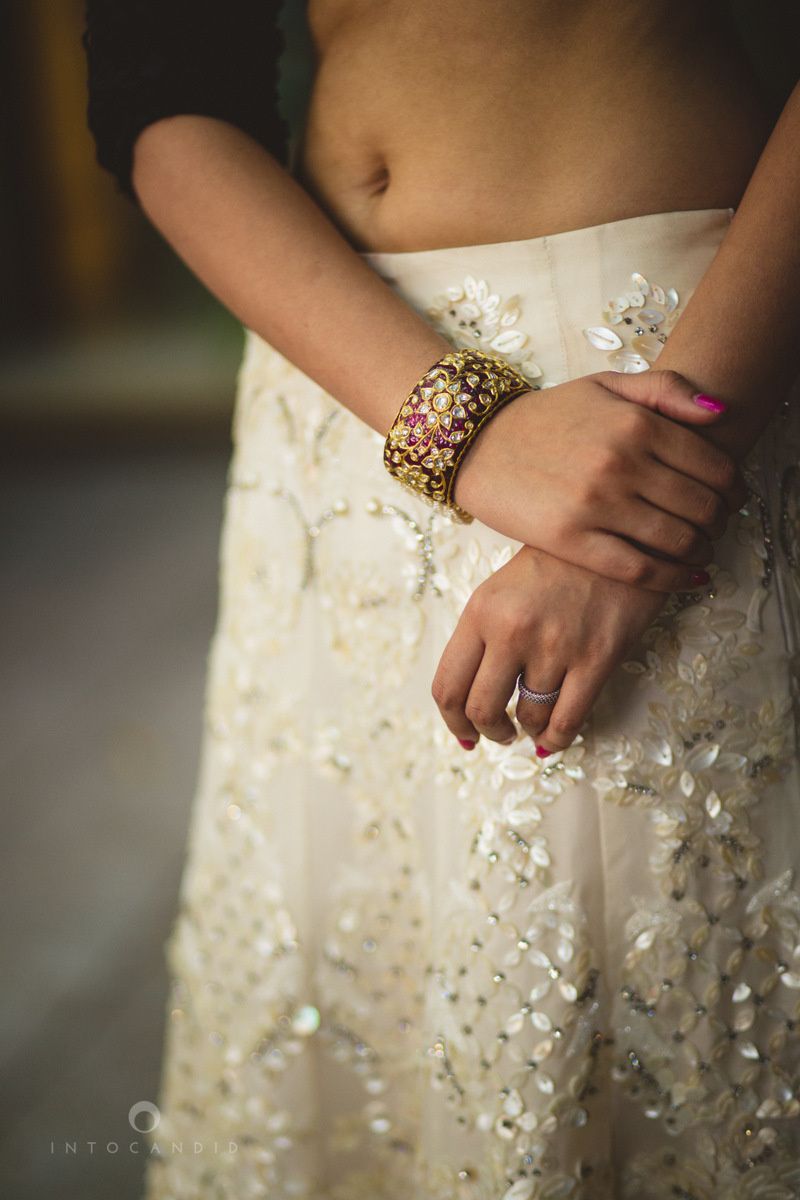 Photo Courtesy: Bespoke Vintage Jewels - By Shweta & Nitesh Gupta★ 4.8
This ruby red bangle with meenakari and kundan work looks stunning with a monochrome lehenga like this one. If you like to keep stuff simple and elegant you don't need more than this on your wrist for a function like the Engagement or Reception! This Bentex bridal bangle design is the one for you.
Bangles with a Haathphool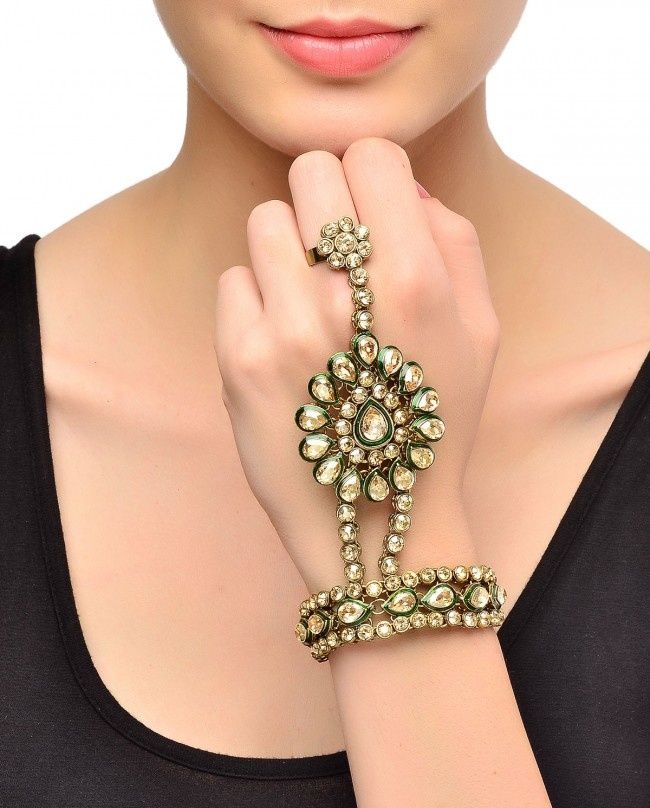 Photo Courtesy: Purab Paschim by Ankit Khullar★ 5
Bentex Bangles or kadas with attached haath phool are also in these days, which are perfect for a statement look! You can go as thin or thick with the chain and the bangle designs according to your comfort as well as your outfit!
Avant-garde Cuffs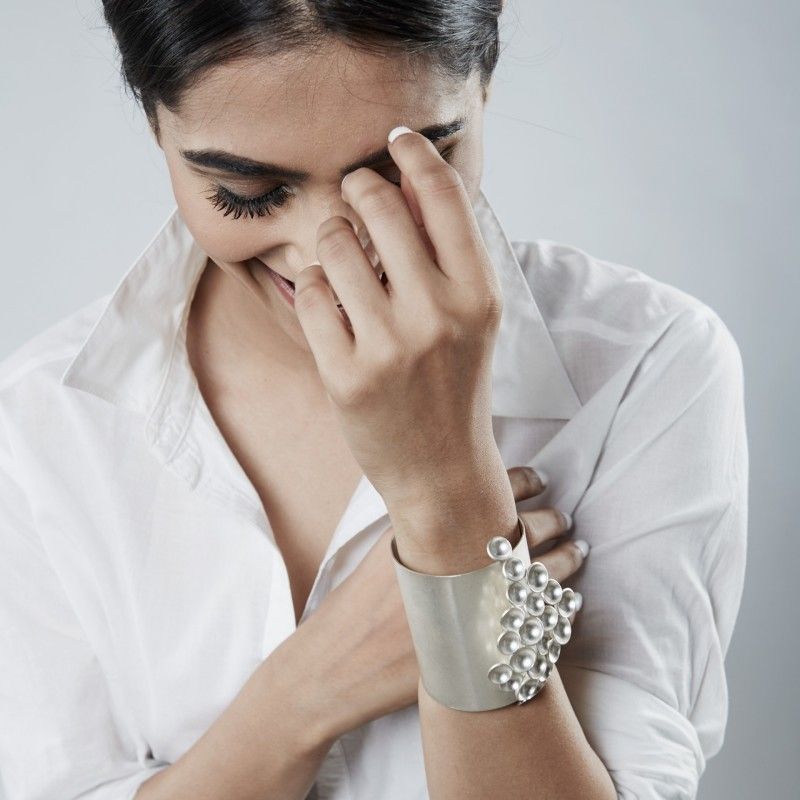 Photo Courtesy: www.thelabellife.com
Exciting new age cuffs like this one by Suhani Pitte are also super in these days, for a modern and edgy look! These are totally different from the traditional usual bentex bangles but if you wanna go unconventional with your jewelry designs, here is your chance!
Wreath style bangle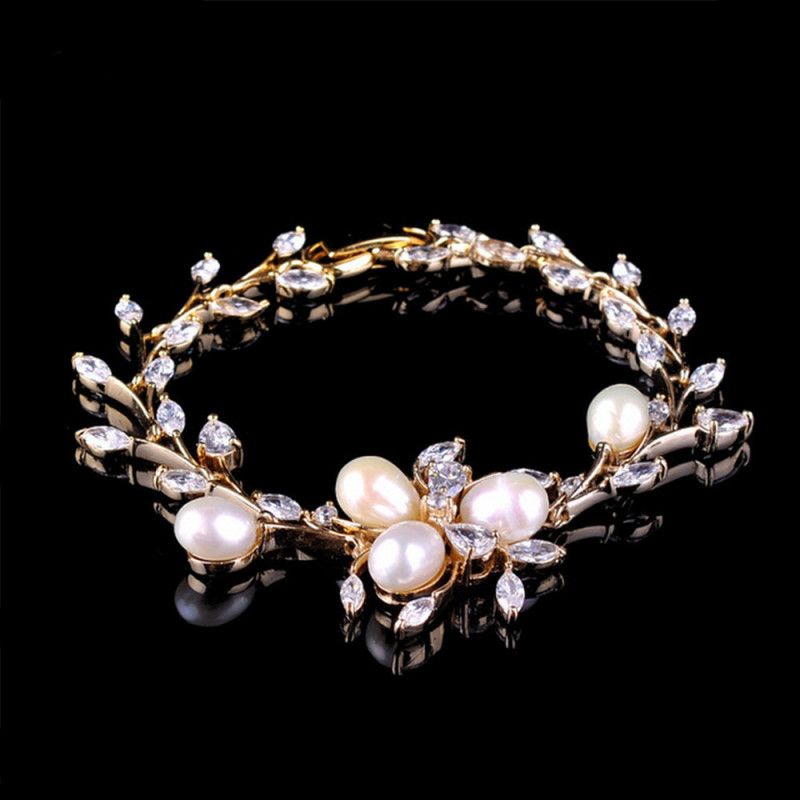 Photo Courtesy: www.aliexpress.com
How pretty would this wreath style bangle with pearls and artificial diamonds look around your wrist? Something like this goes very well with an evening gown maybe for your Reception or Sangeet ceremony for which you need understated jewellery!
Strap Bracelets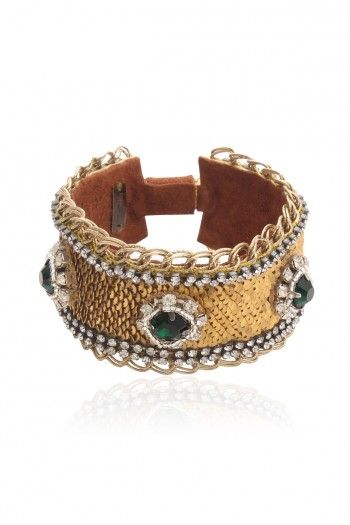 Photo Courtesy: www.perniaspopupshop.com
Strap bracelets look chic, stylish and are extremely comfortable to wear if you don't like your bangles clinging to each other and making noises!
Modern Bangles
Photo Courtesy: www.einaahluwalia.com
Modern simple bangles, like the one by Eina Alhuwalia above are so trendy and glamourous! This can be paired equally well with a traditional as well as an indo-western outfit.
Zardozi Bangles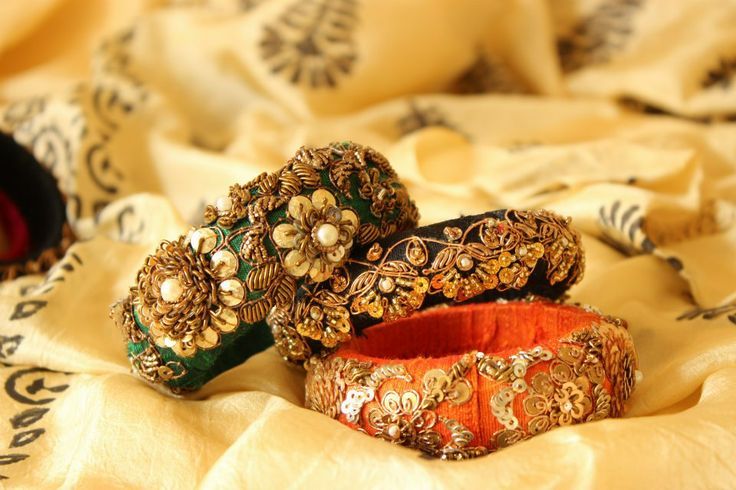 Photo Courtesy: Pinterest
Bangles with zardozi work make for ethereal Mehendi accessories! You can also consider giving these away as Mehendi favors. They come in probably every colour and design possible and look luxurious!
Floral Bangles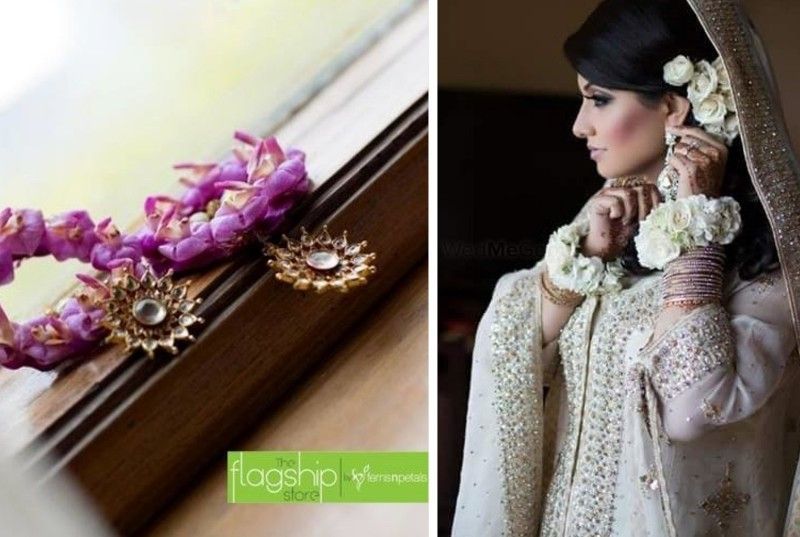 Photos Courtesy: Jewellery by FNP Flagship★ 5 and Inner Perception Studios★ 4.9
Floral Bangles are traditionally very popular in for bride's mehendi but nie floral bangles come in better designs and artificial flowers are also used so that they last longer. To keep it simple, happy and traditional, opt for bangles with flowers.
Kaleere Inspired Bangles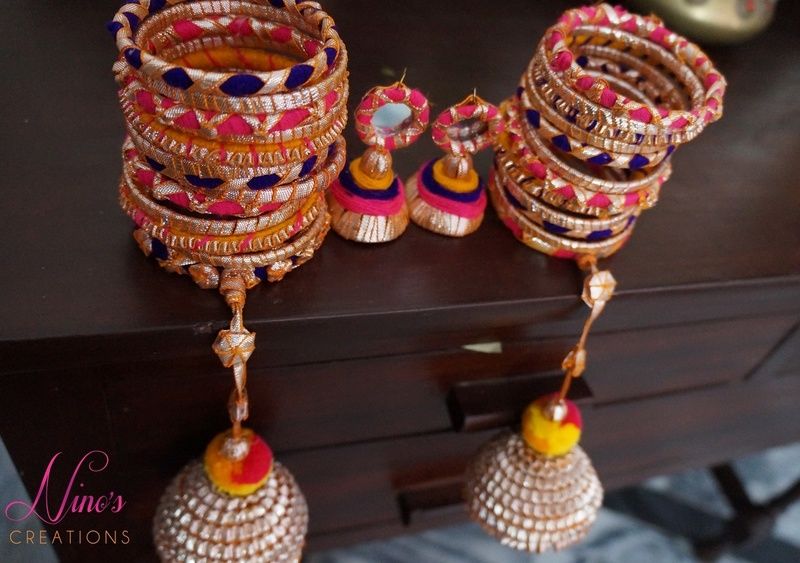 Photo Courtesy:  Ninos Creations
Bangles inspired by kaleere, which have pretty tassels or jhumkas dangling from them are also pretty in trend these days. They look ravishing for functions like the Mehendi or Haldi ceremonies.
Pompom Bangles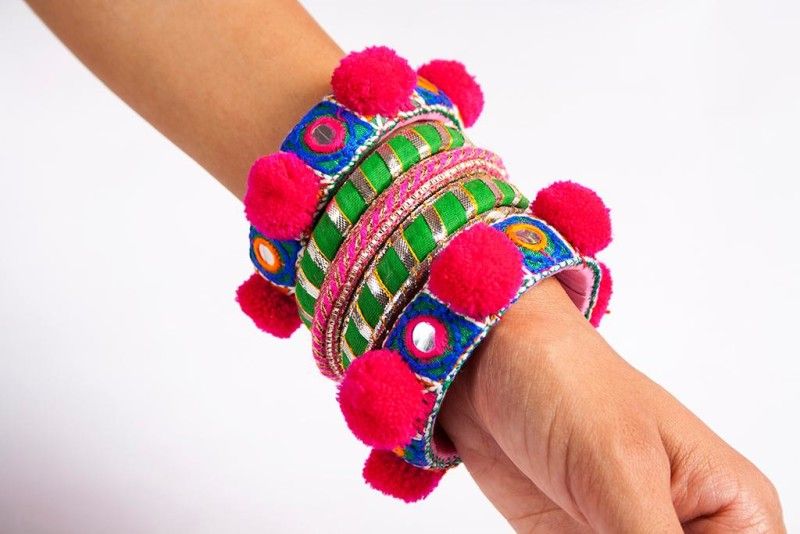 Photo Courtesy: www.indiebazaar.com
After floral and gota jewellery, bangles with pompoms are also becoming a big hit guys! It's all about being fun and creative with these to find your perfect style.
Acrylic Bangles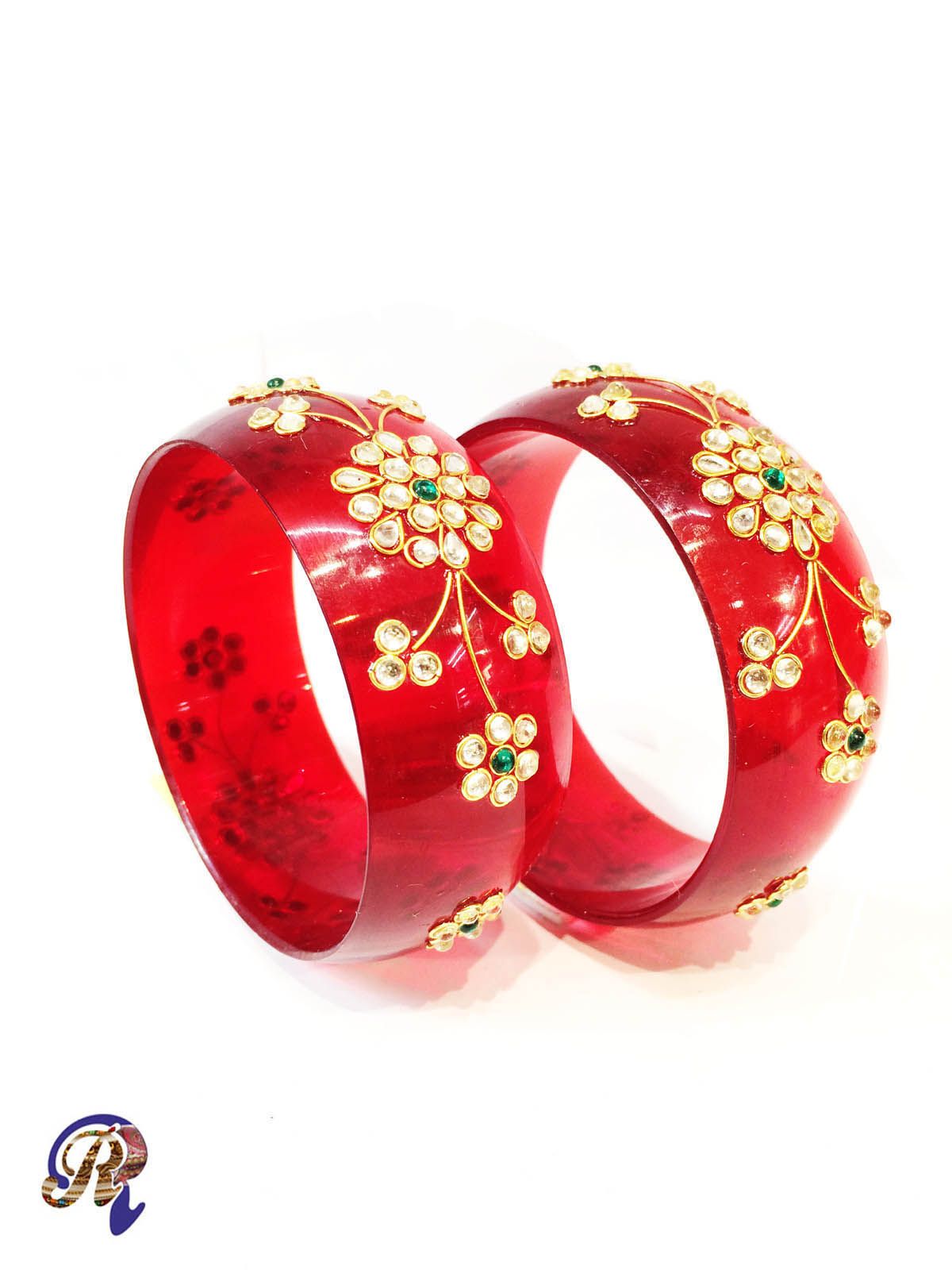 Photo Courtesy: www.roopranibangles.in
Acrylic bangles come in a wide variety of colours and you can get a lot of options when it comes to the work and material of the design on it too! From Kundan to sequin and even bead work, they are light and are an amazing choice for the sister of the bride/groom who has to do a lot of running around in apparently all the ceremonies in the wedding!
Know of any new trendy bangles that we missed out on? Let us know in the comments below!