Theme to Steal: Arabian Nights Mehendi!
BY The WMG Bride | 21 Aug, 2014 | 10030 views | 2 min read
When it comes to mehendis, they are such innately Indian affairs that its hard to go anything beyond the typical
Mela theme
but if you think Melas are done too much already or if you have a night time indoor mehendi (where executing an Indian flea market can become difficult) then Arabian Nights is the next best alternative. Mehendi has Arabic origins as well so the theme kind of blends with the whole charm and these pics will show you how!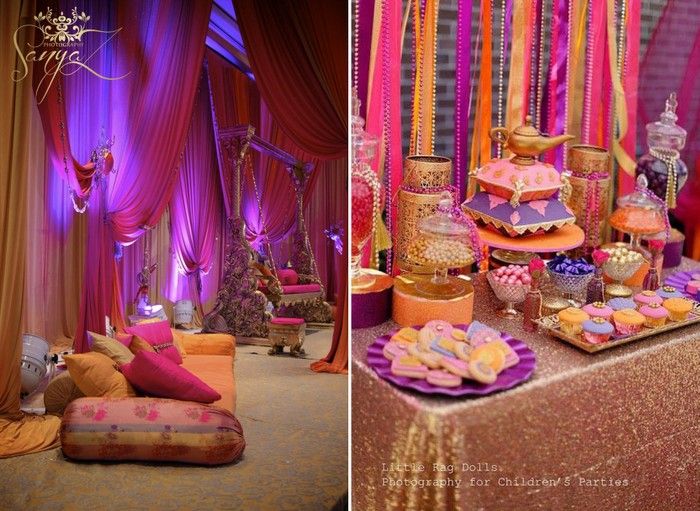 Color Pallette: Gold, Purple, Pinks . 
Use tons of draping, floor cushions, boulsters in hues of rich jewel toned gold, purple and glittery sequin detailing. You could also fill up candy in jars and cups and have a cupcake station in the same theme. Get cookies from your local baker and tell him to make sure the frosting matches your pallette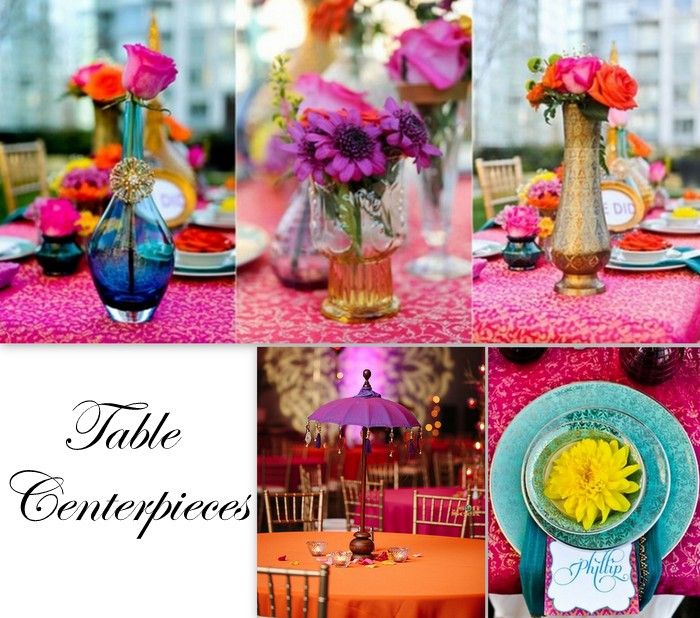 Photographs by Vasia Photography via Rubies & Ribbon
You could have a ton of fun table centerpieces  such as: 1. Blue moroccan bottles with jewellery detailing filled with flowers 2. Moroccan Jars and glasses 3. Moroccan lamps would make cute centerpieces 4. Umbrellas with petals and candles on the table could be fun as well 5. Simple cerulean blue bowls with flowers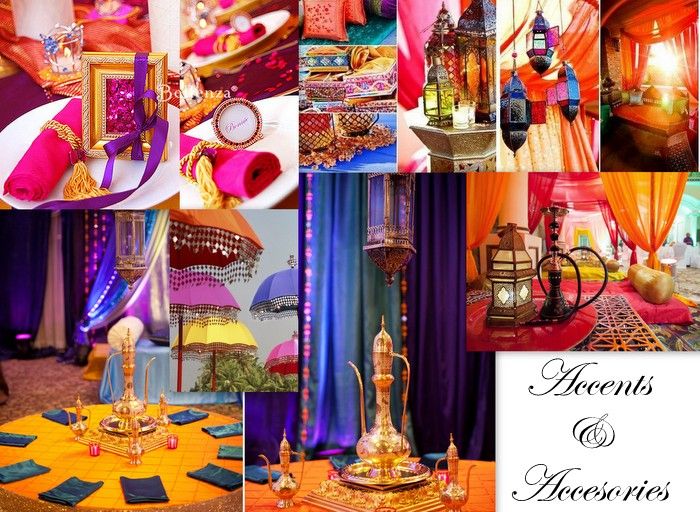 Tons of fun accents and accessories such as 1. Large Sheeshas (you can get glass sheshas as a cheaper alternative from any local shop) 2. Moroccan Lamps 3. Glittery photoframes in gold 4. Napkins tied with rich gold tassle detailing 5. Cushions with tassle detailing 6. Magic genie lamps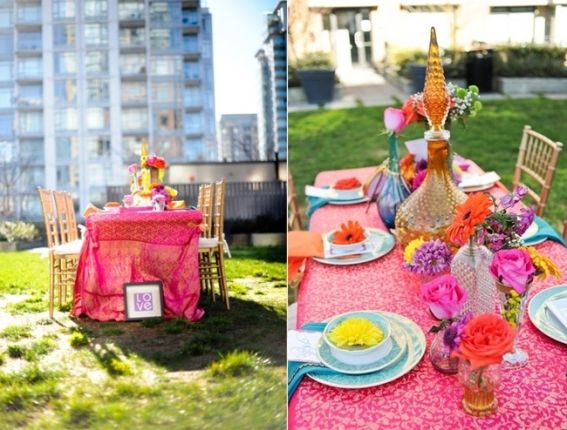 Cutesie Table settings like these can make your mehendi POP!
Favours to go with the theme:
1. Large cocktail ring made out of Gota and mirrors (These cost between 200 Rs to 500 Rs) 2. You could also just take moroccan glasses and fill them with a sweet treat of your choice to give out 3. Small hand mirror for girls to stash in their bags with gold detailing would be really pretty to give out too
Activities to go with the theme:
1.) Get a local crystal ball reader (Costs less than 10,000 Rs) to come for that arabic touch for your guests 2) You could have special stalls for Arabic mehendi as well 3.) if you REALLY want to take it up a notch arrange a belly dancing section where your friends can learn to shake it  Shakira style
Getting hitched in India? Dont forget to check out our wedding vendor guide