This Bride DIY-ed Her Bridal Lehenga With The Help Of 3 BIG Designers!
BY Soha Kala | 15 Mar, 2019 | 182 views | 2 min read
If you are a resourceful bride who is planning on being as involved in her wedding as possible, from the little things to the big calls... or if you're simply like me, who has her heart at different places and can't think of one way to bring all your most-loved elements together, here's how you can take inspiration from real bride Karishma. 
For her wedding, Karishma wanted the lehenga of her dreams, and wasn't ready to compromise one bit! What was she looking for? Something unique- something that reflected her style and was handcrafted especially for her! So what did she do?
She DIY-ed her bridal lehenga!
But a lot of brides do that. What's new in her story?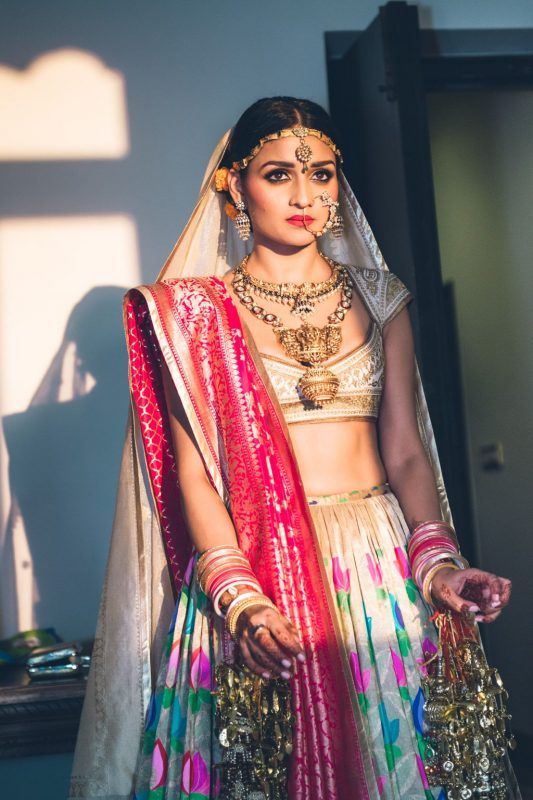 Karishma's bespoke  lehenga was a pretty mix of beige and pink, with floral motifs and an elaborate border that is so, so elegant! But that's not the only thing that brought us here.
What if we told you 3 designers; masters of their respective crafts, came together to bring this outfit to life?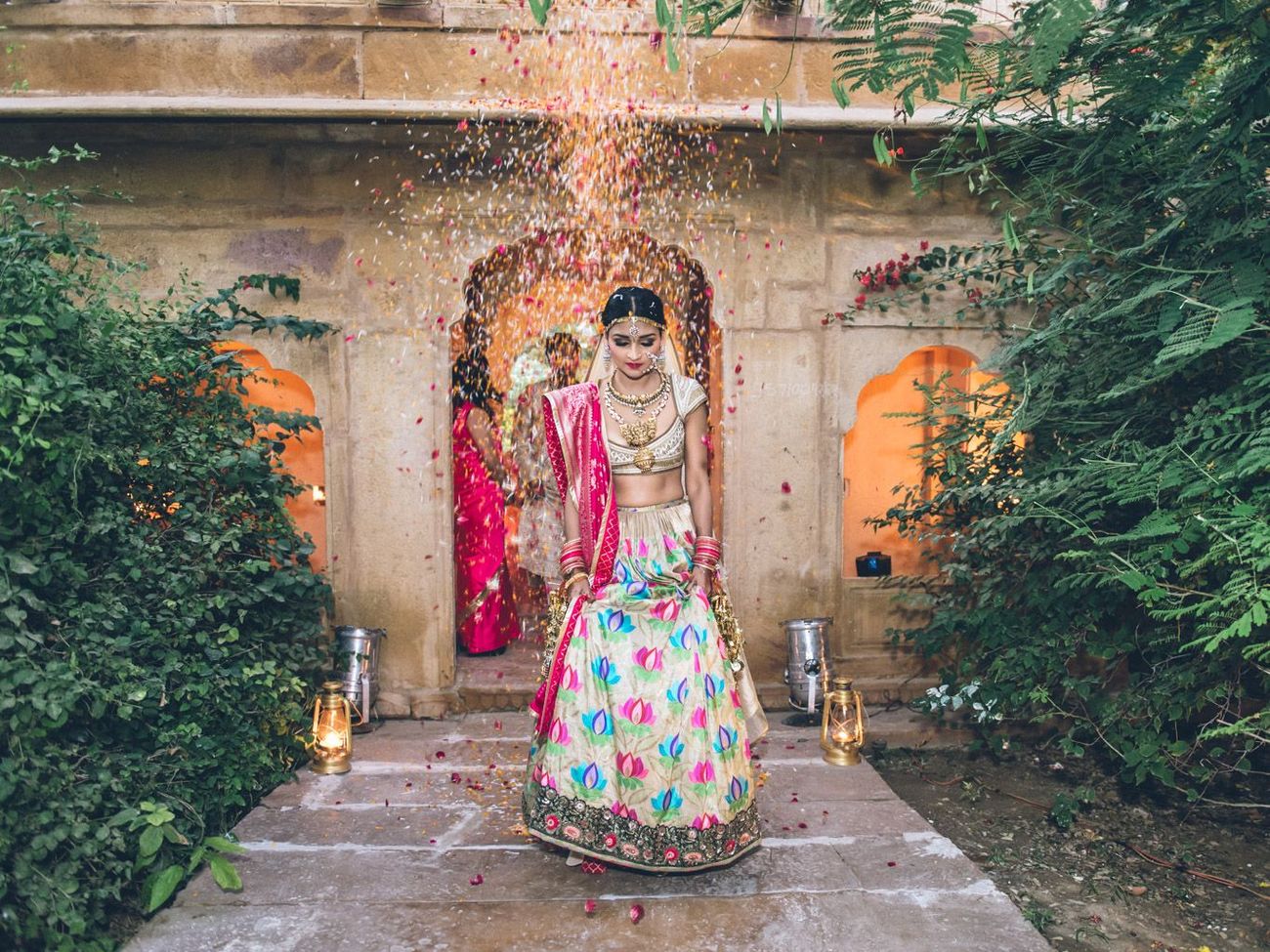 Yep, you read that right! Karishma got a stunning handwoven fabric reflecting the styles and richness of Varanasi's textiles from Ekaya Banaras★ 5 for the lehenga. And roped in none other than Rohit Bal★ 5 to design the blouse and lehenga!  One look at the dull gold choli and you'll know just what bridal excellence is! Karishma's bustier looked chic and super stylish with capped sleeves.
"I have grown up watching my Mom bring every bride's dreams to life. So how could she stay away when it was her own's daughter's  chance? My mom understands me perfectly. I love colour and I didn't want t to be heavy. So, my Mom who own Janavi not only helped me pick fabrics, but also worked wonders by helping design and complete it with a border," Karishma shares. 
Wondering about the dupatta?  Karishma chose an ethereal looking handwoven Banarasi dupatta from Roliana by  Roli.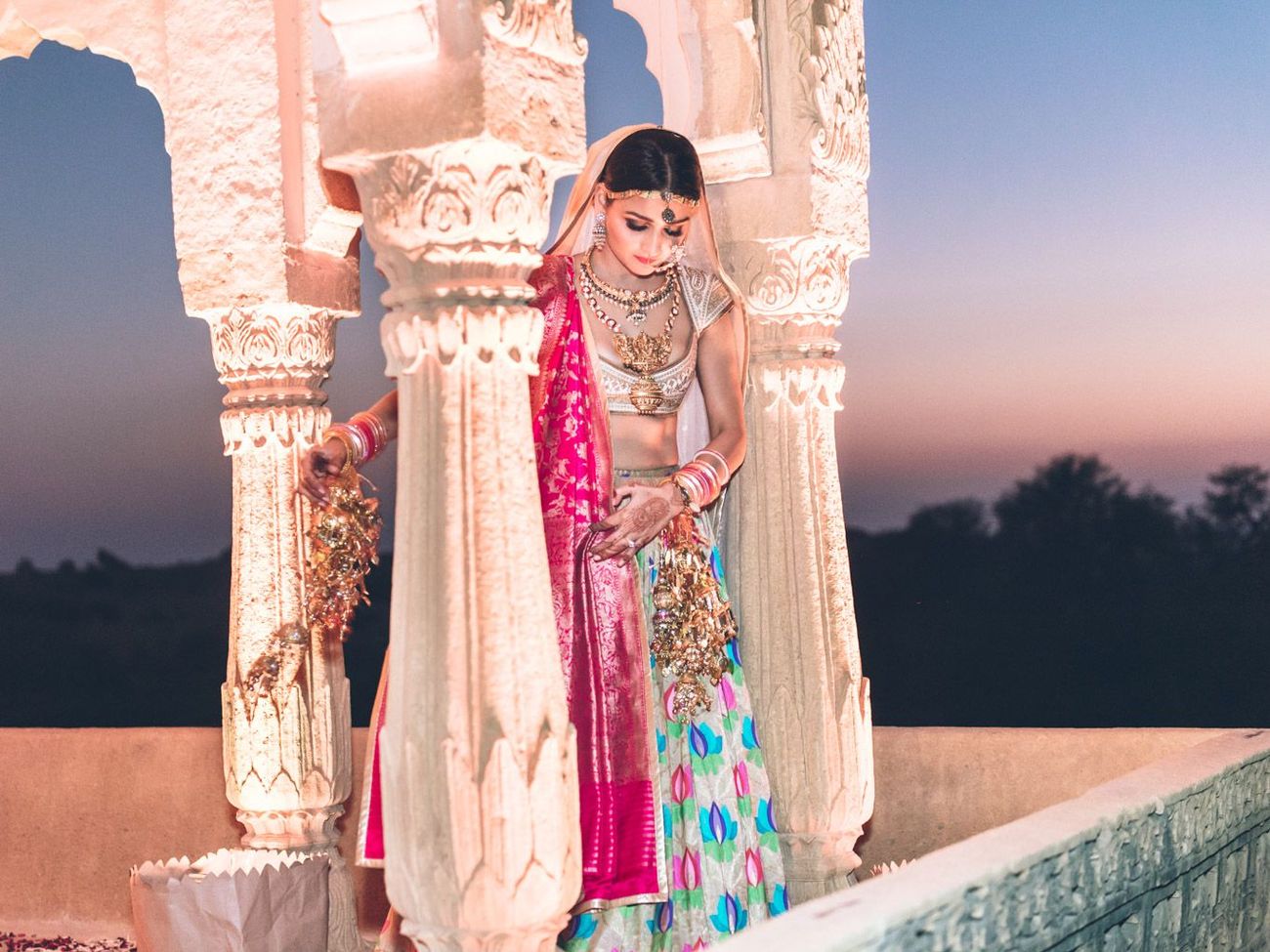 Not only her own, Karishma also got 42 outfits exclusively crafted for her friends, from her Mum's label Janavi and 300 artisans worked with us on them. Now that's called making sure your girls enjoy your big day as much as you do! 
Karishma's bespoke experience of DIY-ing her bridal outfit was simply stunning, unique and an experience which till date warms my heart.