This Quirky SuperHero GroomsMen Shoot Is All About #FriendshipGoals And Full-On Masti!
BY Latha Sunadh | 16 Feb, 2017 | 1714 views | 4 min read
You have seen us time and again feature bridesmaid looks, bridesmaid pictures and everything bridesmaid. But not just you, we also often wonder - where are the groomsmen rules, the groomsmen ideas and the fun groomsmen pictures? The answer is, my friend, we hardly ever get a good groomsmen shoot. (Note: Dear brides & grooms, photographers and planners - please make some space for cool groomsmen shoots!) But the drought has ended this time with this stunning and quirky shoot from  Priamvada + Ranjith's wedding photographed by
Brim Company
. Take a look at the pictures and applaud these young men - they sure know how to make a wedding rock! Plus, we asked the groom to tell us how they conceptualised and created this shoot - he was more than willing to give us the goop! Read on...
How did you visualise the Groomsmen shoot?
The whole idea of the Groomsmen shoot started off with us planning to have a theme for the wedding. Both of us were very clear from the beginning that our wedding had to have an element of fun for everyone and something friends and family can relive at any point in time! While the whole wedding as an affair is taken care off for the family, we wanted to make it memorable for our friends as well.
The concept of Superhero's came up with Pria coming across some photoshoot ideas on Pinterest. Amongst my friends, we grew up watching these movies from childhood and once the superhero theme came up, we got excited. The idea was to assign one Superhero character to each of my friends depending on their characteristics and which would match them the best!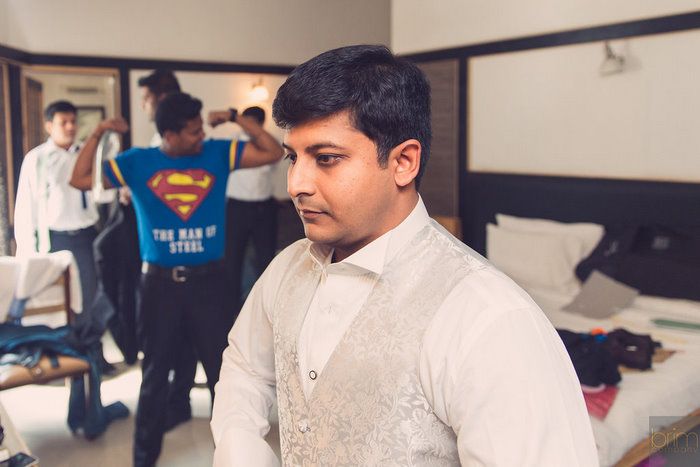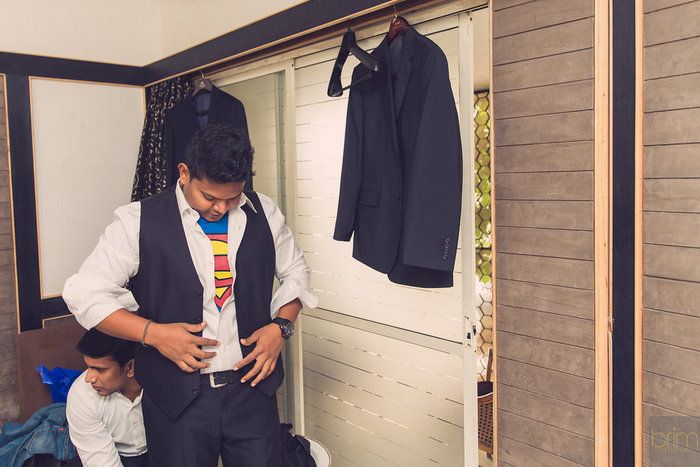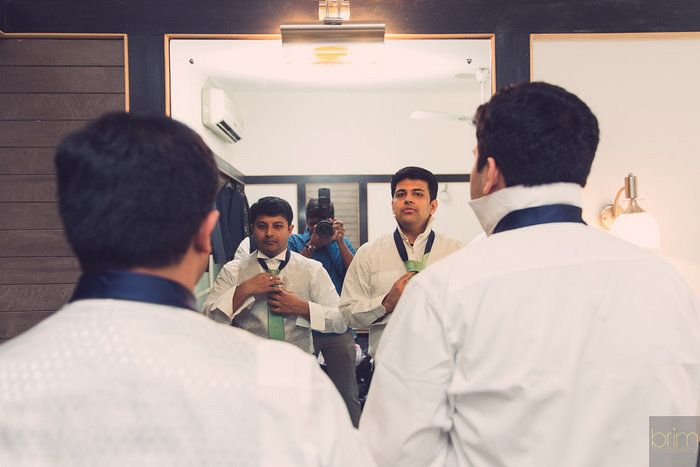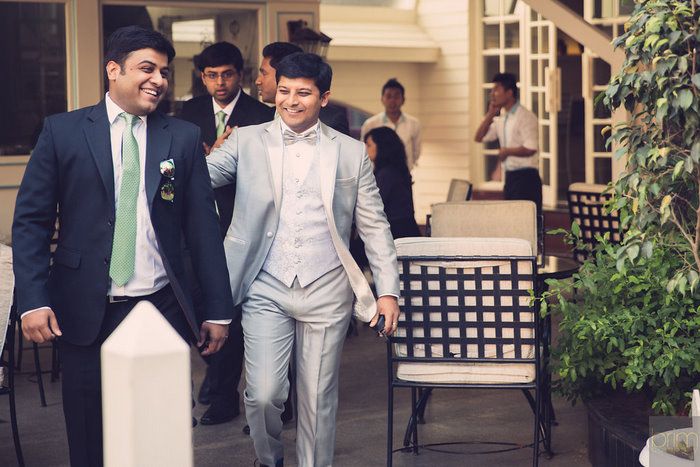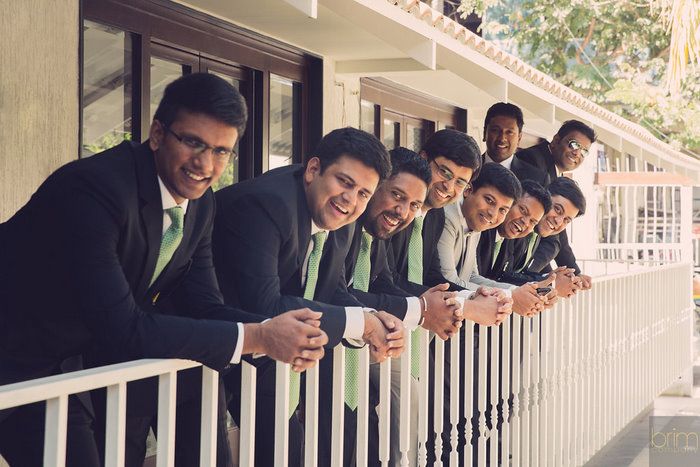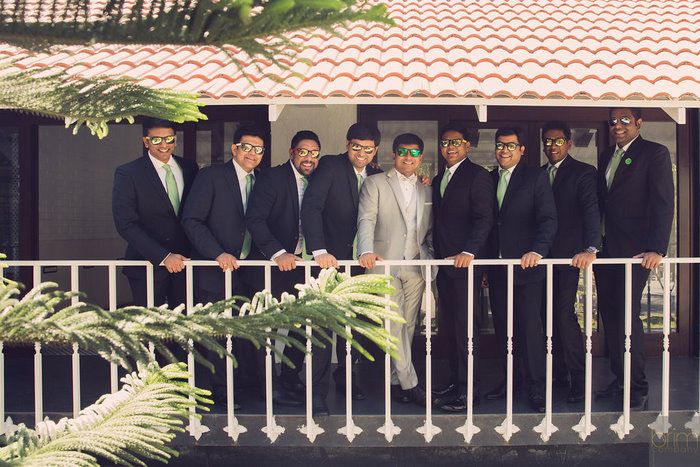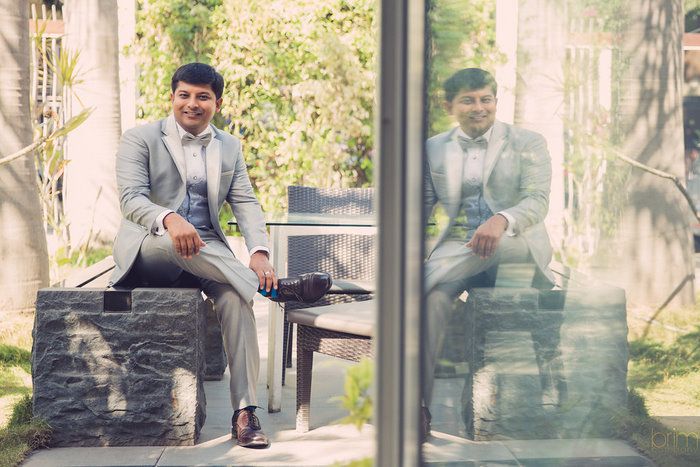 What all did you include in it (props/look etc)? Where did you source it from?
We decided on Black Suits for Groomsmen. 
Since the concept of rental suits are not widespread in India, the idea was to make all the groomsmen wear the same shade of Suit (what easy colour to sport than black?). This also made the Silver suit for the groom stand out in the pictures. 
As for the merch, we got the Superhero T-Shirts
 from 
Marvel store and Entertainment store in Bangalore.  The 
Superhero Cufflinks
  were purchased online from
 Amazon.com / Amazon.co.uk / Etsy.com. The t
ies to
 match with the wedding theme of Mint Green / Blue from Tommy Hilfiger. The v
ibrant Rugby socks to add some colour to the black suits for Groomsmen were from Happysocks.com.
We just purchased sunnies locally - we got around 50 of them.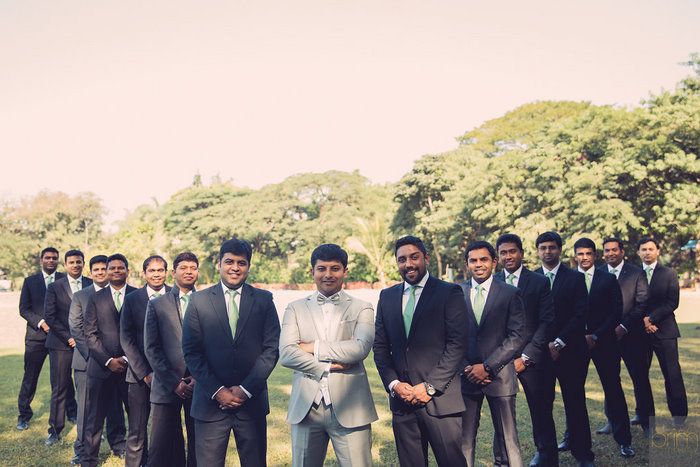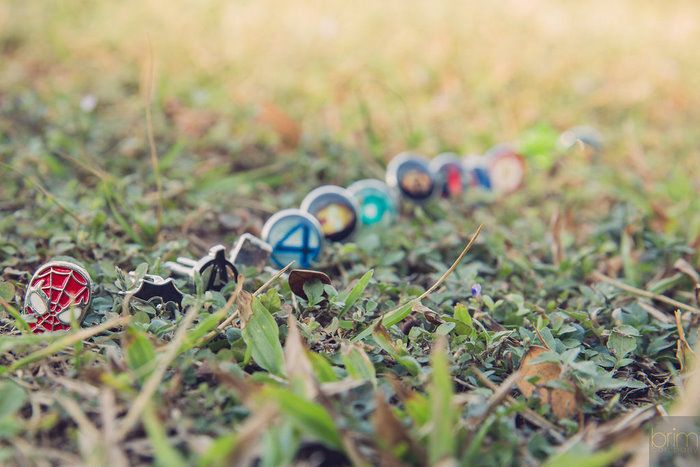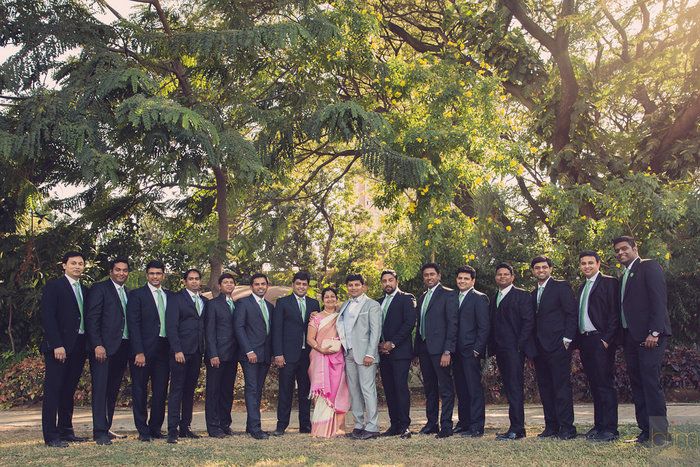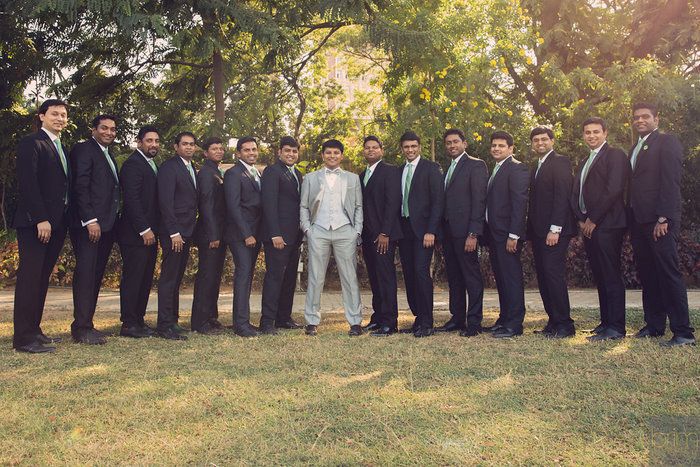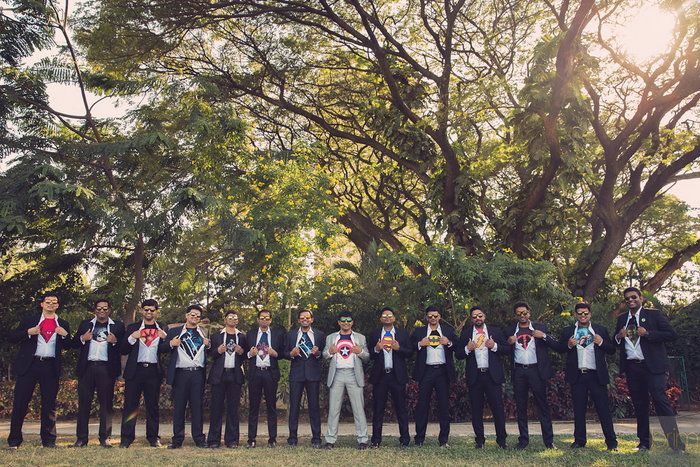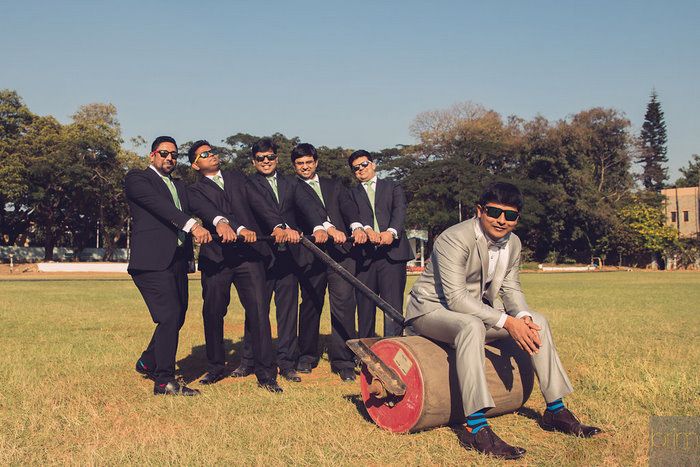 Any words for the photographer?
Brim was introduced to us by family during our engagement in April. We hadn't heard of candid photographers and didn't really know what would be involved - but what was amazing was that there was a great level of comfort with the

Brim Company

– both Shruthi and Dwarkesh – just made sure that there was no awkwardness – 'I guess we all just clicked'. They are an amazing team and know exactly what to extract from amateurs like us. Looking back at the pictures, we are super glad that we had these two covering the most important event of our lives.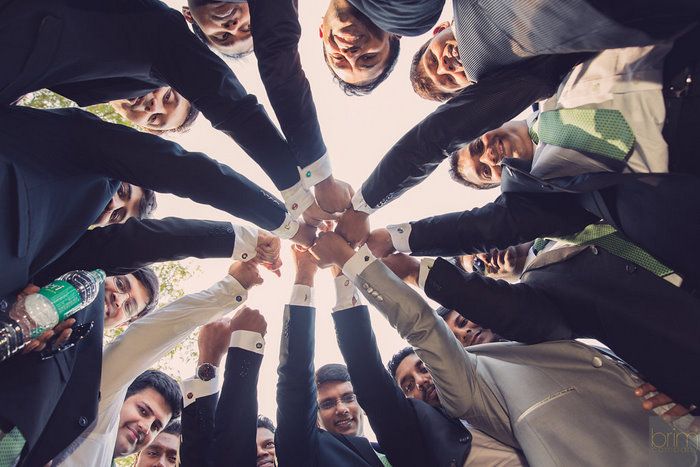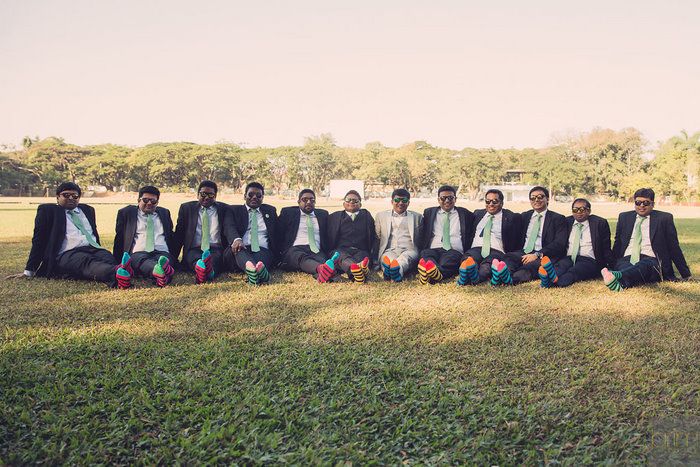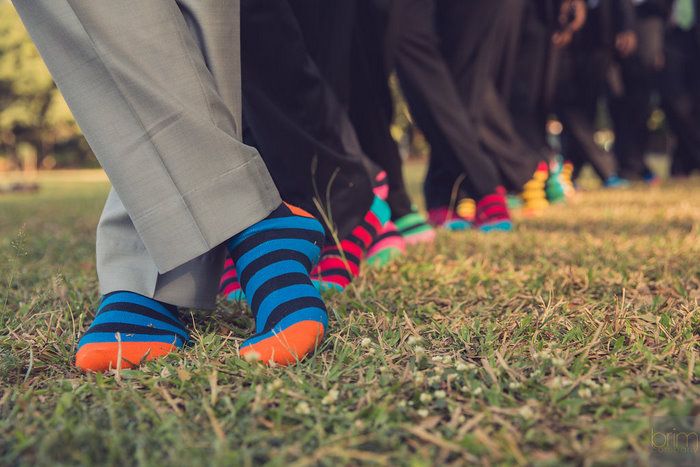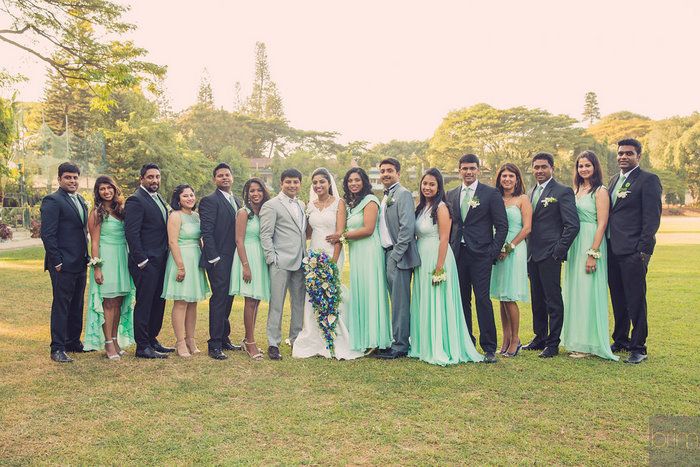 How was the experience of the shoot and when you saw the final output?
Both Pria and myself don't naturally pose for pictures. So we had to choose someone who made us extremely comfortable which was exactly what BRIM did. Again the idea was to keep it different and distinct from the regular wedding photoshoots. So we sat with BRIM and told them what kind of pictures we were looking with some sample pictures from Pinterest. On the day of the actual shoot, we just left it to BRIM and decided to go with the flow. With friends by your side, most of whom you have known for literally decades it was guaranteed for a lot of fun and reliving old memories which was exactly what was captured in the pictures.
After the photo shoot was completed, it took about 4 weeks for us to see the final pictures! However we were constantly kept in anticipation with teasers being sent in-between.
Brim Company