11 Mistakes Most Brides Make With Their Bridal Blouse!
BY Apoorva | 27 May, 2019 | 102847 views | 4 min read
Your bridal blouse is the most essential part of your outfit. Selecting blouses, in fact, the perfect blouse is not as easy as it sounds. Whether you are wearing a saree or a lehenga, a bridal blouse can make or break your look. While you may get the best fabrics and tailors to craft your blouse, here are the common mistakes brides make- mistakes to avoid at all costs when getting the bridal blouse customised!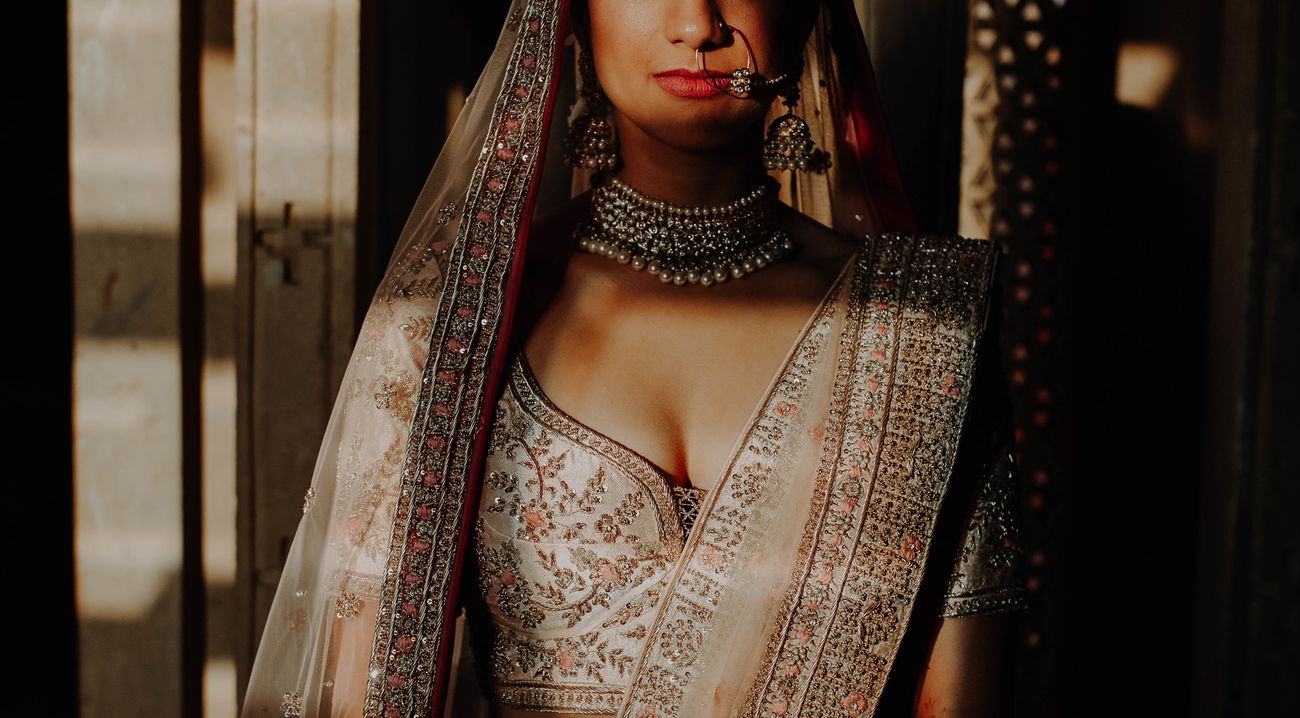 Image via Gautam Khullar Photography★ 4.8
Mistake 1: Bad timing
Don't get your fittings done just before or during that time of the month. Periods tend to get most of us bloating which will affect the measurements on your blouse, especially on your bust line. So make sure you are never giving your measurements during or pre-period phase.
Mistake 2: Wrong Fabric
The biggest mistake brides commit is not paying attention to the fabric, but fixating on the colour and work. Fabrics can highly affect the fitting of the blouse.  Always keep in mind the weather and climatic conditions of your wedding day when you are picking your blouse fabric. You don't want to wear heavy fabrics in summer while you can play around with velvety fabrics in winter.
Mistake 3: Not Keeping A Margin
Tightening a blouse is easier than loosening it. Always ensure that you have 2 inches of margin inside your blouse, just in case you put on some weight before the wedding day.
Mistake 4: Choosing Bra Over Cups
Wedding day is the last day where you want your bra strap to show or an ill fitted bra to poke you in your ribs while you do your wedding rituals. Always, always get a blouse stitched with cups on it so that you don't have to worry about the lingerie and where it's poking out from.
Mistake 5: Making It A Little Too Tight
A lot of brides want the perfect fit, and end up choosing a blouse that is tighter than it should be, hoping that will be more flattering. But sometimes, that just leads to unsightly back bulges and broken zippers. So leave a little breathing space so you can zip it up without holding your breath.
Mistake 6: Wrong Measurements
Wear a bra with the perfect amount of padding as you'd want in your blouse when you go for the fitting. Always wear a bra that fits you well while giving out your measurements. If you are wearing a padded one, ensure that you tell your tailor/designer that you are wearing a bra with pads!
Mistake 7: Ignoring The Neckline
This can make or break the blouse. While design is one aspect that you should look at, it's important to also pay attention to the jewellery that you will wear along with that blouse. If you are wearing a choker, a high neckline blouse won't do. If you are looking for design inspiration, here are some unique blouse necklines we spotted that are perfect for your bridal look!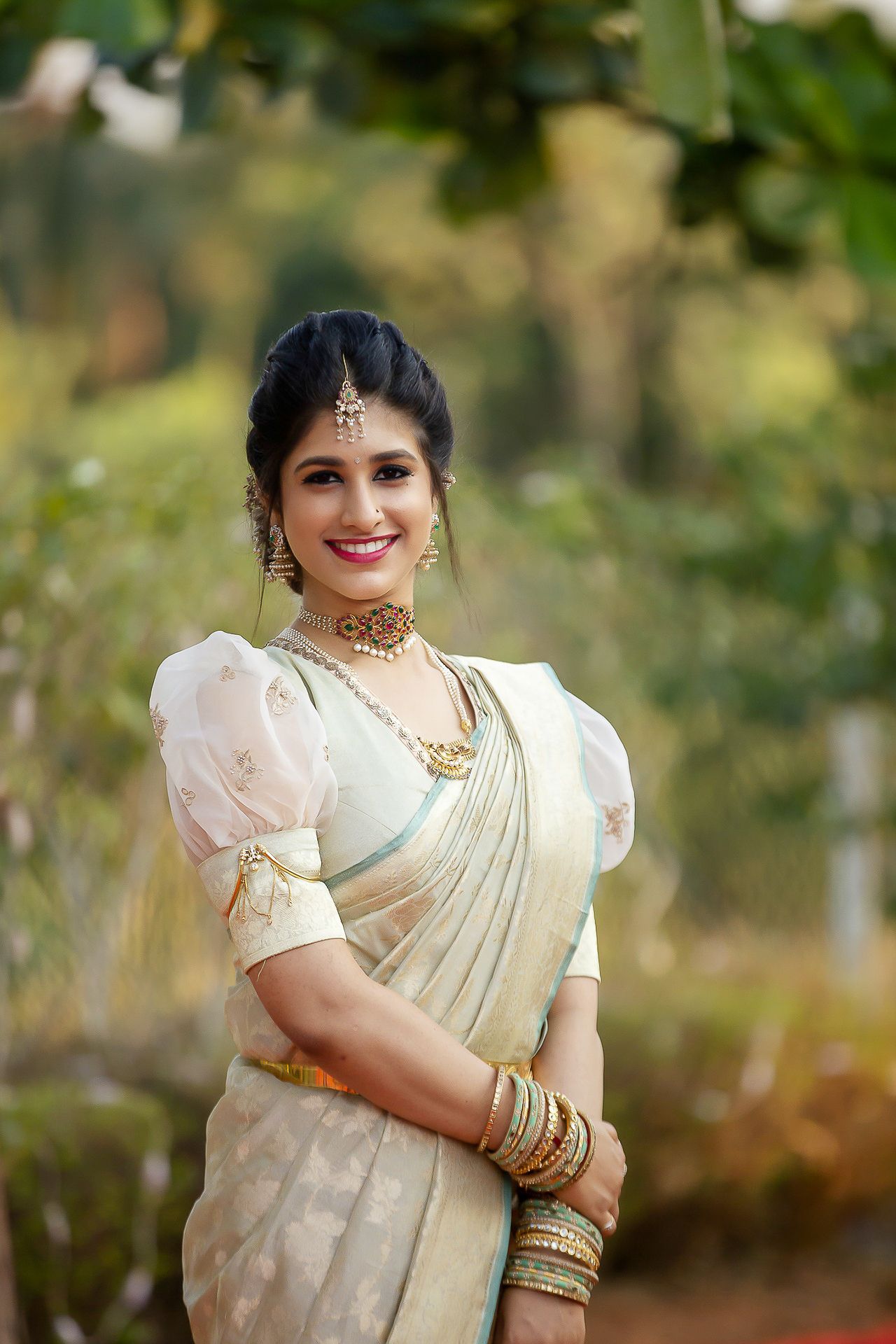 Image via Blending Pixelz★ 4.8
Mistake 8: Blindly following trends
Yes, a puffy sleeve blouse looks amazing on this bride, and might be trending, but it's not neccessary it'll look good on everyone. Don't blindly follow a trend and get a blouse stitched. See what suits your face and body structure too.
Mistake 9: Wrong Swatch
If you aren't getting the blouse made from the saree or not getting the blouse from where you shopped the lehenga, then check and then double check the colour of your fabric. Make sure you take a small swatch to match too, without relying only on phone photos, which might change the colours. While the blouse may look stunning on its own, if the colour is off, it'll look like you are wearing two different pieces.
Mistake 10: Itchy & Rashy
Basic things which most of us learn the hard way. Embroidery on a blouse will itch you from the inside if you don't have a lining. So if you are planning to get any work done or if your fabric has glitter or sequins, chances are high that it might hurt you once you wear the blouse, especially on the arms. Make sure you tell your tailor or designer about the same!
Mistake 11: Last Trial, Wrong Timing
Ensure that your last trial is two-three weeks before your wedding day and not before that. All your last minute adjustments, fittings are going to be perfect if you have the blouse done in this timeline!