Ultimate Hacks To Transition Your Lehenga From Phera To Reception!
BY Apoorva | 03 Nov, 2022 | 12 views | 4 min read
Want dreamy sunset pheras? Evening weddings usually are followed by a reception, making you wonder if you should have two different outfits for the same event. If you plan on donning your phera lehenga for your reception, we have some brilliant hacks to make that look different without blowing up your bank account or even taking up too much time between two events. After all, you want to look like an effortless bride with style! Here are 8 easy hacks to transition your phera lehenga from wedding to reception.
Change The Dupatta Drape Style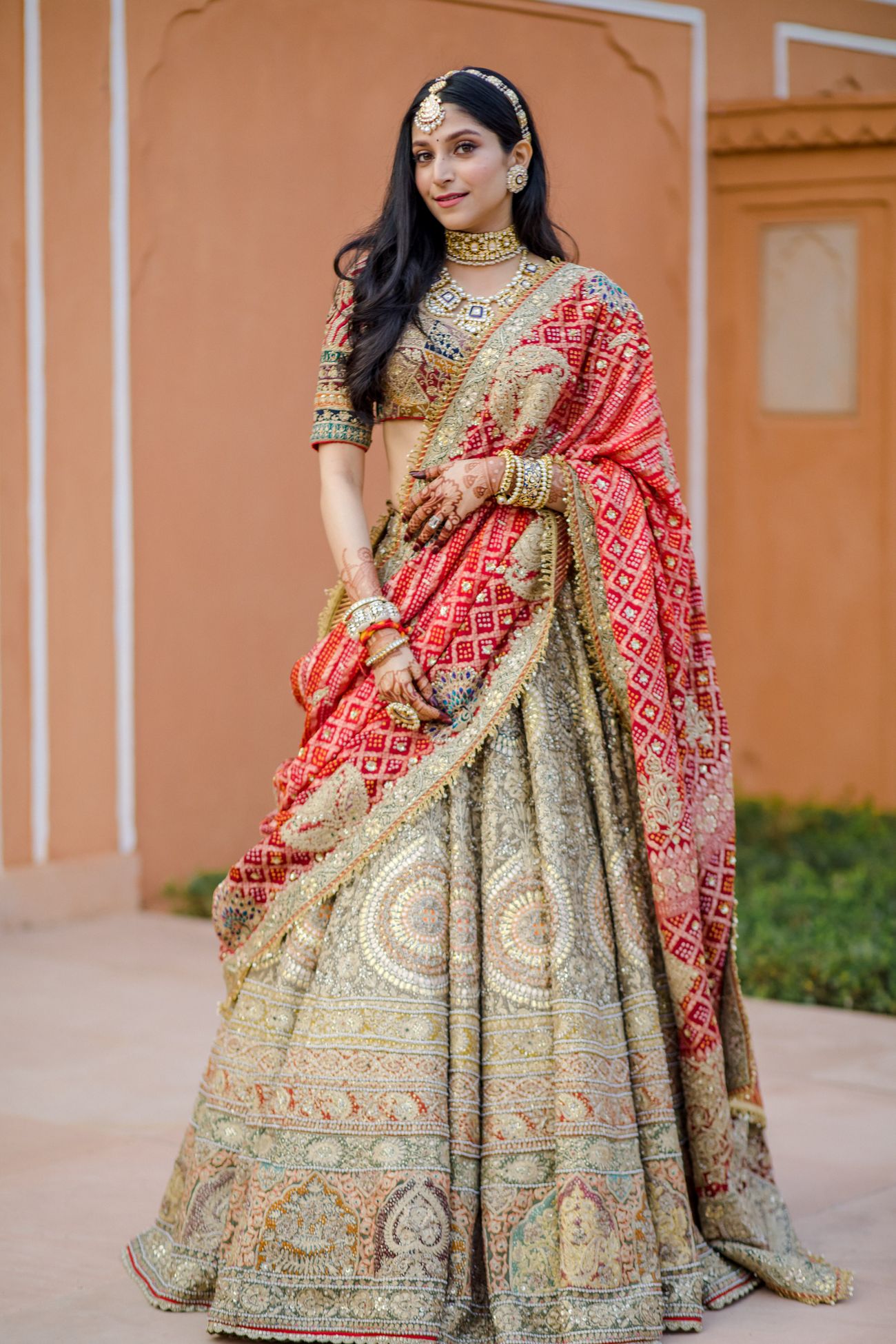 Image via Mehendi and Shivam
You won't believe what a difference this will make to your entire look. If you are going for a triangle drape for your pheras, switch it up and go for a one-sided drape. Here are 40 lehenga dupatta draping styles that you can choose from!
Or Opt For A Different Dupatta Altogether!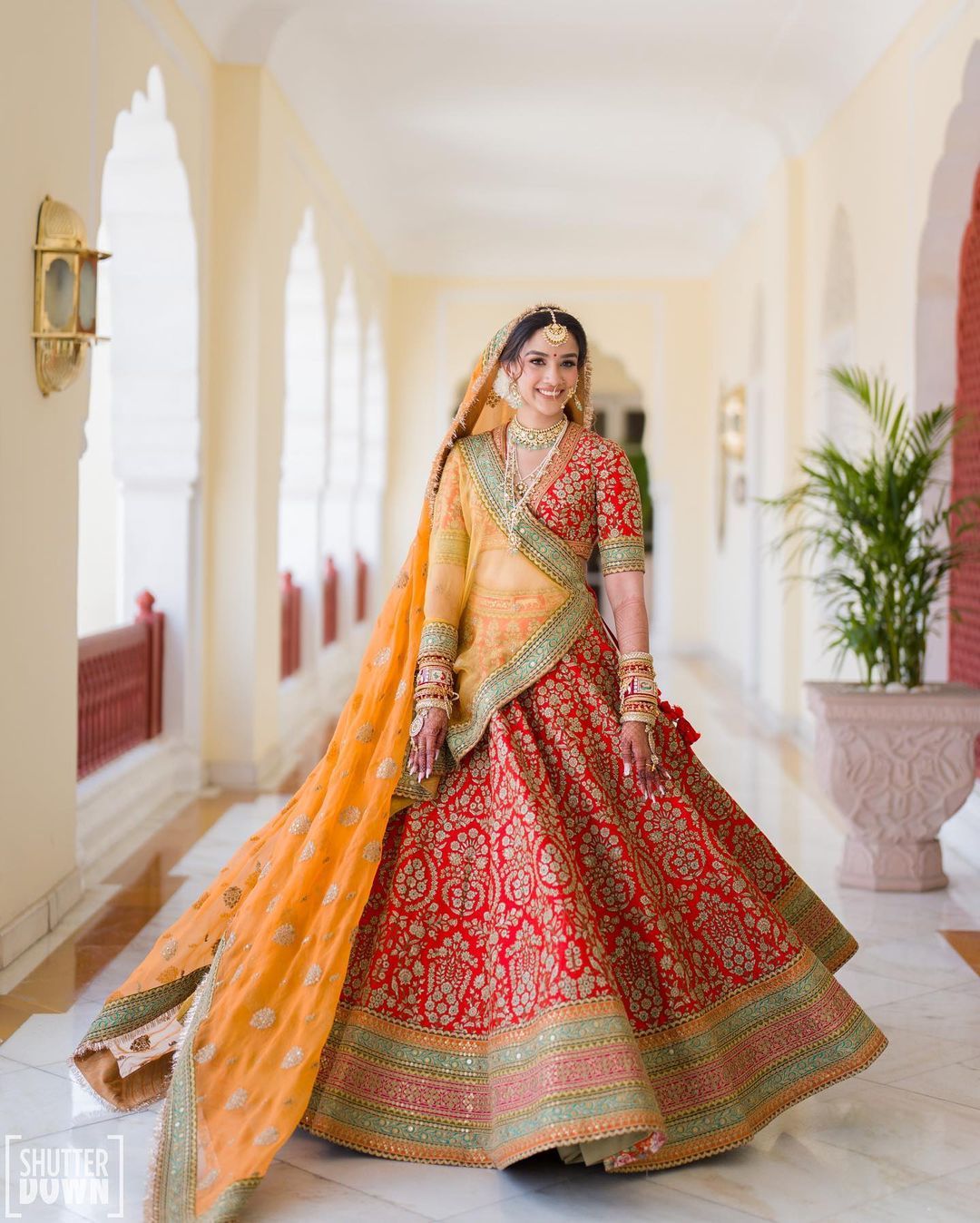 Image via Shutterdown - Lakshya Chawla★ 4.9
You can opt for a different dupatta for your reception altogether! Get a contrasting dupatta from your original one (buy it together with your lehenga!) so that the look turns out to be totally different!
Switch Up Your Hairstyle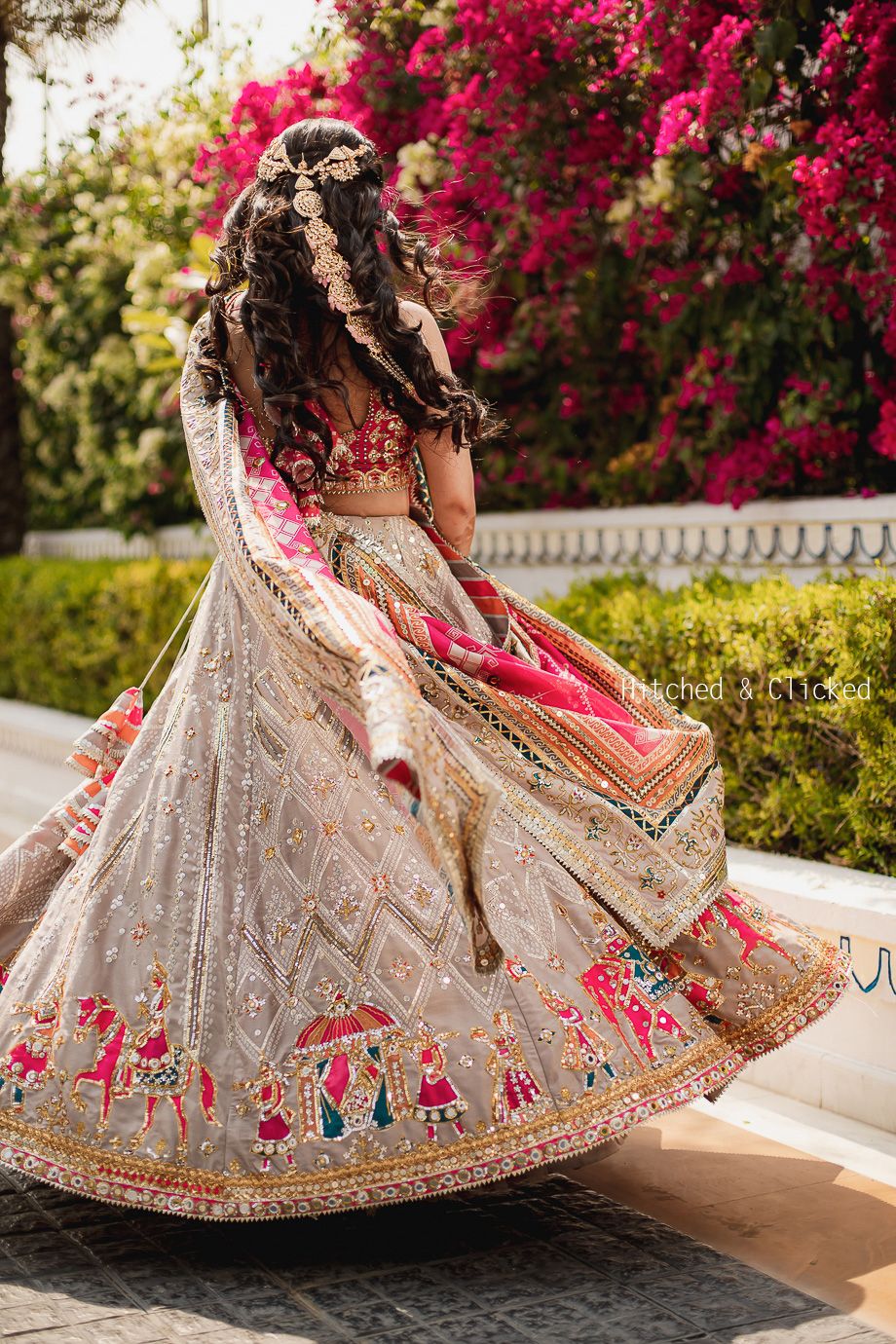 Image via Medhavi and Kartik
Yes, changing your hairdo is a major game changer in transitioning from your phera look to a reception look. If you have opted for a bun for the wedding, go for an open hairdo for the reception or vice versa. You can also use extensions or hair jewels which are currently trending to create a new look for your reception!
Blouse Transformation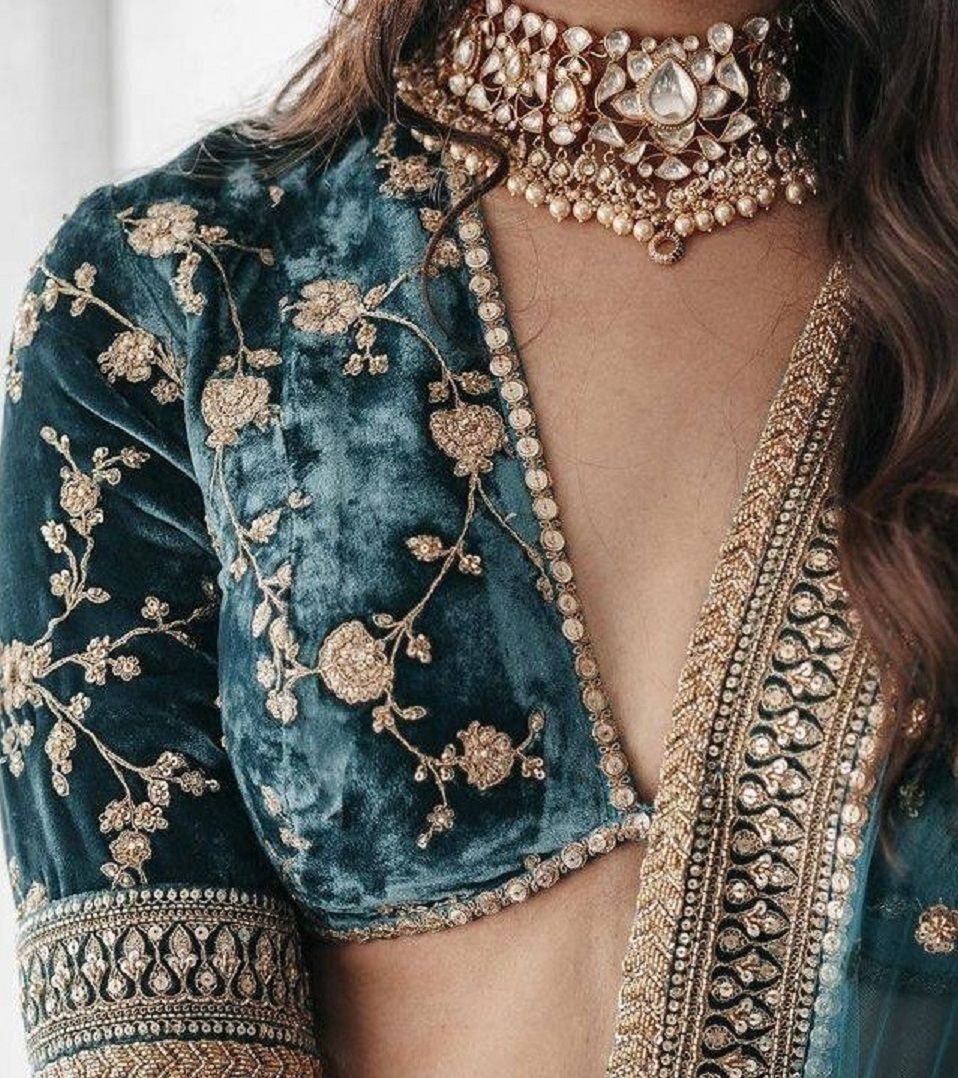 Image via Sabyasachi Mukherjee★ 4.9
Pick a more contemporary and fun blouse for your reception and go for a traditional blouse for your phera – changing the look instantly with just a blouse change. You can opt for a plunge neck one for the reception, giving your reception look an edge!
Go For A Cape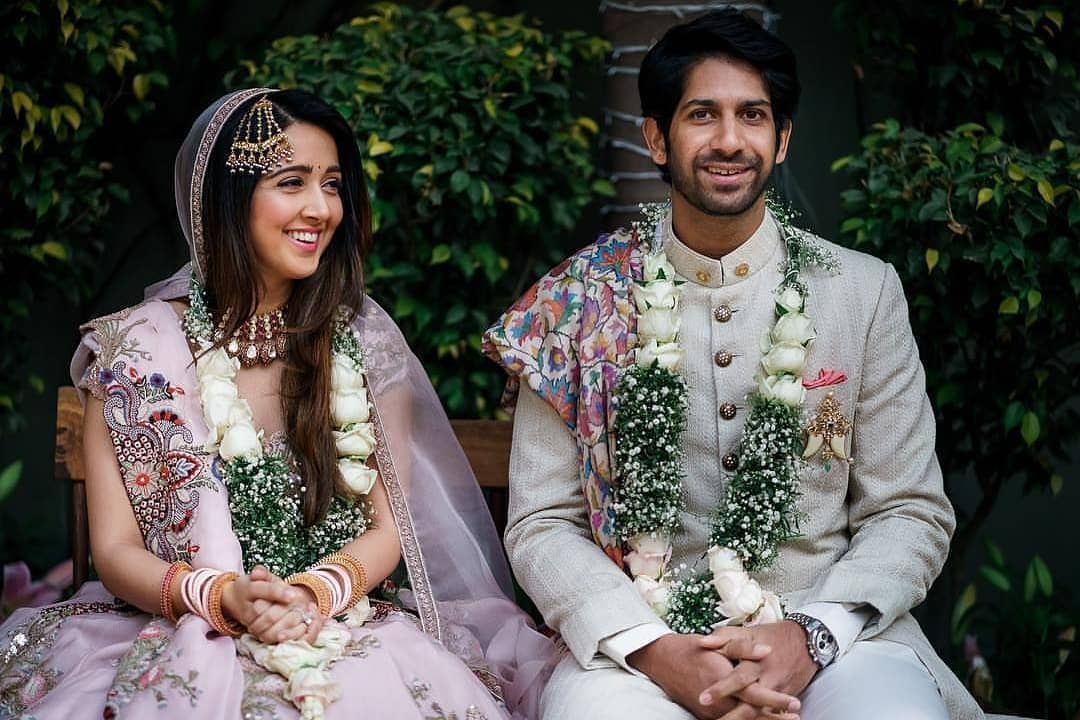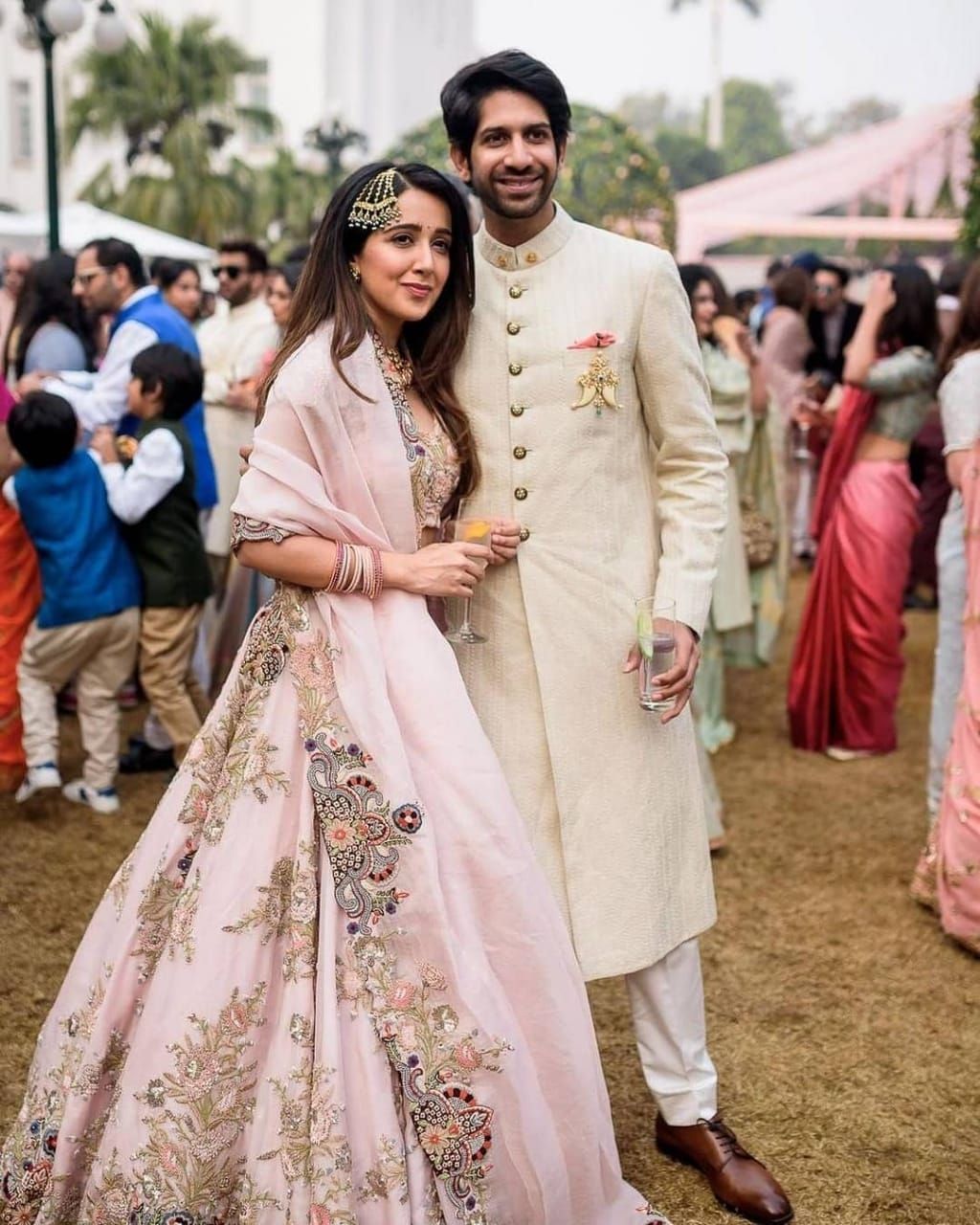 Images via Sanjana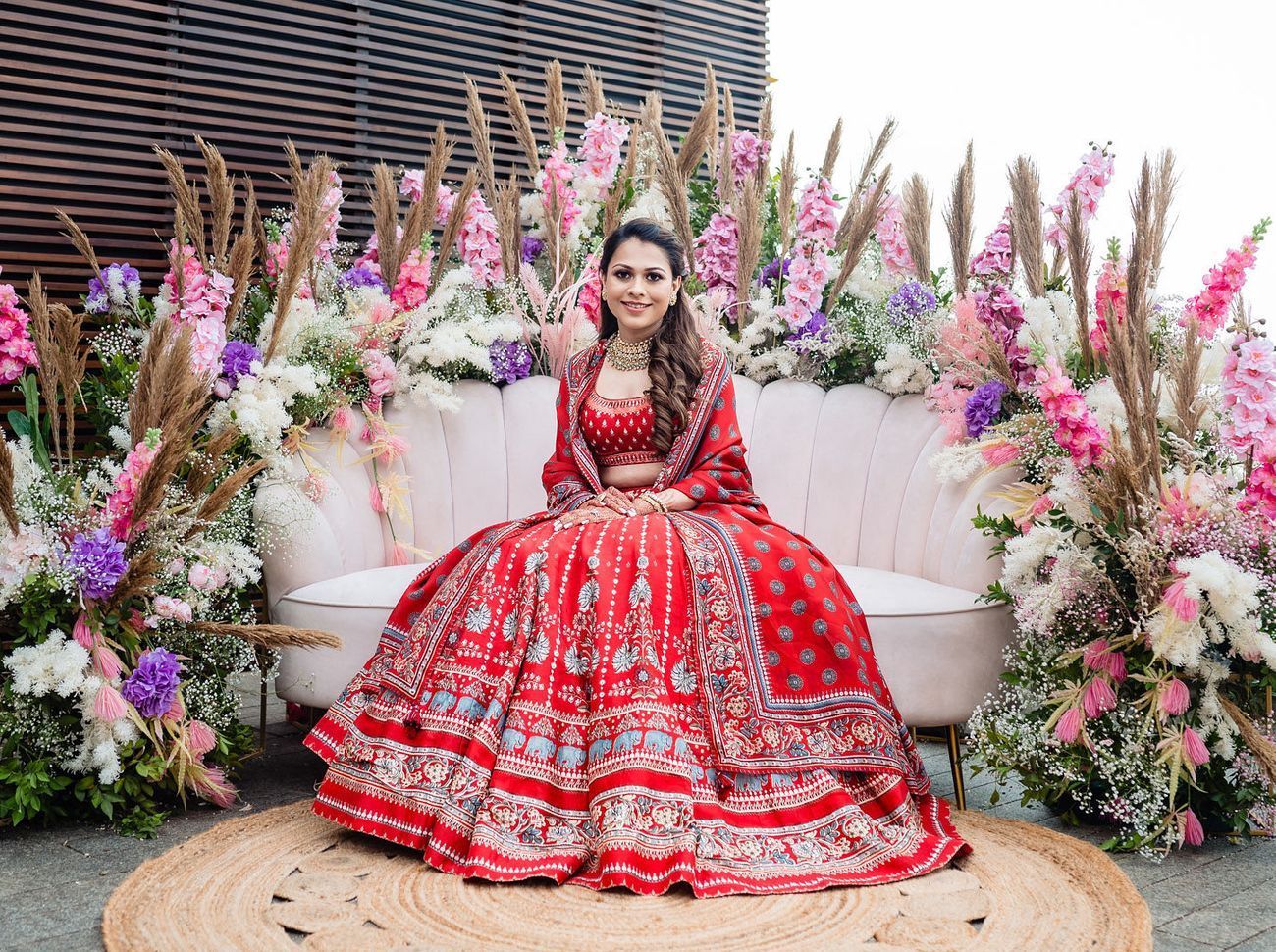 Image via Stories by Joseph Radhik & Anjali and Ishaan
If you want to create a completely new look, ditch the dupattas and opt for a cape over your blouse and lehenga. Not only will it add a modern look to your attire but you get a whole new outfit. Ensure you pick this when you buy your lehenga so everything looks like one set! You can also style your existing dupatta like a cape with a little help from your drape artist.
Veil Vs No Veil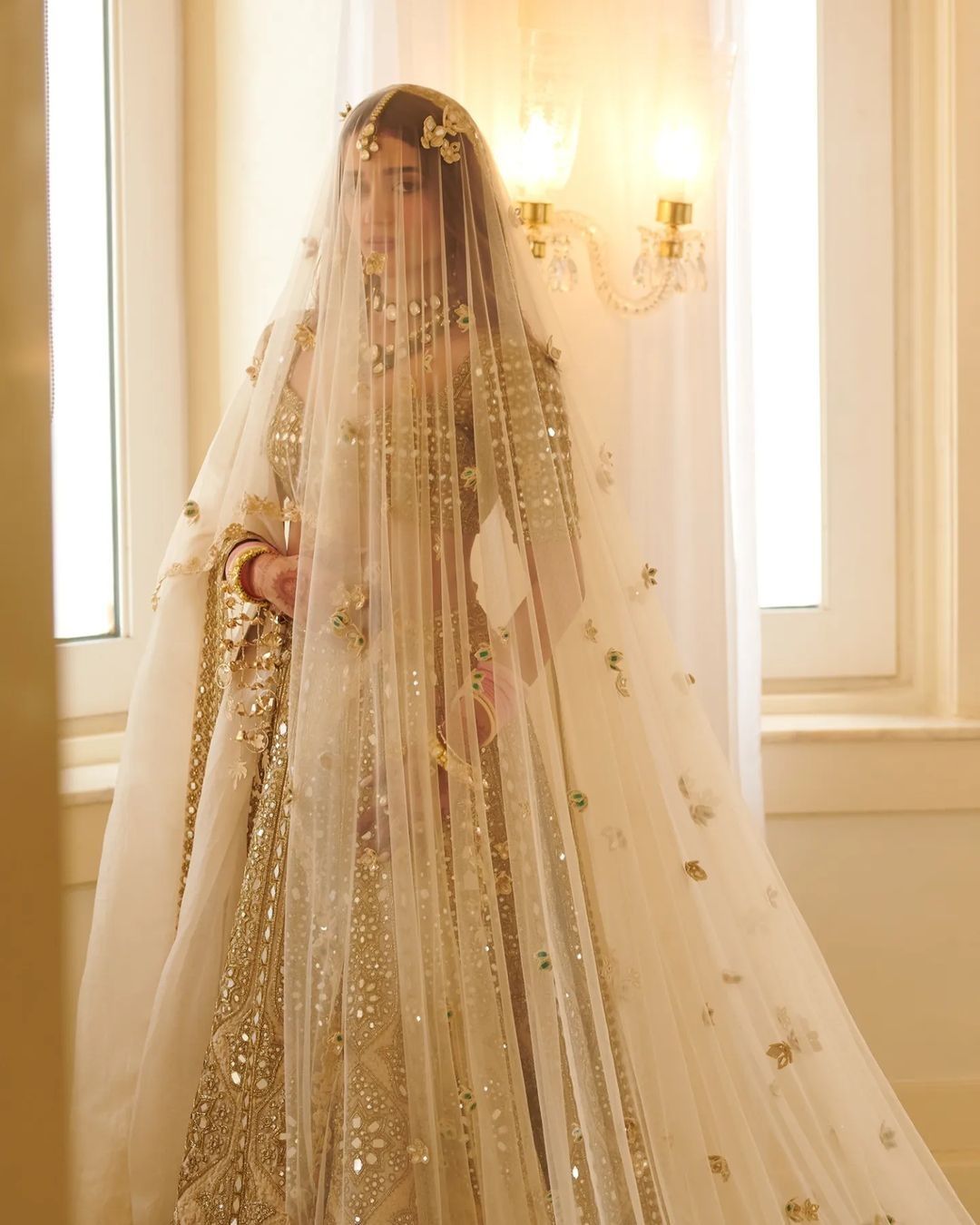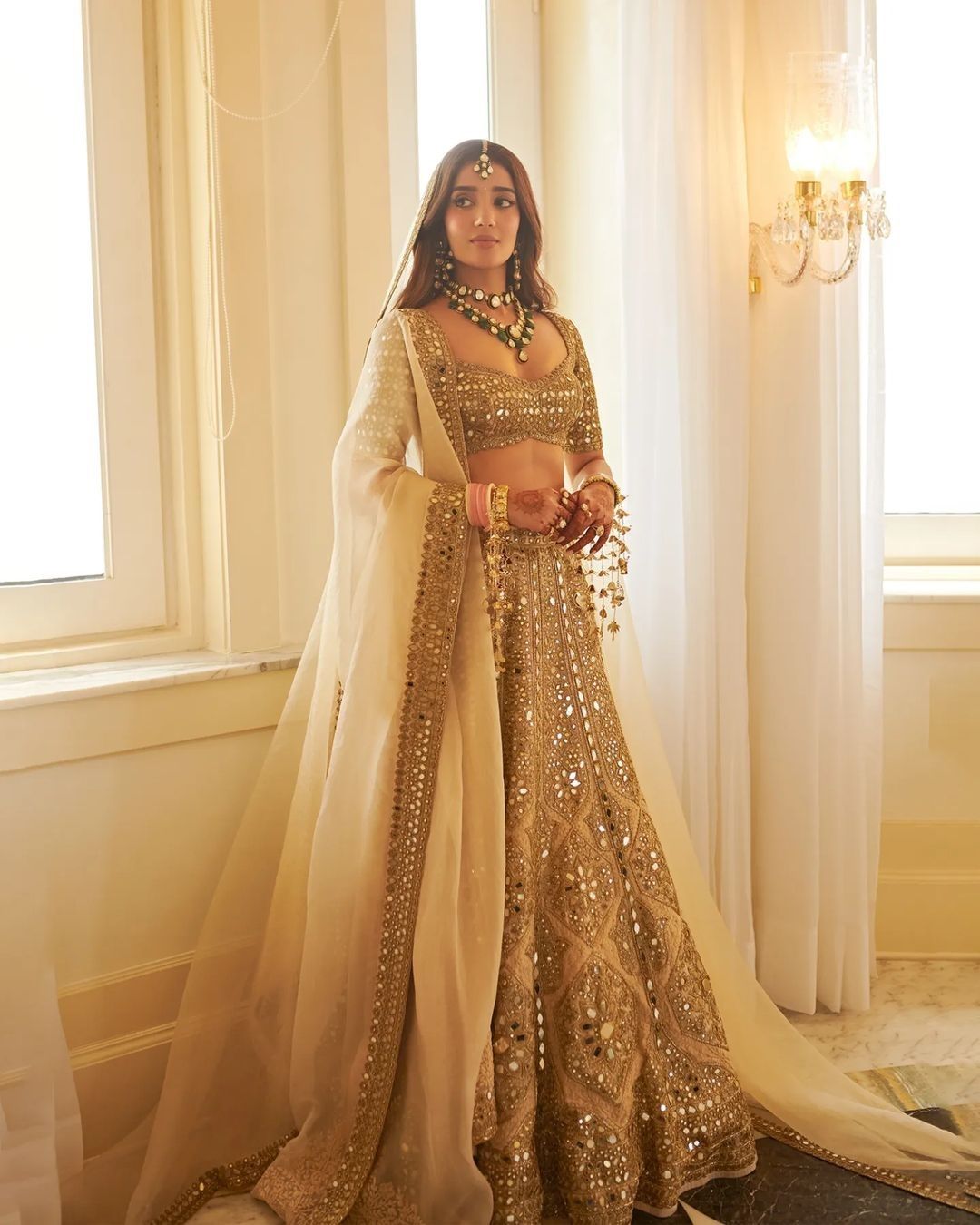 Image via Arpita and Kunal
A lot of brides are opting for a veil for the mandap entry and wedding. You can ditch the veil for the reception and switch up the dupatta drape to give it a different look!
Change Your Lip Colour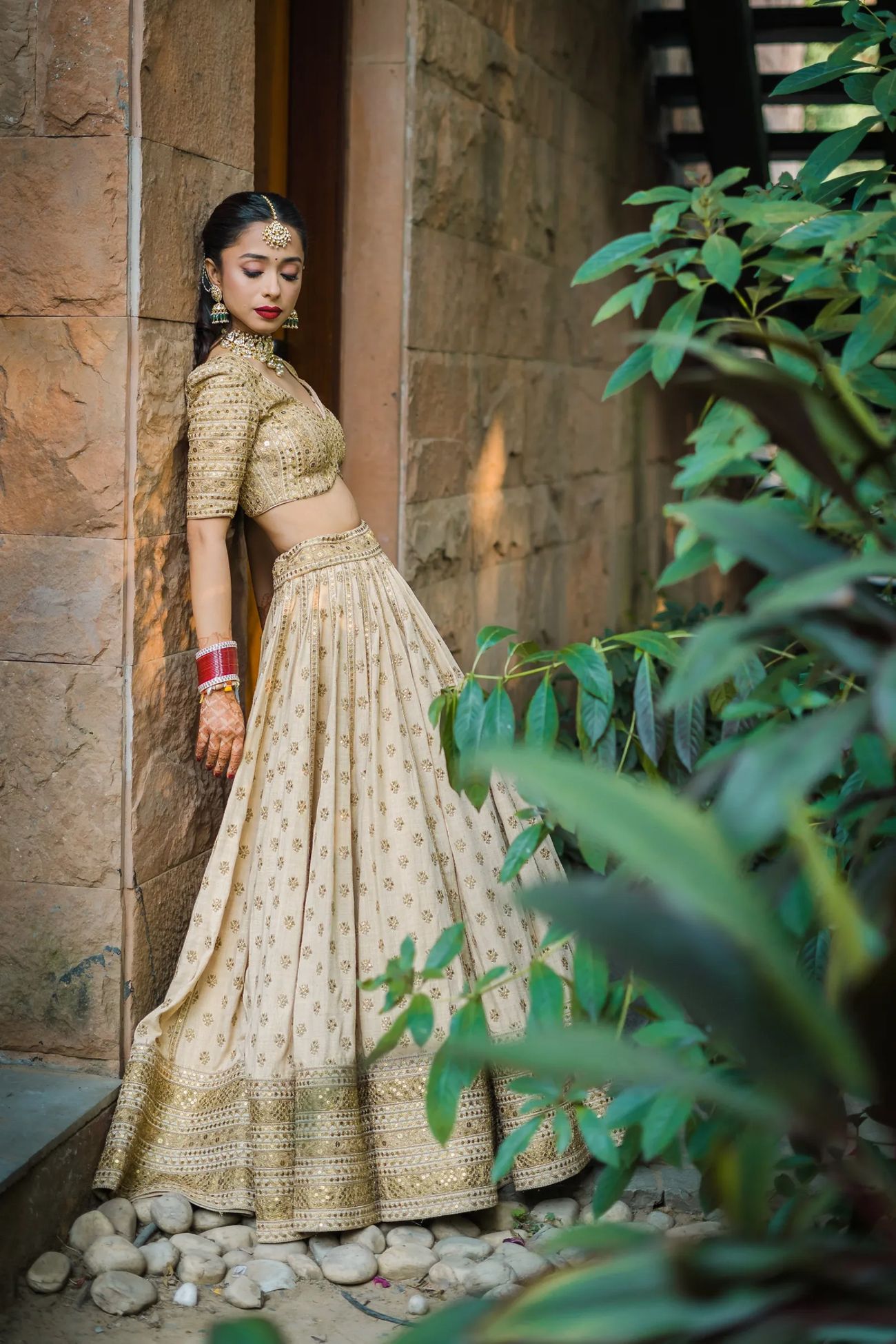 Image via Dhanika Choksi Photography★ 4.9
While changing your entire makeup look will cost you time, you can make small changes that can make a big impact on your look. If you have opted for a blush pink lip, go for a bold red one for your reception. Always tell your makeup artist this beforehand so they can plan your look and eye makeup accordingly.
Switch Up Your Jewellery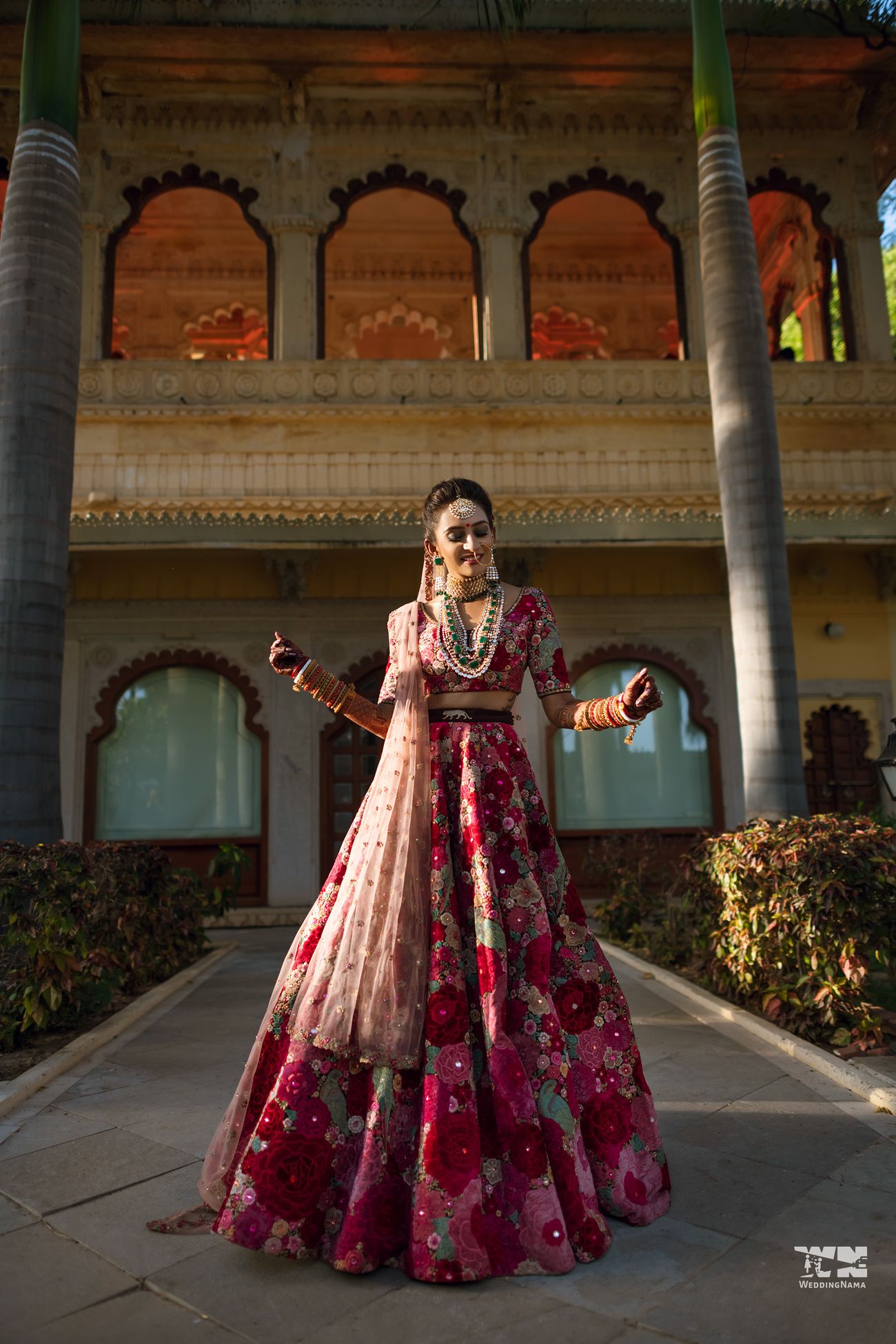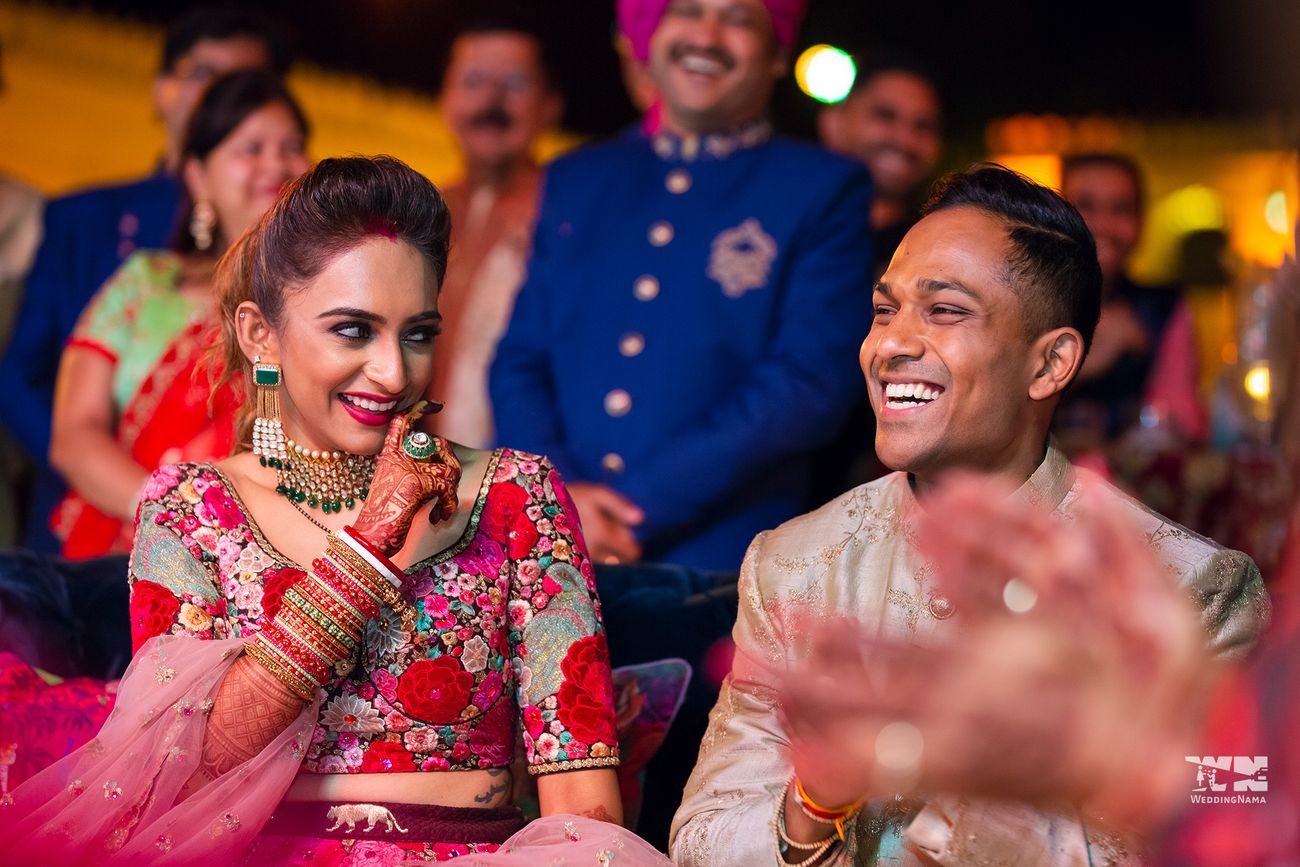 Image via Prachi & Dev
Opting for a mathapatti or tika for the wedding, ditch that for the reception. While we understand that getting two sets is not a practical idea, especially when it's gold and diamond – you can switch out the smaller jewels to create a new look. Change your nosering or bangles. If you are planning on wearing an imitation set, you can change the whole set to something more modern for the reception night.
What say - Are you ready to transition your look with the same lehenga now? 
If you are currently lehenga shopping for your wedding, don't miss out on checking the most Unique Lehenga Colour Combinations We Spotted In 2022!