Velvet, Raw Silk, Georgette, Net: What you need to know about your lehenga fabric!
BY The WMG Bride | 02 Aug, 2016 | 20311 views | 4 min read
If you draw a blank face everytime someone mentions a fabric, well that's normal folks- as an average bride to be you aren't expected to know about the 10 different varieties of Kim khwab (And yes thats a fabric not a moroccan restaurant by Kim Kardashian). But we thought we should shed some light on which of these fabrics have what qualities  so incase you are going the custom made route, you know what you are in for.
Photo: Shutterdown - Lakshya Chawla★ 4.9
 Velvet Lehengas
These lehengas have a tendency to look rich and royal even with minimal embroidery as the fabric has a luxurious shine in itself and seem to be Sabyasachis preferred fabric
They also 'fall' really well and get into soft pleats which is very flattering as a bride. The flare of these lehengas is in between A-line and full flare
If you are apprehensive that velvet makes you look fat- DON'T be- a velvet skirt because of the way it falls in a fluid way, has a way of actually not adding extra weight (provided they are using imported velvet and not sheneel)
If you think Velvet lehengas will be heavier you are wrong: The good stores don't use regular velvet (called sheneel) in Hindi, they use lycra velvet which is a manufactured , lightweight velvet which gives the look of velvet but feels incredibly light
If the velvet quality is not good, its easy for velvet lehengas to look tacky, however when done right they exude a royal charm.

---
Photo: Shiv Sharma Photography★ 4.9
Raw Silk Lehengas
Crisp, Clean and modern. Raw silk lehengas have a shine but they don't fold up into soft pleats
The look is super flared out and a bit stiff, as the lehenga fabric is full
If you are narrow built, then raw silk lehengas are a great option as they add fullness to the frame
Raw silk lehengas look great with all over embellished pieces, as well as plainer pieces as the fabric has enough character to stand on its on, but not so much that it overwhelms embroidery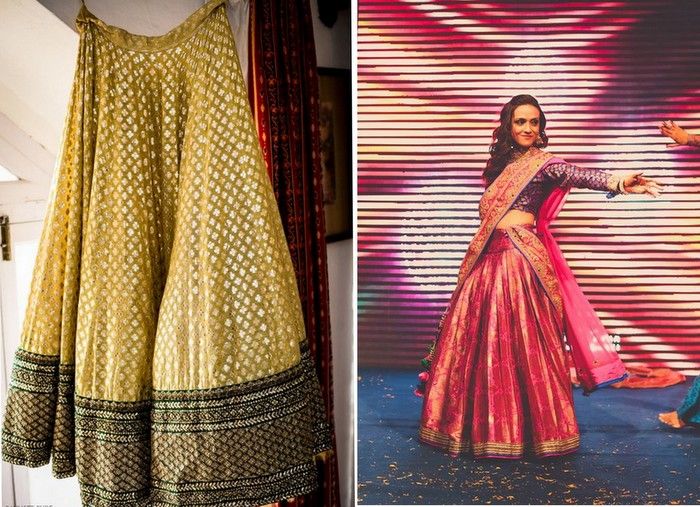 Left: Banarsi Lehenga by Sabyasachi from A destination wedding in Neemrana, Right: Brocade Lehenga by Swati Ubroi from this wedding. 
Banarsi & Brocade Lehenga
Traditional, full flared look with self-embroidery
Banarsi and Brocade is a great fabric to choose if you don't want to spend on over the top embroidery as the fabric has self-gold patterns on it which look rich minus any embroidery.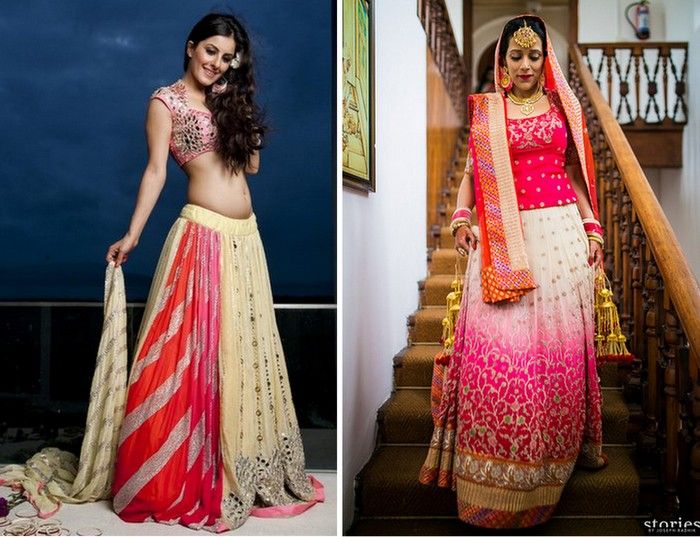 Left: Georgette Lehenga by Papa Dont Preach, Right: From the wedding: Vintage Patiala wedding shot by Joseph Radhik
Georgette Lehengas
A-line, swishy and soft, Georgette is a soft, fluid fabric that looks nicer with work that is delicate and not too much.
The look is A-line
Georgette lehengas look good on pretty much all types as they skim your body
Do keep in mind that if your boutique uses impure georgette, this fabric is prone to tearing because of heavy work and is high maintainence
Photo: Foto Cult Photography★ 5
Net lehengas
Full flared out- however, make it a point to understand what type of net is being used. Imported soft net can look lovely, and gorgeous but the regular net can sometimes look extremely tacky.
Net doesn't photograph the best. This is because flashes can pick up on the seams of the lehenga which show through in net and highlight it against the underlying skirt.
However, net is the cheapest fabric available so those on a budget can give it a go.
We hope that you have known bit about the lehenga fabric, So before you go for your wedding lehenga shopping, you would know what would suit your day the best! Stay updated with the latest wedding trends, Download the WedMeGood app now.