We Just Found The Newest Type of Floral Jewellery & Its Gorge!
BY Chandni Kumar | 29 Oct, 2018 | 18656 views | 5 min read
2018. It has been a year where we saw many Bollywood couples getting hitched & wearing gorgeous outfits for the wedding celebrations. But, one common thing that we spotted on the B-town brides was the floral jewellery. Mehendi being the first function where everything is just about fun and enjoyment, makes for a perfect occasion to wear the floral jewellery and ditch the traditional bridal jewellery that has been going through ages. But how to ensure that the floral jewellery you'll wear is different from any other bride? Well, we just found the newest type of floral jewellery on WMG & trust us it's GORGEOUS! 
From floral chokers to kaleere and from a ring to an earring, BOOKMARK these floral jewellery from Kanyaadhan by Dhiraj Aayushi ★ 4.9  & happily wear them on your haldi and mehendi functions! And, Yes you can thank us later :) 
#Privika Wedding & Some Florals!
Thanks to #Privika's totally viral wedding that went all over on Instagram where we spotted a unique floral jewellery on the bride. Honestly, didn't you absolutely loved Yuvika's look on her mehendi where she was seen wearing a green high-knee lehenga, fab floral jewellery and a persoanlised mehendi on her hands? Wearing a pretty raani haar, tiara & bajubandh the designers behind them have an amazing collection of floral jewellery that you cannot miss to wear them on your mehendi function!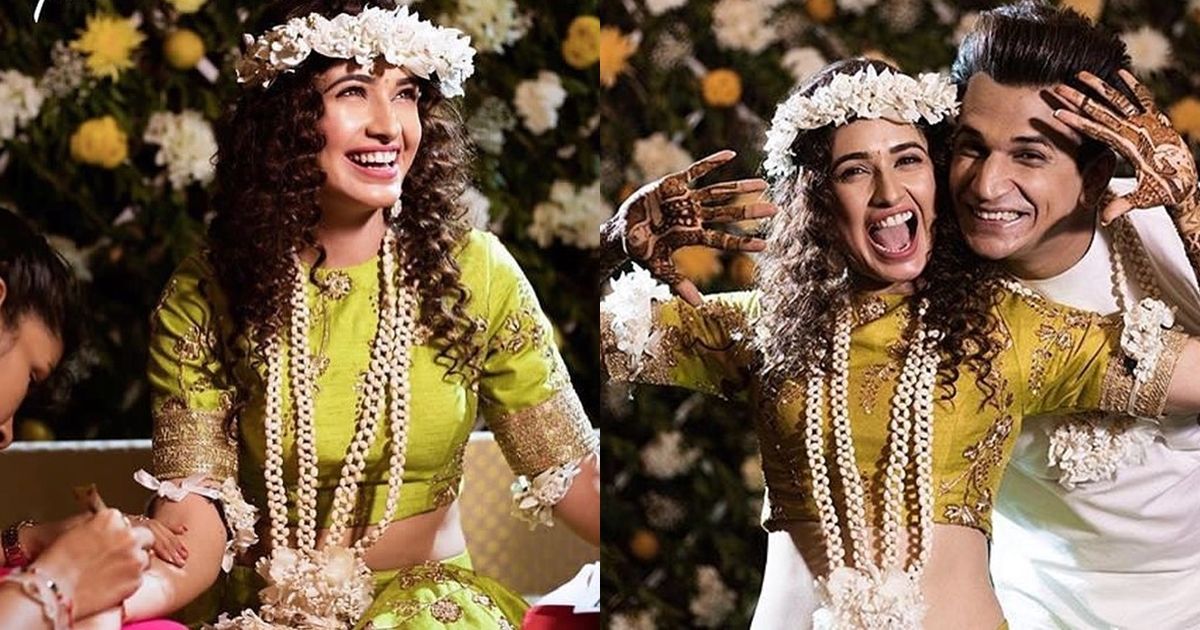 Image via: Epic Stories ; Floral Jewellery: Kanyaadhan by Dhiraj Aayushi ★ 4.9 , Adirag
Little Floral Beauties: Earrings!
This STUNNING floral earrings with pink rose petals and mogra buds! If you want to add a little extra detail you can opt for some gotta patti addition to these.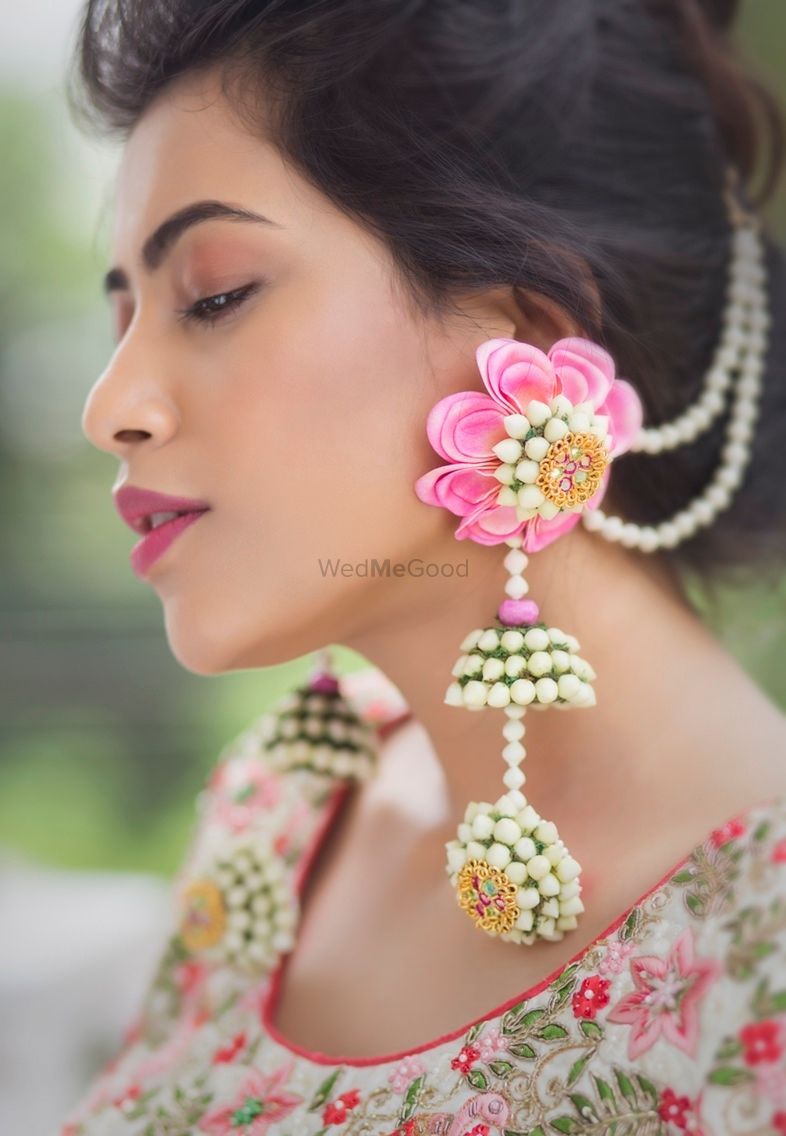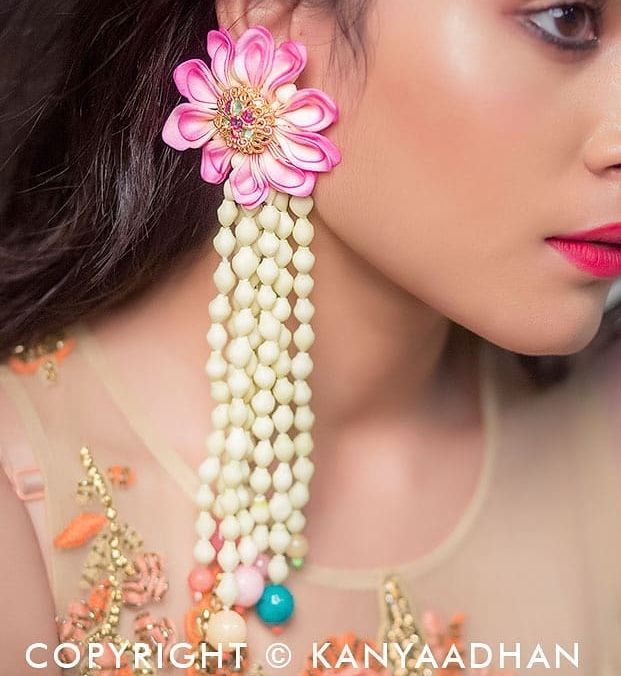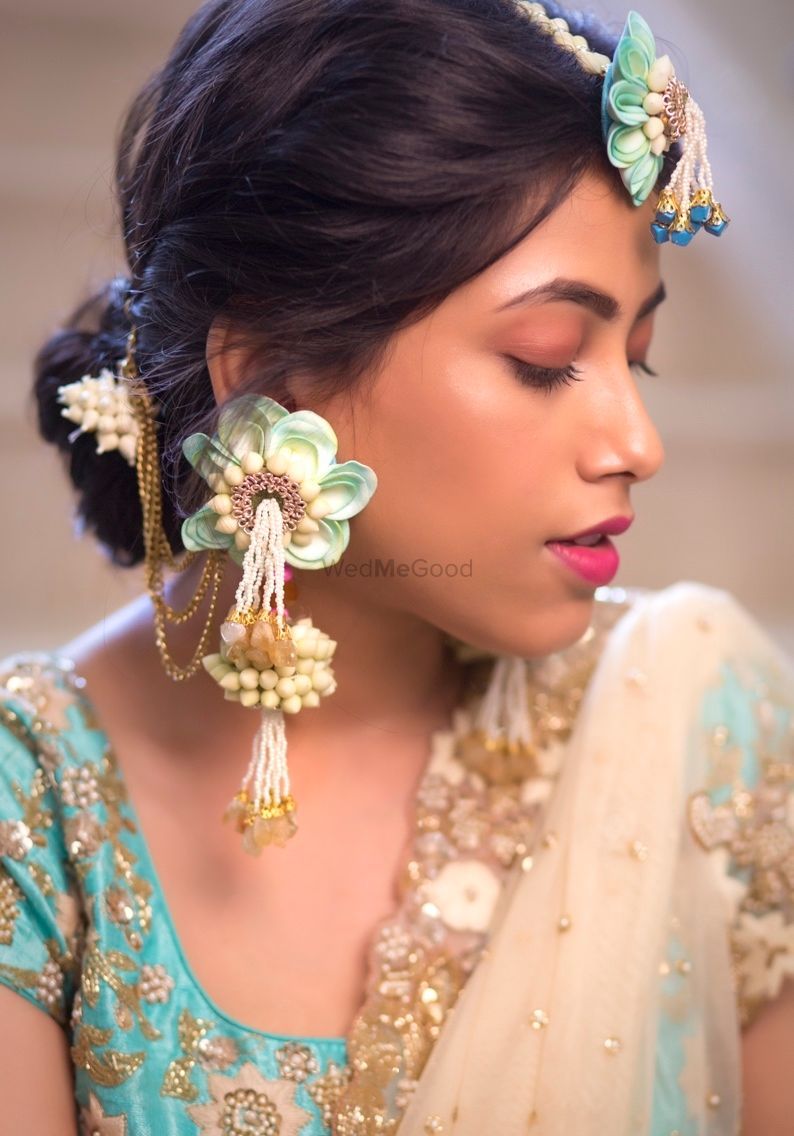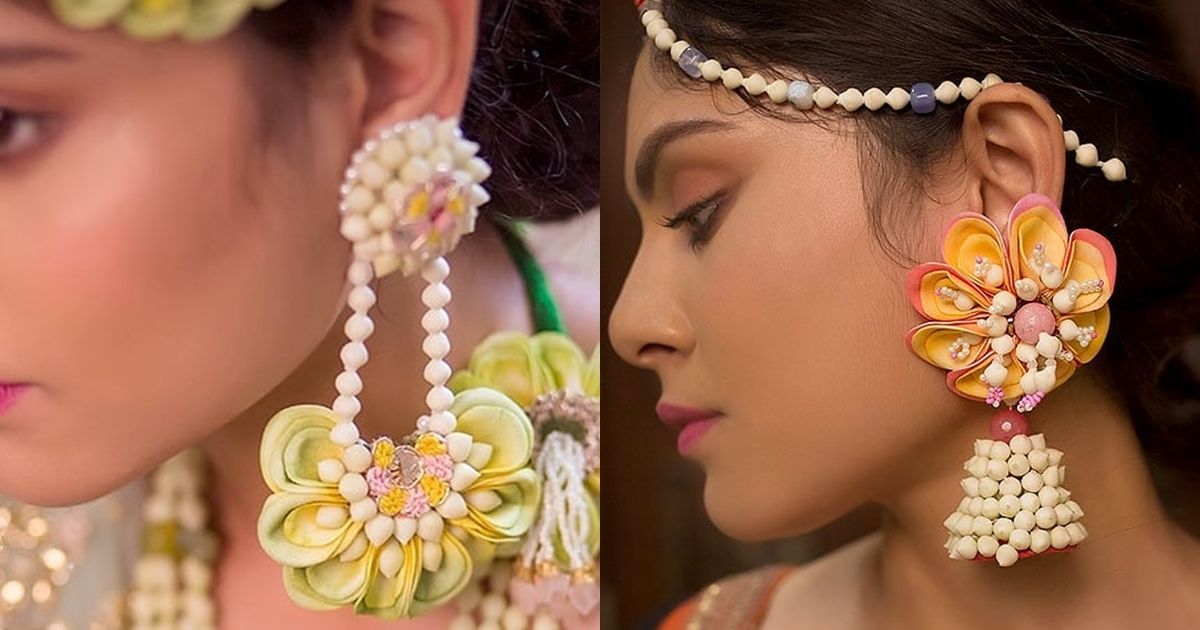 A Tiny Ring With Mogra Buds & Petals! 
Who thought that one could do so much with a ring? With fab pearl bead work & artificial flower petals you can pair a floral ring with your mehendi or haldi outfit! Now, this is something #inspirational, right?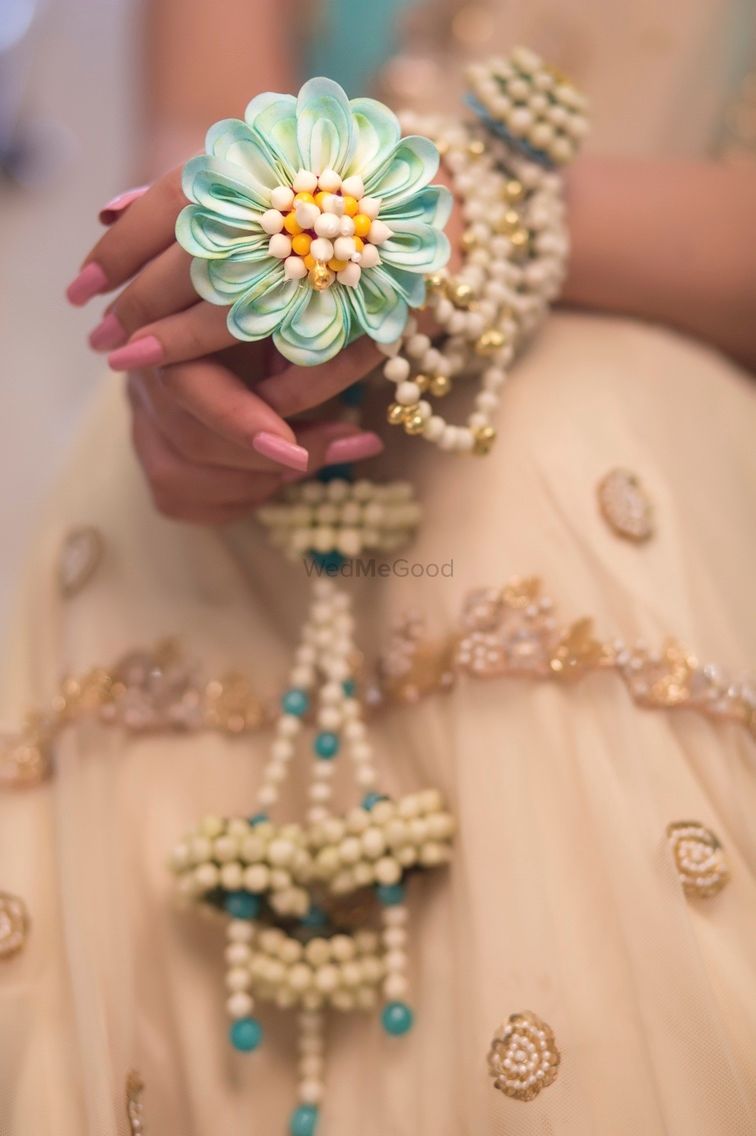 Or, How About Wearing It As A Bracelet Band? (*Time To Ditch The Bangles!)
Brides! How about wearing a statement bracelet with popping out pearl and multi-colored beads to make it look more elegant!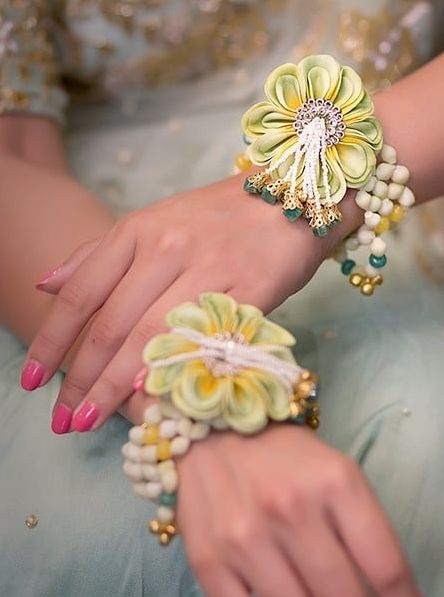 Pretty Haathphool For Those Hands!
Every brides favorite - a haathphool or handpiece is a great option to wear on your mehendi or haldi. Match the flowers with your outfit and let your hands do the talking.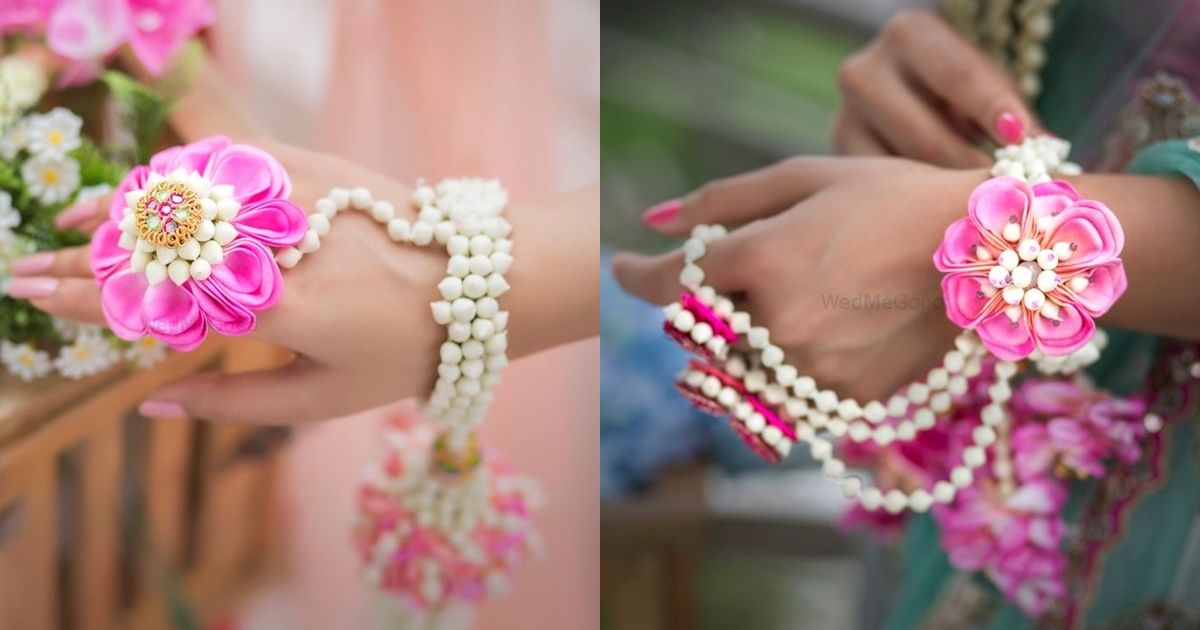 Floral Bridal Kaleere With Handpieces!
Kaleeras may traditionally be only for wedding day but you can also wear some tiny floral ones for your smaller functions. These beauties with pearls, rose petals, gottapatti and colorful beads is fab to wear on your mehendi or haldi!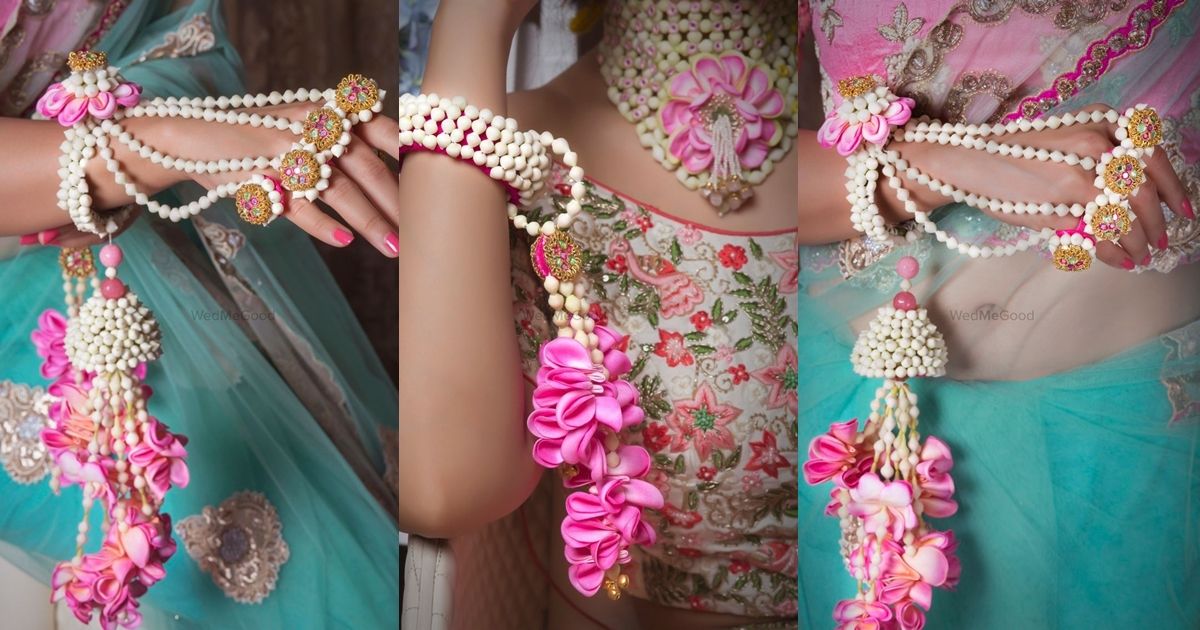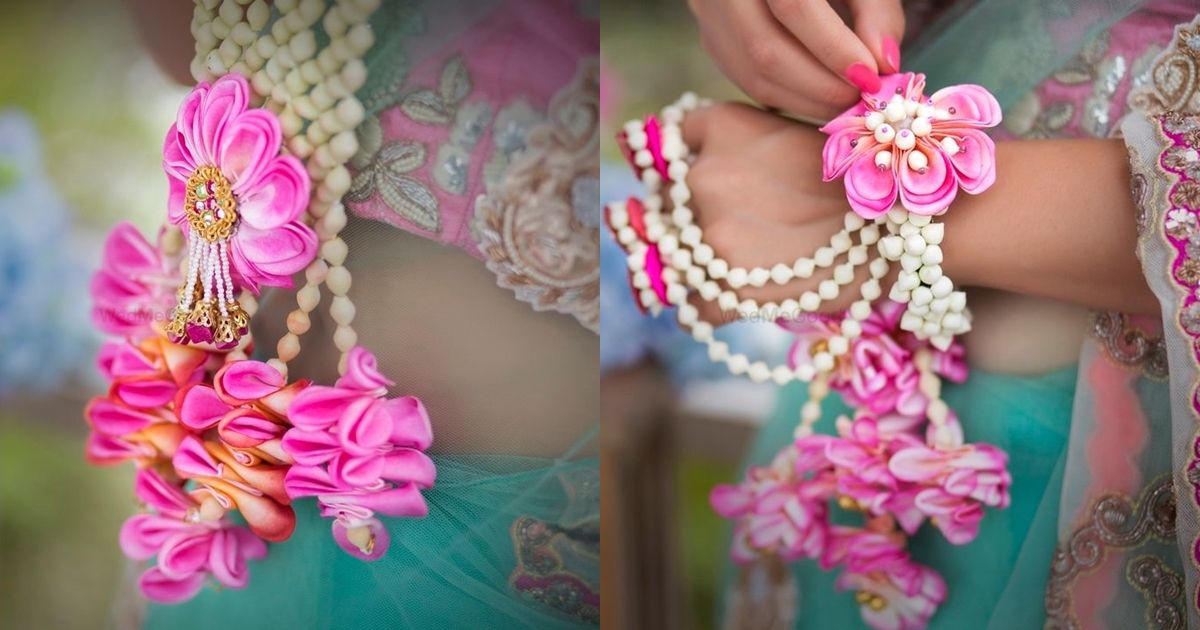 #Unique: The Pakiza Bouquet Kalira!
We bet that you haven't seen or heard of this kind of unique kaleera (we also saw it for the 1st time)! But this designer has come up with this absolutely different design and we are in love! This single pakiza bouquet kalirais in the shape of a long arm bangle and is perfect for the brides who are looking for something different yet quirky! 
Hair Accessory For Those Tresses!
And, how could we forget the tresses baby? When it comes to bridal hairstyle there is so much one can do. We loved this GORGEOUS hair accessory with hanging pearl beads and rose petals (as hair brooches), which looks super elegant & cool + those hanging strings tho - love!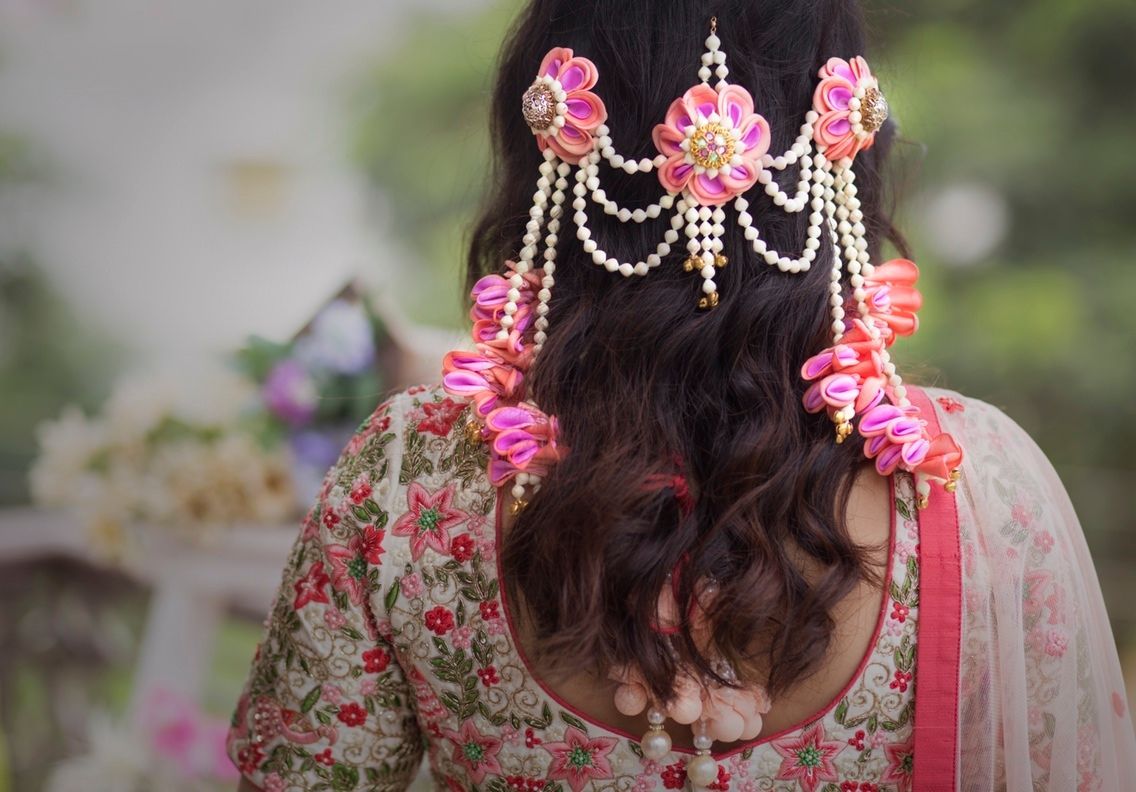 Ever #Trending Maangtikka For The Brides-To-Be!
Want to accessorise your hair with something pretty and unique? We have this exquisite floral maangtikka in various colors that will perfectly match with your outfit. Be it a double style maangtikka or a single one make sure to wear this on your mehendi day!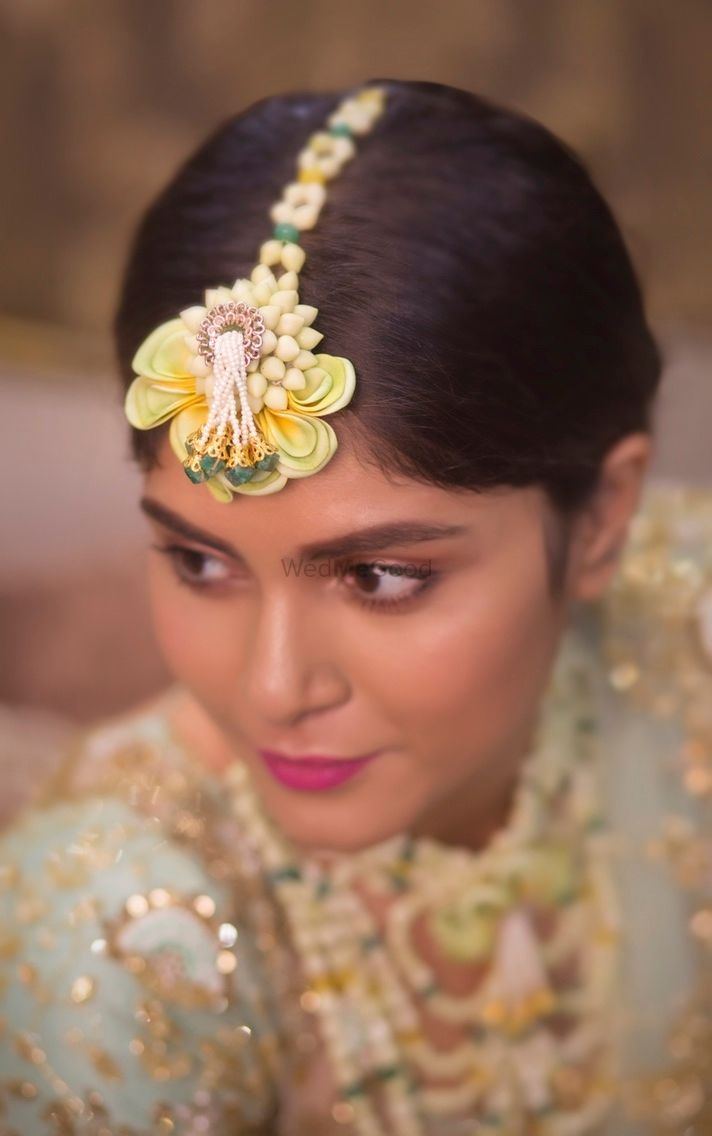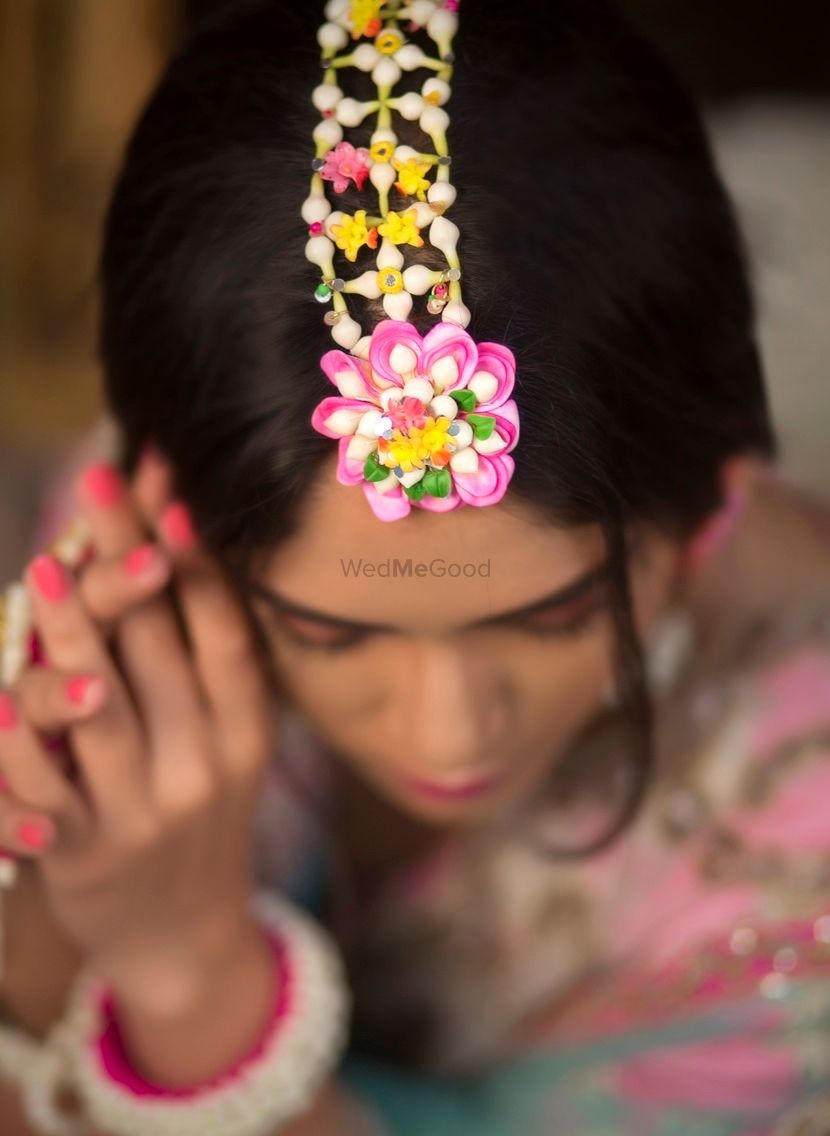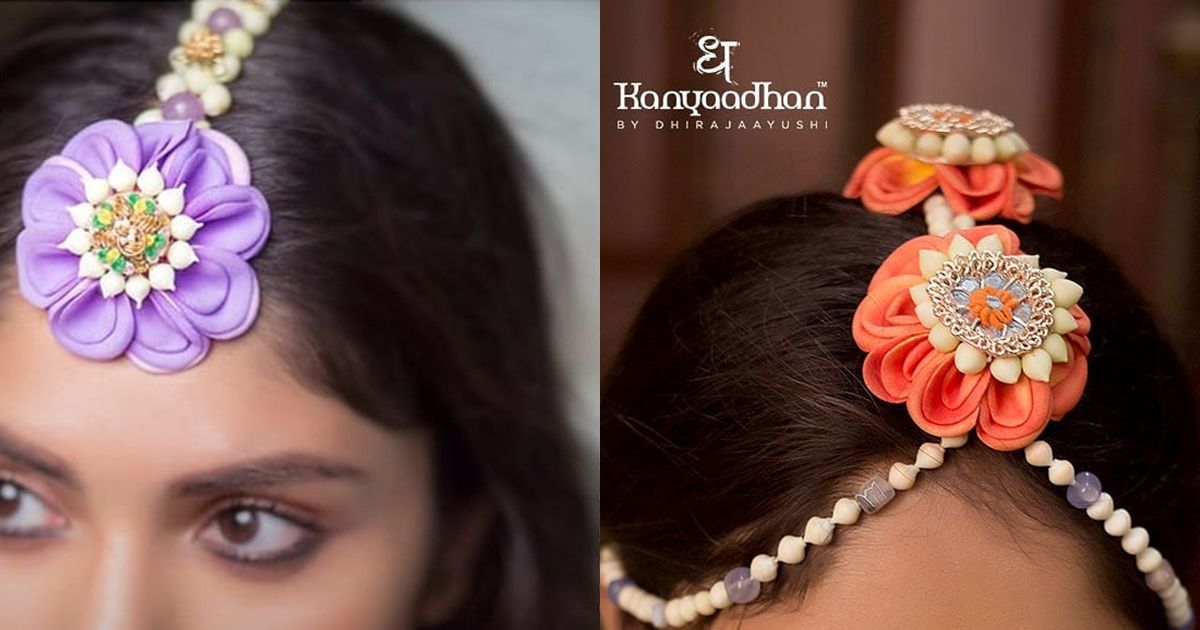 Or, A Floral Mathapatti To Complete The Bridal Look!
When Sabyasachi started this I am sure he would have never thought that there could be a mathpaati made of flowers too. With simple rose petals, jasmine buds and gottapatti (for the jewellery feel) is perfect to pamper your tresses for the wedding celebrations!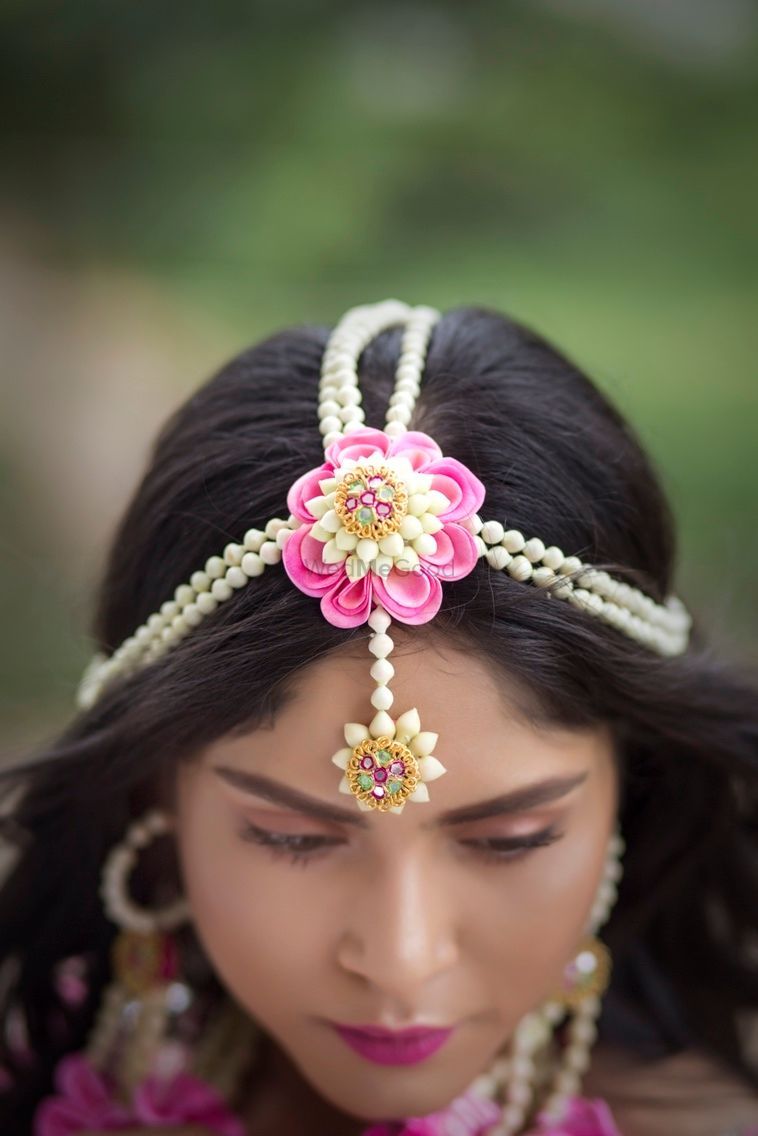 Floral Necklaces For That Elegant Touch!
Floral haathphool - checked. Floral kaleere - checked. Floral necklaces? Yes! Brides! We're super excited to show you some latest & newest floral necklaces for your mehendi, haldi and even wedding (if you dare to go floral on your D-Day)! So, ensure to BOOKMARK them cos these are crazy beauties!
A Choker 
Honestly, 2018 was the year of beautiful chokers we spotted on real brides. But, what lately came in is this gorge floral choker necklaces that are nothing less than a beauty. I mean just look at them! From butterfly mogra bud choker to the bridal layered necklace you got to try them girls!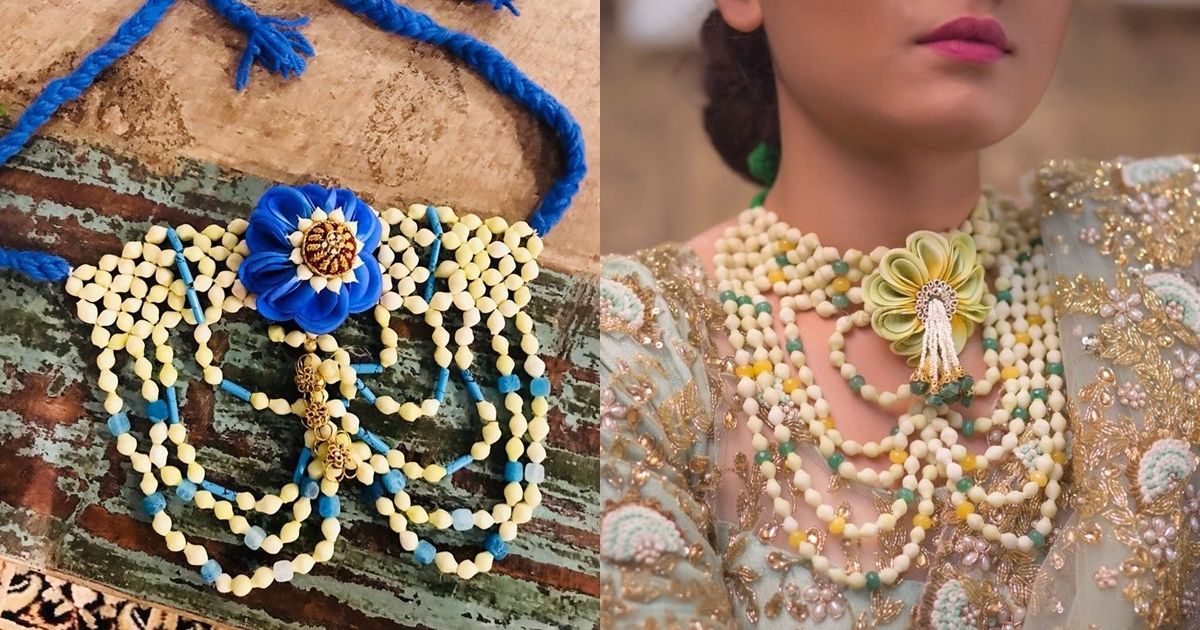 Long Floral Necklaces 
Covering up your neck like a boss this long floral necklace with beads, mogra buds and gottapatti are AMAZING! Beads matching up with the flower long floral necklaces are always a yes for the mehendi or haldi function!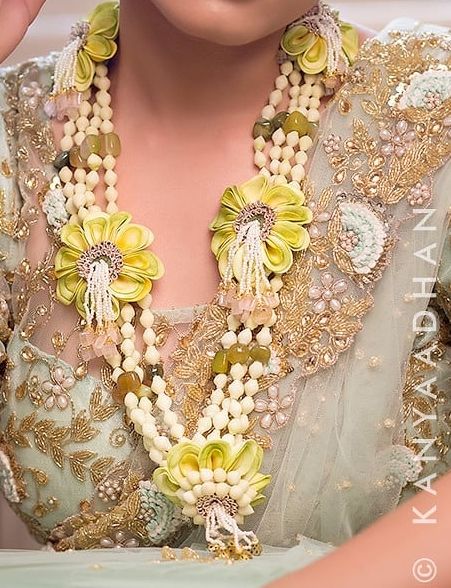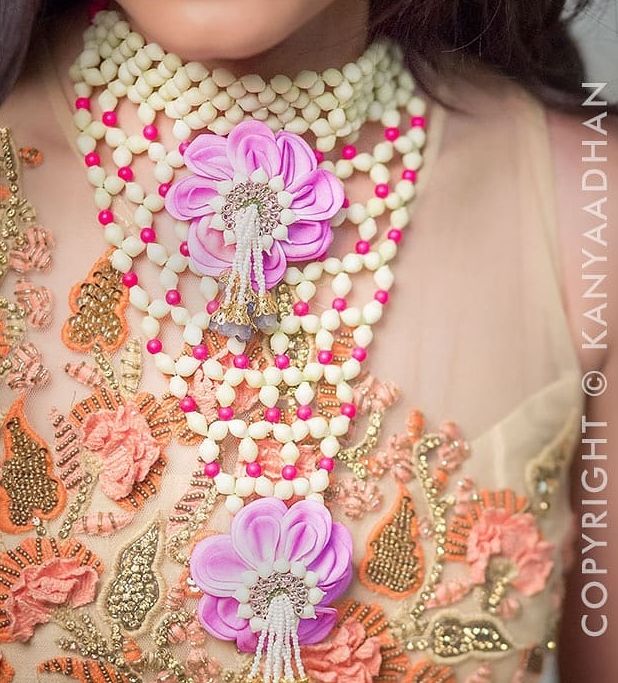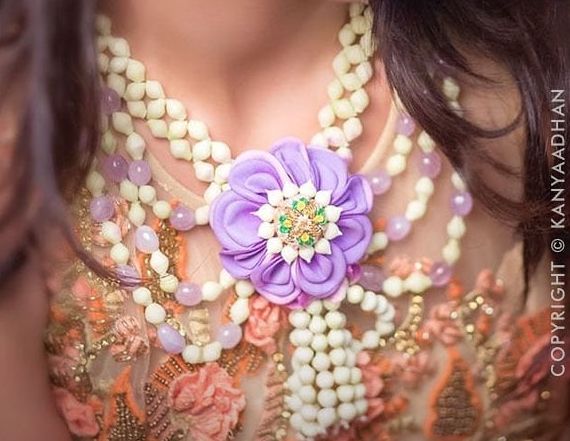 Or, This Unique Floral Wreath Necklace For Mehendi Function!
You must have seen tons of pretty floral wreath as photo-booths but we bet that this is something out-of-the-box. We spotted this wreath necklace that has multi-colored flowers that will look stunning with your mehendi outfit. Will you be the next #Trendsetter with this necklace?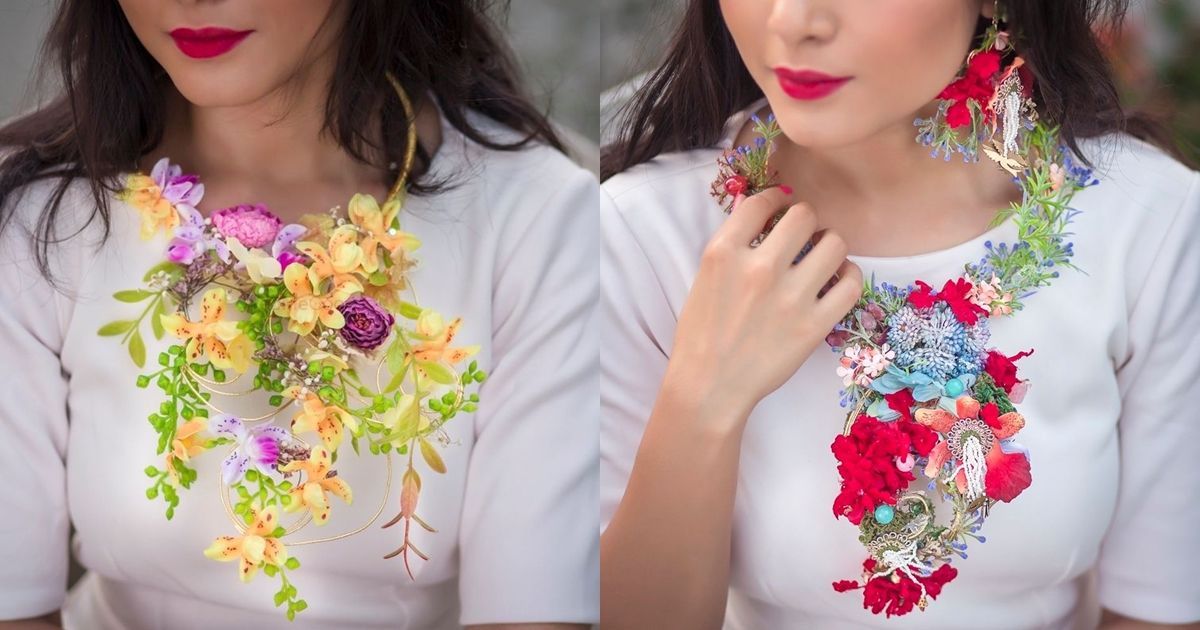 Raani Haar For That Royal Feel!
Remember we spotted the similar floral raani haar at #privika's mehendi where both the couples were wearing this type of necklace. You too can wear an interlocked floral raani haar & pairing it beautifully with long pearl string earrings for a complete bridal look.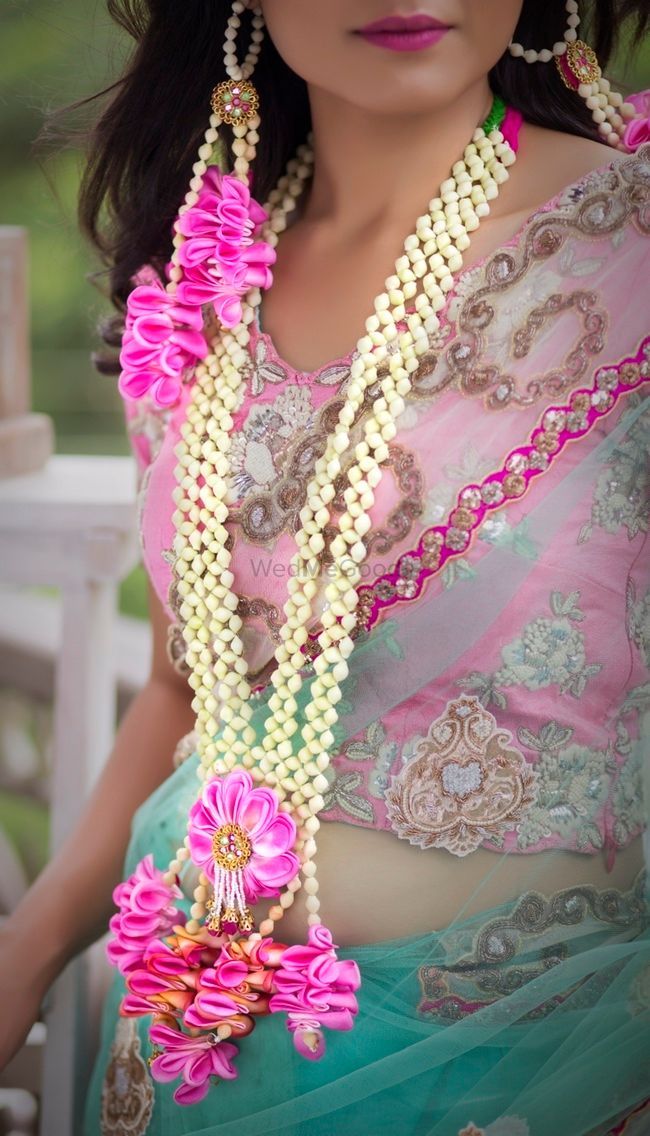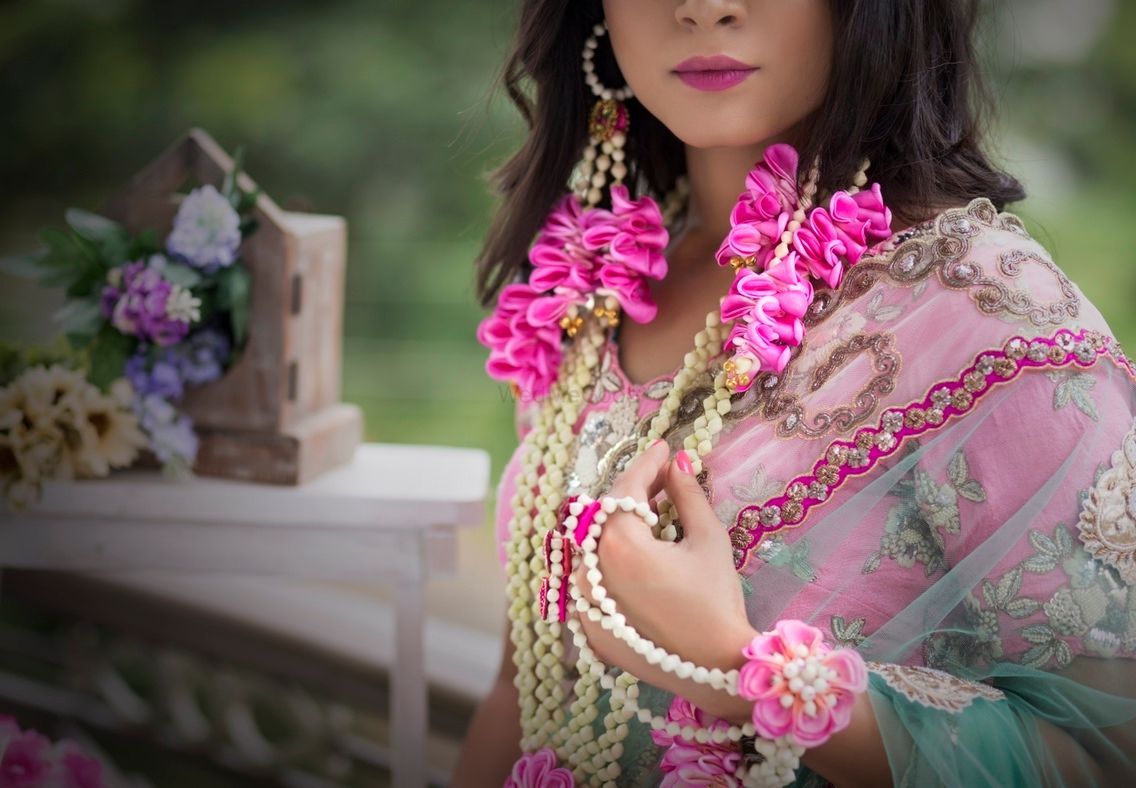 All in One! A Floral Jewellery Set To Match It All!
You loved them all, right? (Cos we're going insane!) And, want to pair them all up? Brides-to-be! You can mix & match the floral jewellery and pair it beautifully with your mehendi or haldi outfit. From floral wreath necklaces to choker, jhoomer, haathphool & kaleere wear it all on your wedding celebrations!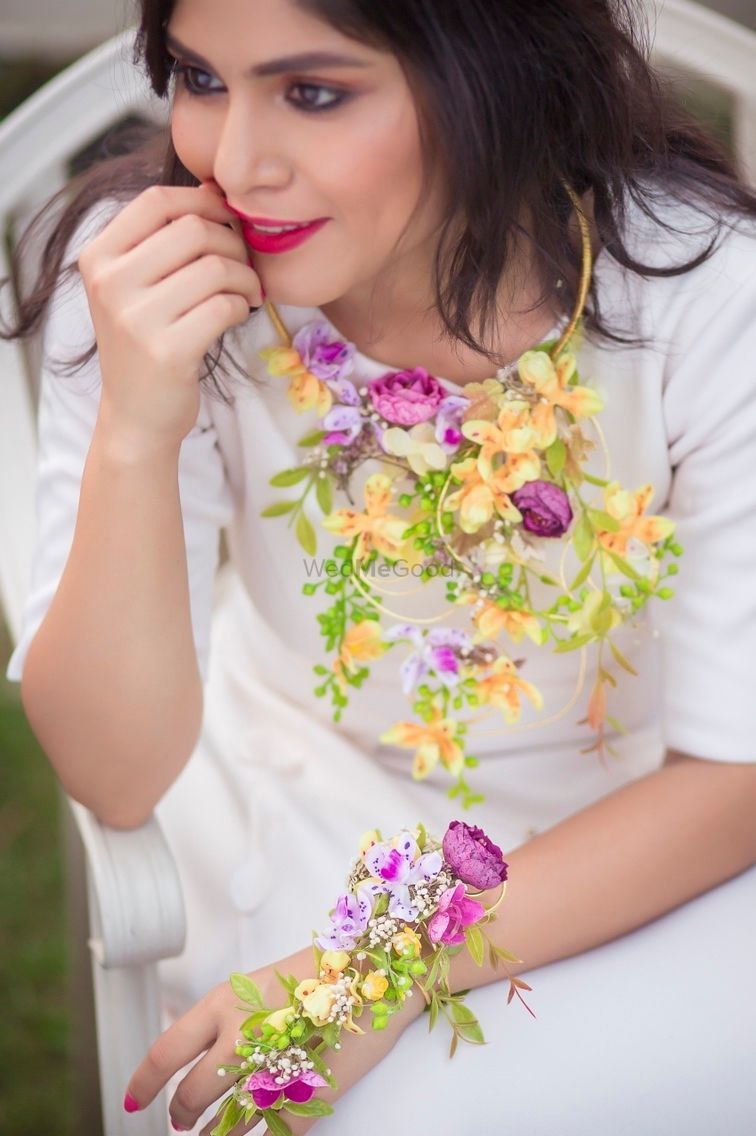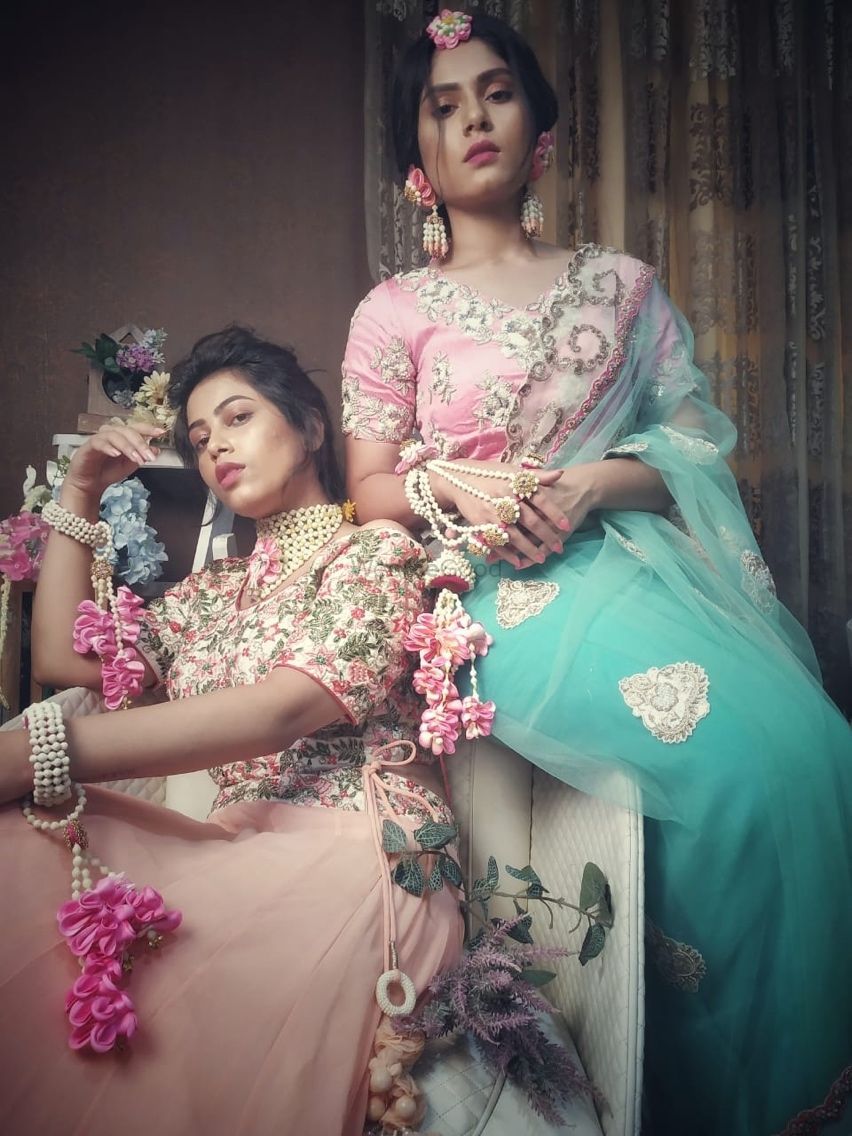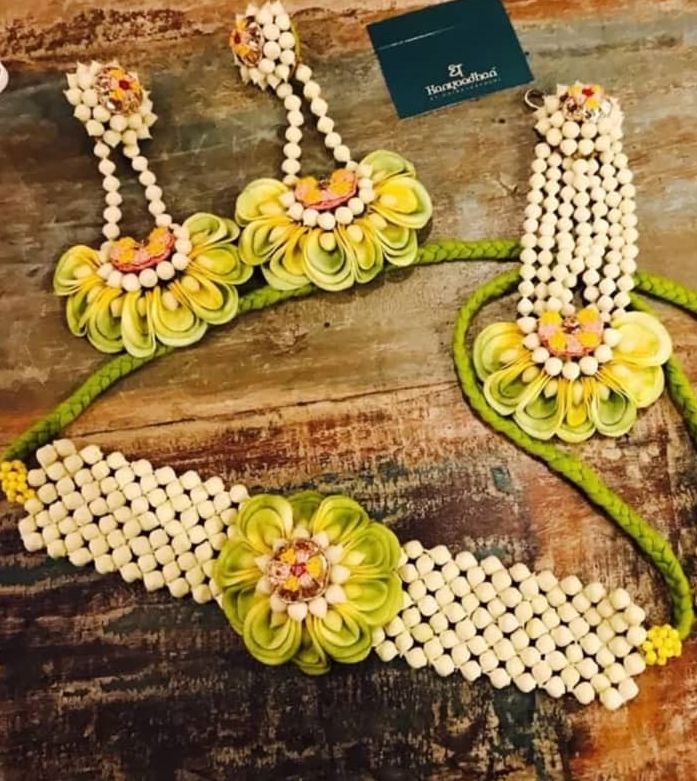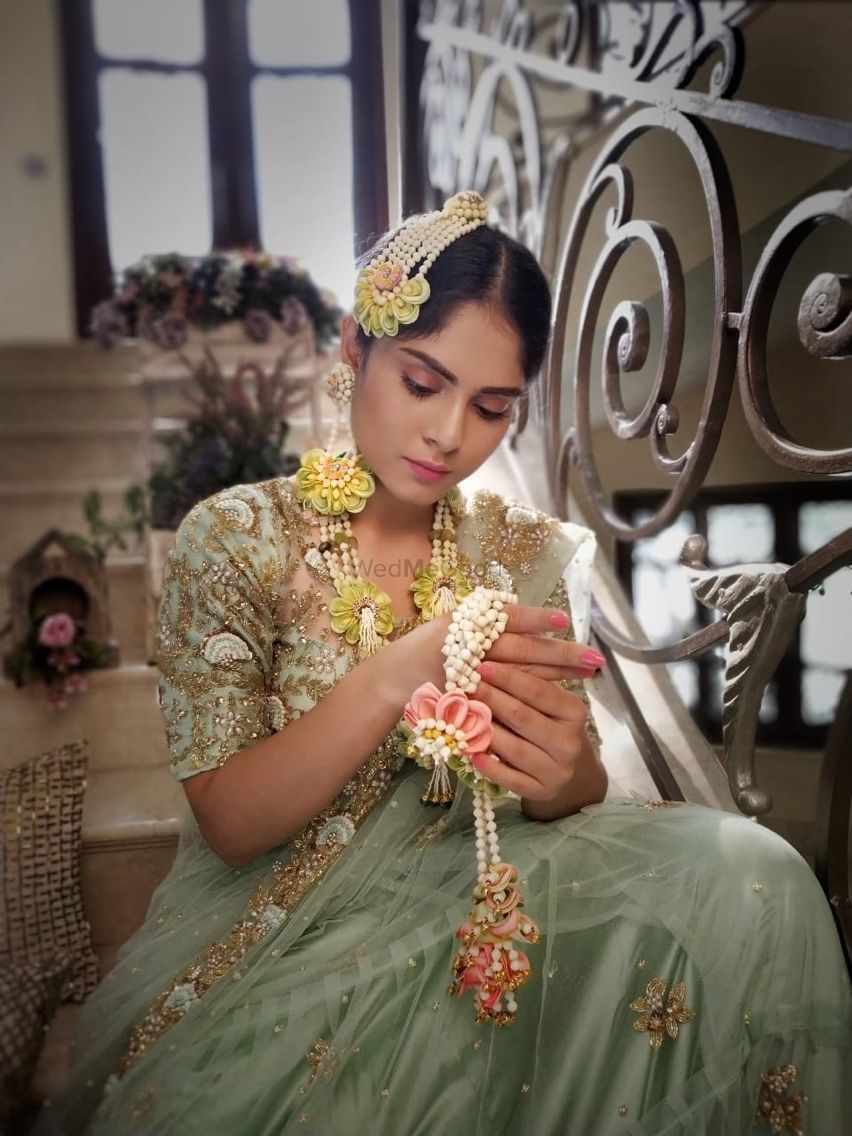 All Images via Kanyaadhan by Dhiraj Aayushi ★ 4.9
Are you in as much in LOVE with these floral jewellery pieces as we are? Which bridal floral jewellery will you pick for your mehendi or haldi?