We Spotted These Hangover Kits Under Rs. 1500, That Are Super Useful For Your Wedding!
BY Chandni Kumar | 04 Dec, 2018 | 30685 views | 10 min read
No matter whether you have a big fat Indian wedding, or a small intimate one, there's one thing that every wedding these days have! Any guesses? It's drinks on the rocks, baby! Grooving on the beats & sipping your favorite cocktail can sometimes be too much, right? Before you get busy with rituals and ceremonies there is one small thing that your friends and bridesmaids will love you for sure the next day. While, everyone is going to be easy-peasy with having cocktails on your sangeet night & even at cocktail party giving your guests a hangover kit will not be only a fun thing but a useful party or wedding favor too.
Well, from party smart tablets to lemons, have a hangover kit for the ones who will party a little too hard on your wedding! So, brides-to-be, here is a complete list of what all things you can include in the hangover kit + a guide of where to buy them from and some quirky ideas included that you will thank us later for!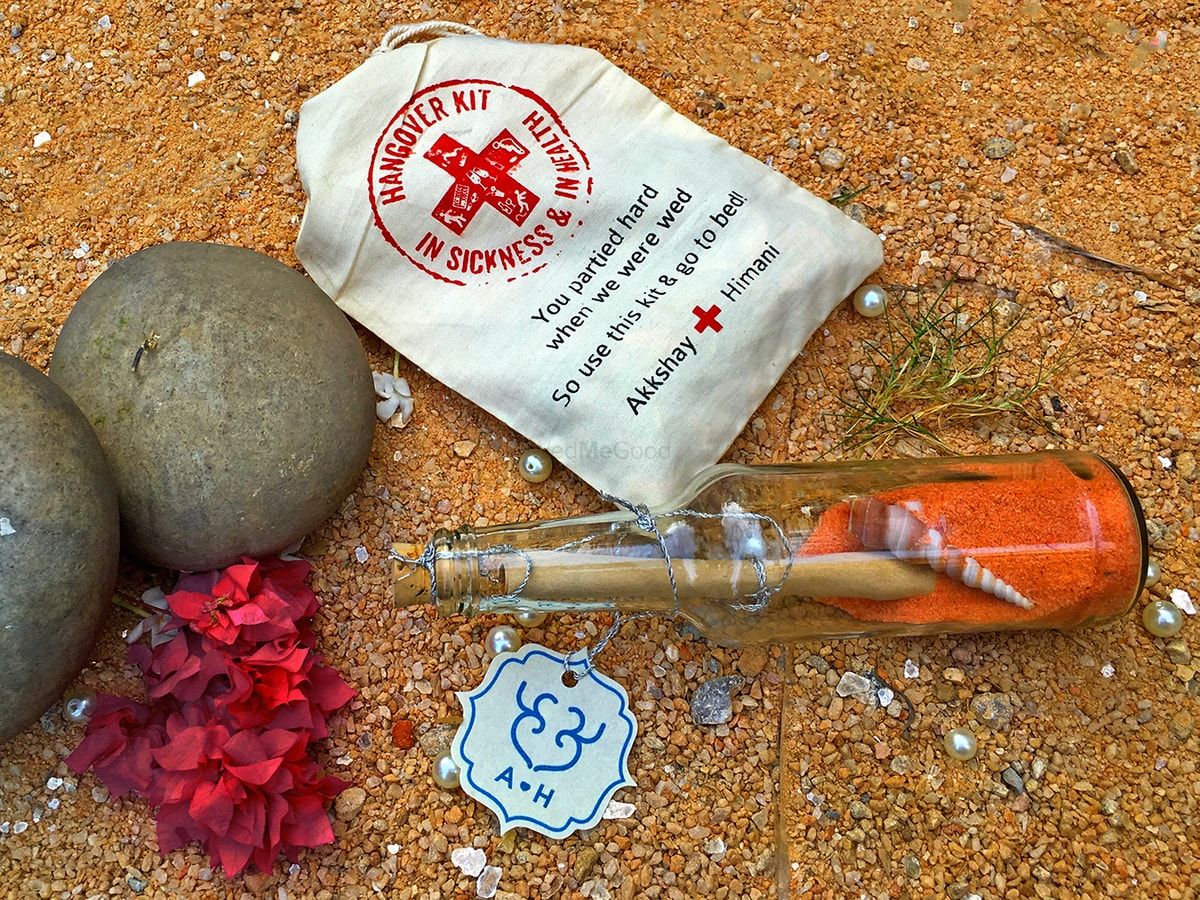 Wedding Cards: Design Dimensions★ 4.8
List of Hangover Items To Include In Your Kit! 
Party smart capsules: 

Protecting the liver and alcohol-related hangovers, 

Party smart capsules by Himalaya

is a very famous drug that should be consumed 30 minutes before alcohol consumption to prevent symptoms such as headache & nausea.

Vomit bag or paper bags: Oh! Thank god I had them :) Having a

disposable sickness bags

can be life saving from the situation if you feel like vomiting!

Water Bottles: Water is literally the life force! And a bottle of cold water during a hard hangover will feel like gift of Gods trickling down your throat!
Herbs: Herbs like Cumin or Turmeric are great herbs that helps to mop up the acid residue and helps in detoxification as well. Grab these herbs from your nearest grocery.
Lemonade & lemons: Nimbooz masala drink & lemons are perfect for hangovers and always come to rescue when you're too high!
Basic Medicines: It's very obvious that you might get a headache, nausea  or feel dehydrated. So, to avoid all of this make sure to include some medicines like disprin, paracetamol, saridon, alka seltzer,etc. from

Netmeds

!

Tea bags: Ginger lemon tea, green tea or a black tea is very good for hangover so you can include some

tea bags

in the hangover kit. Tip: When you make the black tea squeeze some lemons that helps to reduce your hangover and makes you feel fresh the next morning!

Mint candies: Chewing on some peppermint candies and mint candies can help you feel fresh and also help in getting rid of that alcohol aftertaste from the mouth.
Coffee: OMG! Just imagine if coffee wouldn't exist, then how could we reduce the hangover. Being a perfect source to reduce  the hangover a little caffeine can help alleviate some hangover symptoms after the cocktail party.
Bandaids: There can be chances that you might gotten a little bit hurt and feel it the next day. Some first aid items like band aids can be perfect to reduce the infection or cover up a paper cut!
Savlon & cotton: While, you will include bandaids in the hangover kit ensure to also keep a bottle of savlon and some cotton to clean the wound and reduce the infection!
Mouthwash: We know that your guests would be needing this the most. Keeping your mouth fresh and odor free, a mouth wash (like

Listerine Mouthwash

) can be a saviour after drinking alcohol!

Hand sanitizer: Keep yourself fresh and clean is something that we all take care of it. So, how about starting your day with cleaning your hands with

hand sanitizer

that also kills 99.9% gems.

Coconut water: This natural ingredient contains antioxidants that helps to reduce the hangover and is also a great treatment to cure it.
Bananas: Never thought bananas could be so helpful in hangover? Reducing the hangover symptoms up to 50% this fruit contains vitamin B6 & potassium, which is perfect for a hangover.
Deodorants: Come on guys, you need to smell good even if you've drunk the previous day! Get some

unisex deodorants

that will help your friends to feel refreshing the next day!

A hangover cure instruction guide: Now we might not realise it but we all need this! From tips to advantages ensure to include a

hangover cure instruction guide

that will be perfect to know what to do when in hangover!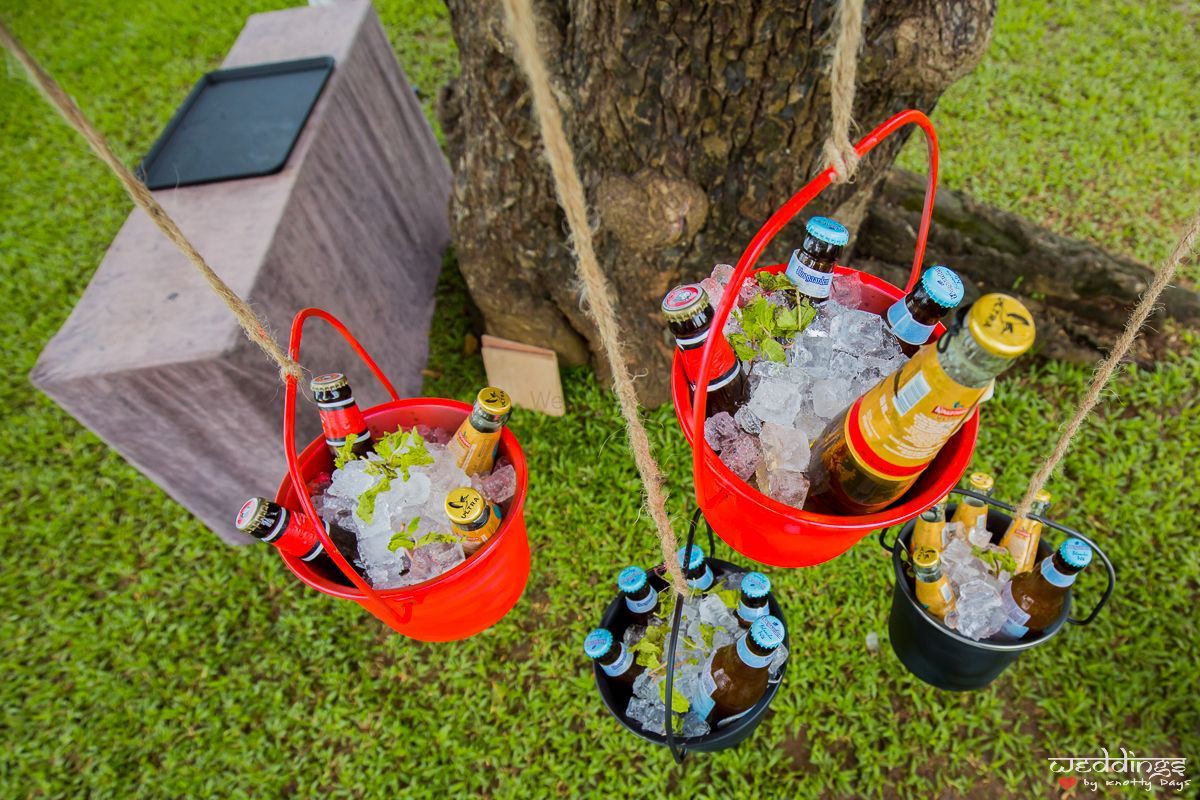 Image via: Weddings by Knotty Days
Love Hangover Kits? You Can Buy Them From Here...
Confettish Innovations
Specialising in wedding favors Confettish Innovations★ 4.8 is a famous venture that deals not only in favors but also in gifting options for wedding celebrations. Meeting the needs and requirements of its clients and customising the favors and package according to their wedding theme (example adding wedding hashtags on a hangover kit) this company is based in Delhi NCR who will surely help your guests with the useful hangover kit after the party!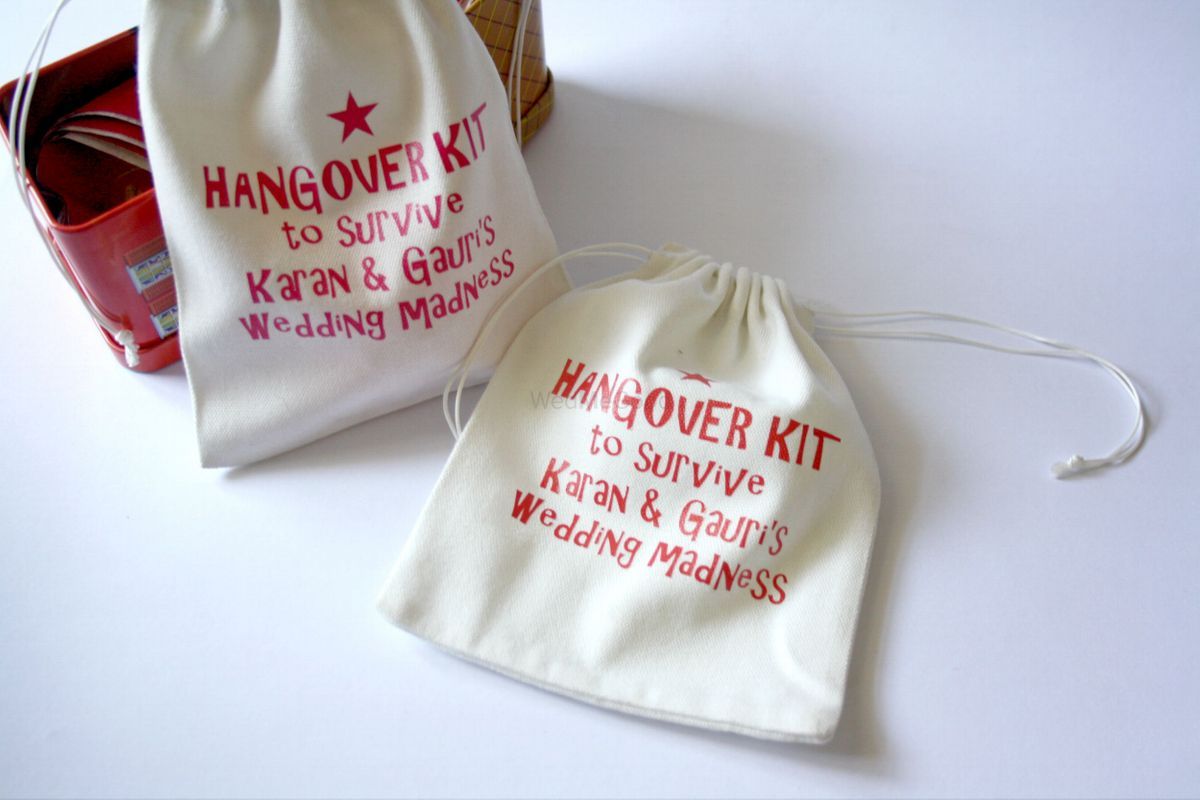 Wedding Favors: Confettish Innovations★ 4.8
Taarini Weddings
Thinking to hire a wedding planner for your wedding who will help you to organise and plan your dream wedding? Taarini Weddings★ 4.9 is a well-experienced venture who is located in Bangalore. Customising their services according to the customers needs and requirements they deal in wedding favors, giveaways, decor, etc, so that the couples have access of everything related to their wedding celebrations in one roof.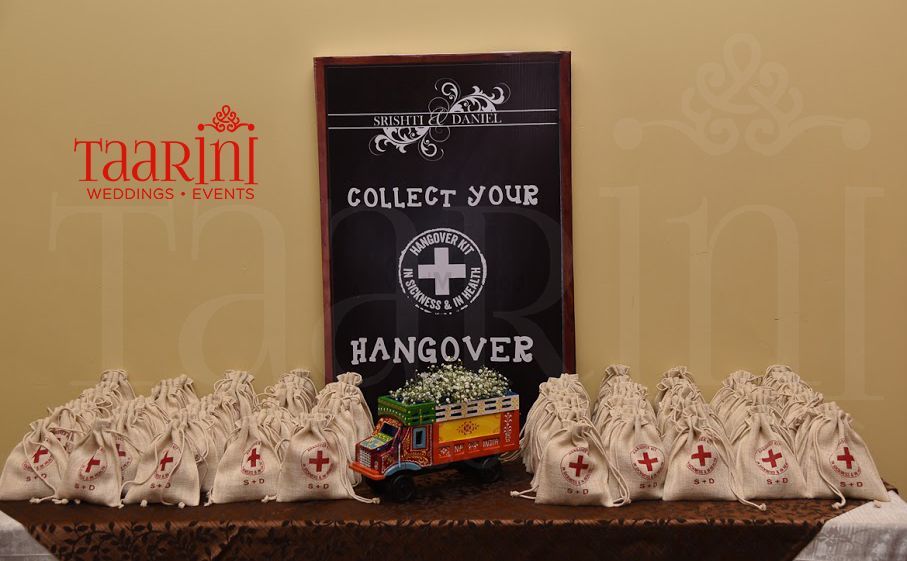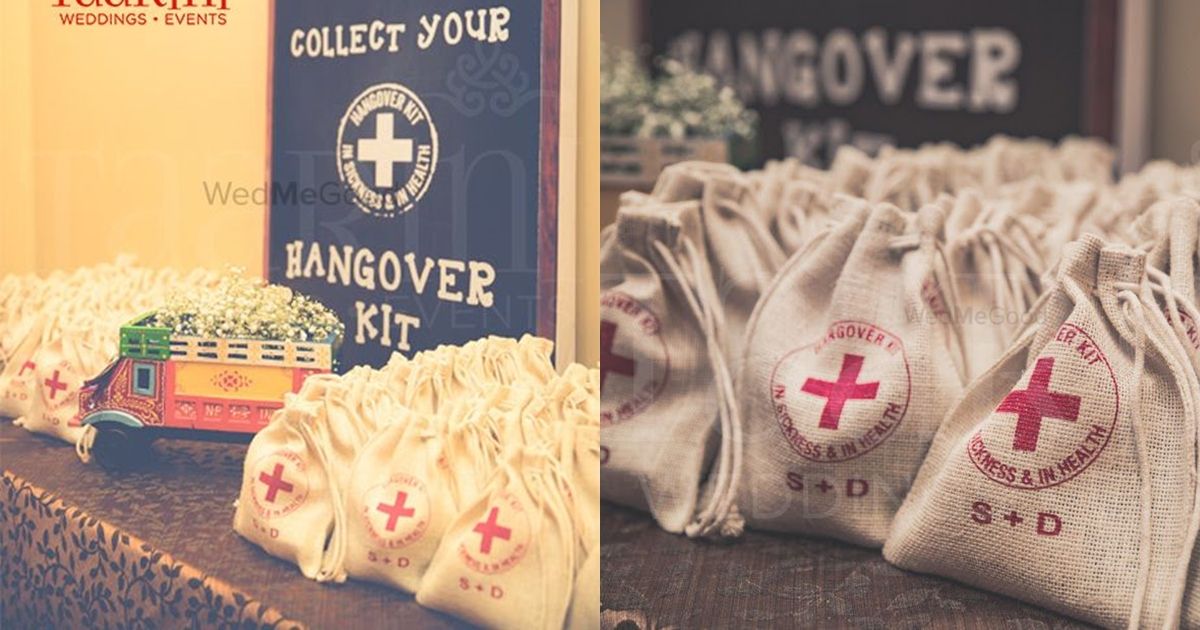 Wedding Planner: Taarini Weddings★ 4.9
Design Dimensions
Do you want to send out your wedding invites with quirky hangover kits? Design Dimensions★ 4.8 is based in Delhi NCR and has cute hangover kits that looks perfect to send out with your wedding invites! In case having a beach destination wedding you can also include pretty travel tags and customised 'do not disturb cards' in your wedding kit!

Image via: Design Dimensions★ 4.8
Dottedi
Looking to gift something to your bridesmaids or thinking for some useful wedding favors? Dottedi is one such company based in Bangalore that offers gifts for events and parties. Providing unique gifting solutions to its clients this brand believes in innovation and offers quirky hangover kit that you would want to give your guests right away!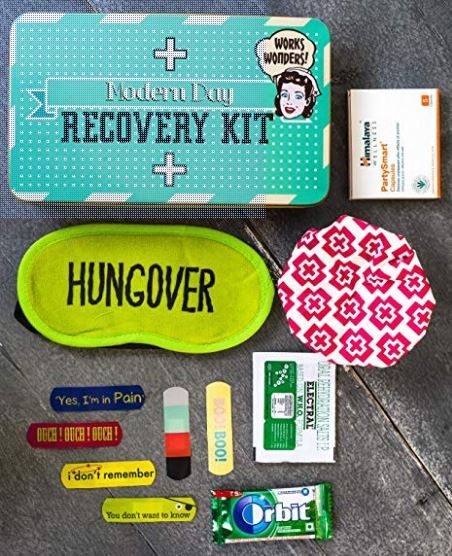 Image via: Dottedi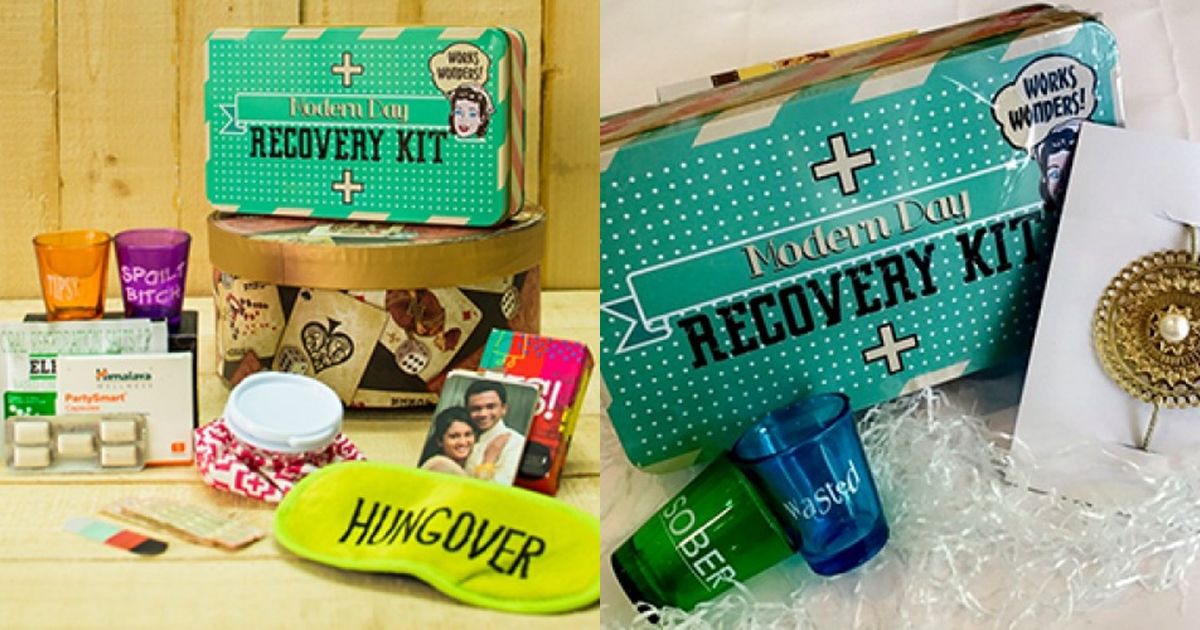 Image via:  Dottedi
The Crazy Me
Are you looking for hangover pouches or potlis that will look quirky to gift to your loved ones as favors? The Crazy Me is a venture that is a seller of hangover kits and has some really cool and interesting designs of wedding hangover favors and some quotes written on it like 'I Regret Nothing' or 'All You'll Ever Need is a Hangover Kit' that looks really good to present to your alcoholic friends!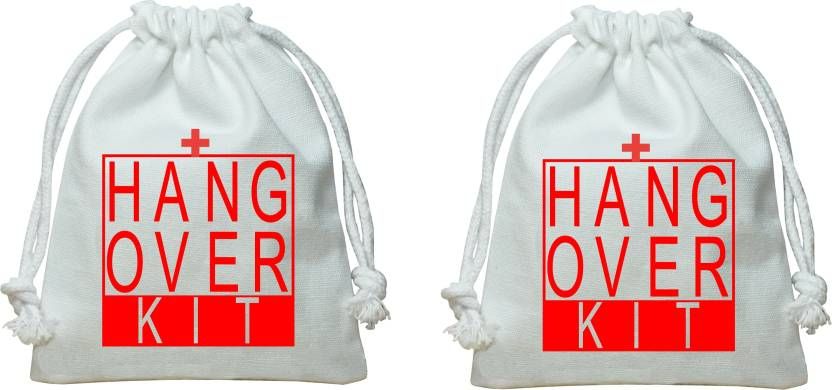 Image via: The Crazy Me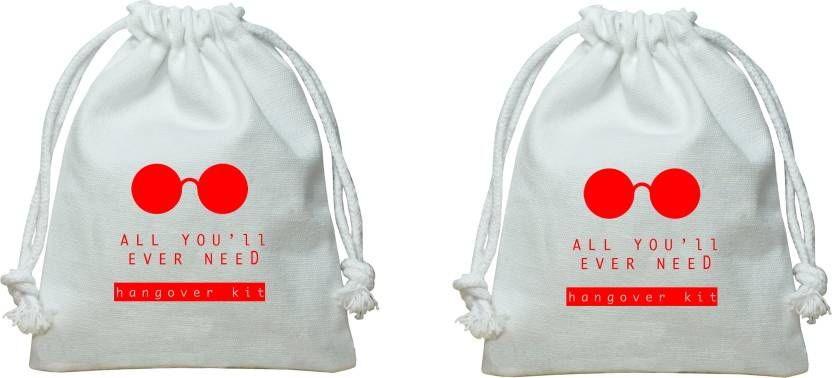 Image via: The Crazy Me
World 2 Home
Cos friends are family! World 2 Home is a popular seller that provides quirky designs of potlis of hangover kits. Giving out 10 pieces of hangover kit bags in a packet the quality is something you will love it for sure. In addition, in case if you're looking for bachelorette favors,bridesmaids gifts or first aid kits this is a one-stop-shop for your gifting options!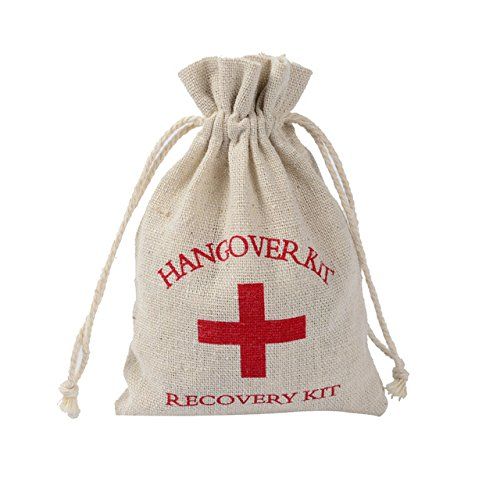 Image via: World 2 Home
Ellement Company
Having a vision of making a woman's access to luxury, Ellement Co. offers products that are solutions to her daily tasks and routine. Having a top priority to give her this venture also offers hangover kits that are perfect to gift to your guests after the party. Buy from here.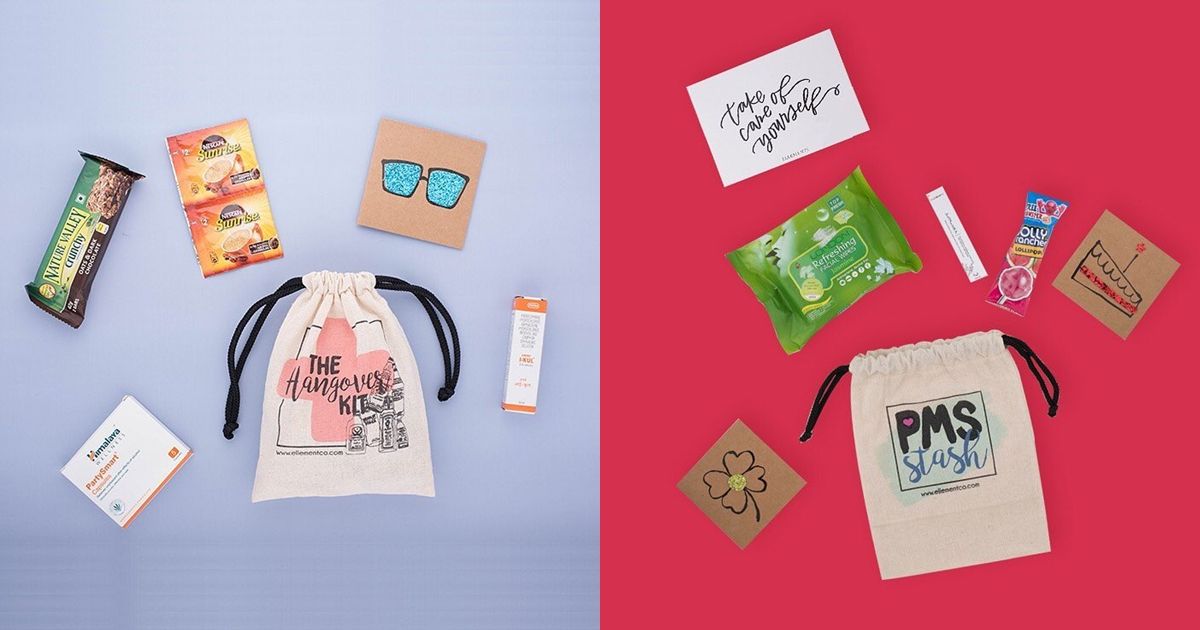 Image via: Ellement Co. 
Ali Express
Started in 2010 Ali Express is an online retail service that provides products for party, wedding celebrations, gift bags, wrapping supplies, etc. that all comes in handy when getting married. Similarly, they also offer pretty hangover kits as wedding favors that will be a perfect option to show love and care towards your guests, friends and family members. You can buy them here.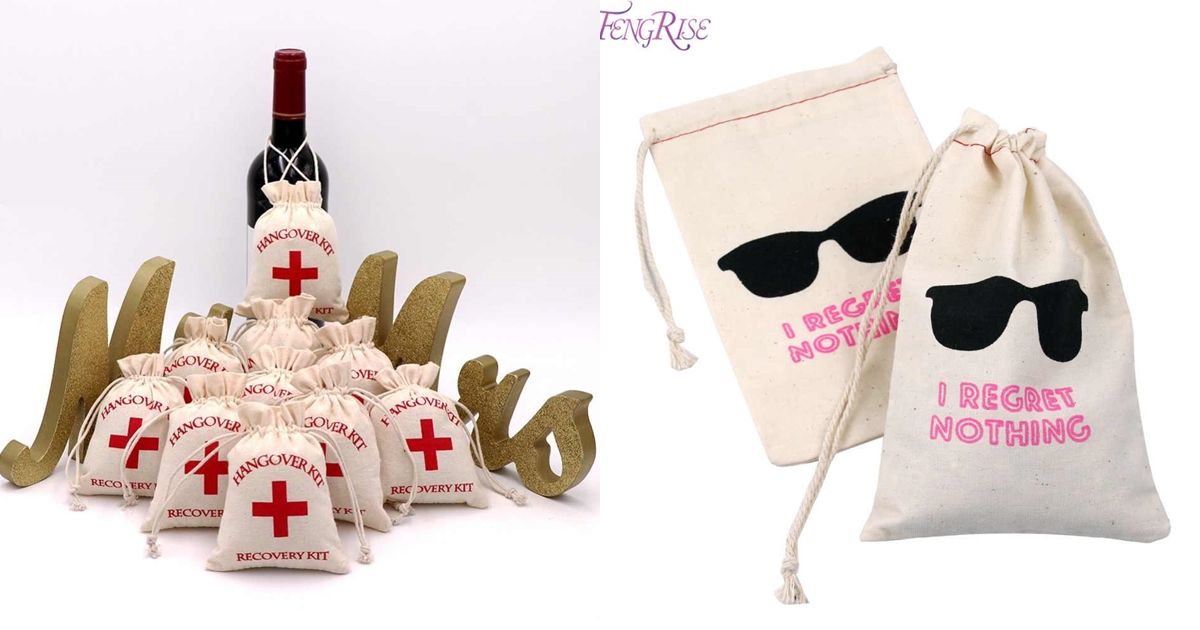 Image via: Ali Express
Image via: Ali Express
Etsy
Etsy is your one-stop-shop if you're looking for wedding outfits, decorations, wedding invites, jewellery, accessories, etc. at one place. Providing their products at reasonable budget Etsy can also be a good option to pick your hangover kits for your cocktail & sangeet party.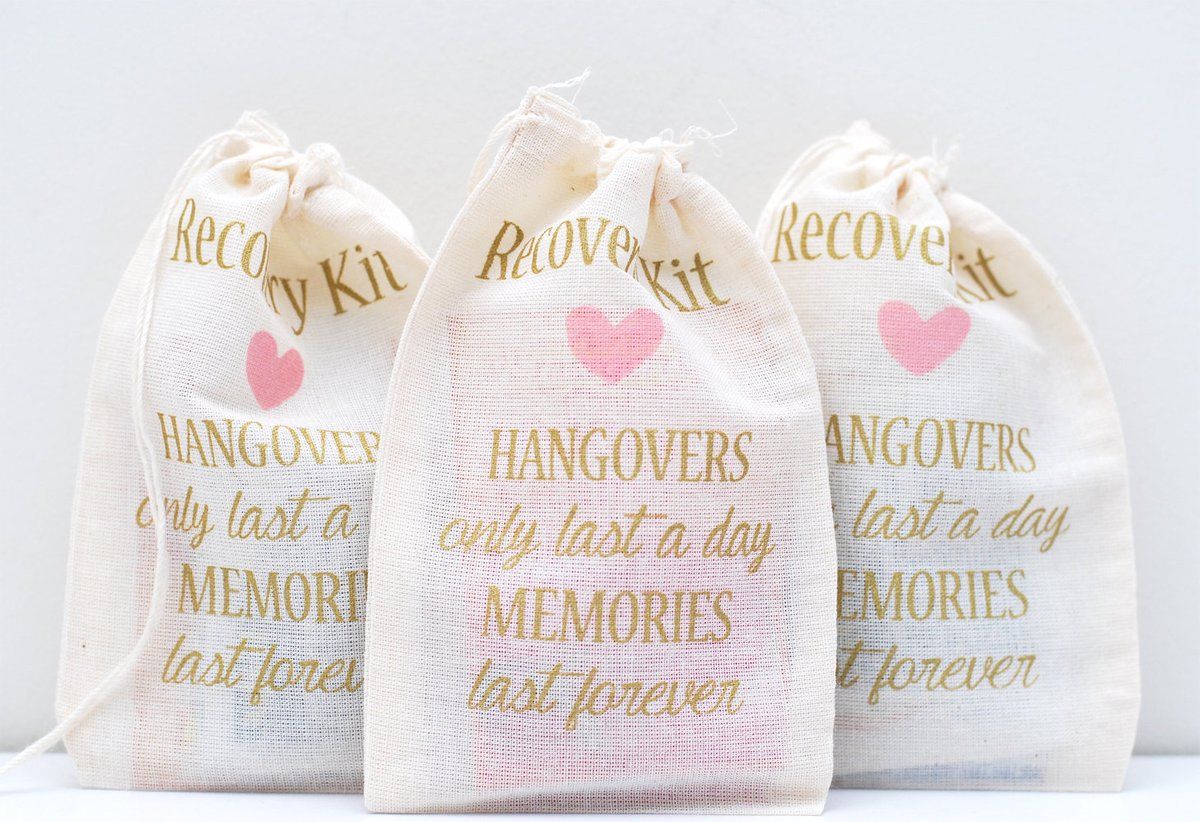 Image via: Etsy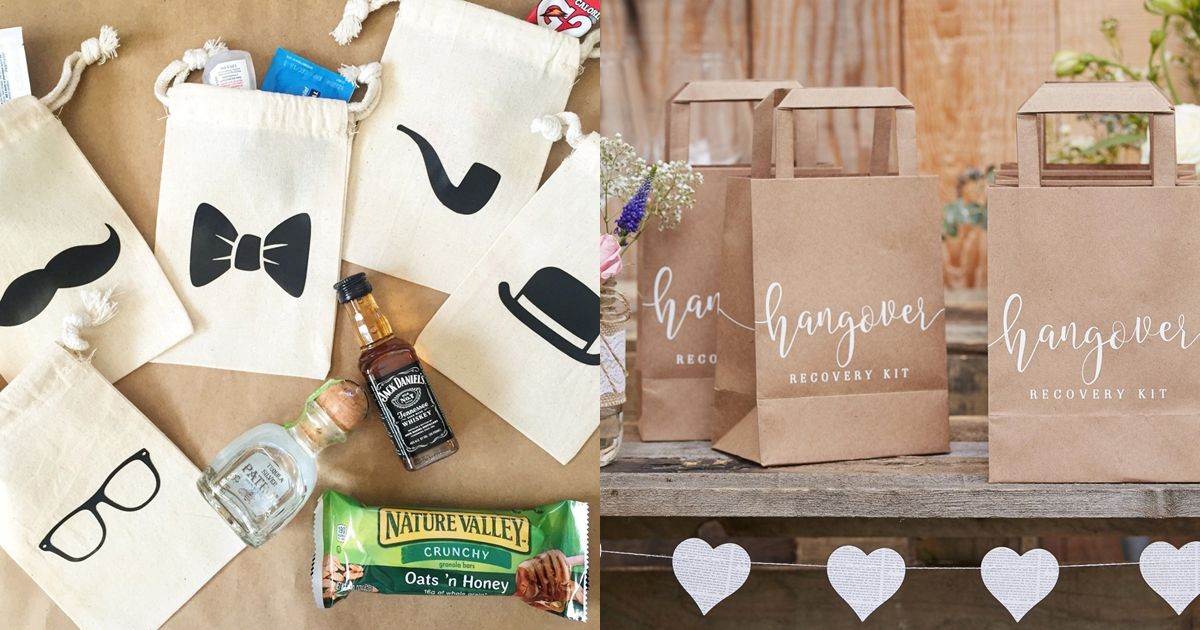 Image via: Etsy
Quirky Hangover Kits We Spotted! (*From First Aid to Wedding Survival Kits)
First Aid Kit For Emergency!

Chances are high that you might get hurt while you're drunk. So, keeping a first aid kit is always recommended!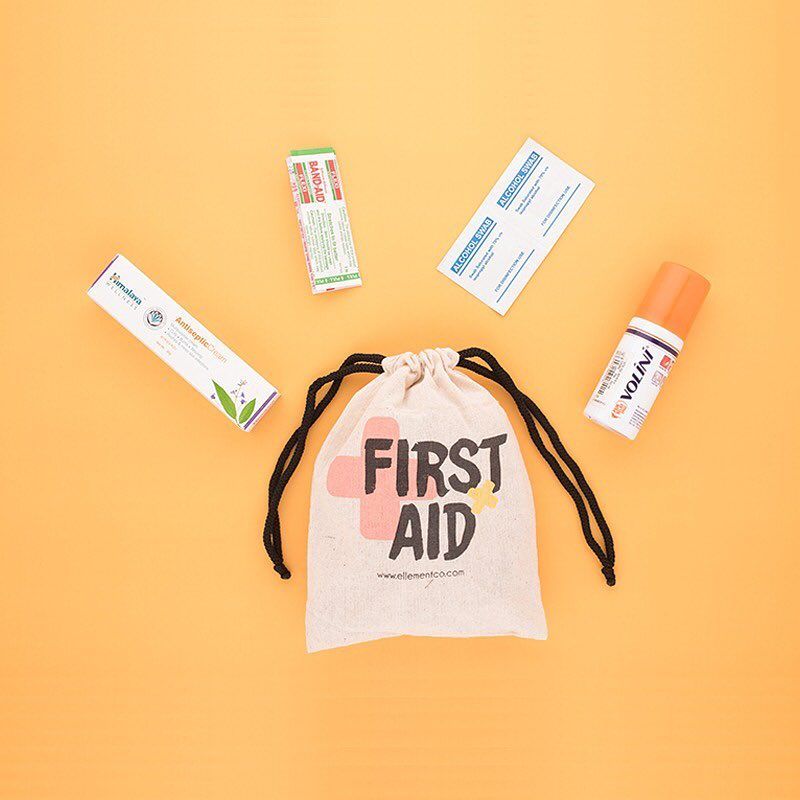 Image via: Ellement Company
Cute Bachelor Party Kit!
And, how could we forget this! Cute bachelor party kit with delicious eatables can be great for your friends!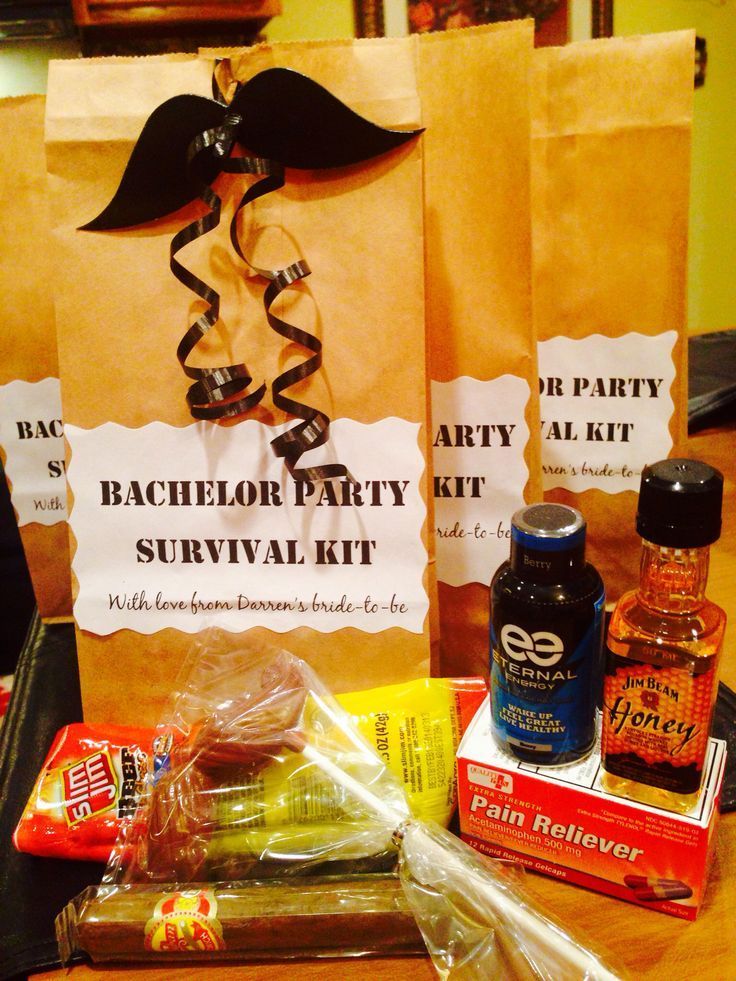 Image via: Pinterest
Wedding Survival Kit aka Shaadi Ka Survival Kit!

Let's admit it - we all need them! From Oh shit kits to wedding survival kit and medicine kit get all these beauties for your guests!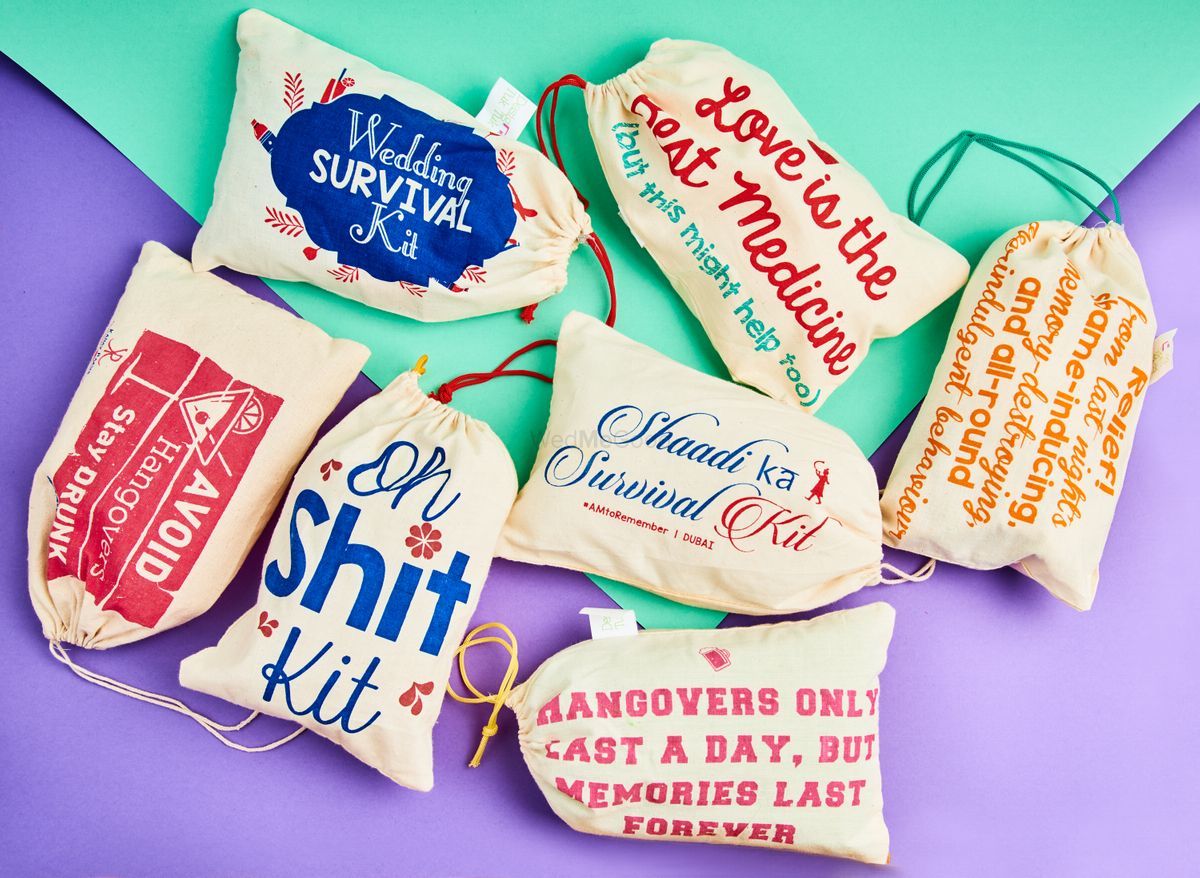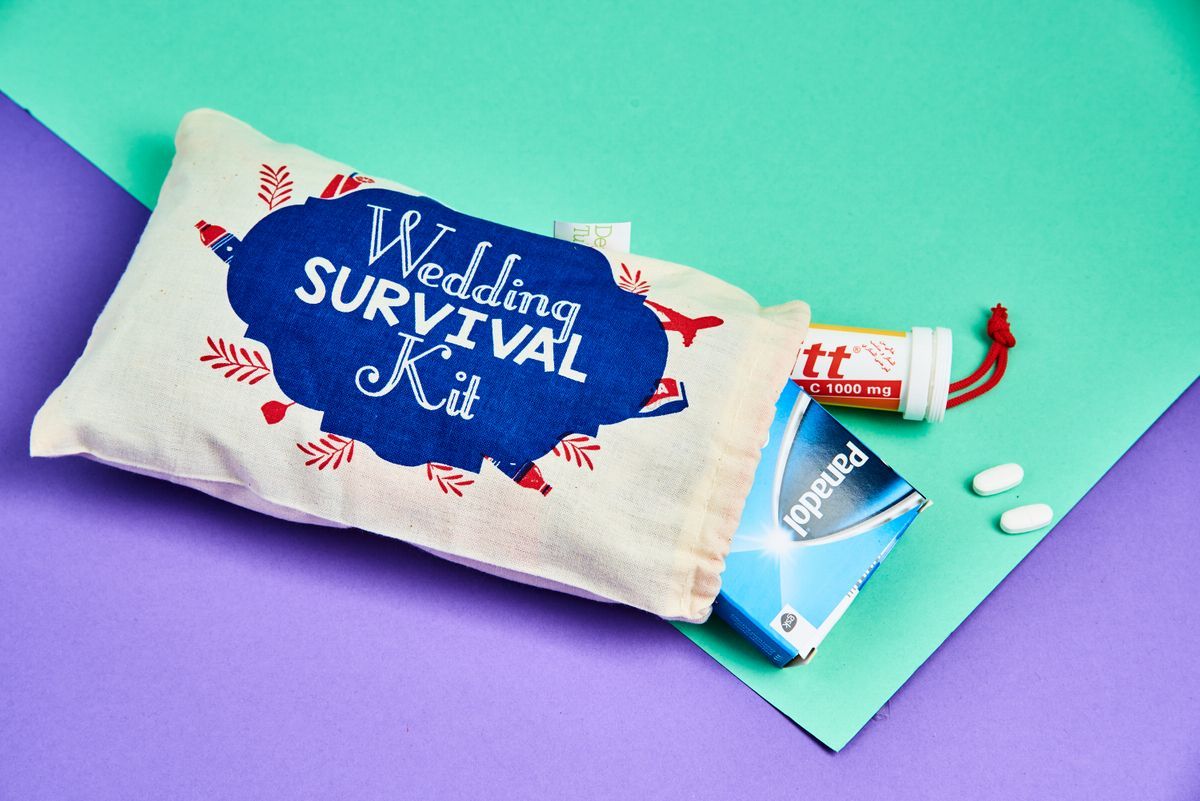 Wedding Cards: Design Tuk Tuk
Party Hard Cos You've A Birthday Party Kit
Party hard like there is no tomorrow! Birthday party hangover kit is also a good option as favors for your loved ones!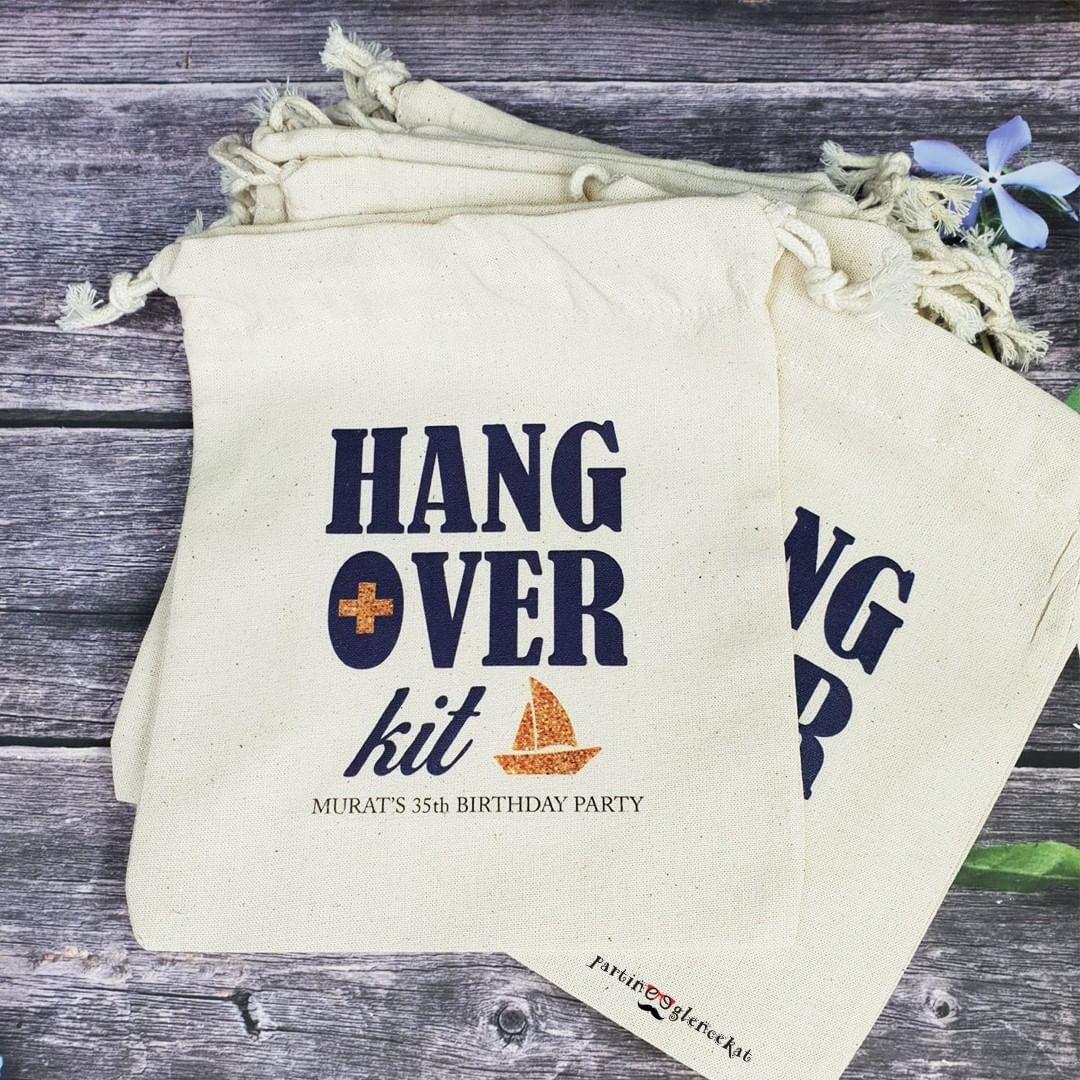 Image via: Partine Eglence Kat
Hangover Kit Packaging in Different Style! (With quotes & wedding hashtags)

Wrap them up in potlis or bags & gift these super useful hangover kits to your bridesmaids & guests!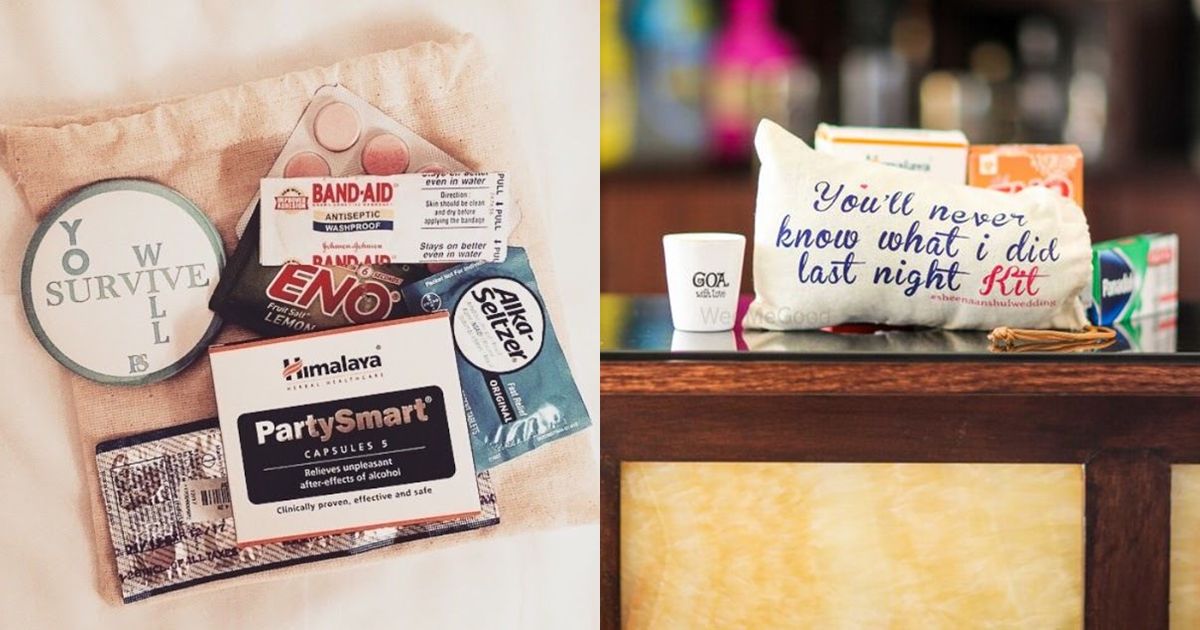 Image via: The Wedding Crasher  ; Design Tuk Tuk★ 4.6
The Oh Shit Kit! (Cos, you need them)

Hahah! Yes this too exist, ladies! It's very much possible that your stomach might get upset. So, taking care of them with medicines & curable items can be a nice gesture from your side as precaution is better than cure!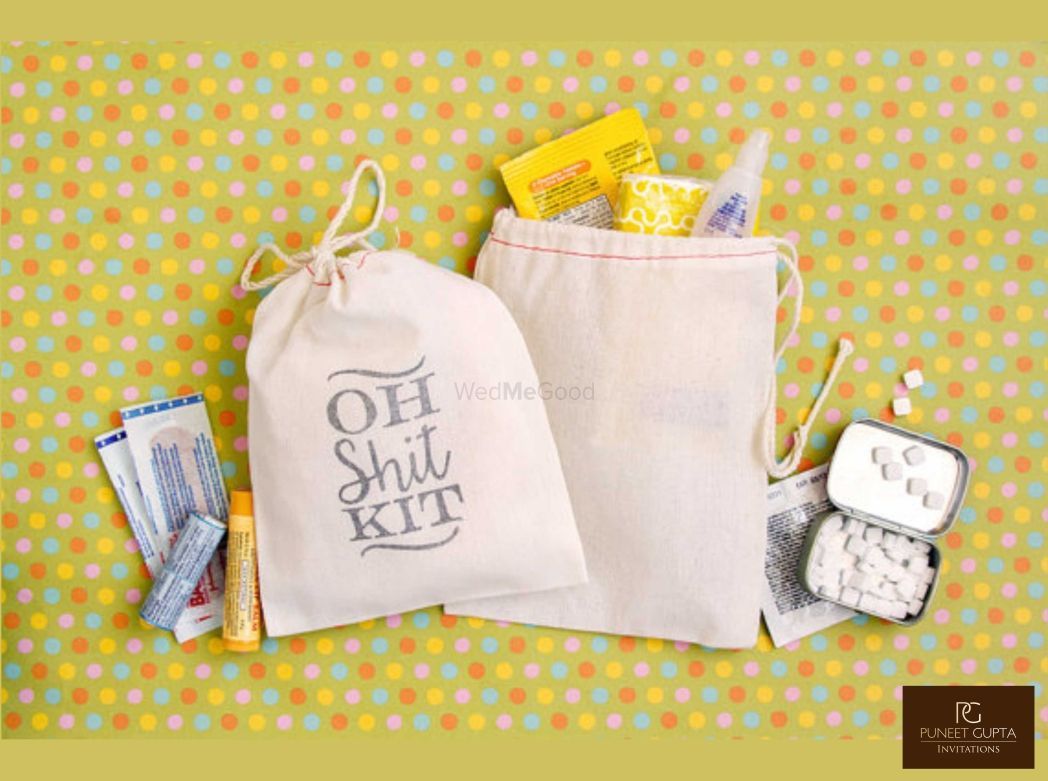 Wedding Cards: Puneet Gupta Invitations★ 5
Hangover Kit With Wedding Invitation Card!
To make you feel better hangover kits with invites can also be a cute way to welcome and show a good gesture to your friends!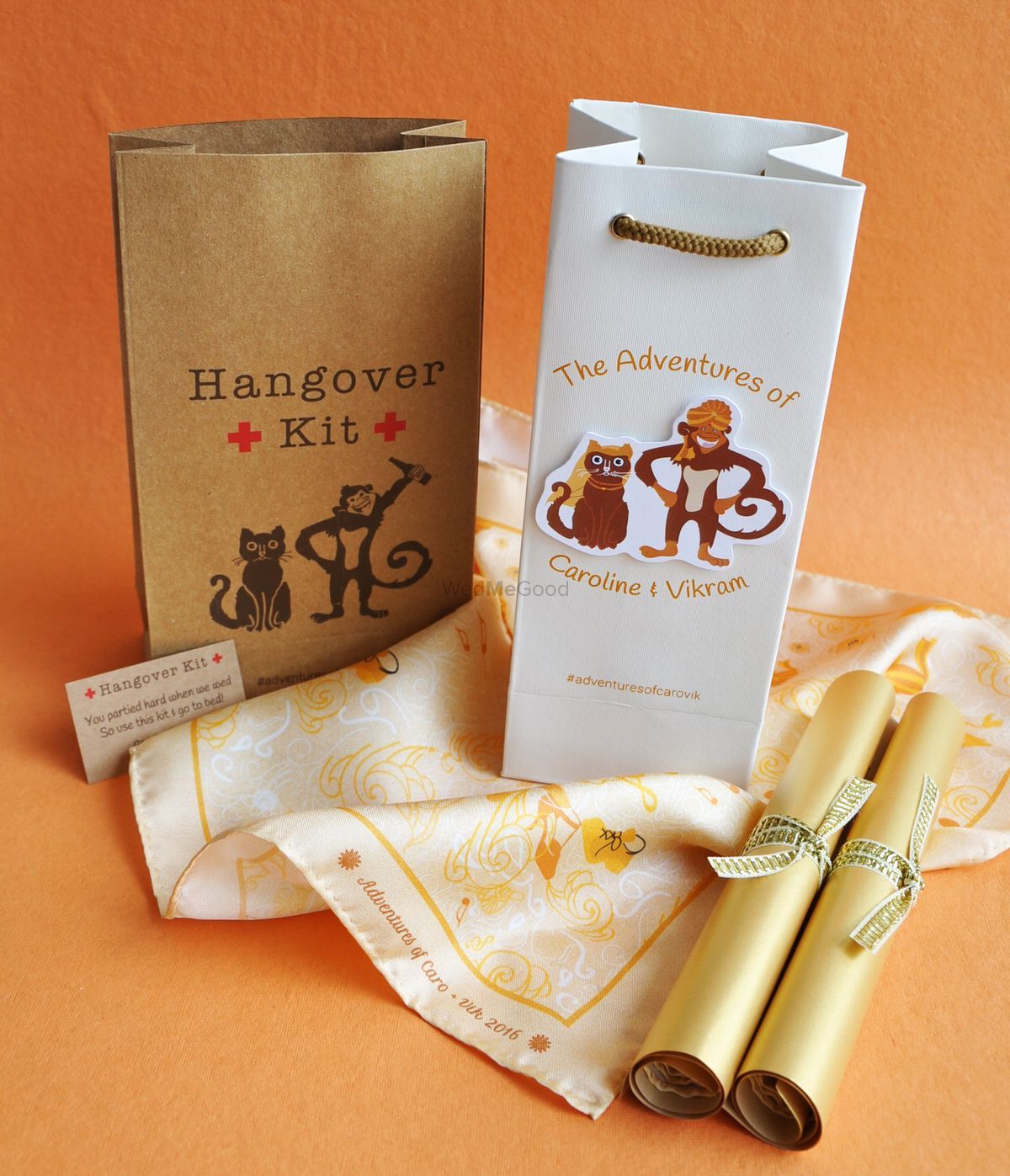 Image via: Templetree - The Paper Boutique★ 3.9
Emergency Kits with Water Bottles
Rescue to all your problems water bottle aka H2O is perfect to get your hangover down! You can also DIY them to gift!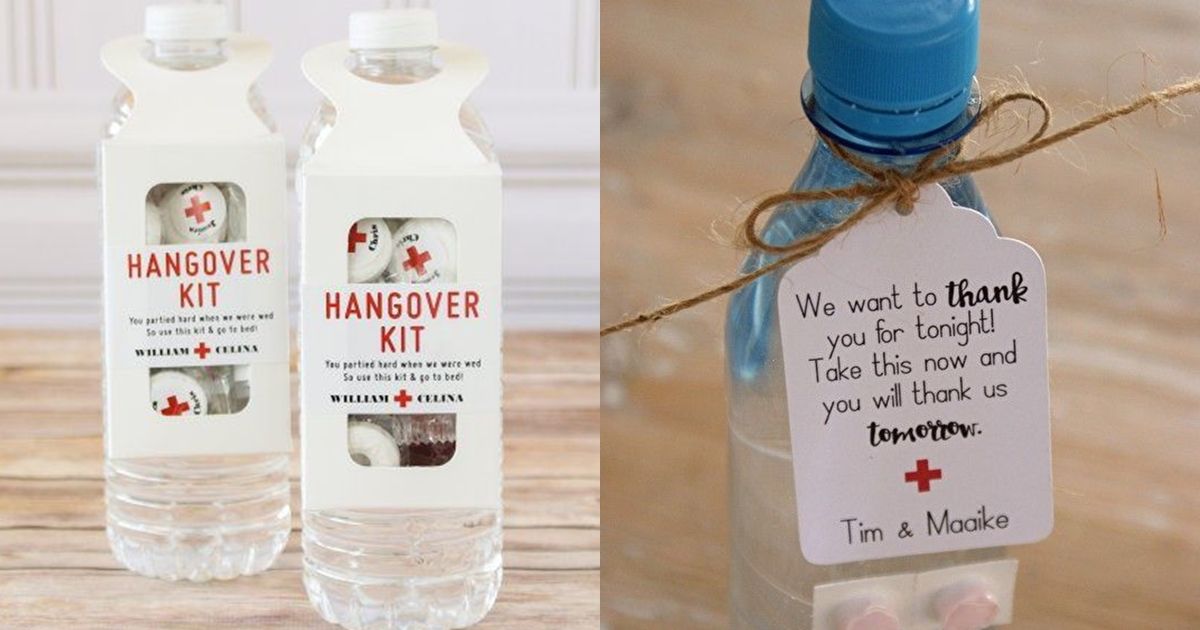 Image via: Pinterest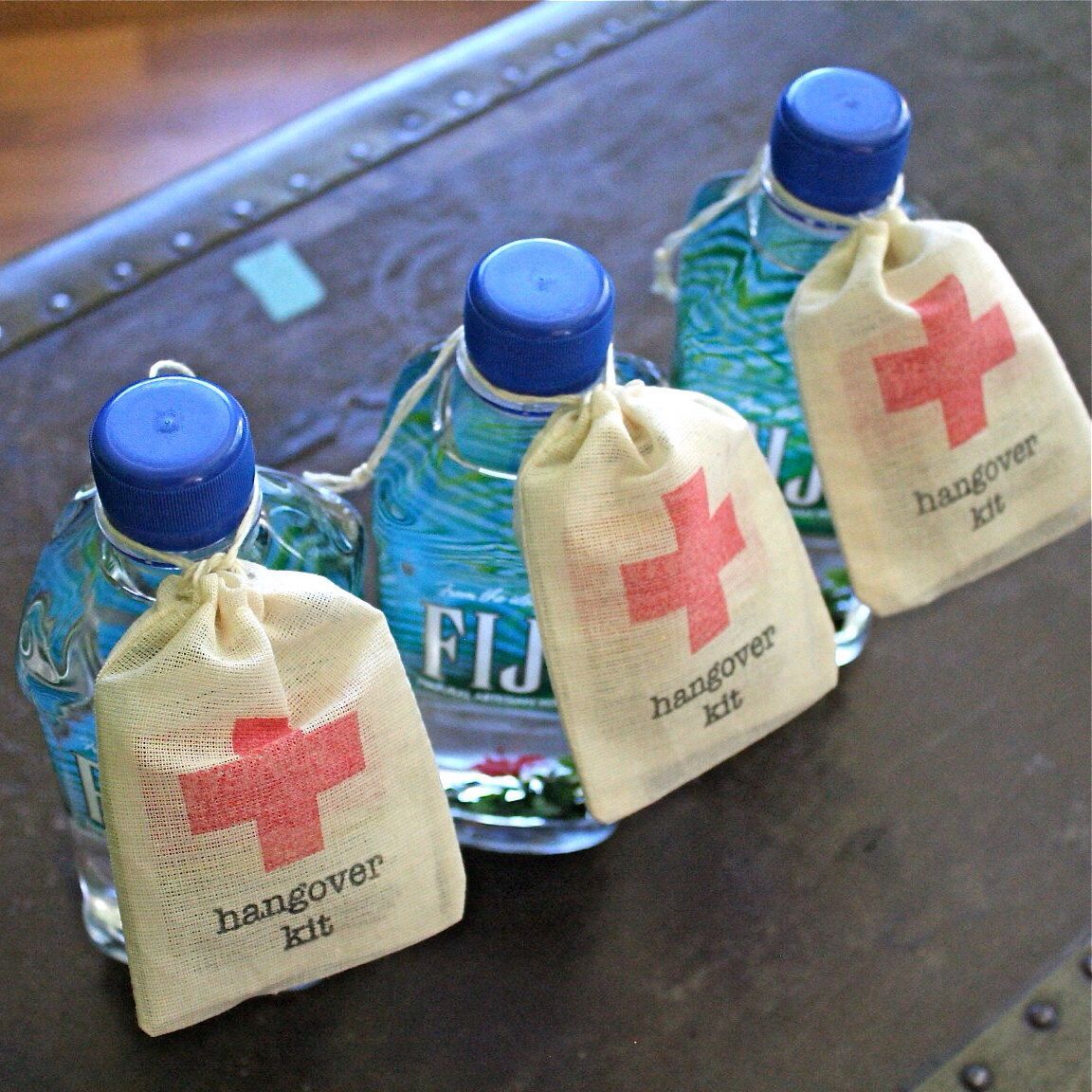 Image via: Pinterest
Vitamins & Minerals are IMPT!
Yes, they help you a lot! While you get dehydrated some vitamins and minerals can help you to rejuvenate your body!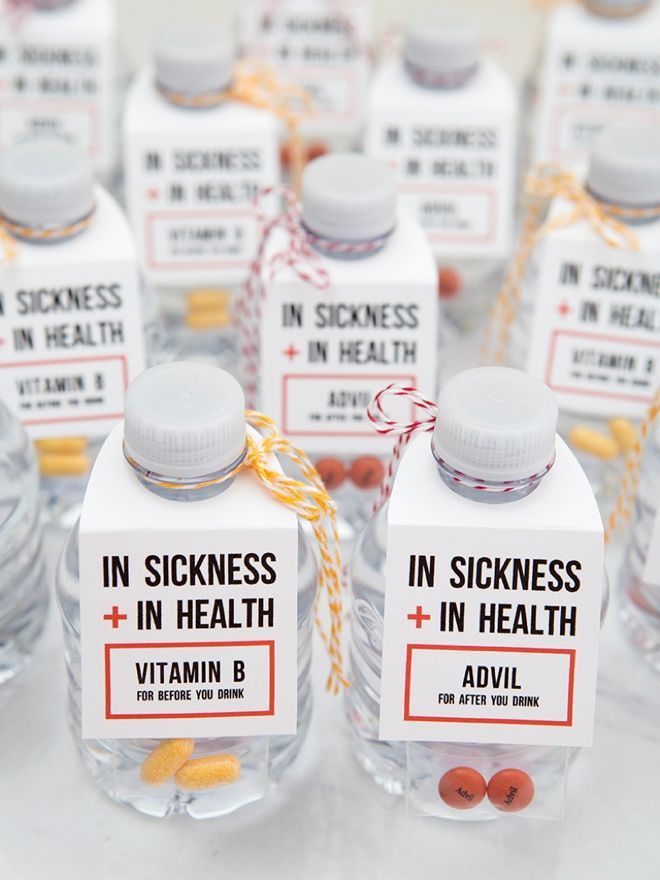 Image via: Pinterest
Read: Instruction Guide For Hangover

We might not need this but small things matter the most. Include a cute & small instruction guide kit that will tell the steps of what to do in a hangover state!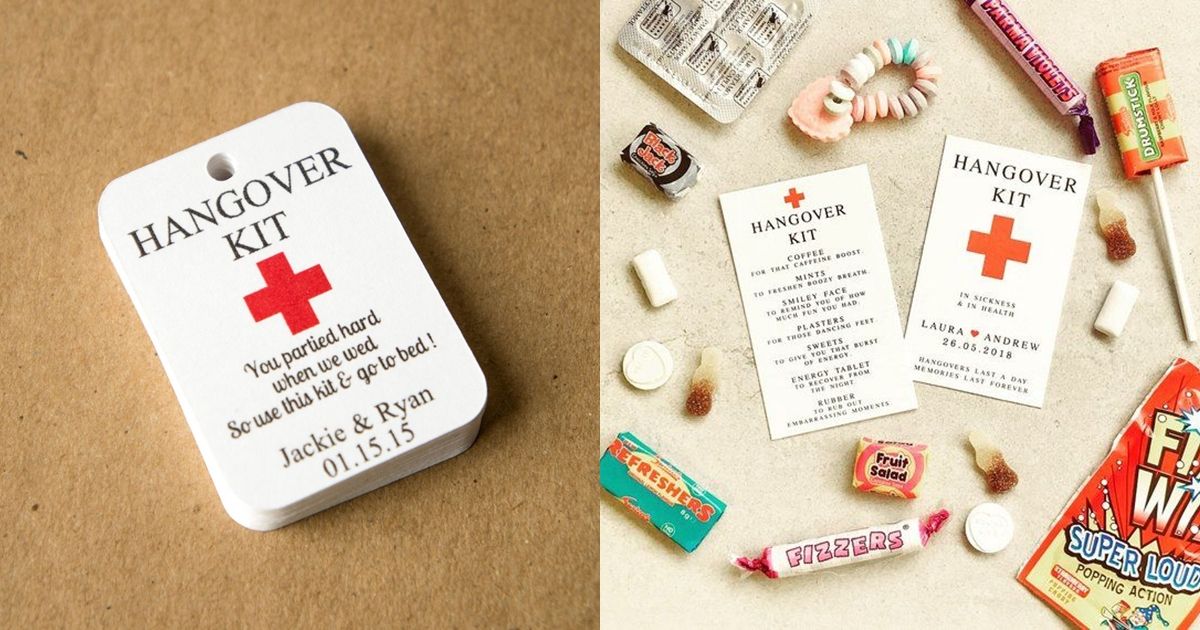 Image via: Pinterest
Handy Boxed Kits!

Bored of looking the kits in a bags and potlis? You can pick cute and very easy-to-handle hangover boxes that will be very handy to carry while your guests are drunk!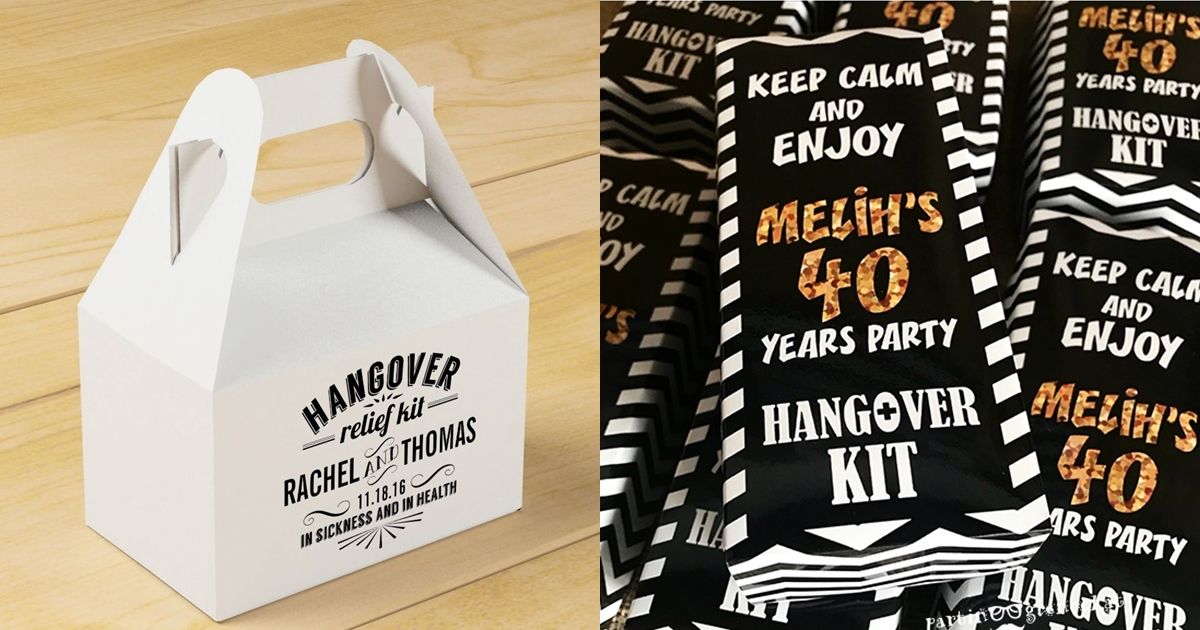 Image via: Pinterest ; Pekshop
Pretty Kits In Pouches!
Calling them pouches or potlis - hangover cures can be packed beautifully in silk or jute potlis to make them look elegant!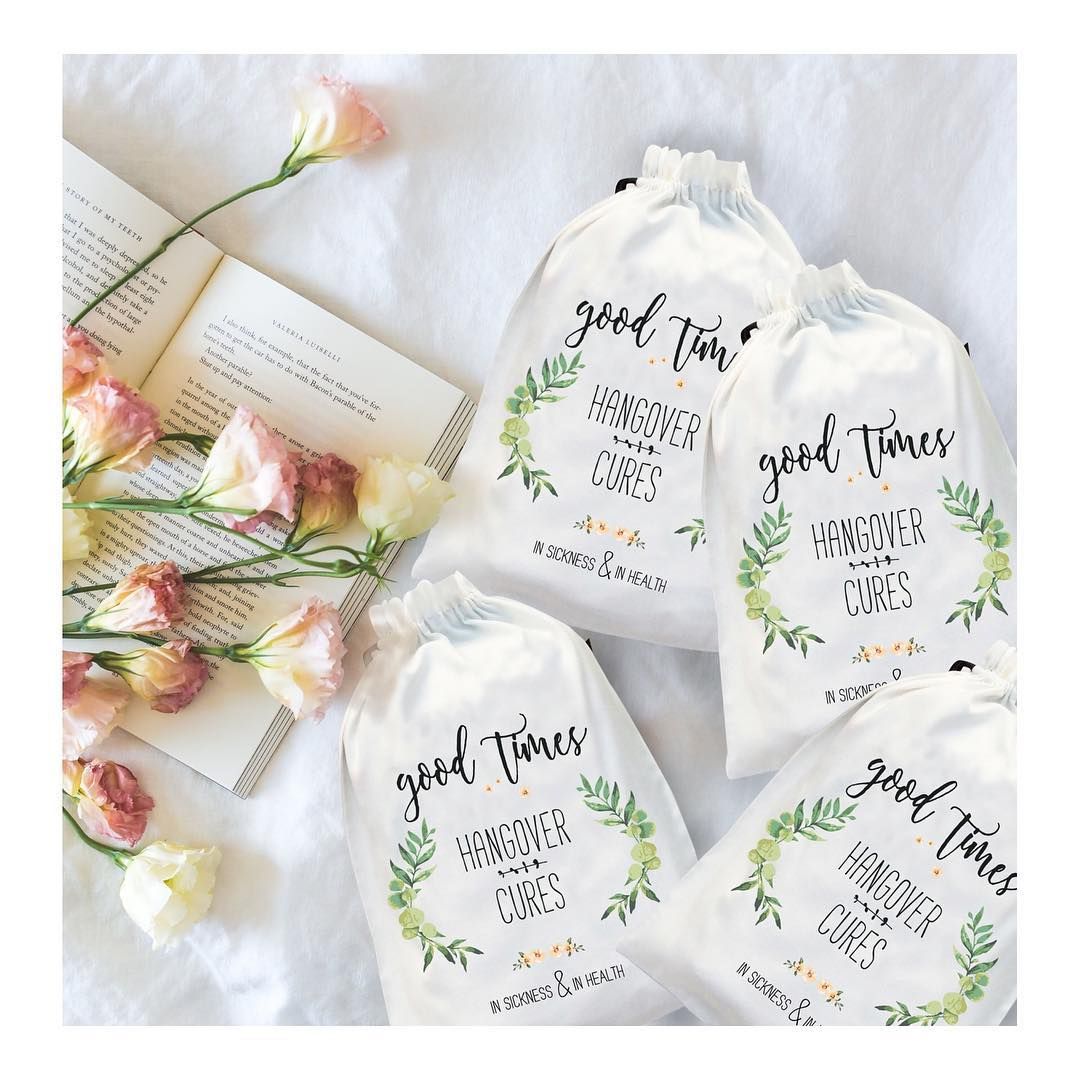 Image via: Whistling Yarns
Or, In Paper Bags! (*Eco-friendly)

Very cheap and Eco-friendly! Wedding favors as hangover kits in paper bags are way too cool, which will save you tons of money!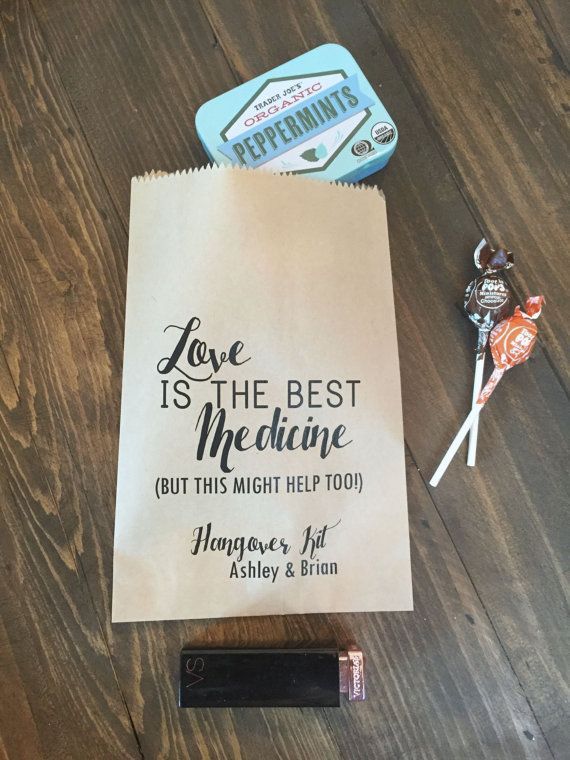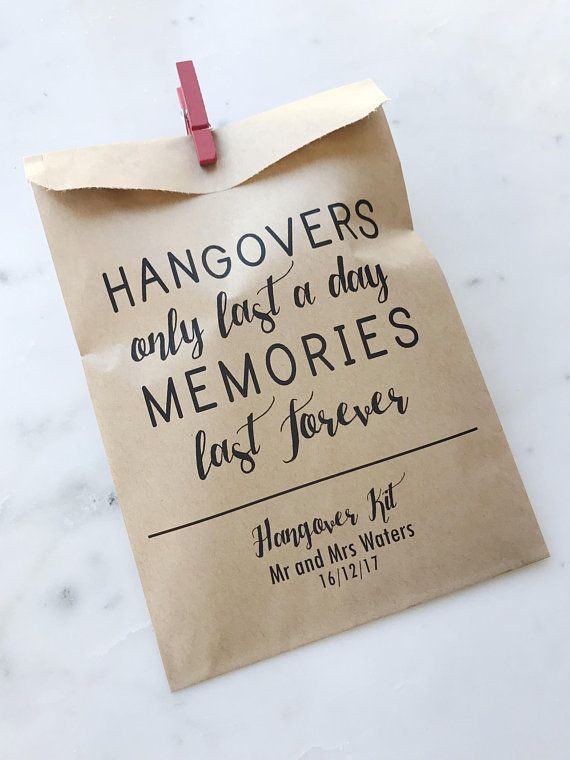 Image via: Pinterest
#WeddingHashtags in Customised Kits
We won't lie but this wedding season we literally saw the trend of #weddinghashtags! How about you include them in a hangover kit?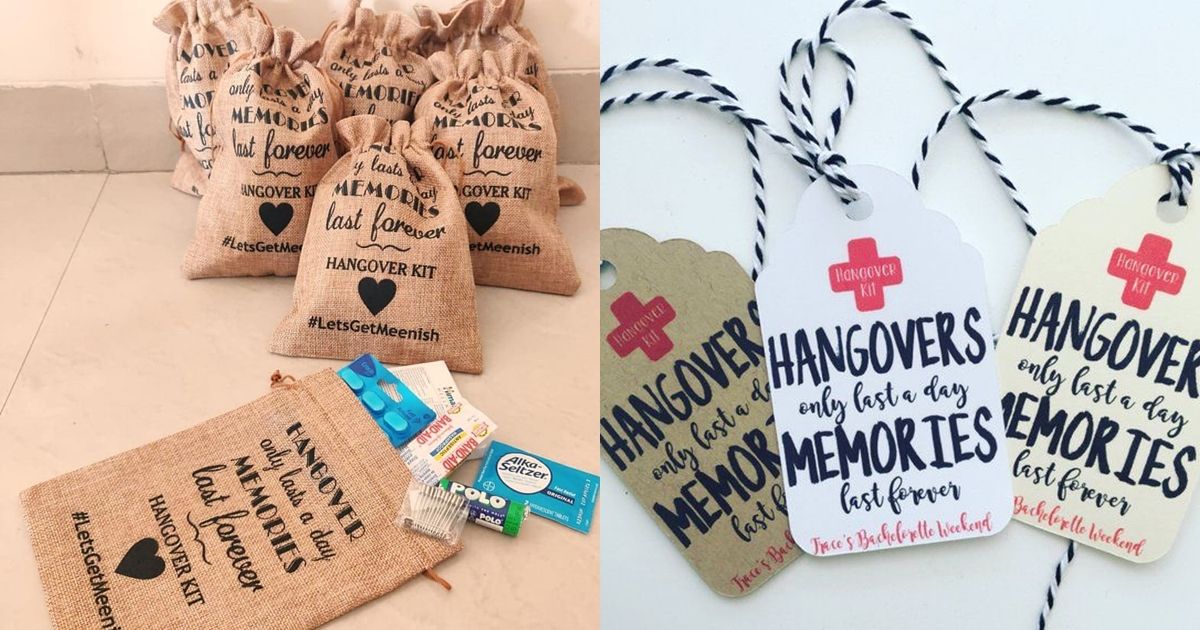 Image via: Spandhan Art ; Pinterest
A Hangover Trousseau Is All What You Need!

Trousseau's & boxes are something that are very trendy these days! You too can pick this up and convert it into a hangover trousseau! P.S You can also stick a hangover kit instruction guide so that the correct info reaches to your loved ones!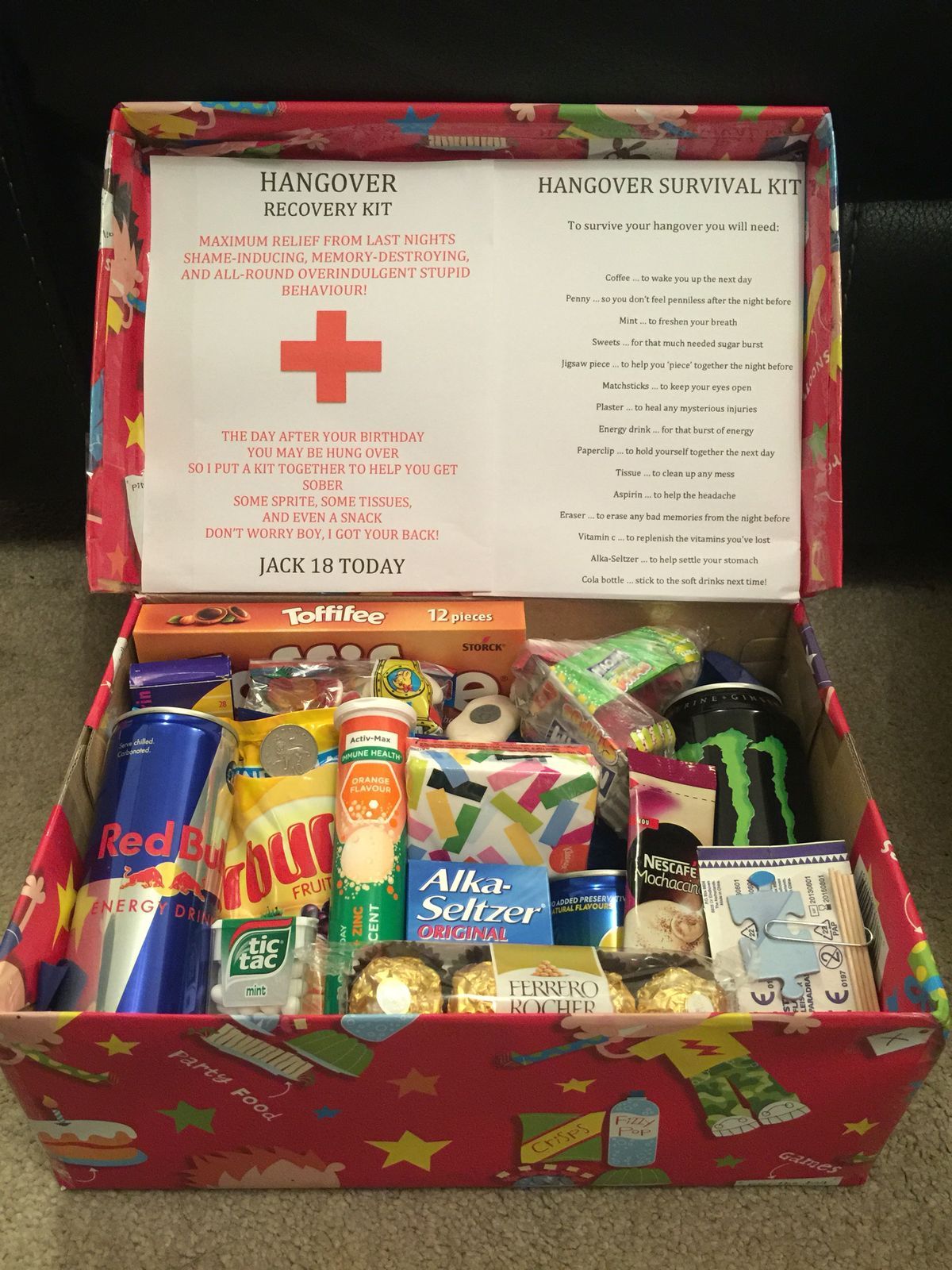 Image via: Pinterest
Adorable Hangover Packs To Your Rescue!

Heard of hangover pack? Brides! If you don't want to include a heavy-weight kits pick a small & cute pack, which consist only important things!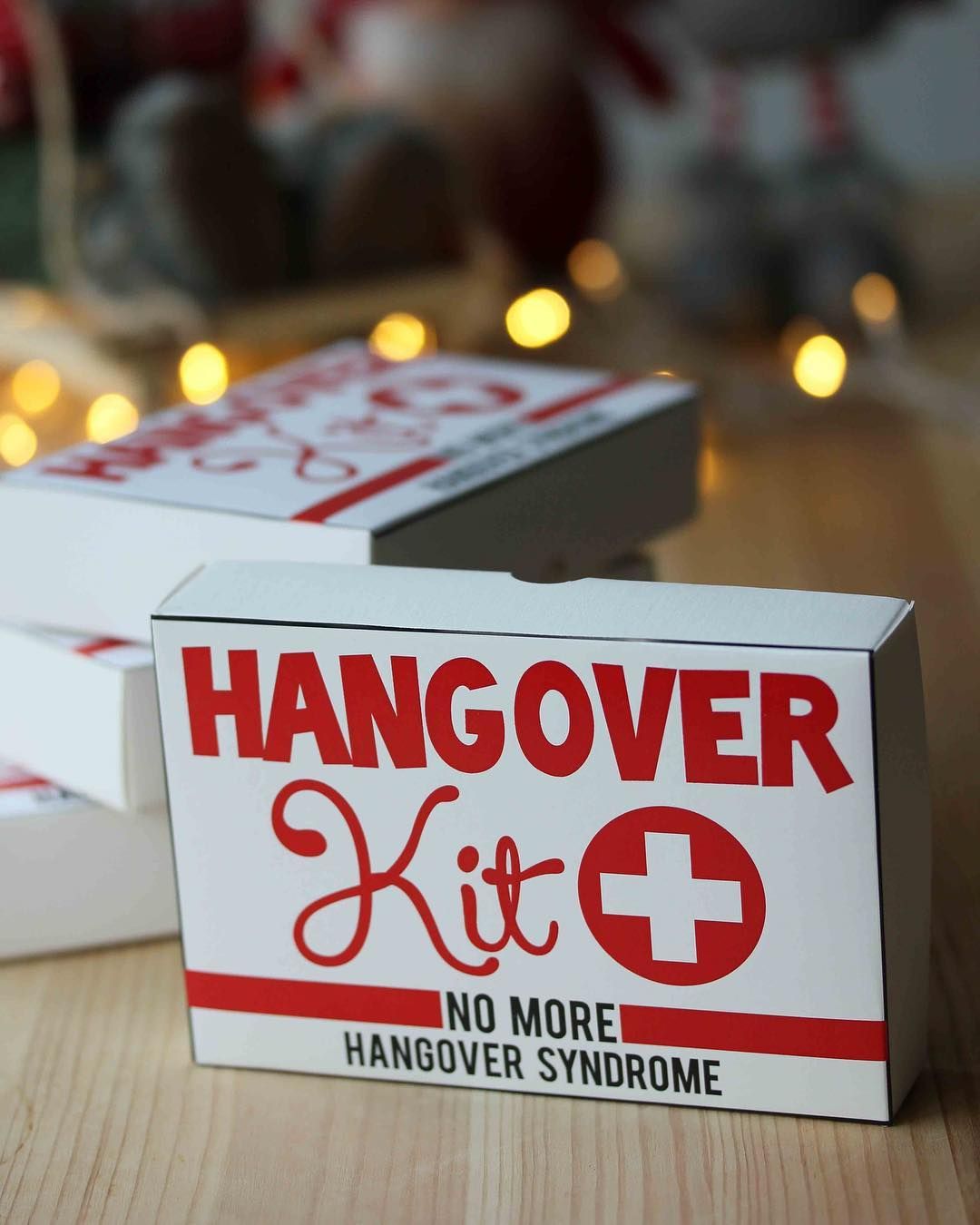 Image via: Partizimbirtilari
Or, Lastly All In One! Basket Kits For Your Guests!

Easy to carry a hangover kit in a basket is a smart way to include water bottles, first aid kit, etc. that will be very useful for hangover!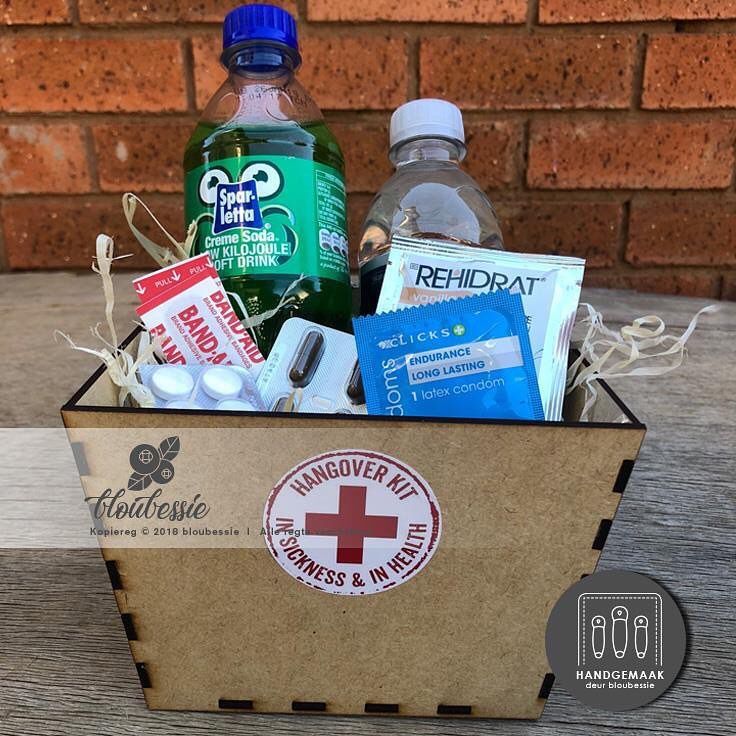 Image via: Bloubessie
A perfect 101 - hangover kit, right? Which wedding survival kit will you prefer to gift to your bridesmaids & friends?
Also Read:
8 Whacky Return Gift Ideas That Your Guests Will Remember Long After Your Wedding Is Over!
10 Things To Pack In Your Indian Bridal Emergency Kit