Where To Buy A Bride Getting Ready Robe!
BY Sakshi | 01 Dec, 2017 | 10625 views | 4 min read
We spot so many brides these days posing and preening before their wedding in a bridal robe, and we think it's a fab idea. The brides look amazing and relaxed in the robes, and it makes for a great getting ready shot to cherish forever as well. Not just that, add a luxurious bridal robe in satin or a dainty floral print, or even a bath robe to your bridal trousseau list, because they just look super cute! Not only can they make you feel special when you put them on, but they look amazing- whether it's plain, customised or just has the words 'bride' written on them! You can even get some super cute snaps with your robe on and your lehenga on the hanger or with your special girls!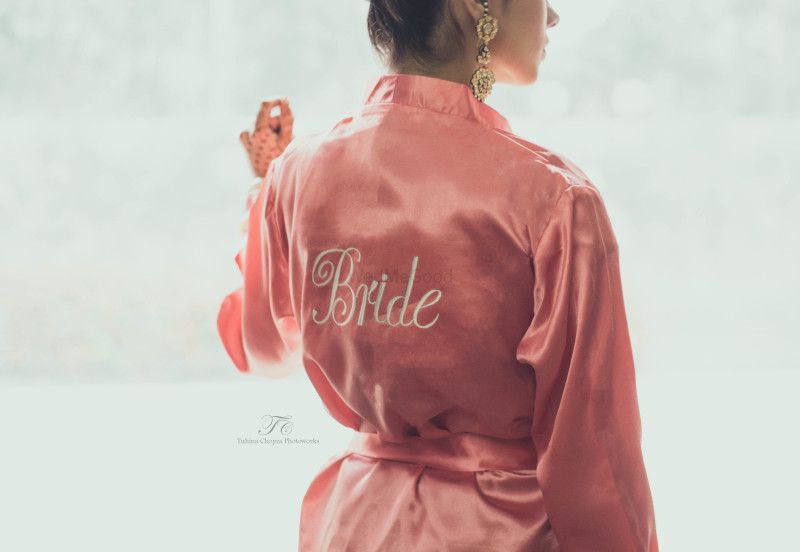 Image via Tuhina Chopra Photoworks★ 4.9
Looks amazing right? Here are some ideas on how to customise your bridal robe, if you don't want to look boring or like you're wearing a hotel gown! 
'Bride' seems to be the most popular choice- whether it's printed, with rhinestones or embroidered. Plus, easy availability.
Get just your name embroidered on it- looks cute either way. 
Get your future name etched on it- Mrs. (your husband's surname)
You can also get your wedding hashtag on it- looks super cute!
So now, here are some places, online and offline where you can source that special bride dressing gown or bridal bathrobes- customised bridal robes in India as well. 
Hunkemoller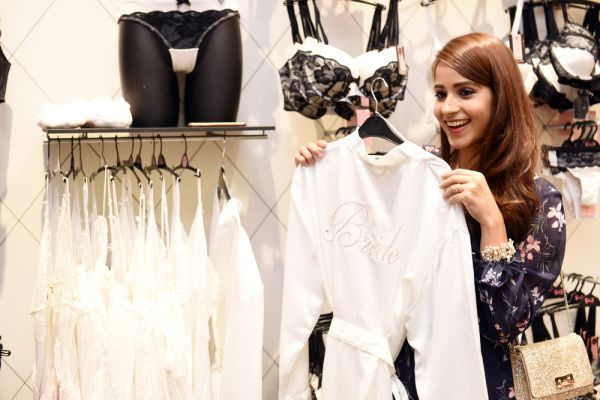 Not only does the label do super exotic pieces of lingerie, but even luxurious satin robes and customised robes with 'Bride' written in rhinestones! So classic and perfect!
Find out more about it here.
Etsy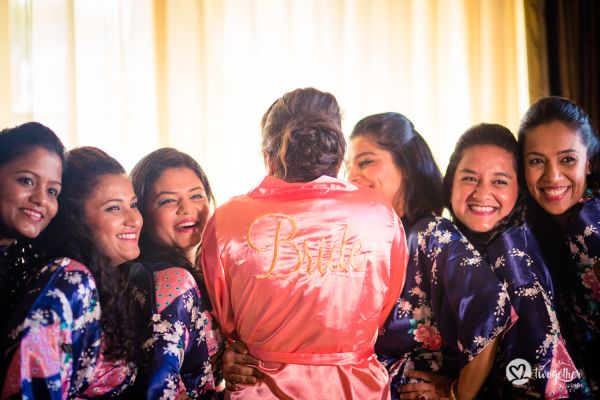 Image via Twogether Studios by Arjun & Praerna Kartha
We featured Real Bride Ramola's pre wedding shoot with her girls which was so fun! She sourced all the robes from Etsy, which has some super duper cute designs if you're willing to wait a wee bit extra and pay excess for shipping!
Find out more here.
Oh My Gift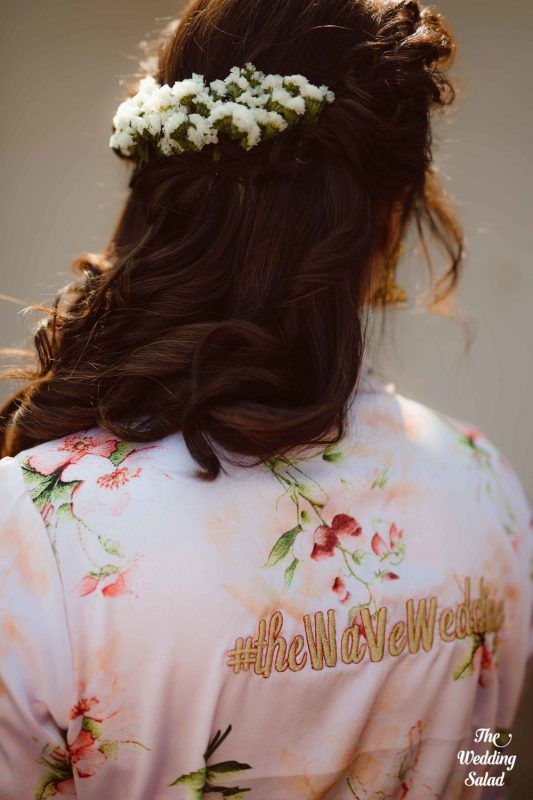 Image via Saloni & Prasad
We love their silk robes- plain ones or floral ones, and they even have sweatshirts! You can get anything written to get your robe customised, like this bride we featured got her robe from Oh My Gift, and got her wedding hashtag embroidered on it. Such a cool idea right?
Find out more here.
Pajamasutra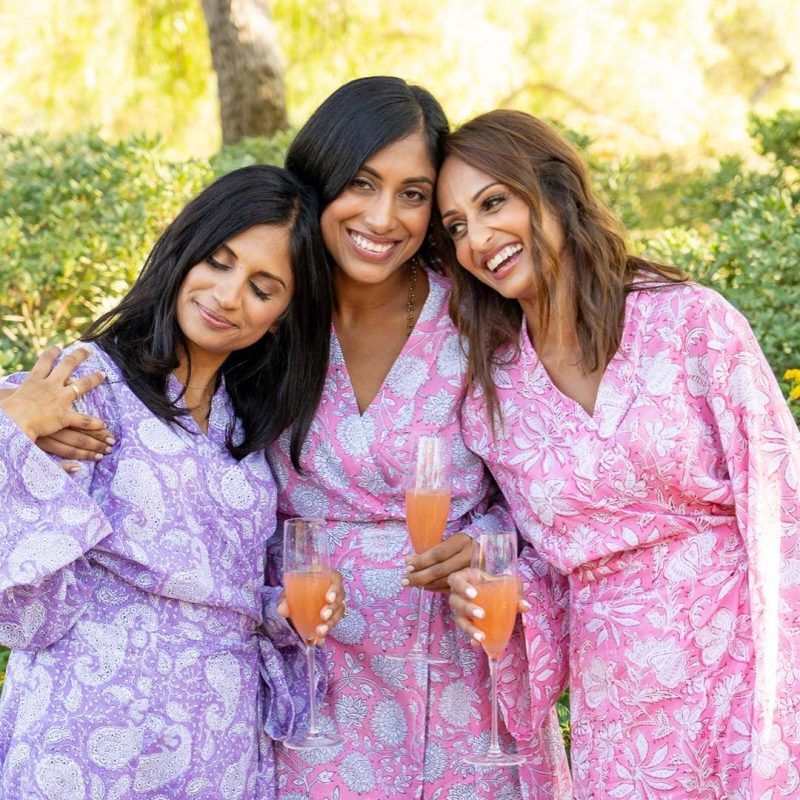 They have them in printed cotton print fabric, and while we are not really sure whether they'll customise them for you or not, they do look super comfy, easy to resuse and light and airy!
Find out more here.
Happiness Trunk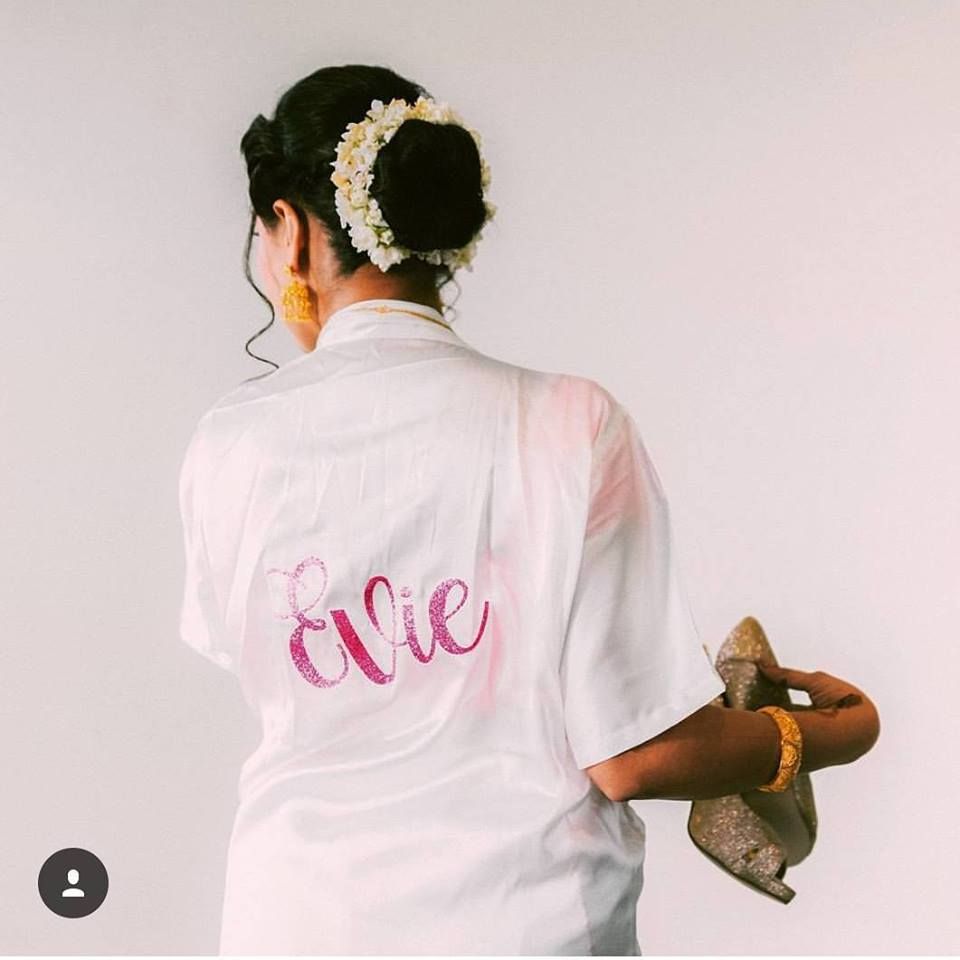 These guys do customised satin robes for brides, and you can even get your name written if you want! Love how that pink glitter pops on the white satin!
Find out more about them here. 
Buttermilk India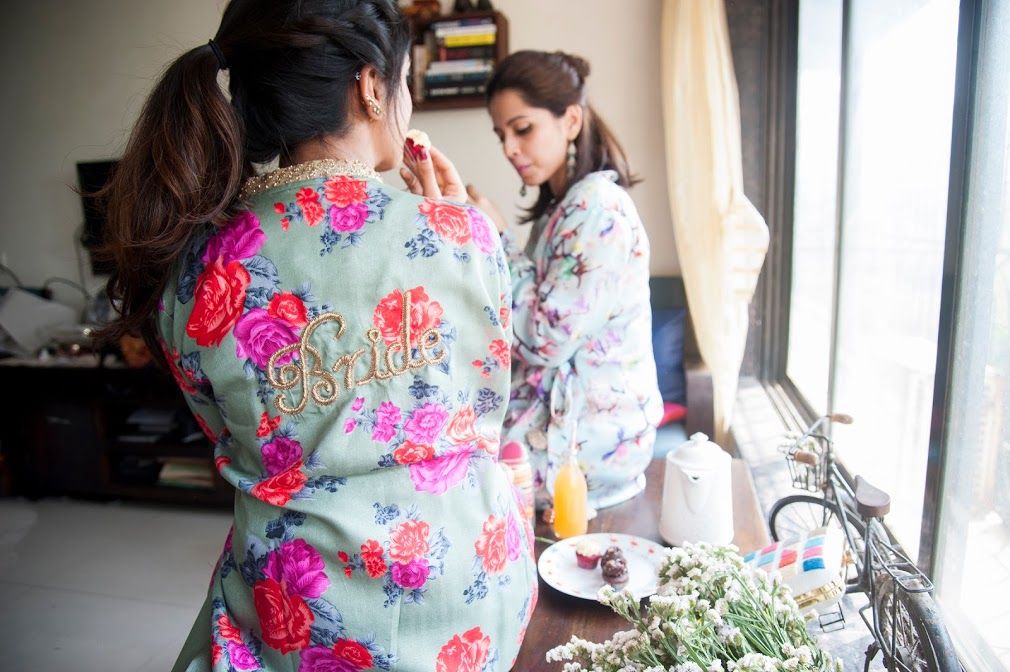 These guys do custom bespoke bridal accessories, and they have some super cute robes! From floral ones to those on funky colours and even materials, they have something for every kind of bride! Plus, they customise in zardosi, embroidery and beads - you can choose what exactly you want and it will be done.
Find out more here. 
Wisteria Nights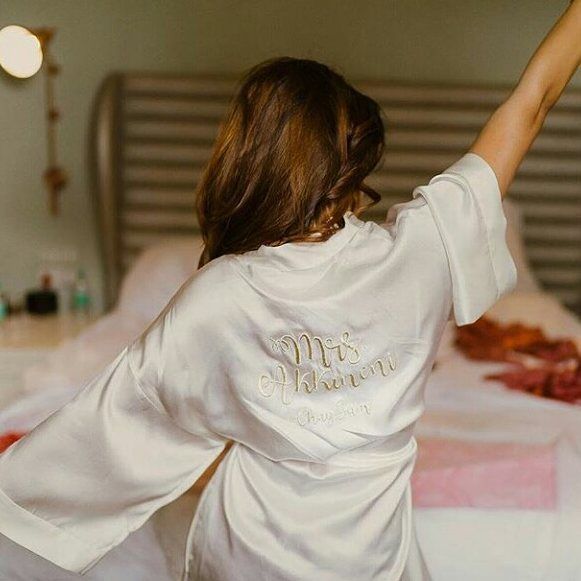 Another label that does some fun customised bridal robes, with whatever you want written on it! Super cute and comfy!
Find out more about them here. 
Dreams Coutured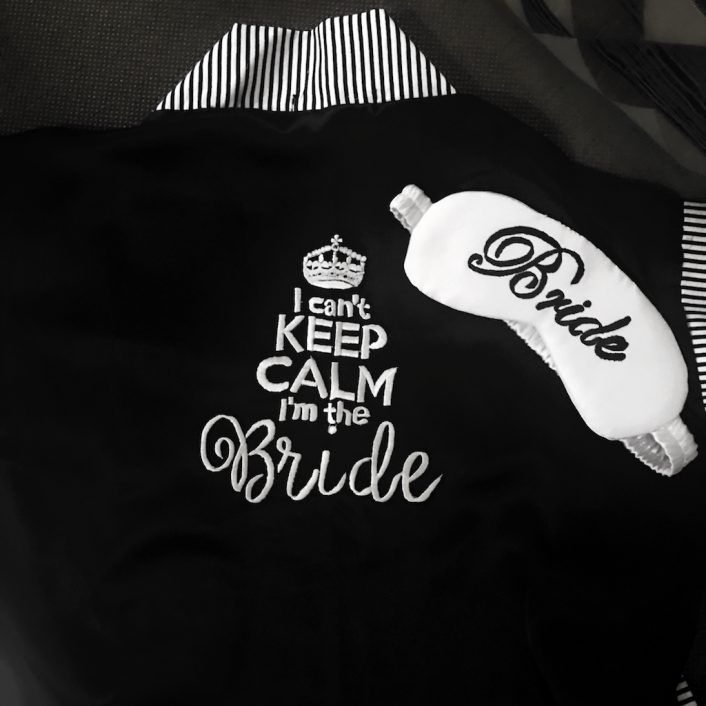 How cute is this one? These guys have some cool designs you can choose from, or get your own made!
Find out more about them here. 
Amazon India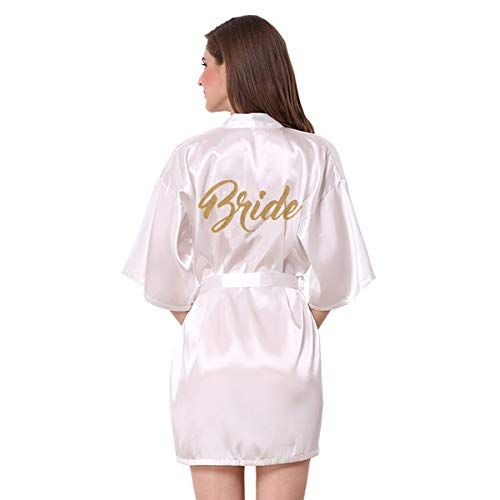 Amazon also has a lot of options for robes that say 'bride' on the back, or even some plain ones. You can get them straight online without any hassle- they have some in white and even pretty floral ones! Plus, they even have rhinestone ones!
Find some options like this one here.
Comfy Nights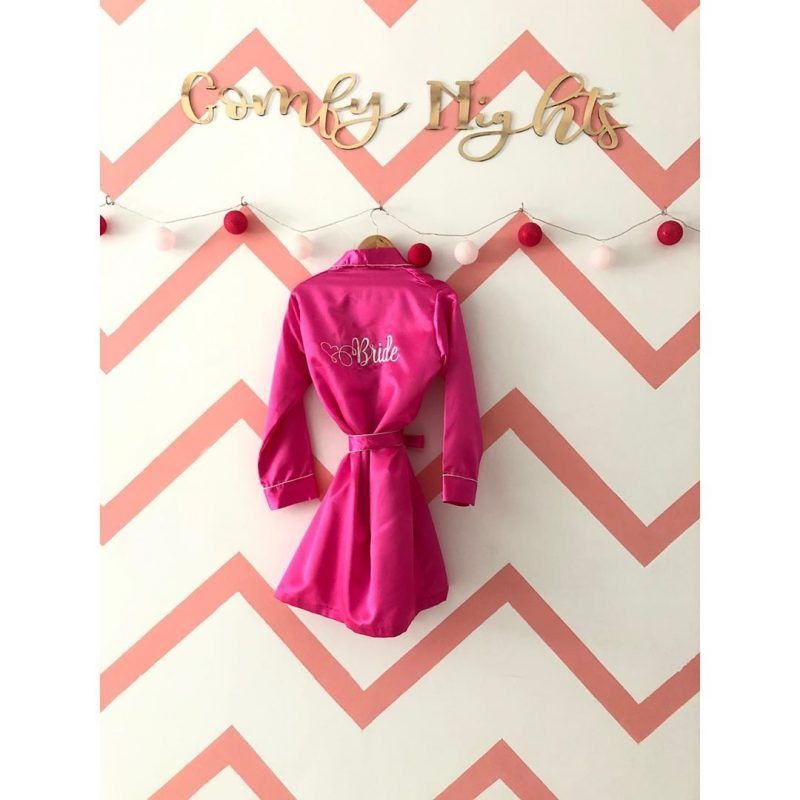 They personalise this satin robe, and claim to do it in over 156 shades available with them! Satin robes and other ones- they have a lot of options to choose from.
Find out more here. 
Adorenite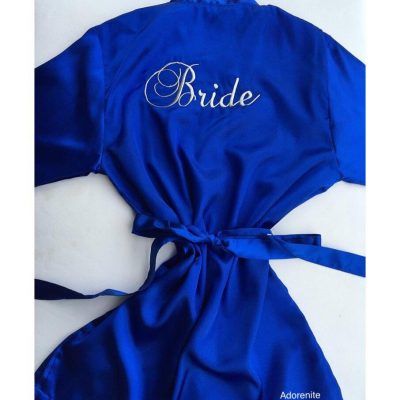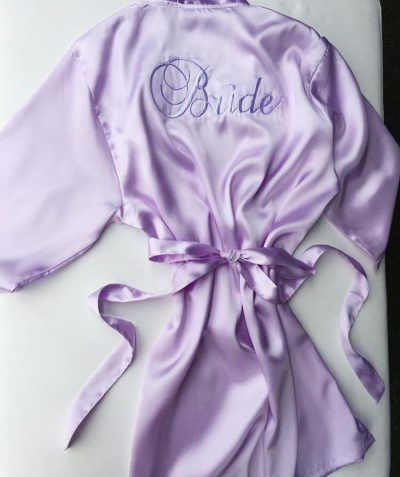 They also do some cool customised bridal robes in funky colours with zari embroidery! Most of them stuff we spotted on their page are satin, but in some delish colours!
Find out more about them here.
ALSO READ: We Found The Best Places That You Can Customise Personalised Bridal Accessories!